VANDERBILT
How Vanderbilt can win: Lessons from other academic-first institutions
Once upon a time, it seemed like the most prestigious academic universities that played Division I football wanted to lose.
Vanderbilt, Northwestern, Duke, Stanford and Baylor all seemed to be part of their conferences for little more than academic prestige. Their football teams' road games always seemed to be their opponents' homecoming games, their spot in the conference standings always was at the bottom, their record always dreadful.
But a funny thing happened in 1995. Out of nowhere, after 24 straight seasons in which they never even sniffed a winning record, Northwestern went 10-1 and made the Rose Bowl.
Oh, sure, that status was short-lived. The Wildcats haven't been back to Pasadena since then.
But Northwestern hasn't been a pushover either, their 45-6 loss to Tennessee in last year's Outback Bowl notwithstanding. The fact is Northwestern, once synonymous with losing, is no longer the doormat of the Big Ten and is going to New Year's Day bowl games.
It might be argued the Volunteers' lopsided victory against such a worthy opponent is a motivation for the loyalty Butch Jones has received from his fan base and university during an offseason of off-field strife.
Elsewhere, Stanford and Baylor have contended for national championships. Duke played for an ACC title two years ago.
Why can't the Southeastern Conference's academic powerhouse, Vanderbilt, follow suit?
"I've been here since 1983," said Vanderbilt director of communications Rod Williamson. "I've probably heard every theory, pro and con, that has existed."
True, the Commodores posted back-to-back 9-4 seasons as recently as 2012 and '13, finishing ranked 23rd and 24th in the final AP polls, respectively.
But the events of the following two years would have one believing those seasons were an aberration rather than a trend. Head coach James Franklin left for Penn State following the 2013 season, and since then the Commodores are 7-17.
Conversely, the Vanderbilt athletic department enjoyed tremendous overall success during this time. Last year the women's tennis team won a national championship, as the baseball team did in 2014. Meanwhile, the men's basketball team advanced to the NCAA Tournament this year.
SHOULDN'T INTELLIGENCE BE A TREMENDOUS ADVANTAGE?
If all other things are equal, yes. But that's a big if.
"It's hard to get great students who are also great football players," said Phillip Fulmer, who was an assistant at Vanderbilt before joining John Majors' staff at Tennessee in 1980.
Fulmer was part of George MacIntyre's first coaching staff in 1979, which recruited the players who as seniors led Vanderbilt to arguably their greatest team in modern times. The 1982 Commodores finished the regular season 8-3. All three losses came against nationally-ranked teams. Had they been able to hold on to a 13-10 fourth quarter lead against Georgia they would have tied Herschel Walker's Bulldogs for the SEC championship.
It was the last winning record Vanderbilt football would enjoy for a quarter-century. Three years later MacIntyre resigned, never to be a head coach in major college football again.
When asked why the Commodores record declined, The New York Times quoted the outgoing coach as saying "the continuing rise in academic standards, both in admissions and in the retaining of student athletes."
It's hard to beat Vanderbilt academically. Their students average a 32-34 on the ACT acceptance test. In 2015, they accepted just 9.5 percent of their 27,822 freshmen applicants.
To put that in perspective, the next-most exclusive university in the SEC using these parameters is Florida. Their students average 26-31 on the ACT, and their acceptance rate is 46.5 percent.
Everyone else in the SEC accepts more than 50 percent of their applicants. Meanwhile, Vanderbilt's acceptance rate is even more exclusive than Cornell, Dartmouth, and Pennsylvania.
It is not more exclusive however, than Stanford, who accept fewer than five percent of their applicants, a rate stingier than any Ivy League university. Yet the Cardinal rank fifth among all Division I universities in football victories this decade.
Suddenly the reason why Derek Mason, Stanford's former defensive coordinator, was hired to succeed Franklin two years ago becomes clear.
HOW TO RECRUIT AGAINST THE BIG BOYS
"There are enough kids who can do our academics. We can be successful," Williamson said.
So if Mason is implementing the Stanford recruiting model in Nashville, the recruiting strategy is an "all you can be" philosophy.
The Cardinal's strategy is to engage recruits early. "If you develop and get relationships with players when they are sophomores, convince them to start retaking the SAT and get better grades, some we present at an early age will say 'it's not for me,'" said Mike Eubanks, Stanford's director of recruiting and football relations. "But a bigger number will come to Stanford when we do that.
"The funnel is bigger earlier. Whether a kid is in Nashville, San Francisco or Atlanta, they see the value prop for Stanford and all the things they will need to sign up for. If they want to take that on, then we'll have deep relationship all the way through."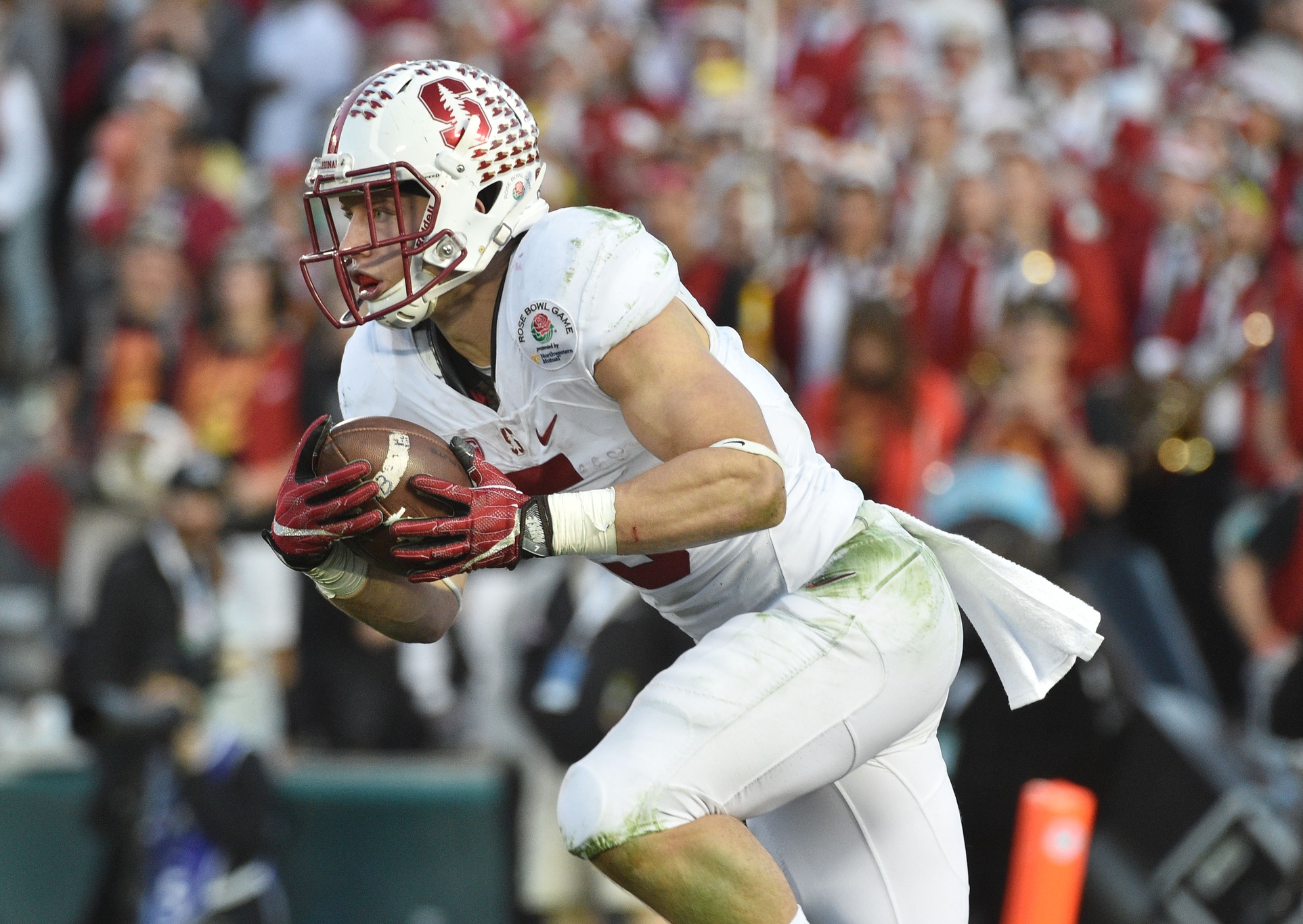 That relationship includes encouraging recruits to take advance placement classes in high school.
"We're trying to win games but if we can make kids be better students early on, then we're being educators. We see kids really take off, lock in on their classes, challenge themselves on how they grow. It widens our pool," added Eubanks.
Instead of a hostess program, Eubanks tries to cement the relationship by giving a recruit the taste of a campus culture that also is a bit free spirited (think the Stanford band) along with studious.
Of course, every university targets recruits as sophomores and juniors. Eubanks also credits Stanford's on-field success to the university's sports medicine and training programs, allowing injured players to heal faster and preventing injuries in the first place.
K.J. Costello, the second-rated pro style quarterback of the 2016 recruiting class according to rivals.com, chose Stanford over Alabama. The Crimson Tide used Lane Kiffin to seduce Costello.
Books over babes?
"Every applicant from Andrew Luck to Richard Sherman to Christian McCaffrey has to go through the steps and go through the bona fides the same as anyone else in their high school. They must take multiple advance placement classes in their senior year," Eubanks said.
COULD IT WORK AT VANDERBILT?
"Maybe there aren't a lot of players who dream of being a Commodore," admitted Williamson. "It takes recruiting. I think we have that here."
An example is JoeJuan Williams, perhaps the prized recruit of Mason's 2016 class. Offered by every team in the SEC except Missouri, the safety was the second-rated player in Tennessee out of Hendersonville High despite not playing for the Commandoes in 2015 because of a transfer issue.
Williams committed to Vanderbilt the day after reportedly making an official visit to Louisiana State.
"Everybody wanted him and came to Vanderbilt for a recruiting weekend," said David White, a 1984 Vanderbilt graduate who blogs about the Commodores at davidhwhite.com. "He was set on LSU and he went to the Pancake Pantry with the recruits and went in for his last meeting with Mason."
After the meeting, Williams was a future Commodore.
Recruited early, Williams fits the aforementioned recruiting model. But he also hailed from the greater Nashville area, the one place where players may, in fact, "dream of being a Commodore."
Two years ago The New York Times printed a fan map based on Facebook likes, showing what areas of the country rooted for what college football team. Though not by overwhelming numbers, it showed fans in Nashville and the immediate surrounding areas still viewed themselves primarily as Commodores fans.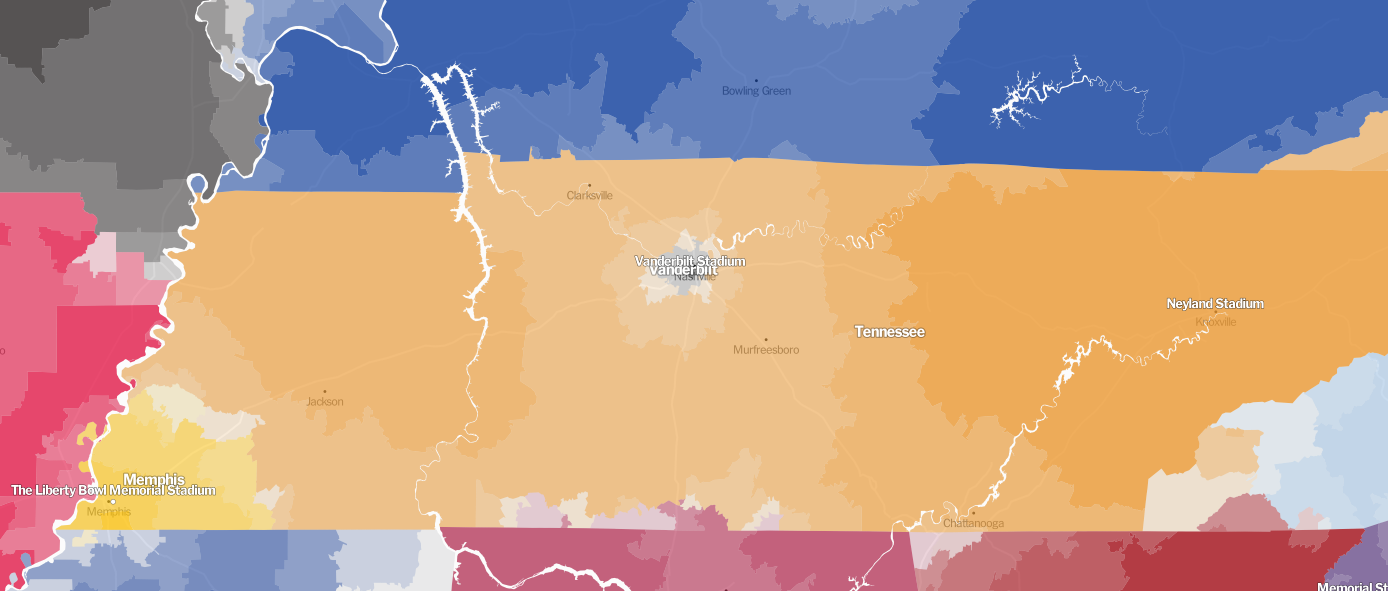 No, Vanderbilt's fan base is not as vast as Alabama's or Tennessee's. But even with the presence of professional sports in Nashville, as well as the private status and small enrollment of the school, the city is a rather large population base where a recruit, if not "dreaming of being a Commodore," will at least be a receptive customer.
This is not something every school can say. According to the map, Northwestern is not the most popular team in Chicago and is barely that in Evanston. Nor is Stanford the most popular team in San Francisco, where their fan base primarily lies south of, or even San Jose, where San Jose State has the most Facebook likes.
Meanwhile, many universities similar to Vanderbilt — including Duke, Wake Forest, Tulane, Rice and Southern Methodist — do not have a single zip code in which Facebook likes indicate they are the most popular team. Atlanta's college football fans don't back Georgia Tech over Georgia.
"People care about football at Vanderbilt. They really do," White said.
WHAT DID JAMES FRANKLIN DO?
Perhaps the biggest reason Vanderbilt football enjoyed a mini-revival in the last decade were the facilities. The program renovated the football locker rooms as well as trainer's facilities in Franklin first season as coach, and made improvements to Vanderbilt Stadium and the chow hall in his second.
Today, Vanderbilt proudly states on their website "the Hendrix Room athletic dining facility has been named as the nation's best collegiate training table by Sports Illustrated."
That year also saw a $31 million groundbreaking that added an indoor track and football field to the Vanderbilt Recreational Center, a project completed in 2014.
"Franklin had the program excited," White said. "He was pushing hard for facilities. Highly influential in getting the facilities built. He promoted the program well. They put a scoreboard up."
But facility upgrades began even before then. Before Franklin, there was Bobby Johnson, whose coaching start coincided with the opening of the John Rich Center, a practice facility that gave the Commodores an indoor and outdoor practice field.
"If you look at the numbers, the majority of games Franklin won were with lineups filled with Bobby Johnson's recruits," said Adam Sparks, who covers the Commodores for The Tennessean.
Johnson scored a coup when he brought current Chicago Bears quarterback Jay Cutler to Nashville 13 years ago, though Cutler never produced a winning record and was long gone from Denver, let alone Music City, by the time Franklin arrived.
Still, he was a player Vandy could build around. In Cutler's final game the Commodores enjoyed their first victory against Tennessee in 23 years, sending the Vols home with their first losing record in 17 seasons. This begat Vandy's 24-22 victory at 14th-ranked Georgia the next year, their 17-6 triumph at eighth-ranked South Carolina the next, and finally a 5-0 start (including wins against two nationally-ranked teams) and bowl victory in '08.
Yes, the Commodores finished 7-6 that season; small potatoes at most SEC schools. But finally Vanderbilt proved it could win.
When Franklin arrived three years later, he brought personality. The idea of winning at Vanderbilt is brash, so it serves to reason the coach must be brash.
"A little was the stars aligning with veteran players and charismatic coaches," Sparks says of Franklin's success. "Good scheduling. The fact the SEC was down when he was there."
Maybe that's the dirty little secret of Franklin's tenure.
Auburn and Missouri were easy pickins during Vandy's 9-4 season of 2012; same for Florida in 2013. Tennessee had losing records in both seasons. Franklin also dropped games with Northwestern and Ohio State off the Commodores' schedule.
But nine victories are nine victories. In 2013 the 'Dores beat 15th-ranked Georgia, and in '12 the only losses Vandy suffered were to teams that won 10 or more games (South Carolina, Northwestern, Georgia and Florida). The 'Dores won a bowl game after both seasons.
WHY DID VANDY FALL OFF?
"There are people who thought when Franklin left, 'What the hell?,'" Williamson said. "But Mason inherited a young team. We played 32 new guys (in 2014)."
Eubanks speaks of how athletics works with academics at Stanford.
"They (faculty) want to see their teams win because there aren't any corners cut athletically," the Stanford recruiter said. "Instead of (coaches) asking for more acceptance, they want to say 'let's embrace with everything we have.' The entry process of our student athletes, it will have more support with greater success than to shave off SAT points."
Does that culture exist at Vanderbilt?
Last year an anonymous letter signed "Your concerned faculty colleagues" circulated among Vanderbilt faculty, criticizing chancellor Nicholas Zeppos, who has been at the Vandy helm since 2007.
The letter stated Zeppos had created a "toxic organizational environment marked by fear and retribution for faculty and administrators who challenge the decision making of his Central Administration."
Among the criticisms was promoting athletics "entirely out of line with the academic priorities of many of the faculty."
"There is a sense when athletics are getting an overwhelming attention, that athletics is not held to the standard of academics. And so much of the front porch mentality in the SEC is athletics," Sparks said of Vanderbilt.
"That's an old saw; the faculty doesn't like sports," Williamson countered. "That dog doesn't hunt. I haven't heard that in awhile."
Whatever relationship exists between study and sports hasn't hurt, say, the baseball team. Yet Vanderbilt was embarrassed by several off-field incidents during their former head football coach's tenure.
For instance, prior to the 2011 game at Tennessee, backup safety Andre Simmons was arrested for armed robbery and burglary of another student.
In 2013, tight end Brandon Vandenburg and receiver Cory Batey were arrested and convicted of raping an unconscious woman in Vandenburg's dorm, though Criminal Court Judge Monte Watkins declared a mistrial last June after the two former players had spent five months in prison.
Batey was found guilty of aggravated rape and assault in his retrial Friday, while Vandenburg's case will be reopened June 13.
Former Vanderbilt player Cory Batey found guilty in rape retrial https://t.co/rouMvfJEyq pic.twitter.com/PGgjrs5nfd

— Yahoo Sports (@YahooSports) April 9, 2016
"That is not acceptable at Vanderbilt," White said. "The chancellor said 'We're not going to have this again.'"
Vandenburg was a regarded prospect offered by the likes of Nebraska and five other SEC universities. He would have been a senior this season. And, like all other students at Vanderbilt, he was required to sign an Honor Code.
Then consider Franklin's departure. He refuted earlier claims he'd stay with the Commodores, took several recruits and assistants with him to Penn State, and even used a semi truck emblazoned with the Penn State logo for his move to State College. That left many in the Vanderbilt community jilted.
Now Franklin, after two lackluster 7-6 seasons at Penn State, is on the hot seat, with even his former Nittany Lions quarterback Christian Hackenburg allegedly blaming his declining draft status on the coach.
If Mason were to continue to struggle, and Penn State fired Franklin at the end of the season, would Vanderbilt want him back?
"I know the chancellor was not happy with the sexual assault and he really did leave them with a bad taste in their mouth. My percentage would be 30-40 percent he would come back," White said.
WHAT'S THE FUTURE?
Uncertain.
On the bright side, Franklin's touted '13 recruiting class, ranked 19th in the country by Rivals, will be seniors or redshirt juniors this fall.
On the downside, only two of the five four-star recruits from the class remain on the roster. And even with presence of a player like Williams, Mason hasn't yet recruited like Franklin did. As of this writing, Vanderbilt does not have one verbal commitment for its 2017 class.
Still, there is some optimism surrounding the 2016 Commodores. The first third of their schedule isn't daunting. It features home games against South Carolina and Middle Tennessee State and road trips to Georgia Tech and Western Kentucky. Florida, like other tough-nut Tennessee, visits Nashville.
White is optimistic, at least by current Vandy standards. He feels 6-6 is realistic.
"I really like Derek Mason. He's got the potential to be a special coach," White said. "When he came in 2014 he had to put together a quick recruiting class and hired a staff (filled with) last-minute hires. He has a totally different staff now. There's only one left from 2014 (tight ends coach/recruiting coordinator Gerry Gdowski). He has hired some top-flight young guys."
Strength coach James Dobson, for instance, comes from Nebraska. Offensive coordinator Andy Ludwig is a veteran assistant who guided the offense at Utah when the Utes concluded a 13-0 season with a 31-17 victory against Alabama in the 2009 Sugar Bowl.
Eight starters return on offense and defense. Running back Ralph Webb rushed for 1,152 yards last season. Sophomore quarterback Kyle Shurmur is the son of former NFL head coach and current Minnesota Vikings assistant Pat Shurmur.
HOW CAN VANDY WIN THE SEC EAST?
"Embrace and run with what you can sell about your school and brand. It's fun to see the kids open their eyes to something different than what they saw on their other four stops," Eubanks said.
"Don't try to match toe for toe with whatever the recruiting arms race is. Whatever shiny new trick is getting guys to come on campus, you're losing the chance to amplify what is unique on your brand. Most of the schools in the SEC don't have a lot of difference from what they are offering. They have a commitment from universities and marketing slogans and on the walls. If you're the program trying to be like them, all you're doing is you're being another one of them."
Here's the textbook plan:
1. Start with the quarterback.
It is the most cerebral position. Why not go to the most cerebral university?
Stanford began their revival with Andrew Luck. Baylor had Robert Griffin III. And though it may not have been apparent at the time, Jay Cutler did provide something of a base for Vanderbilt's modest revival.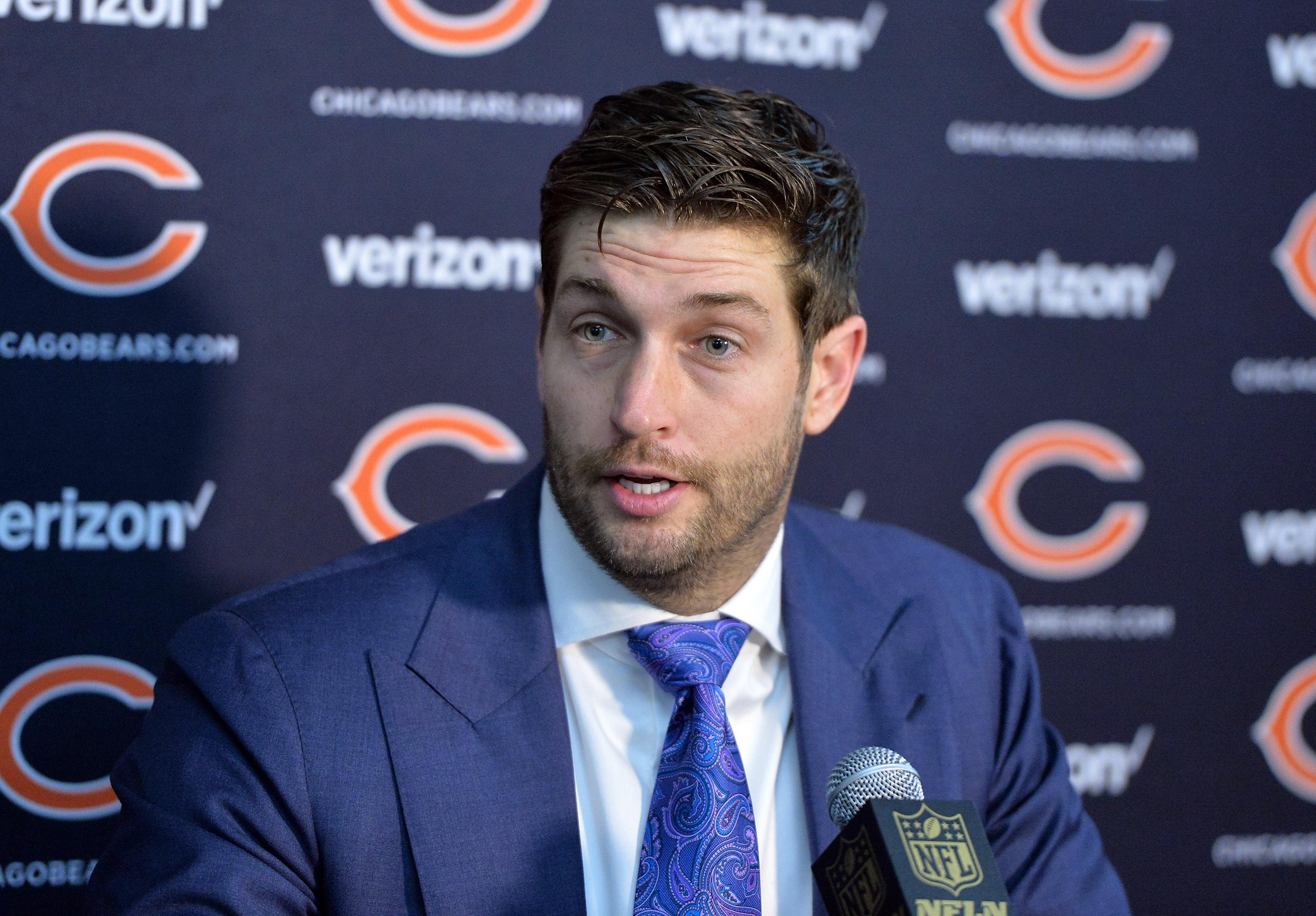 It doesn't hurt that in Cutler, Vanderbilt has an active NFL starting quarterback that says "you can make it from here," perhaps because of the academic discipline. Whether it is Ryan Fitzpatrick's Harvard degree or the advanced classes Tom Brady took at Michigan, a strong academic background is becoming a must for NFL success.
Vanderbilt can easily tell a potential recruit, "Do you want to start for more than a decade in the NFL, beginning in your rookie season, like Cutler, or do you want to be Johnny Manziel?"
Besides, it could be argued one of the reasons for Vandy's demise in the 1980s is they went away from being one of the first teams to utilize what is now referred to as a "West Coast" offense in favor of an option attack under head coach Watson Brown, thus rejecting innovation for yesterday's offense.
2. For crying out loud, if there is any divide between the faculty and athletics, bridge it now.
"There is far more crossover in campus administration to athletics than any school I've ever heard of," Sparks says of Vanderbilt. "The campus side is locked in pretty closely with athletics. It's not so much athletic people making the decisions, it's academics as well, and they will see all sports on an more of an even plane."
Perhaps they should look at admission statistics. In 2007, 11,798 students applied to Vanderbilt. Of them, 31 percent were accepted.
Following the Commodores first 9-4 football season, a record 27,840 students applied in 2013. The acceptance rate fell to 10.8 percent. College applications rise and fall with the success of the teams, thus allowing a Vanderbilt education even more exclusive if the Commodores' football team is successful.
Vandy seems to like their secrecy. They're a private school and, for instance, they don't have to release their coaches salaries. They're the only SEC member that doesn't.
Secrecy can provide distrust if it is internal. That's why Stanford requires its athletes to room with non-athletes.
On the other hand, Vanderbilt is the only university in Division I without an official athletic department. Athletics are officially part of the university's Division of Student Life, a move made by previous chancellor E. Gordon Gee in an effort to add truth to the term "student-athlete." The new indoor track and football field at the Rec Center is open to athletes, students and faculty alike.
3. Keep the good coaches.
Fulmer remembered following the Commodores growing up in Winchester.
"Almost every five and six years (Vanderbilt) would change coaches and it would happen again," he said.
Since Dan McGugin, who built Vanderbilt into perhaps the premier college football program in the south during the first part of the 20th century before retiring in 1934, the Commdores have had only one head coach, Arthur Guepe, at the helm for 10 years (1953-62).
While it might seem Vandy is destined to be a stepping stone for the likes of Penn State and Louisiana State, where Gerry DiNardo departed to following the 1994 season, White reports Vanderbilt actually gave Franklin a six-year, $30-million contract offer to stay in Nashville. Franklin currently receives a $4.5 annual base salary with incentives from the Nittany Lions.
Vanderbilt can lean on its affluent alumni to offer a lucrative contract to a successful coach. Northwestern realizes the gem they have in head coach Pat Fitzgerald, who is the highest-paid employee at the university. Stanford provides housing for their assistant coaches to combat the high cost of Bay Area real estate.
4. Improve the game-day environment.
Vanderbilt Stadium is the smallest football stadium in the SEC. A sellout crowd is 40,550, and usually when that happens it's because the visitor's fans have made the trip.
Still, there's the chance to build an intimate environment between fans and team not available at other SEC venues. Think Wrigley Field or Cameron Indoor Stadium.
There is some talk of a new, on campus stadium to be built at Vanderbilt in the coming years. The Commodores have played at their current locale since 1922.
The question is how to sell tickets when the team isn't winning games first. And how does one create a great game day experience without winning games?
5. Embrace Nashville.
Vanderbilt's home is in the most cosmopolitan city in the conference. Furthermore, even if Tennessee isn't Florida or Ohio when it comes to producing football players, it is the most fertile ground for gridiron prospects in the state.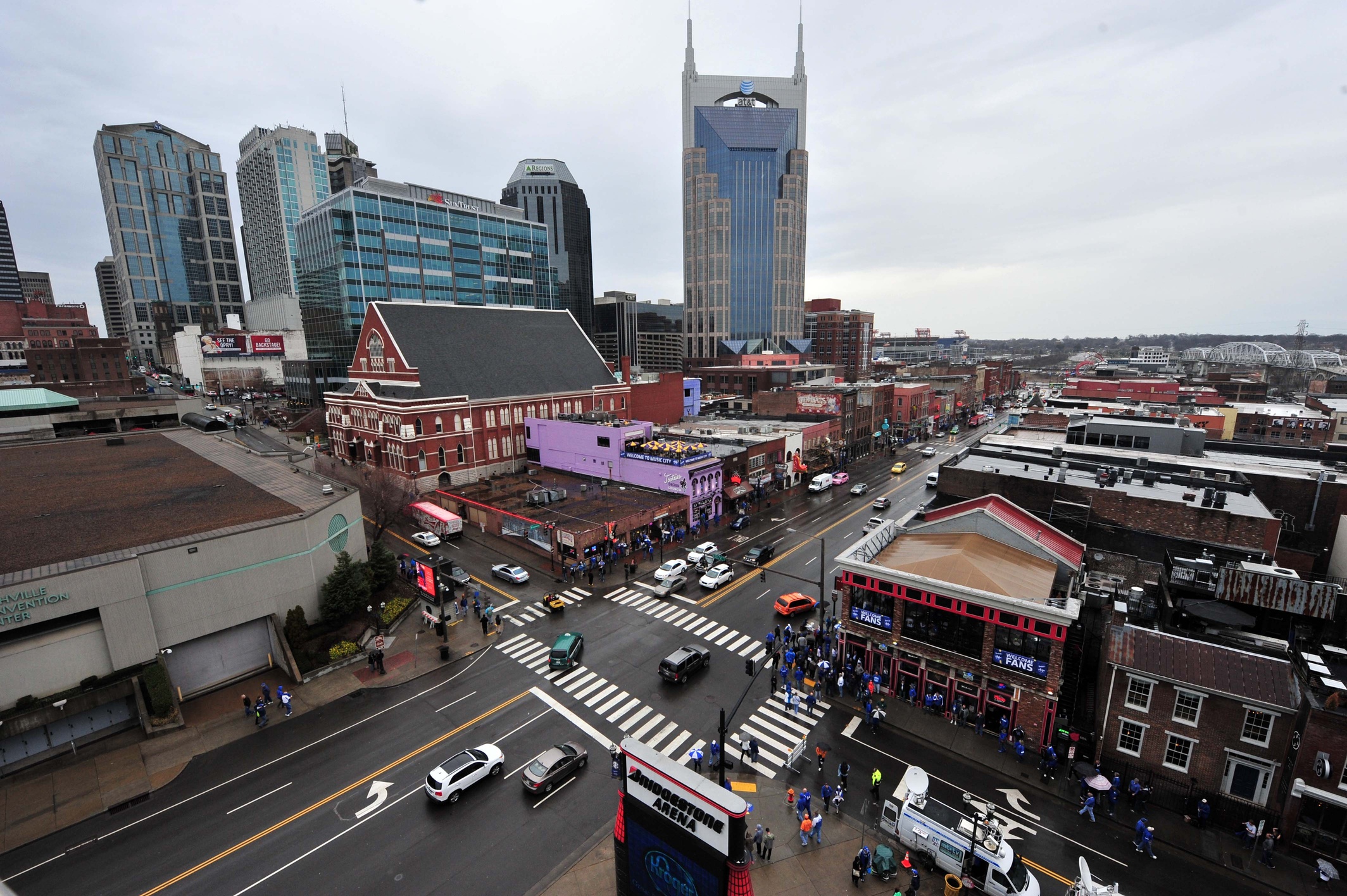 Yes, Vanderbilt has to recruit nationally. But who doesn't? And what better place to target recruits early to get on the academic track to be a Commodore than one's own backyard?
It becomes a matter of what appeals to the intellectual recruit who can go anywhere.
The building that houses Tennessee's weight room has 35,000 more square feet than Vanderbilt's. Is a 145,000 square foot workout facility against an 110,000 square foot workout facility that important when you'll eat better at Vandy? Playing in the SEC means playing in front of big crowds anywhere you go. Why not live in the conference's most opportune city? Could the most prestigious degree in the conference be easier to attain than a larger school's when the smaller class sizes are taken into account?
Even the real reason Vanderbilt probably hasn't enjoyed the success of the Notre Dames and Stanfords can be used to attract recruits.
As Williamson said, "they don't play in the SEC."