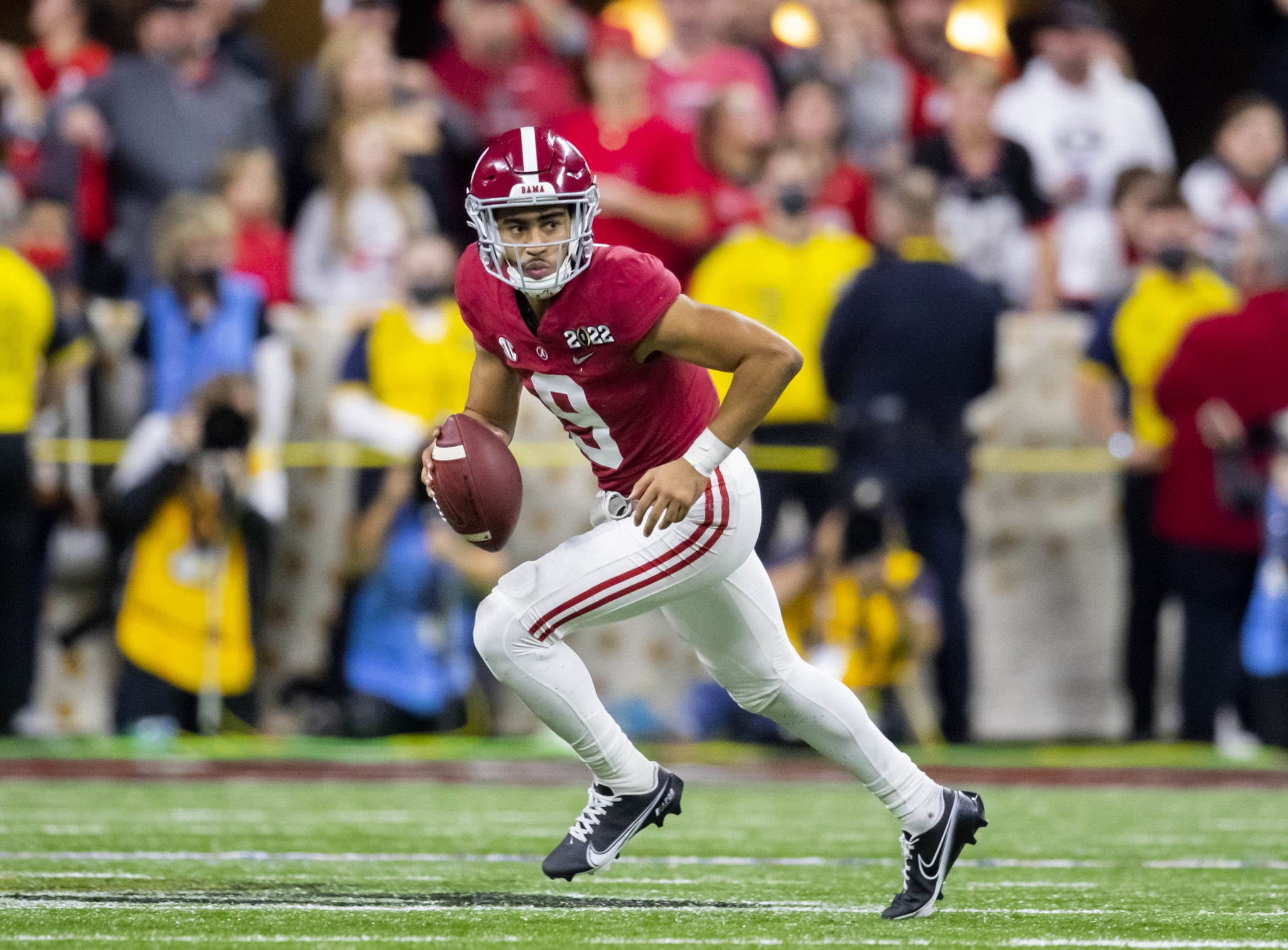 ALABAMA
Better or worse? Previewing Alabama's offense in 2022
When you have the returning Heisman Trophy winner at quarterback who threw for 4,872 yards and tossed 47 touchdowns, should you be worried? In spite of Bryce Young leading the way, Alabama still will enter the season with preseason anxiety in some areas.
There's an offensive line that has been retooled with the losses of tackles Evan Neal and Chris Owens. In the backfield, Brian Robinson is gone, but Georgia Tech transfer Jahmyr Gibbs already has alleviated some fears about a possible sub-par running attack.
Throw in a budding wide receiver situation with Jermaine Burton, Ja'Corey Brooks and Kendrick Law, who combined need to account for the graduated number of 3,775 yards. They haven't all been under the bright lights for a long time.
Does it appear to be enough to get back to the big stage in early January 2023? Let's take a closer look at whether Alabama's offense will be better or worse this season than the group that led the SEC in scoring (39.9) last season.
Passing offense: Better
I am not totally sold yet, but I will give it a nod. This really is a tough call because Young's skill, potential and ceiling are obvious. Whether the Tide throw for 4,500+ yards and 45+ TDs again will truly depend on the offensive line.
In an earlier piece, I predicted Young would have a banner season and become the Tide's career leader in touchdowns and passing yards. He'll begin the year with 48 career TD passes, 39 behind all-time leader Tua Tagovailoa.
I believe he can hit those marks in spite of some reworking of the o-line. The keys will be returner Seth McLaughlin at center, Javion Cohen at right guard and Vanderbilt transfer Tyler Steen at left tackle. Steen's steadiness there will be a huge factor to Young's passing attack, as he did start 21 games at left tackle at Vandy.
Damieon George Jr. or Emil Ekiyor will get the left guard nod, and JC Latham should be penciled in at right tackle.
Young does have the advantage of having returning OC Bill O'Brien calling the plays. He should help ease the transition to a new core of receivers.
Georgia transfer Burton is the catalyst to this corps. He caught 53 balls for 901 yards with 8 touchdowns last season. He'll be considered the big-play threat but also is a good blocker and physical player. Burton will be the Tide's playmaker with his size (6-0, 200) speed, and hands.
Brooks also has size (6-2, 200) and speed. He blossomed late in the year and served as a consistent kick returner all season. Brooks had 6 catches in the title game against Georgia, and his stock continues to rise.
Law will have to work his way up the depth chart, but he has garnered plenty of whispers as a freshman with the same qualities, and it will be hard for him to slip under the radar. Christian Leary and JoJo Earle also should be in the mix, as both had a consistent spring. Tyler Harrell, another transfer, will get ample opportunity, too.
The receiving corps isn't as proven as last year, and probably not as dynamic, but there are still future pros at Young's disposal.
Add Gibbs to be a variable outlet out of the backfield, as he caught 36 passes for 470 yards. Redshift senior tight end Cameron Latu is the stabilizing force to help make a smooth transition in the opening weeks.
O'Brien will need to make sure there are enough of Young's attempts to the corps to help the anticipated lockdown attempts on Burton. He and Young have the chance to make it a special year as long as the line in front of Young can hold off any intruders in the backfield.
Alabama produced 214 first downs via the air last season, and the duo should be able to work together to be in the general vicinity this season.
Redshirt freshman quarterback Jalen Milroe turned some heads at the A-Game, and he should be No.2 behind Young. Milroe should get reps early in the season to unveil what he can do when Young likely departs for the NFL next spring.
Again, this can be a work in progress. But Young and O'Brien have enough weapons here to help the offense dangle the points per game right around the 39.9 mark and passing yardage in the vicinity of 338.20 from last season.
The key here will be Young's maturity to help foster the relatively young receiving corps. There seems to be too much potential here to believe it can't be productive.
Rushing: Worse
This is another area of contention that should resolve itself as the Tide move through the season. Although, there could be some significant early returns that can move the needle.
Gibbs rushed for 746 yards with 4 touchdowns and accounted for over 1,800 all-purpose yards last season for Georgia Tech. (He also returned kicks for Tech, quite successfully, too.) His style is different from Robinson's (1,343 yards from scrimmage with 14 TDs last season). Robinson was the workhorse, and Gibbs will inherit the role.
Gibbs has drawn some rave reviews from the spring, especially as a receiving threat. The Tide rushed for an average of 150 yards per game last season, and this easily could also be a running back by committee format instead of the one-horse back.
Jase McClellan can be the perfect complement to Gibbs. Trey Sanders and Roydell Williams were spotted time last season, and their roles should increase.
A big difference here can be Gibbs running behind the Tide's line and Georgia Tech's from last season. O'Brien should be able to highlight him as a lead back, and Gibbs' production can increase in the latter part of the season.
The running game should be able to do enough, but they won't duplicate last year's production.
Kicking game: Better
Will Reichard is back for the field goal duties and he converted 22-of-28 last season after he was a perfect 14-for-14 in 2020.
He was the lone bright spot in an overall inconsistent performance for the Tide's special teams. They did lose return specialists Jameson Williams and Slade Bolden to the NFL. Special teams coach Drew Svoboda was moved to a support staff job on the staff.
Veteran special teams guru Coleman Hutzler has taken over the reins, and he has a proven track record. Look to the Tide's unit to improve.
Gibbs averaged 25.6 yards on 23 kickoff returns last season and could fill a void. Nick Saban has shown time and again that a starting playmaker will return kicks. But it will be a matter of his carries in the backfield.
Brooks and Earle could have their chances for returns. With Reichard's consistency and the potential of the return game, this unit should be better.
Overall: Better
Yes, there are some obvious new pegs for the holes, but again this is a stacked 'Bama team. The bottom line is about getting a rematch with Georgia in January.
Numbers might not tell the entire story, either. Last year's team averaged almost 10 points fewer than the 2020 Alabama squad and was the Tide's first group since the 2017 team to not top 40 a game. Still, nobody would have described the 2021 offense as a weakness.
The 2022 spotlight obviously will be on Young as he has the pieces in place for another star-studded season.
The running game won't live up to last year's rushing standards, but it should be serviceable. Gibbs will get his opportunity to reach the 1,000-yard plateau. And he'll be a bigger threat out of the backfield.
Bottom line: Barring any serious and major injuries, the Tide once again will be one of the highest-scoring offenses in the nation.