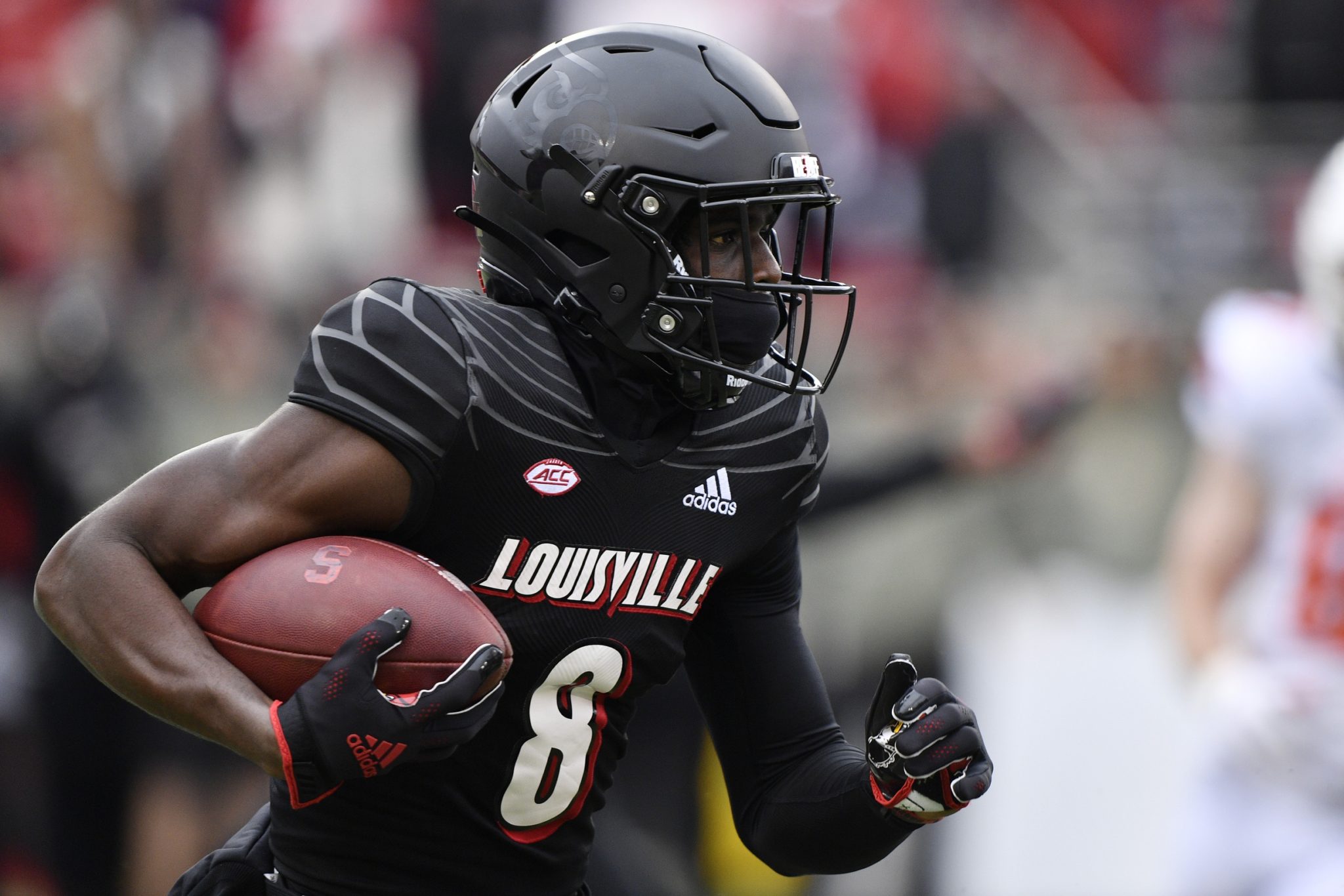 ALABAMA
Who will be Bryce Young's new favorite target? Here's the case for Tyler Harrell
History tells us that being Alabama's No. 1 receiver is a pretty sweet deal. It often equates to becoming an All-American, having a shot at the Biletnikoff Award, playing for a national title and going on to become a first-round pick in the NFL Draft.
Good work if you can get it.
Of course, "getting it" requires an unbelievable amount of skill and preparation, which includes getting on the same page as the Tide's starting signal-caller. Last year, we watched Jameson Williams go from being buried on the depth chart at Ohio State to becoming Bryce Young's top target. That chemistry was instant. There wasn't a better deep threat in America than Williams.
Now, though, he's off to the NFL and the coveted spot of "Alabama's No. 1 receiver" is up for grabs. Dare I say, another 1-and-done transfer will take it.
Nope. Not Georgia transfer Jermaine Burton. If you read the headline, you know where I'm going with this.
Give me Harrell, AKA the dude who averaged 29.1 yards per catch at Louisville last year. That's not a typo. There are deep threats, and then there's Harrell. He's 1 of 7 returning Power 5 players who had multiple catches of 70-plus yards, and he was 1 of 5 Power 5 players with a reception of 90 yards.
Whatever your definition of a "move the chains" guy is, Harrell is the opposite. He only had 18 catches for Louisville last year — half of them went for 30 yards — which is why you probably won't even see his 29.1 yards per catch show up among the stat leaderboards.
Harrell likely won't lead the Tide in catches. That could go to Burton or Ja'Corey Brooks. Even Christian Leary or JoJo Earle are dark-horse candidates to be that guy for Young.
So why could Harrell lead Alabama in receiving?
He only played 35 snaps on 1 occasion last year, and it was Louisville's bowl game. He finished the season with an average of just 29.8 snaps per game, yet he still finished with 523 receiving yards (that's 1.4 receiving yards per offensive snap played, which is slightly less than the 1.52 yards per snap that Wake Forest standout AT Perry had). The aforementioned Williams was nearly double that at 55.5 snaps per contest, and he played in at least 35 snaps all but 1 game. Well, that's of course excluding when Williams went down in the College Football Playoff National Championship. We saw the impact his absence made on Young, who was already without the reliable John Metchie.
(Relax, Georgia fans. I'm not taking your title away. The Dawgs earned it. I'm simply pointing out that Alabama's offense was better with Williams and the Tide didn't adjust without his ability to take the top off the defense.)
Williams didn't just succeed because he could jet. Sure, it helped. But he took off because Young excelled at buying time, keeping his eyes downfield, letting a route develop and trusting that a secondary couldn't stay with Williams for 4-5 seconds. More times than not, that plan worked to perfection:
Some players are fast, but not everyone has the stats to back it up. Alabama's Jameson Williams does! Averaging 20+ yards a reception, and having a school record FOUR 70+ yard receiving touchdowns, you know Williams is a deep threat!

-E@bigsgjamo #NFLDraft #DraftTwitter pic.twitter.com/upPPoDBak4

— Scouters Anonymous (@Scouters_Anon) December 2, 2021
Williams lined up mostly out wide (76% of his offensive snaps), which is what I'd expect to see from Harrell after 95% of his offensive snaps came lined up out wide. I'd imagine that number will drop, especially with all the slot snaps the Tide have to replace. It's 1,131, to be exact. But Harrell wasn't brought to Alabama to be a possession receiver. After the way Williams gelled with Young as a deep threat, it's not hard to figure out what that recruiting pitch was.
Don't confuse that as me saying Harrell is destined to be Williams 2.0. That's not a fair expectation to set after we watched him finish 5th in the country in receiving. The last time Alabama failed to have a receiver finish in the top 11 in FBS was 2017. Harrell can become Young's favorite target without finishing on the short list in receiving yards.
Then again, why would we definitively rule that out?
Williams was more than just a deep threat. He also had that Jaylen Waddle-like ability to turn a catch in space in the middle of the field into 6. Both could split a secondary or beat a last-resort safety who probably thought they had the angle.
Harrell? He has that in his bag, too.
Reminder that Alabama WR Tyler Harrell averaged 29.1 yards per catch at Louisville last season pic.twitter.com/SY1ZVM7pe1

— Sidelines – Bama (@SSN_Alabama) July 7, 2022
You can close your eyes and see the RPO slants that Harrell will take to the house. Of his 18 catches, 1 of every 3 went for a score. That was in an offense that really didn't have a prolific deep-ball passer in Malik Cunningham. Well, at least not one at Young's level of precision.
This is exactly the type of play that'll make Harrell a trusted target of Young:
Tyler Harrell can absolutely FLY. Alabama never has a shortage of fast wide receivers. pic.twitter.com/ZHgOqSXdDo

— Kendell Hollowell (@KHollowell_) July 13, 2022
Yeah, that's a heck of a throw, too. Fortunately for Harrell, his new quarterback can make that throw as well as anyone in the sport. Young had the most passing plays of 50 yards among Power 5 quarterbacks, and 10 of those 11 plays were to guys who are now in the NFL. Harrell checked that previously empty box.
So why hasn't Harrell been more of a consistent threat as someone who has been called "a hard worker" and recorded a blistering 4.24-second 40-yard dash at Louisville's pro day? And why should we expect a Year 5 guy with 20 career catches to become the Tide's most dominant receiver?
It might not necessarily be one specific thing that held Harrell back. As a high school track star in Miami, he always had speed. But like Williams at Ohio State, Harrell struggled getting reps in a Louisville offense that had Tutu Atwell and Dez Fitzpatrick, both of whom were outside receivers that were selected in the first 3 rounds of the 2021 NFL Draft. It's also not a given that speed equals consistent separation at the Power 5 level. Harrell waited his turn, improved his route-running and capitalized on his opportunity once that finally came with Atwell and Fitzpatrick in the NFL in 2021.
A guy who entered 2021 with just 2 career catches found himself at the center of a back and forth about Louisville coach Scott Satterfield implying that Nick Saban tampered with Harrell. Saban said that "we don't tamper with anybody" after Harrell made the post-spring decision to leave Louisville for Alabama on the heels of his breakout season.
Believe whoever you want there. One thing that could soon become undeniable is Harrell's impact as Alabama's game-changing home-run hitter.
Earlier in the summer, my SDS colleague Matt Hayes talked with an ACC coach about Alabama's new receivers, Burton and Harrell. "The kid from Georgia is solid; (Harrell) has a chance to be special," he said.
Seconded.