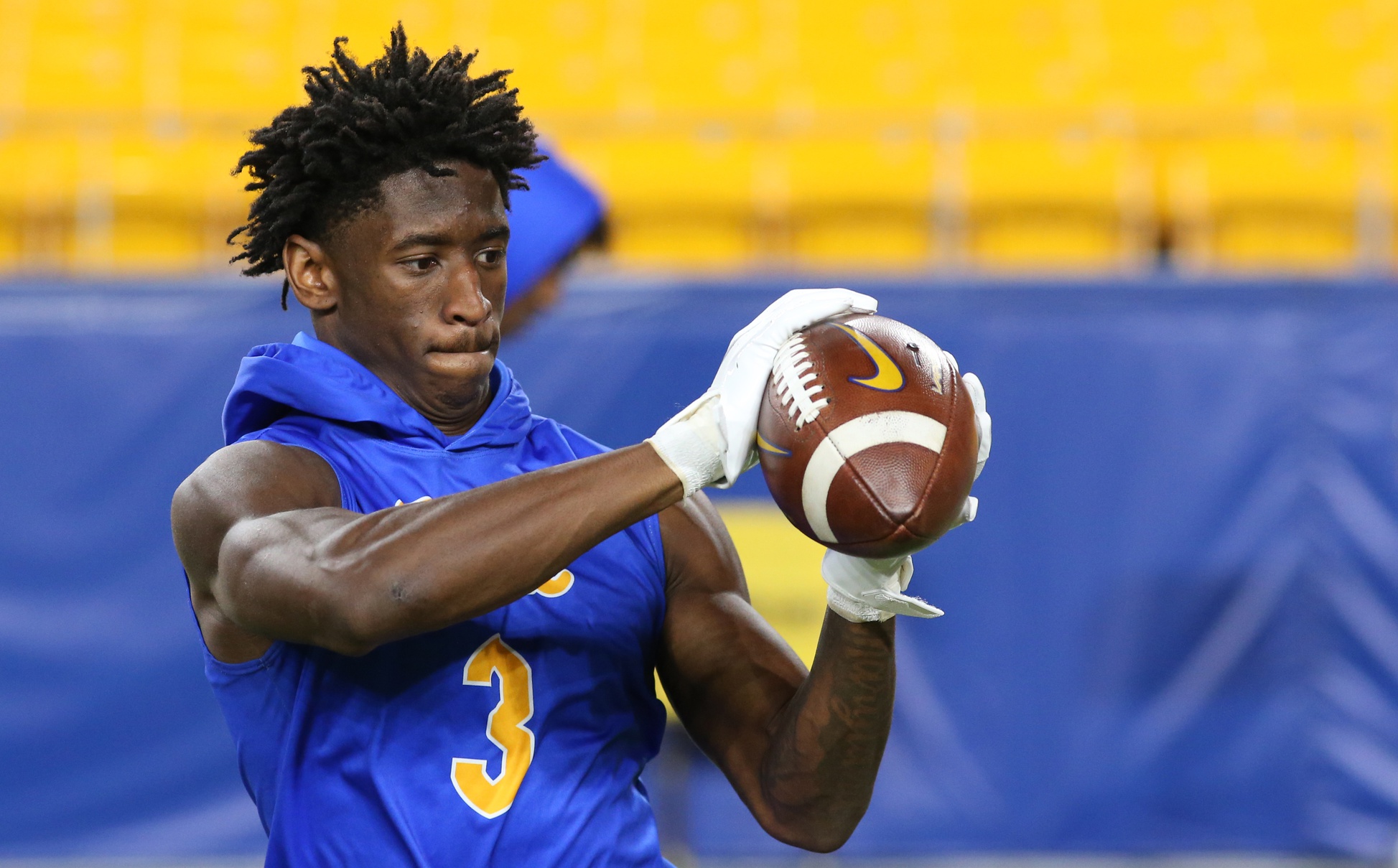 ALABAMA
Why Jordan Addison should turn down USC and Texas for Alabama
Say what you want about the future of college football.
Say that it's doomed because of NIL and the transfer portal. Say that it'll forever be tarnished by the all-important desire to make a buck. Say that we've gone past the point of no return with amateurism.
But don't lie. It'd be pretty sweet to trade places with Jordan Addison right now.
The former Pitt receiver and 2021 Biletnikoff Award winner hit the open market and got the red carpet rolled out at USC and Texas. Soon, Alabama reportedly will host Addison. Players of Addison's caliber usually don't reach this point. They're usually in the NFL or returning for another season at the same college campus where they started their career.
Instead, Addison now gets to basically pick his next destination entering his pre-draft season.
You know. In case you haven't heard.
Barring a last-minute change, Addison will choose between USC, Texas and Alabama. The Maryland native doesn't appear to be worried about playing close to home, and any potential NIL package figures to be significant at his future destination. Each program has a former 5-star recruit expected to start as QB1 in 2022, and all of them have an offensive play-caller with proven chops.
Addison is choosing between the right 3 schools, at least based on those factors. But if he's focused on setting himself up best for the NFL, Alabama should be his final destination.
Now is the part in the column where someone says "nobody in their right mind would pick to live in Tuscaloosa instead of Austin or Los Angeles."
Thanks for your feedback, Trevor. I bet you've totally been to all 3 places and could give Addison a helpful tour guide based on your personal experiences and not lazy stereotypes.
The problem with your point, Trevor, is that Addison isn't picking where he's gonna retire. He's picking where he'll probably spend maybe 6 months of his life before leaving to train for the NFL Draft.
There's no better place for that than Alabama, AKA the school with 5 first-round receivers in the past 3 NFL Drafts. That's not Texas, AKA the school with 0 first-round offensive players drafted since Vince Young. That's not USC, AKA the school hoping to compete with a new coach after a 4-8 season.
Including 2018 first-rounder Calvin Ridley and 2022 second-rounder John Metchie, Alabama had 7 receivers picked in the top 50 of the NFL Draft in the past 5 years. Coincidentally, that's the exact same amount of time new USC coach Lincoln Riley was at Oklahoma. Despite the fact that he had 3 quarterbacks finish in the top 2 of the Heisman Trophy voting, how many total receivers did Riley have drafted as the head coach at Oklahoma? Three.
Yikes. There's no contest there.
There's also no contest when it comes to the other argument in Alabama's favor. Jameson Williams was a post-spring transfer who just needed fall camp to get on the same page as Bryce Young. All Williams did as a first-time starter was nearly beat out Addison for the Biletnikoff en route to becoming a first-round receiver. Williams paved the way for transfers to step into Alabama and become stars. That's probably a big reason coveted transfers Jermaine Burton and Tyler Harrell both left starting roles at Power 5 programs to head to Tuscaloosa.
Speaking of those guys, should that perhaps give Addison some reservations about going to Alabama? Like, the fact that Young already had 2 guys sign up for the "Jameson Williams package" at Alabama's receiver resort?
Nope. Last I checked, neither Burton nor Harrell has proven to be high-volume guys. Both should absolutely have a significant role and could become All-SEC players whether Addison joins or not, but any notion that Alabama's receivers room is too crowded for the Biletnikoff winner is silly.
If Addison prefers to operate mostly out of the slot like he did last year in Mark Whipple's offense, Alabama can accommodate that. With Williams (NFL), Metchie (NFL), Slade Bolden (NFL) and tight end Jahleel Billingsley (transfer to Texas) all gone, Alabama has a major hole to fill in the slot. Here's how many snaps each of those guys played in the slot in 2021:
Bolden, 538 snaps
Metchie, 236
Williams, 196
Billingsley, 128
If we include transfers Javon Baker (18) and Agiye Hall (15), Alabama lost 1,131 slot snaps worth of production from 2021. Meanwhile, Harrell almost never lines up in the slot and Burton played just 75 snaps in the slot compared to 310 out wide. Even if the Alabama staff is intrigued by the development of underclassmen slot guys like Christian Leary and JoJo Earle, that's still by no means a dealbreaker for Addison playing where he's most comfortable.
Besides, this is Alabama. This is a place with more next-level receiver talent than anywhere in America (by a country mile), and yet from 2018-21, there were 7 instances when an Alabama player finished in the top 25 nationally in receiving. None of those guys was limited because "they had to face SEC competition," either. Two of those came with Young, who won the Heisman as a first-year starter.
That's the trump card in this whole thing. Addison is picking between 1 quarterback who played at an all-world level compared to a couple of immensely promising, but unproven quarterbacks.
Lost in the shuffle of Williams' true freshman season was that while he took over for Spencer Rattler, he also got benched in the second half in the loss to Baylor, who was the first top-90 defense he saw in his career. It showed. In fact, look at Williams' numbers against top-70 defenses vs. his numbers against non-top 70 defenses, beginning with when he took over against Texas:
Caleb Williams (8 games)
Non-top 70 defenses
Top-70 defenses
Passing yards/attempt
10.6
6.4
Games w/ 60% passing
5 for 5
0 for 3
Meanwhile, Young is the guy who stared down arguably the best defense in the 21st century and dropped 461 total yards and 4 touchdowns in a Playoff-or-bust conference title game.
Maybe I'm in the minority, but I'd prefer to catch passes from that guy and not the guy who was still figuring things out in a thriller against Kansas.
That's also why I wouldn't want to sign up to play with Ewers. As intriguing as he is as a potential Heisman bet, it's a totally different gamble if you're a receiver in a pre-draft season who signs up to catch passes from a guy without a single throw at the FBS level. Young at least got reps as a true freshman before Jameson Williams came on board from Ohio State.
Of course now with Alabama, it's a much different sell to portal receivers. If Addison plays his cards correctly, he can become the new go-to target for the returning Heisman winner. He can play for the overwhelming national championship favorites instead of perhaps going to programs who failed to make the postseason last year.
I don't know how much that matters to Addison. For all I know, he's got a Trevor mindset when it comes to where he wants to live and the Tide's overwhelmingly obvious recruiting pitch will fall on deaf ears.
But if Addison is hearing and seeing clearly, he'll soon book a 1-way flight to Tuscaloosa.