COLLEGE BASKETBALL
SEC Tournament 2023: Bracket, schedule, TV info released for March 10
The SEC Tournament is heating up in Nashville.
Action quickly ramped up early with an overtime thriller as Mississippi State beat Florida in overtime as the Bulldogs appeared to punch a ticket to the NCAA Tournament. Tennessee then cruised over Ole Miss. In the evening window, Arkansas won a spirited battle against Auburn that saw a technical foul called. Vanderbilt also kept its NCAA Tournament hopes alive, while still on the bubble, with a solid win over LSU, but Friday's matchup against Kentucky can go a long way toward Selection Sunday equity.
Here's a look at the updated bracket: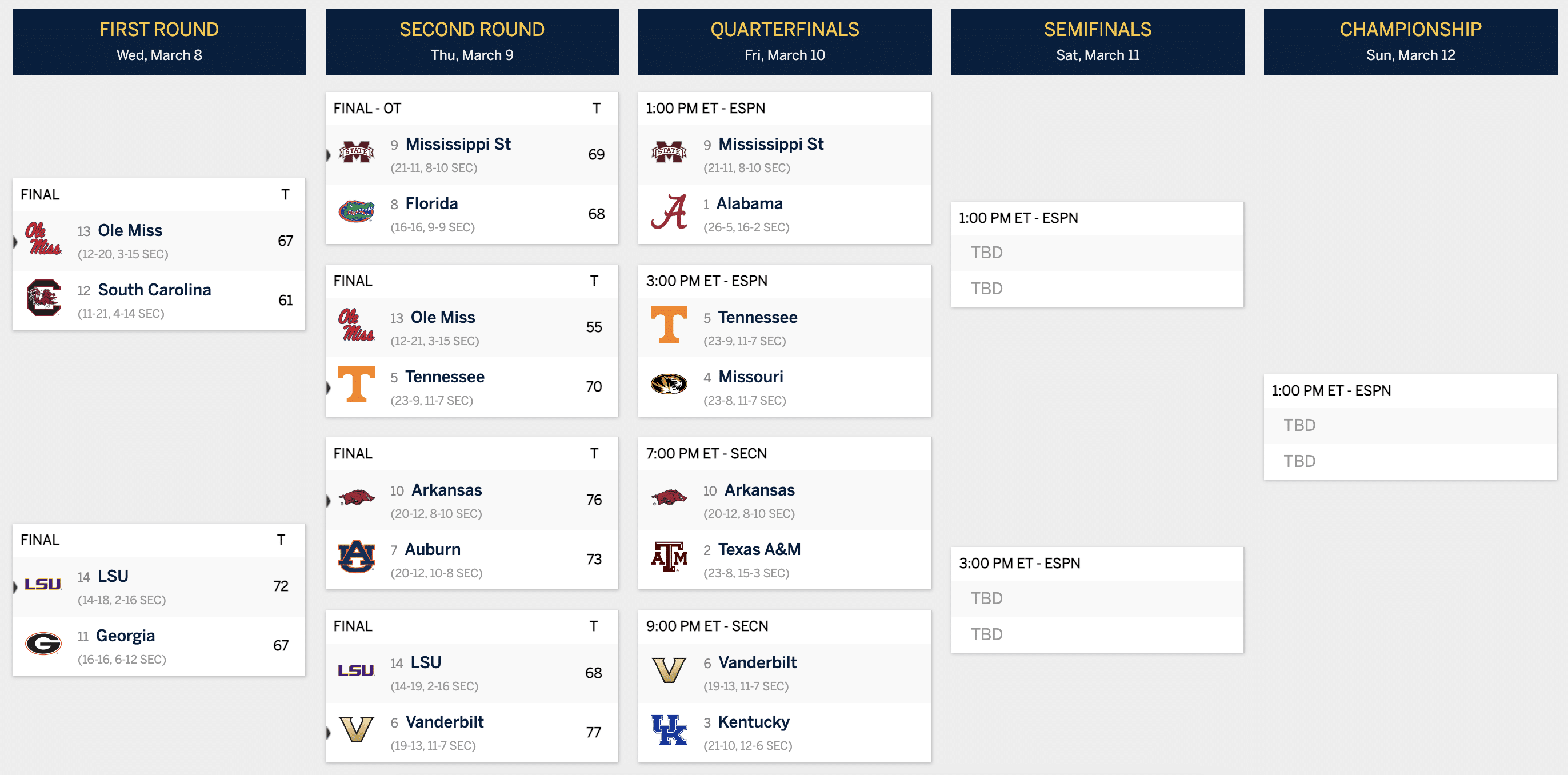 Joe Lunardi of ESPN has Vanderbilt as the 3rd team on the "Next Four Out" group, as the SEC continues to have 8 teams in the field. The teams are 1-seed Alabama, 3-seed Tennessee, 6-seed Kentucky, and trending up, 7-seed Missouri (which is trending up), 7-seed Texas A&M, 8-seed Arkansas, and trending up, 10-seed Auburn, and trending down, and 11-seed Mississippi State.
First round (Wednesday)
LSU 72, Georgia 67
Ole Miss 67, South Carolina 61
Second round (Thursday)
Mississippi State 69, Florida 68 overtime
Tennessee 70, Ole Miss 55
Arkansas 76, Auburn 73
Vanderbilt 77, LSU 68
Quarterfinals (Friday)
Mississippi State vs. Alabama — 1 p.m. ESPN
Tennessee vs. Missouri — 3 p.m ESPN
Arkansas vs. Texas A&M — 7 p.m. SEC Network
Vanderbilt vs. Kentucky — 9 p.m. SEC Network
Semifinals (Saturday)
Mississippi State-Alabama winner vs. Tennessee-Missouri winner — 1 p.m. ESPN
Kentucky-Vanderbilt winner vs. Texas A&M-Arkansas winner — 3 p.m. ESPN
The championship game is set for 1 p.m. on Sunday on ESPN.