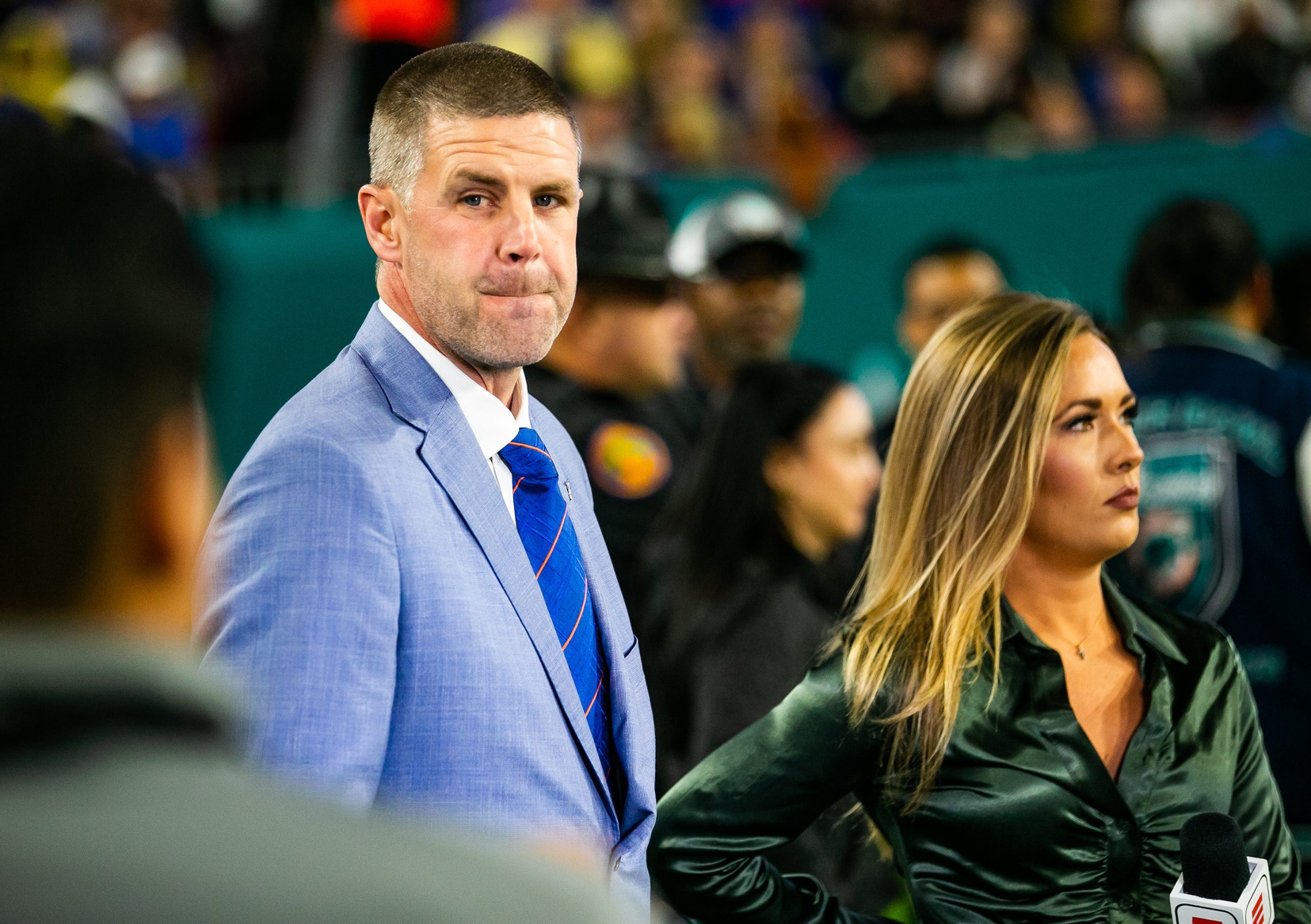 FLORIDA
Blunt? Sure, but Billy Napier's message about Florida's transfer portal approach is spot on
Billy Napier is well aware that the clock is ticking.
No, that wasn't my attempt to say that even a Year 1 coach has pressure to win at a place like Florida, though a program in its 6th coach of the post-Steve Spurrier era isn't exactly what we'd call "patient."
Napier's sense of urgency is related to the transfer portal. Specifically, the May 1 deadline for transfers to play the upcoming season at their new school. Seemingly everyone in the SEC is prioritizing that, including Florida.
Last Thursday, the Gators' new coach addressed the transfer portal about as directly as one can:
"The University of Florida, is going to be very aggressive in the portal. We need players." – Billy Napier

— Nick de la Torre (@delatorre) March 31, 2022
Yep. He's not wrong.
Napier is right to understand that he doesn't need to wait for the players he recruited in 2022 to eventually develop into SEC starters. He didn't fire off the old "well, we've got a lot of talented players who are ready to compete." He's sending out the bat signal. He's telling the college football world that Florida wants to be a home for transfers of all shapes and sizes.
To Napier's credit, this wasn't just some panicked, late-March approach. All reports out of Gainesville suggest that Napier was always going to use the portal to his advantage. He got 6 transfers after taking over, including way-too-early 2022 All-American offensive lineman O'Cyrus Torrence, who followed Napier from Lafayette.
That's for a team that had 10 players enter the transfer portal since last August. That team, by the way, was thin to begin with. There were issues at middle linebacker, the pass-catchers took a dip after that historic trio left for the NFL and ultimately, Florida felt the limitations of Dan Mullen's much-scrutinized recruiting.
A 6-win team needs help. Period. And as much as Napier emphasized the importance of beefing up the support staff to help develop the roster, the Gators need some ready-made players. They need guys who aren't 1 or 2 offseasons from being big and strong enough to compete in the SEC.
Even if Napier coaches Anthony Richardson into the superstar many believe he can be, he's going to need plenty of help. Florida had the No. 1 passing attack in FBS a short time ago in 2020. All 5 of those leading receivers are gone, and the Gators only have 1 scholarship tight end practicing. Remember last year when Florida had the SEC's No. 4 rushing attack? The only running back returning who had more than 14 carries is Nay'Quan Wright, who is out this spring with a knee injury.
And that's just on offense, which Napier should be able to lend his expertise to as the primary play-caller.
What about the defense? Shouldn't Florida have addition by subtraction by losing Todd Grantham?
Well, maybe in the long term. In the short term, the Gators have a lot of questions to answer, specifically on the line of scrimmage. Outside of returning Brenton Cox, Florida got hit hard by those departures. Gone are Zachary Carter, Antonio Valentino, Tyrone Truesdell and Jeremiah Moon. And depth is lacking at corner, where early-round NFL Draft prospect Kaiir Elam established himself as one of the best lockdown corners in the country in the past 3 years.
Napier clearly realized that he might like a few of the pieces he has returning and eventually, one would think he'll reach that recruiting level that Gator fans have been clamoring for. But for now? Numbers. Bodies. Depth.
The expectations are still going to be low. But finishing 5th in the East doesn't have to be Florida's reality just because there isn't talent stockpiled like when Mullen took over for Jim McElwain. The portal changed that dynamic with incoming and outgoing players.
This is the mantra that every first-year coach is going to have to follow. Brian Kelly certainly did at LSU. He went out and plucked 14 (!) transfers. Why? Because he could. No longer does roster space mean over-offering a recruiting class and signing 30 high school players like it once did.
And here's the other thing Kelly and Napier have been wise to address with "aggressive" approaches to the portal. It's fair to assume that their own roster is going to lose some pieces ahead of May 1. We already saw Emory Jones enter the transfer portal this spring after he initially did a 180 post-bowl game. We could (and likely will) see more because these rules allow for it.
It's inevitable with first-year coaches. Napier talked about last week how Florida couldn't even finish a full scrimmage because they didn't have the numbers. They had to move around guys on the defensive side just so that they could give the offense a true look.
That's not something a first-year coach wants to deal with. Shoot, it's not something any coach wants to deal with.
Napier's approach to the portal suggests that he's well aware why Mullen was fired. He couldn't take Florida to Georgia's level with his roster-building and his personnel decisions. Actually, McElwain's last game at Florida was against Georgia. Lost in the shuffle of the fake death threats was the fact that McElwain's roster, post-credit card scandal, couldn't stay on the field with a national championship-bound Georgia team.
There are countless decisions that Napier will make that'll determine if he's able to have fair fights with Kirby Smart. That road is long. But that road exists with an aggressive transfer portal philosophy combined with the recruiting talent in state of Florida.
Napier appears to be a realist. If he's still making a public call for players heading into Year 4, then we've got issues.
For now, though, all signs point to Napier having the right approach to conquer the uphill climb that awaits.