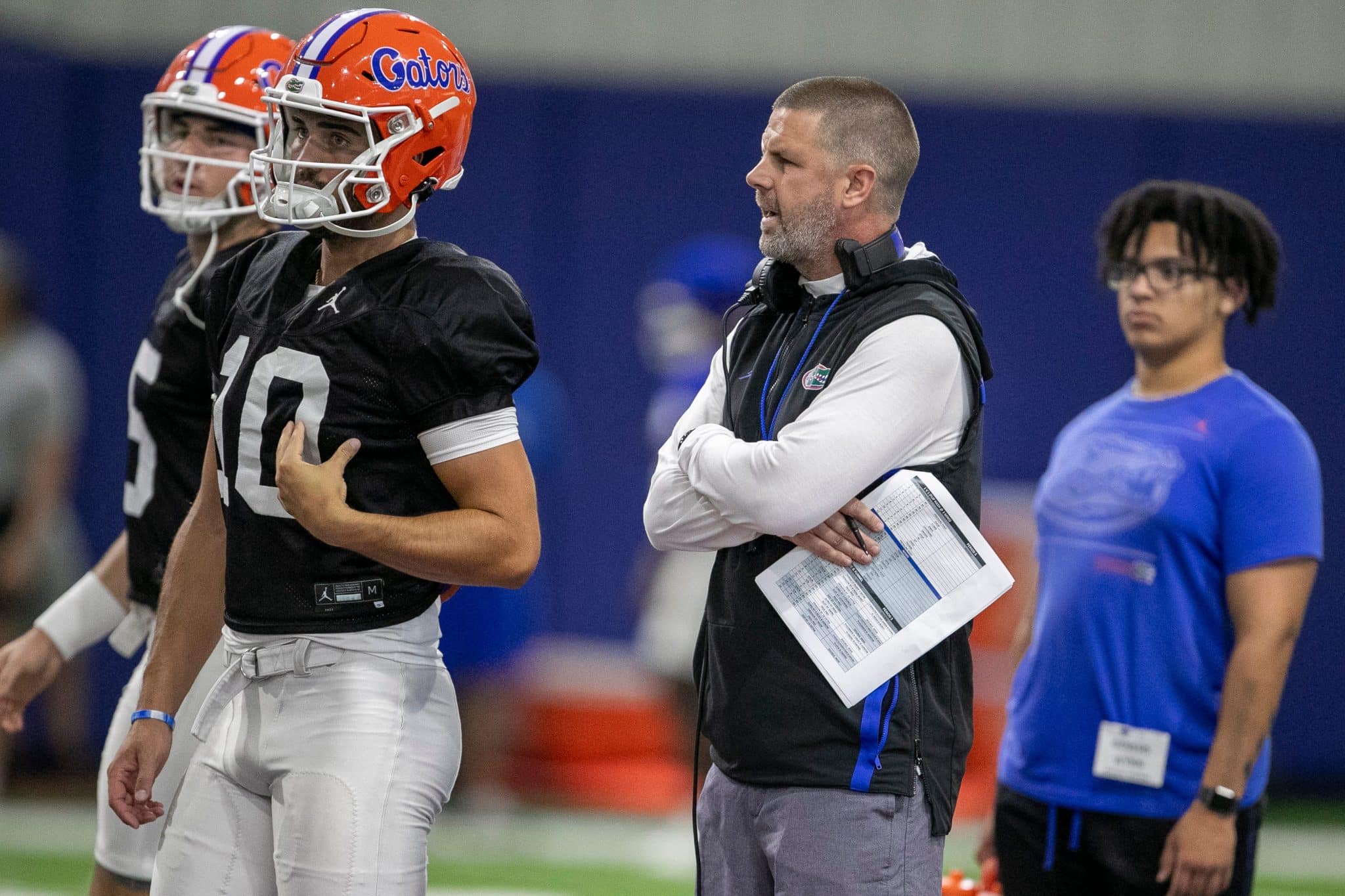 FLORIDA
3 matchups that will define Florida at No. 14 Utah, and a prediction
Year 2 of the Billy Napier era kicks off Thursday night in Salt Lake City when Florida faces off with No. 14 Utah (8 p.m. ET, ESPN). The contest against the 2-time defending Pac-12 champion Utes at Rice-Eccles Stadium marks just the 2nd time this century that the Gators have started the season on the road, and the 1st time since 1991 Florida has ventured outside the SEC blueprint for a true early season road game.
The Anthony Richardson experience.pic.twitter.com/oVUrMRHcxh

— Neil W. Blackmon (@nwblackmon) September 4, 2022
The history makes for interesting pregame fodder, but once toe meets leather in Utah, the game is likely to come down to a handful of plays and matchups. That was certainly the case a season ago, when Florida upended then-No. 7 Utah 29-26 at home in a game that made Anthony Richardson a human highlight reel and an overnight sensation and left many Florida fans wondering if a surprising year was in store. Of course, it was not, as the Gators struggled to handle success and dropped 2 of the next 3 games and all 3 to close the season, finishing 6-7.
In Year 2, as Florida seeks to silence a wave of outside criticism that doesn't trust what Napier is building (no matter how many people close to the program note that the clear-eyed plan of the meticulous young head coach seems to be working, albeit slowly), a 2nd consecutive season with a win over Utah would be a significant statement of intent from the Gators that they are on the road back.
Here are 3 matchups that will define Florida's game with Utah, followed by a prediction.
Utah QB Bryson Barnes vs. Florida's blitz schemes
Florida pressured Utah's All-Pac 12 QB Cam Rising 10 times last season, and the Utah star did not respond well to those situations.
Rising wasn't sacked, but he completed 0-of-5 attempts while pressured, per PFF, accounting for half his incompletions in an otherwise effective performance (22-of-32, 216 yards, 1 touchdown, 1 interception). Rising added 91 yards rushing, a credit to the way he can extend plays with his legs and run in the open field. And his ability to break big runs was likely a reason his inability to pass under pressure against Florida can be somewhat forgotten.
The Gators are not expected to face Rising on Thursday, as it was announced Wednesday that the senior will miss the game as he continues to recover from an ACL injury he suffered in the Utes' Rose Bowl loss to Penn State.
Barnes, a preferred walk-on and lifelong Utes fan, will make his 2nd career start in Rising's absence. Barnes won his only other start, helping Utah defeat Washington State in Pullman last season. He has played sparingly in other games, and he was generally ineffective in the Rose Bowl, when he was sacked 4 times and tossed an interception in relief of Rising.
What will the Gators, under new offensive coordinator Austin Armstrong, have in store for Barnes?
Like Rising, Barnes can beat you with his legs. He rushed for more than 100 yards last season, including 51 in the win over Washington State, and he was a talented dual-threat quarterback with more than 1,500 career rushing yards in high school.
Against Florida, Barnes will faced an Armstrong scheme that brings a ton of pressure. Armstrong's Southern Miss team finished 4th in the country in sacks and 3rd in tackles for loss a season ago. That said, the overall havoc numbers (measured by the number of dropbacks resulting in pressures, sacks and hurries) was only around 20 percent. And the downside to all the blitz packages was that opponents exploited Southern Miss through the air, connecting on 55 passes of 20 yards or more, as the Eagles ranked 121st of 130 teams in explosive pass plays allowed. Will Miles did a wonderful piece on Armstrong's scheme last winter at Read and Reaction, and it's unlikely Armstrong changes his stripes just because Utah has changed its quarterback.
Can Barnes be an effective dropback passer against Florida's consistent pressures? Can Utah hit game-breaking explosive plays? These questions are perhaps the most intriguing ones in a game full of fascinating matchups.
Trevor Etienne and Montrell Johnson Jr. vs. Utah's front 7
The Gators may have the best 1-2 duo at running back in the SEC in sophomore Etienne and junior Johnson.
The duo tallied 140 yards on just 17 carries against Utah a season ago, and they finished the season with more than 1,500 yards combined.
Florida will face a stiff test in Utah's front 7, which features an All-America candidate in tackle Junior Tafuna and returns linebackers Karene Reid — an All-Pac 12 selection a season ago — and Stanford run stuffer Levani Damuni, who graded out in the top 25 in the country against the run at middle linebacker for the Cardinal a season ago before transferring.
While Utah finished 18th in the country against the run in 2022, it's interesting to look more closely at that number. Florida's 283 yards rushing were the most the Utes surrendered last season, but Utah also struggled against other bowl teams who could run the ball: Oregon State had 171 yards rushing, Southern Cal had 175, UCLA had 203 and Penn State had 169. Of those teams, only Oregon State (4.6) averaged fewer than 5.3 yards per carry.
Utah is physical and will be a massive test for Florida's new-look offensive line. But the Utes aren't invincible against the run, as last year's numbers against quality opponents bear out.
Brant Kuithe and Thomas Yassmin vs. Florida's linebackers
How many times have we featured an elite tight end room against Florida's linebackers in recent history? How often have the Gators won that battle? If you read that and answered the latter question, "Never or not many," you are absolutely correct. Yassmin, a senior who quietly had 301 yards receiving on a fabulous 23.2 yards per catch a season ago, is not to be overlooked. But it's Kuithe, an NFL prospect and All-Pac 12 tight end, who commands the attention of most defensive coordinators. When you garner comparisons to Brock Bowers, well — you are probably really good at football.
Which TE will have the better season?

Brock Bowers: 119 receptions | 1,824 receiving yards | 20 receiving touchdowns

Brant Kuithe: 148 receptions | 1,882 receiving yards | 16 receiving touchdowns pic.twitter.com/w7EamWqIt0

— CFBLIVE247 (@CFBLive247_) June 22, 2023
The biggest question remaining is whether Kuithe will play.
He was scratched from Utah's Monday media session as he continues to recover from a torn ACL he suffered last autumn. Kyle Whittingham isn't elaborating on the depth chart, specifically on Kuithe, other than to call them game-time decisions. While he is listed on the depth chart, the Salt Lake City Tribune reported last week that Kuithe "still hasn't been cleared to return."
Will he play? Will he be 100% if he does? Those questions linger.
If he does play, the Gators feel that for the first time since the middle of the previous decade, they have a group of linebackers that can compete against elite tight ends. While Princely Umanmielen won't be dropping into coverage (unless you want to see Florida fans lose their minds), Shemar James, Houston transfer Mannie Nunnery and Scooby Williams are all upgrades from a speed and coverage standpoint over anything Florida has fielded at the position in the past 3 seasons. Nunnery in particular is a seldom-talked-about portal addition for the Gators who graded out at 78.2 in coverage a season ago, per PFF, a number that ranked in the top 40 among linebackers nationally. There's a reason Napier and his staff added Nunnery, and he should play a great deal in coverage situations Thursday.
Utah hammered the Gators with the tight ends a season ago, connecting on 11 of 13 targets for 134 yards and 1 touchdown. Kuithe, who had 105 of those yards, was at the center of that, but even if he doesn't go, Yassmin is capable of having a huge day. Florida must hang in there in this battle to have a chance to win. The matchup takes on added significance given Utah will likely lean on its trusted tight ends with Barnes under center.
Prediction: Utah 20, Florida 17
The Gators will play well in what I anticipate will be a clean game between talented teams. The Utes, however, have won 14 games in a row at home, the 4th-longest streak in college football. They are a veteran team that has won 20 games and 2 conference championships over the past 2 seasons, and they know how to win close games, something the Gators could not do much — save, ironically, the Utah game — a season ago. Rising's absence is massive, but the Utes will play inspired football for their missing captain, and a big play or 2 in the passing game and a raucous home crowd will be the difference.