GEORGIA
Film study: How Jacob Eason is the perfect QB to run Jim Chaney's system
Film study: How Jacob Eason is the perfect QB to run Jim Chaney's system
By Oliver Connolly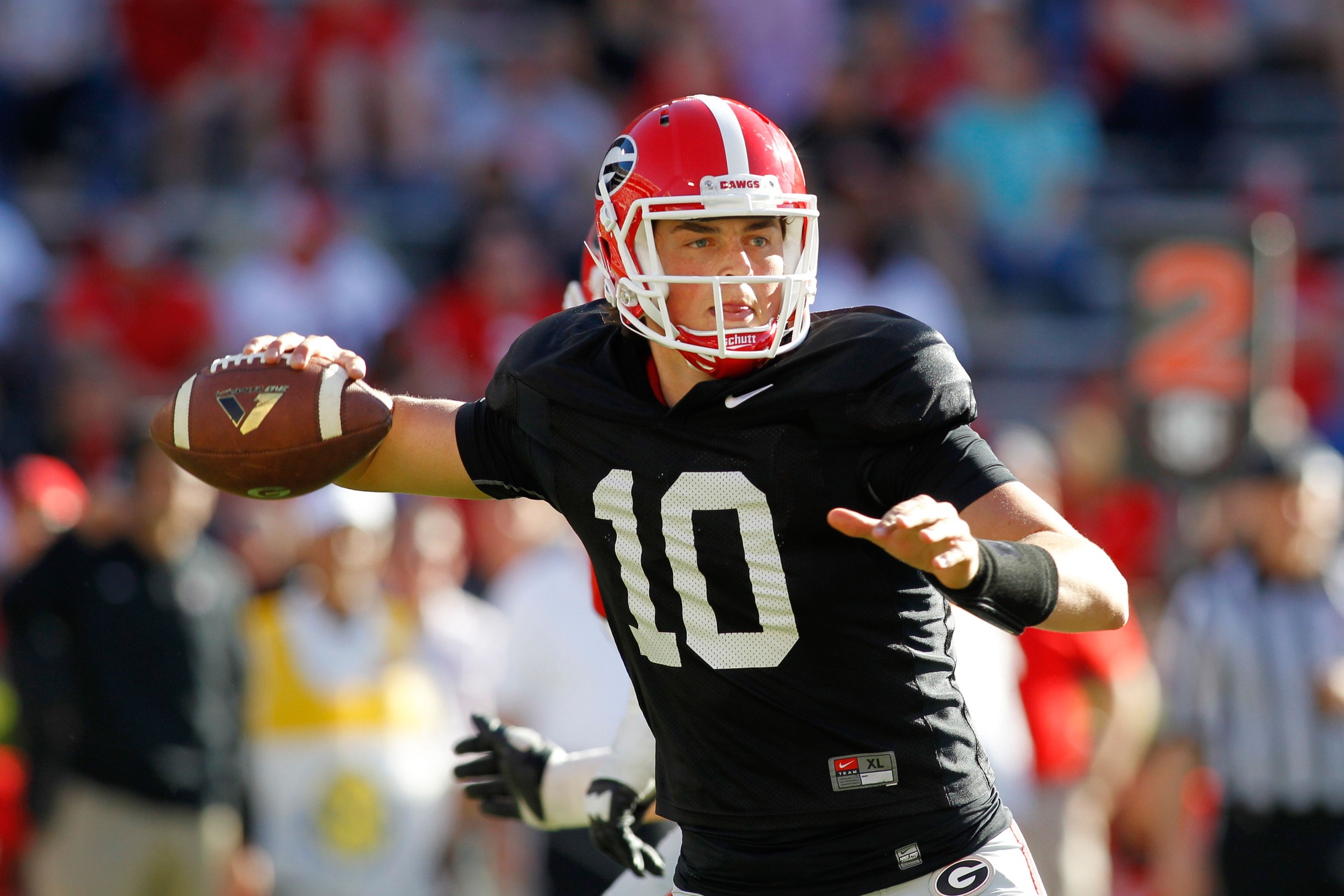 Jacob Eason walks like a star, talks like a star, and acts like a star.
Georgia's true freshman quarterback was the jewel of their recruiting class, as Kirby Smart closed the deal on the early commitment in his first couple of months on the job.
The overwhelming hype surrounding Eason only grew after an impressive display in Georgia's spring game, that thrust him right into the Bulldog's quarterback competition, where he will go head-to- head with Greyson Lambert for the starting job.
Traditionally, it is a smart practice not to get caught up too much in freshman hype. The problem with Eason is that the hype is real. He has all the signs you're looking for in a transformative, program changing, talent.
Georgia fans have bought in (fans always love the new thing), the coaching staff is prepared to start him in the season opener, his team mates continue to rave about his maturity and leadership, and the rest of the league will soon find out just how special the Washington native is.
Introducing Jacob Eason G-Day! #GoDawgs pic.twitter.com/Wf1qL3sIKE

— UGA (@ugaFBnation) April 24, 2016
Build
Eason is a prototypical dropback passer, with great height (6-6) and a slender build (217 pounds).
He has the frame to continue to grow into his body, add weight, and become more stout. He is a decent athlete, with good enough foot-speed to avoid the rush, get outside the pocket, and scramble for first downs, if necessary.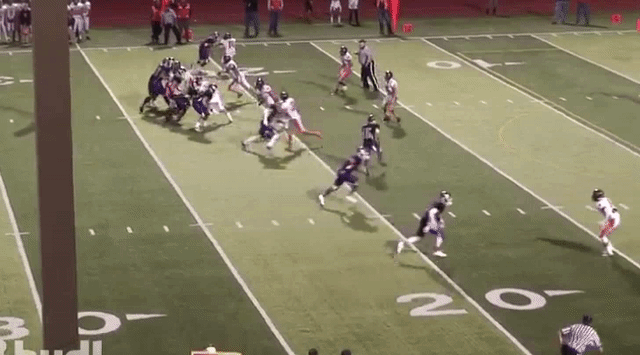 He is no special athlete, but his nimble feet, at his size, are not ordinary. He needs to get better at sticking and sliding in the pocket; planting then sliding to avoid head-on pressure, rather than simply backing up and relying on arm talent to make good throws.
Arm talent
The most special thing about Eason is blending his size, and all the advantages that come with that; being able to see over the line of scrimmage, easier vision down the field etc. with his elite arm talent arm.
Here's what Jacob Eason was able to do on G-Day. So should he be #UGA's starter on 9/3 vs UNC? Why or why not? pic.twitter.com/W243BhX8CM

— Cody Chaffins (@Cody_Fox5) April 17, 2016
His release is a repeatable over-the- top motion, and comes with little strain or effort. His development from his sophomore to junior year while in high school was impressive. He did a much better job of transferring his weight, and power, from his lower half to his upper half, rather than relying on "arm throws" in which the quarterback relies on pure arm talent to get throws where they need to be.
Generating power from the lower body allows quarterbacks to maintain their velocity throughout the game and helps them concentrate on keeping their upper body mechanics sound, which enables greater accuracy.
Though the release looks great, it can be tightened up. At times it appears as though Eason has been drawn up from a textbook and that can lead to some wasted motion; many coaches teach quarterbacks to get the ball up by their ear hole, rather than allowing the quarterback to find his natural release point (anywhere above the shoulder, that allows a full extension, is a good release). When Eason forces the "textbook" mechanics his motion loops and gives a greater opportunity for defenders to read, react, and break on the ball.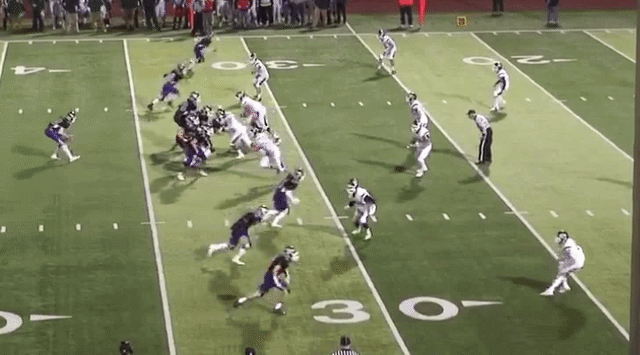 He is at his best when he is pressured, needs to get the ball out quickly, his natural throwing instincts take over, and he speeds everything up.
During Georgia's spring game there were already signs of Eason throwing more naturally, delivering more of a three-quarter stroke when the situation mandated it. Despite this, Eason lost no torque, nor accuracy.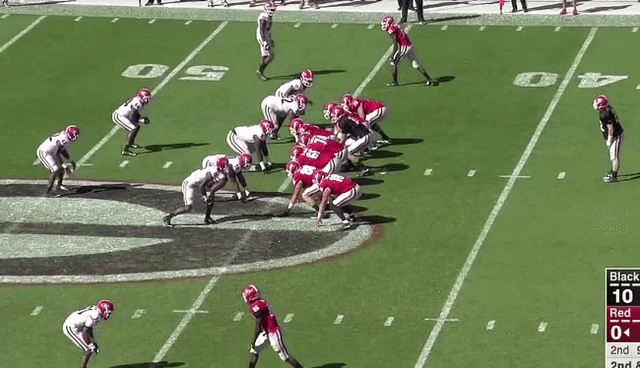 His natural arm talent is extraordinary, and reminiscent of Ryan Mallett coming out of high school; he can make any throw, from anywhere, to anywhere. But unlike Mallett, he understands how mix up velocities and trajectories when throwing to different levels of the defense. He is willing to throw his change-up and not use his fastball on every throw.
A lot of high school quarterbacks get caught up in the hype of arm talent, and wowing scouts with their velocity. Eason's arm power is so natural, and based upon the rhythm of his motion, that he appeared more concerned with completing every ball, regardless of what the throw called for.
Some zip on the display by UGA early enrolle QB Jacob Eason. pic.twitter.com/di5aZQR6Ww

— Junior Baker (@SouthernSwagg4) April 17, 2016
Accuracy
Talking of completing balls, Eason's accuracy on a down-to-down basis is outstanding.
Now, there are some concerns about decision-making and when he opts to release the ball, but when he does he is accurate to all levels.
Accuracy is the second most important quarterback trait, and Eason has it, but what's more impressive is his ability to throw with anticipation. He has a very nice feel for throwing lanes, picking soft spots in zone coverages, and will consistently release the ball before a receiver breaks. In that regard his is light-years ahead of most teenage quarterbacks.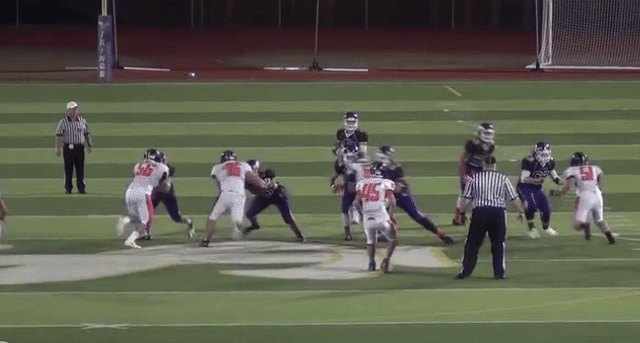 And while his anticipatory skills are striking, his ability to maintain accuracy to all levels of the field while off platform, or when moving the launching point, is rare at the high school level.
The throwing platform refers to the base with which the quarterback throws. It is not often that quarterbacks get a perfectly clean pocket, with no pressure in their face and a wide open lane (which is generally what he had during the spring game).
They're often forced to move within the pocket, or bail out of it entirely. Being able to throw off-balance or off platform is a crucial skill to evaluate when you're projecting a quarterback to the next level of competition.
Many quarterbacks can look great with no pressure in their face or when playing within the rhythm of the offense. Being able to maintain accuracy while throwing off platform is a difficult skill, and one that's difficult to teach.
Many coaches have taken to designing many, if not all, of their quarterback drills with quarterbacks moving and throwing from different bases. It is rare that quarterbacks at the college level with consistently get a clean pocket, and if they do they should be talented enough to complete those throws without going through hours of drills.
#Dawgs Jacob Eason & Riley Ridley hooking up for a big gainer at G-Day 2016. 🔥🐶🐾 #GoDawgs #96KDay pic.twitter.com/BfAlUdZ2yu

— GATA Dawgs (@BassinDawg) April 17, 2016
Throwing off platform and throwing under fire is the more necessary skill, and Eason has already demonstrated in high school, and during Georgia's spring game, that that skill is within him and that he can maintain supreme accuracy despite being forced to throw off his back foot, or without a full weight transfer.
The below throw may be the best of his high school career. Here, he feels frontside and interior pressure. He moves deeper into the pocket and is forced to throw while moving backward and lands a dime to his receiver in stride.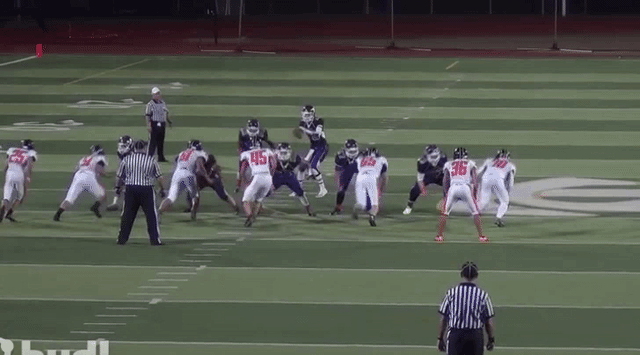 It doesn't get much rarer than that.
Eason also shows great accuracy when moving the launching point; rolling out of the pocket to his right or left (or sidestepping) and delivering balls while on the move. Now, many of the completions come with him being able to stop and regain balance, something that he will be unable to do in the SEC, but he also has a number of plays where he is throwing directly on the move with good accuracy to all levels.
Mental processing/decision-making
While accuracy is extremely important, decision-making and mental processing is the most valuable weapon a quarterback can have. There is no use in being accurate, with a big arm, if you're deciding to use it at the wrong time or throw to the wrong guy. Many a high school quarterback has looked great on a cut-up with a huge arm, but when you dive into the down-to- down decision-making you see a beautiful arm, with a compact release, that routinely throws beautifully thrown balls to guys wearing the wrong colored uniform.
Eason's numbers (for what they're worth) scream of a quality decision-maker. During his high school career, he has a mind-blowing 59-to-12 touchdown to interception ratio. And while the numbers are great, the tape leaves some questions.
Like many high school QBs, Eason can be guilty of "hero ball." He was the best player on the field at all times and had the ball in his hands on every offensive snaps. That led to throwing too many 50-50 balls that he got away with in high school, but will be punished by SEC defenses.
He also has a tendency to lock onto one target. Eason operated a spread system that featured a number of empty sets, but he would too often ignore the other four eligible players.
During the Bulldog's spring game, he did a much better job of utilizing all the eligible players, consistently checking the ball down and not trying to force anything down field. But the larger body of work, back at Lake Stevens High, gives some cause to pause. He had a number of weapons in high school, most notably Riley Krenz, and while he distributed the ball to all of his weapons throughout the game, too often he would get locked onto his primary on each individual play.
While Eason can be too focused on his primary, he does do a good job of moving and manipulating the defense, particularly safeties, with his eyes. Although some of the decision-making is questionable at points, the other elements of the mental side of the game; manipulating the defense, throwing with anticipation, diagnosing coverages and blitzes, are good indications that his overall decision-making will improve as he matures, gets better coaching, and more reps.
Translation to Georgia and its offense
Make no mistake about it, Eason is the best quarterback Georgia has, and whether he wins the starting job for Week 1 or later, he will be the team's starter by end of the season.
Alongside the signing of Eason, Kirby Smart hired Jim Chaney to take over as the Bulldog's offensive coordinator. Chaney's most notable work was helping develop an explosive offense at Purdue, and developing Drew Brees. Now Chaney has another big-time talent to develop and the fit seems pretty perfect.
Chaney made his name by putting Brees, an undersized signal-caller, into a new-age spread offense. The Boilermakers threw the ball all over the shop and split a Big Ten title.
After success at Purdue, Chaney moved onto the NFL ranks and developed a far more intricate and run-heavy offense. His scheme now features far more gap principles – great for Nick Chubb – but hasn't abandoned some of the spread concepts that helped him make a name for himself.
Expect to see a lot of movement up front the Bulldog's offensive line.
Gap vs. Man concepts and how they'll benefit Georgia
"Gap" running concepts differ slightly from "man" concepts. All offenses sprinkle in all three run styles; zone, man and gap, but most offenses usually feature one more heavily than others.
In a man scheme an offensive lineman is responsible for his defender; knowing pre-snap who he is going to block, and giving the running back a defined hole to hit. Miss an assignment and it's obvious who blew up the play and who is at fault.
A gap scheme is the most complex of all. It has been run successfully throughout time by all coaches, and more recently to great effect by the likes of Jim Harbaugh and Tom Herman. It pairs playside lineman blocking to the frontside, with backside lineman blocking to the playside. And can be run from all formations/looks; spread, pro, pistol and so on and so forth.
The two most infamous gap-scheme plays are "power" and "counter-trey."
The goal of pulling and moving the lineman is to naturally create a double-team or combination block, traditionally with a guard and tackle double-teaming a defensive tackle. Both lineman will engage with the tackle, before one ID's and moves on to block a linebacker.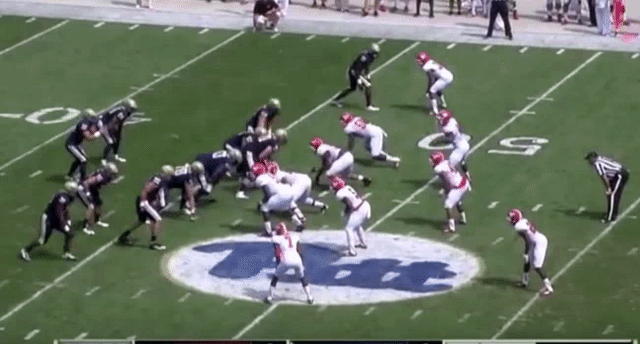 Pulling and moving the lineman, if they are athletic, creates power and momentum behind them, but also creates different levels to the defense rather than a "wall." If you have a talented running back with good agility, lateral quickness, and vision, he will be able to take full advantage of the different levels of the defense.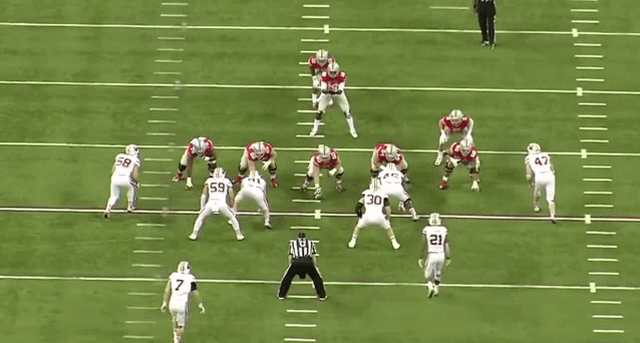 Perfect fit for Eason, Bulldogs
From a passing standpoint, instead of lining up strictly in spread alignments, Chaney prefers to send the offense out in bunch sets, or with in-line tight ends, before motioning or shifting to more spread looks. This style gives the offense more versatility to adjust at the line of scrimmage, and makes it utterly unpredictable and difficult to chart tendencies based on the personnel in the huddle.
Eason will have the benefit of a coach who understands and appreciates spread concepts, simple, quick reads, as well as developing him into a more complete quarterback who can operate from a huddle, utilize full field reads, and understand more complex offensive structures.
On paper it appears like the perfect marriage.
Not only that, but he has the help of one of the most dynamic players in the conference – Chubb – and a plethora of other offensive weapons.
Eason has all the physical talent in the world, is surrounded by successful coaches, a quality supporting cast, and will be embedded in an offense that fits his strengths. How he translates will come down to how quickly he can pickup the system, whether he improves his mental processing quickly, and whether he can cope with some of the intangibles that comes with being the quarterback at a big school; commanding the huddle, dealing with pressure and bouncing back from errors.
Only the Georgia coaching staff can evaluate those final three points.
Smart's job is not only to compete for SEC titles, but to knock Nick Saban and Alabama off their national perch.
To do so, they'll need to get the best out of Eason; and the priority should be to play him when he is ready, not rush him to start. Get that developmental process right, and the sky is the limit for the program and Eason individually.