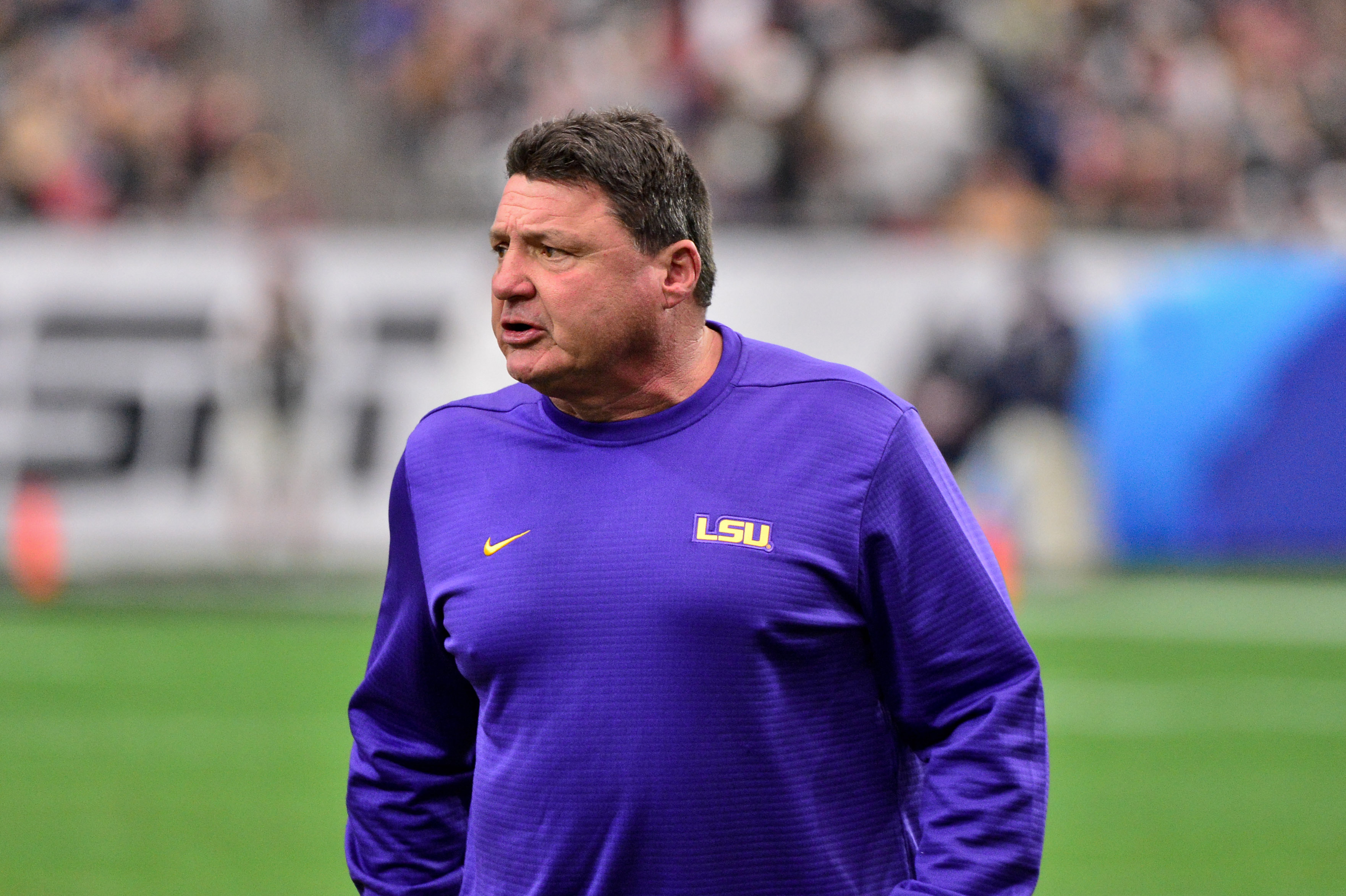 LSU TIGERS
Battle of Big 3: How LSU compares to Alabama, Auburn
It's beginning to look like LSU is in a 3-team race for the SEC West title.
There's still time for a 1-loss team such as Texas A&M to regain relevance, but the 3 unbeatens – LSU, Alabama and Auburn – separated themselves in September.
LSU at 1-0 has played one fewer conference game than Alabama and Auburn, but as long as these teams stay undefeated, this is a 3-team race.
Eventually the head-to-head competition will determine the pecking order, but it's never too early to handicap how No. 5 LSU compares to its Alabama rivals – the No. 1 Crimson Tide and No. 7 Auburn:
Quarterbacks
It's a neck-and-neck battle between LSU's Joe Burrow and Alabama's Tua Tagovailoa with Auburn's Bo Nix a clear 3rd. Burrow has a slight edge in yards per game, but Tagavailoa's 23 touchdowns and zero interceptions compared to Burrow's 17 and 2 give him a slight edge.
1. Alabama
2. LSU
3. Auburn
Running backs
This is where Auburn's makes up for some of its shortcomings in the passing game. JaTarvious Whitlow is the No. 3 rusher in the SEC, 6 spots ahead of Alabama's top rusher (Najee Harris) and 10 spots ahead of LSU's top rusher (Clyde Edwards-Helaire). The team rushing stats rank similarly. Bo Nix also has shown he is a capable runner in Gus Malzahn's offense.
1. Auburn
2. Alabama
3. LSU
Wide receivers
Earlier this week, SDS' Matt Hinton made a strong case that Alabama's group of receivers might be the best in college football history.
Feel free to debate that. The conventional wisdom is that Alabama and LSU have the best receiving corps in the country, though LSU will be without Terrace Marshall Jr., for several weeks after he underwent foot surgery.
LSU and Alabama both have 3 receivers among the top 9 in the SEC while Auburn's top receiver is No. 13.
1. Alabama
2. LSU
3. Auburn
Total offense
This is where it gets interesting, at least statistically.
Alabama has better balance than LSU, and Auburn is lagging in passing, but overall the numbers are pretty close. LSU is No. 1 and Alabama is No. 2 in both yards and points per game and Auburn is 5th in both.
The methods are different. LSU and Alabama are scoring quickly. Auburn is sustaining longer scoring drives.
1. (tie) Alabama
1. (tie) LSU
3. Auburn
Defense
None of the 3 has consistently played defense at a level it expects to reach later in the season. In terms of yards allowed, LSU ranks 5th in the SEC followed by Auburn at 6th and Alabama at 7th. In terms of scoring defense, Alabama is No. 4 followed by Auburn at No. 5 and LSU at No. 7.
1. Alabama
2. Auburn
3. LSU
Kicking game
Alabama's perennial weakness remains weak. LSU is 7-for-7 on field goals, Auburn is 5-of-6 and Alabama is 5-of-9. If these games are as close as we expect them to be, such things could matter.
1. LSU
2. Auburn
3. Alabama
Overall
Alabama moved past Clemson into the top spot in the AP poll after routing Ole Miss while Clemson barely escaped against North Carolina last week.
That was a dubious development given the weakness of the Crimson Tide's schedule, though the margin of victory is significant.
LSU has a similarly impressive margin of victory and a marquee victory at Texas.
Auburn has had the deepest schedule – beating Oregon, Texas A&M, Mississippi State and even Tulane (in addition to Kent State). Saturday, it takes on No. 10 Florida.
Evaluating the teams piece by piece and the schedule week by week, here's how LSU stacks up against its primary SEC West challengers:
1. (tie) LSU
1. (tie) Alabama
3. Auburn
Read More
Louisiana sportsbooks are up and running. Residents in the state can now signup at one of the various sportsbook operators and begin betting on NFL, college football, NBA and more.