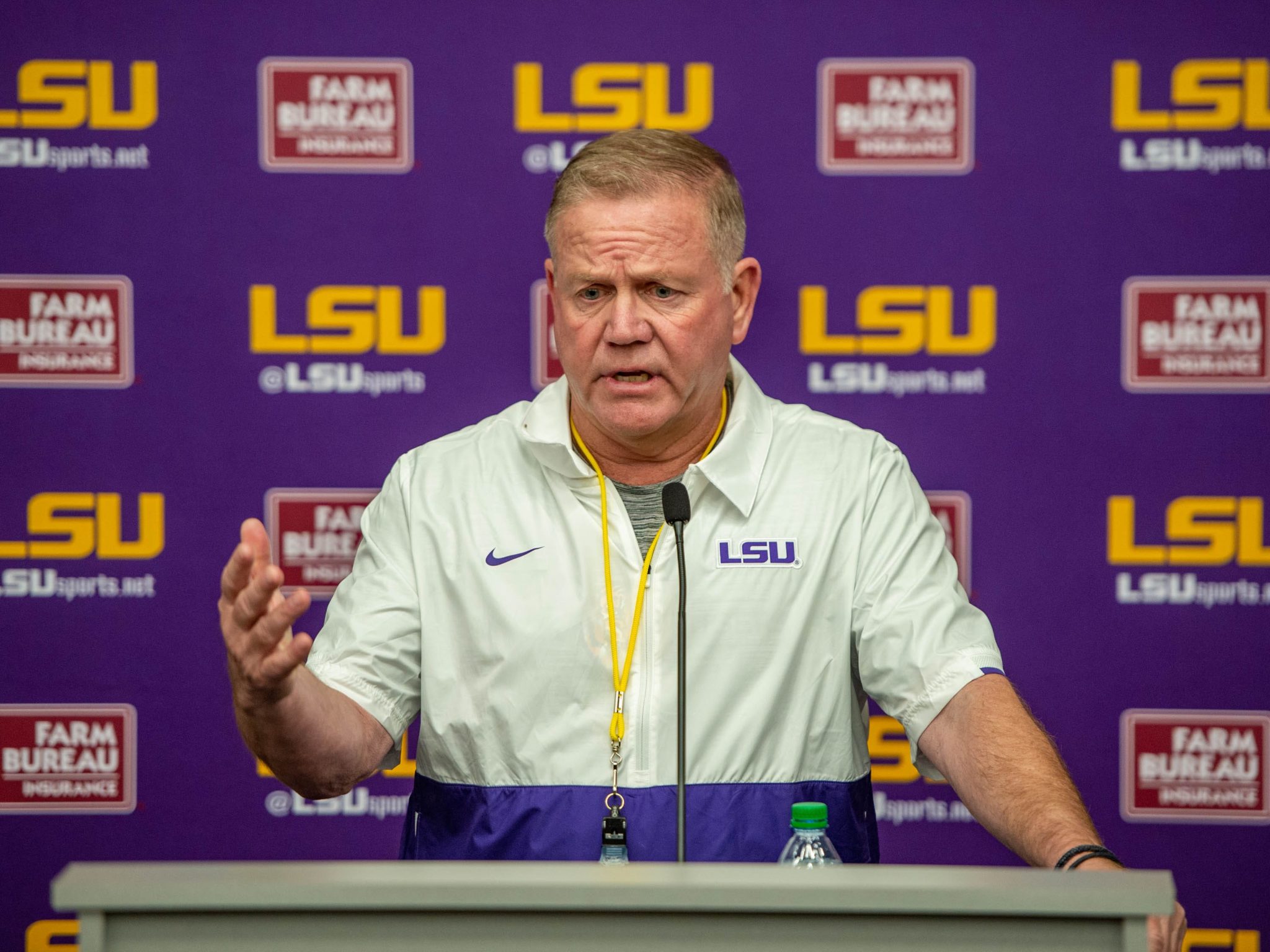 LSU TIGERS
O'Gara: Why LSU is America's most unpredictable team in 2022
"I don't know. Maybe 7-5 or 8-4?"
That's typically my answer when someone asks what I think Year 1 of the Brian Kelly era at LSU will look like. It's a hedge. I'm straddling the fence because admittedly, the Tigers' 2022 outlook is as puzzling as they come.
There are a handful of reasons LSU enters 2022 as the nation's most unpredictable team.
Sure, most teams with a first-year coach are tough to project. They're tough to project going into a season, and as South Carolina and Auburn reminded us last year, they can be tough to project from week to week.
But it's not just that LSU has a first-year coach in Kelly. His stable track record actually skews how we'd typically think of a first-year coach. Why? How many coaches with 5 consecutive seasons of double-digit wins against a Power 5 schedule leave for new surroundings? Not many. Not even Lincoln Riley was part of that club because he had 9 wins in a COVID-shortened 2020 season.
As my guy Peter Burns brought up recently on ESPN Radio, what complicates LSU's outlook is the likely possibility that Kelly could already have more talent on his 2022 roster than any he had with those 10-win teams at Notre Dame. What's the difference? Well, the SEC West. Burns called it "the '27 Yankees." I'll maybe pump the brakes on that and just say the West is undoubtedly the best division in America heading into 2022.
LSU knows all too well that a team full of talent doesn't mean a 9-win floor in the West. Shoot, last year's team had 10 players drafted on a roster that ranked No. 5 in the 247sports talent composite rankings … and it won 6 games. Think about that. That's a wealth of next-level talent out the door from a team that needed a last-minute drive to upset A&M just to earn bowl eligibility.
As wild as it sounds, that's why there's a 5-7 path for the 2022 squad if the demolition phase of LSU's roster continues into the season.
We're no longer living in a world in which LSU is the "set it and forget it" team to reach 8 wins like it did for the first 20 seasons of the 21st century.
In the past 3 seasons, LSU:
A) Won a national title
B) Had a last-place finish in the SEC West
C) Tied w/ Georgia for most players drafted (31)
D) Had its 2 worst seasons of the 21st century
E) All the above
It's "E." It's always "E."
No other team in America has a range of outcomes like that in the past 3 years.
Let's also not forget the timing of Kelly's arrival. It's the first time that FBS programs could sign undergraduate transfers knowing that they all had a 1-time exemption (that rule went into effect last summer). We really haven't seen what it looks like when a team replaces 10 NFL Draft picks with 10 Power 5 transfers (and 15 total). Why? Teams with 10 NFL Draft picks usually have a bevy of blue-chip recruits ready to step in.
To be fair, LSU has plenty of returning talent. One of those returning former blue-chippers is Kayshon Boutte. In many ways, he sums up the unpredictability of LSU's 2022 outlook.
You could make a pretty convincing argument that he's the Tigers' top returning player. If he's on the field, a Biletnikoff Award is within reach. But as LSU fans know all too well, that's a huge "if."
It's not just that Boutte had 2 ankle surgeries since he last appeared in a game in October 2021. It's not even just that Boutte flirted with the transfer portal until Baton Rouge-based attorney Gordon McKernan stepped in at the 11th hour with a new NIL deal. Kelly made headlines in March when he was asked about his relationship with the star receiver.
"I would say I know his last name right now," Kelly said, via Billy Embody of The Bengal Tiger. "I say that only because we are in that process of, he's re-engaging. He's been injured. He's had a second surgery, but we are getting more acquainted every day."
That was, um, not great. Kelly tried to quiet any lingering doubt about Boutte at SEC Media Days, but the great unknown remains. Boutte is getting first-round love in early mock drafts. What happens if LSU gets off to a slow start and he isn't being force-fed targets like he was with Max Johnson as the starter? Could he shut it down instead of risking a re-injured ankle? Or could Boutte simply suffer another ankle injury that cuts another season short? We don't know.
We don't even know who'll be the guy throwing to Boutte.
Jayden Daniels was brought in as a coveted transfer from Arizona State, though he's coming off 2 disappointing seasons after he had a 17-2 TD-INT ratio as a true freshman. Myles Brennan is the guy entering Year 6. If he's the guy, there's reason to believe he's ready to capitalize on his long-awaited opportunity, though that's not even a stable option considering injuries kept him out of all but 3 games the past 2 seasons. And if Kelly thinks that Garrett Nussmeier is his next Ian Book, remember that spring accolades aside, the redshirt freshman still appeared in just 2 games against Power 5 competition.
Kelly did a remarkable job of making sure he had several potential QB options in Year 1, which included retaining the commitment of in-state 4-star QB/dance partner Walker Howard. And even if Boutte doesn't become a star in 2022, LSU is stacked at receiver with the likes of Jack Bech and Brian Thomas Jr. One would think that's more promising than LSU's ground game, which added Penn State transfer Noah Cain and returned former 5-star recruit John Emery from academic suspension but ranked No. 114 in FBS.
You could make the case that LSU's sudden unpredictability stems from the recent defensive issues. The group will have its 4th defensive coordinator in as many seasons. Not surprisingly, LSU hasn't had a top-25 defense since 2017. From 2009-17, the Tigers had 8 top-25 defenses.
New defensive coordinator Matt House inherited one of the top edge-rushing duos in the country in BJ Ojulari and Ali Gaye, who should pair well with promising defensive tackle Jaquelin Roy. Unfortunately for House, he also inherited a defense that ranked No. 10 in the SEC in scoring that just lost 5 players to the NFL Draft and 2 starting corners (Eli Ricks and Dwight McGlothern) to SEC West teams via the transfer portal. LSU is in the middle of the pack in percentage of returning defensive production, too.
Of course, 7 of those 10 Power 5 transfers came on the defensive side. Will they mesh and give LSU it's best defense since 2017? It's possible when you consider House had less talent to work with when he led Kentucky's historically dominant 2018 defense. But even that feels like a "wait and see" situation.
That's what this entire season feels like for LSU. You can be all in on Kelly long-term and still think Year 1 is a total crapshoot. Nick Saban and Kirby Smart are living proof of that based on their Year 1 losses to Louisiana-Monroe and Vandy, respectively. A coach's Year 1 record doesn't reveal much of anything, which is important to remember with Kelly.
Every time LSU loses in 2022, we'll inevitably see clips of his viral dancing ways or his ill-fated attempt to slip in a Southern accent. Shoot, we'll probably also see those when he wins. SEC West victories should be celebrated. After all, Kelly is walking into a division with 4 or 5 preseason AP Top 25 teams.
Maybe that suggests LSU is more likely to hover around 6 or 7 wins and not really threaten for a New Year's 6 bowl. FanDuel has LSU's regular season over/under at 6.5 wins with a -115 payout for the over. The consensus SEC Championship odds have LSU at +6652, which ranks No. 9 in the conference.
But then again, will anybody be truly surprised if a team with top-10 talent and a top-10 coach in the sport reaches a New Year's 6 bowl? The only instance in which LSU should be a significant underdog is obviously the home tilt against Alabama … which held on for dear life to win last year's baffling thriller in Tuscaloosa.
Perhaps LSU's 2021 unpredictability creeped into my 2022 outlook. That's fair, I'd argue. Given the changes on the Bayou in the last year, it'd be strange if anybody felt confident in what to expect in the immediate future. Eventually, we'll have LSU figured out.
For now, though, there's no shame in not knowing.
Read More
Sports betting in Louisiana is live and running. Whether it is betting on SEC football or LSU football games or the Heisman race each year, if you live in Louisiana, you can now do it from your mobile phone.