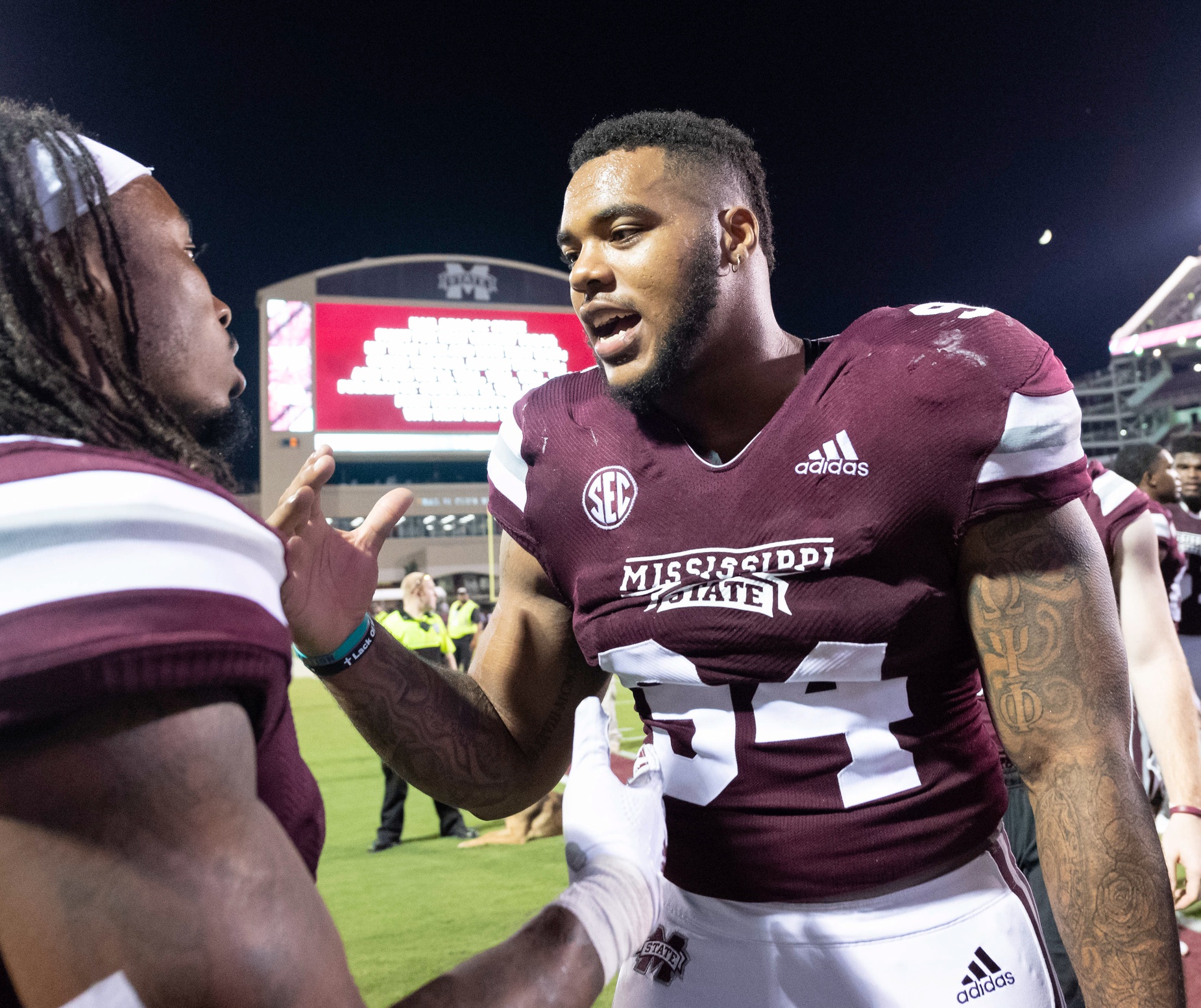 MISS STATE
Jeffery Simmons did all the right things to move past the worst possible start to his career
"Now, several years later, you look at him, the type of career he has not just as a football player, his impact on the community, the type of success he's had in the classroom and the type of person he is in the classroom, I think a lot of people look back and say, 'Hey, I think we made the right decision by giving him the opportunity to go to Mississippi State.'"
It took Joe Moorhead a few months into his first year at Mississippi State to find out something that we all knew about Jeffery Simmons.
That's not to say that Moorhead was negligent or disinterested in his players. As far as Moorhead could tell from his brief time in Starkville, Simmons was nothing but the model student-athlete. Even someone who arrived on Mississippi State's campus at the start of 2016 would probably make that assumption about the star defensive lineman.
"He's really gone above and beyond," Moorhead said.
Simmons' career path since arriving at college was about as good as it gets. The perennial SEC honor roll honoree was one of MSU's team leaders in community service having visited countless schools in the area to speak to kids. Since the start of the 2016 season when Simmons got to MSU, you'd be hard-pressed to find a single negative headline about him.
All the current headlines are about how he's a likely All-American and that he's expected to be a first-round pick in the 2019 NFL Draft. Moorhead gets asked about Simmons from next-level scouts and gives an answer that's hard to argue with.
"On the field, he does things that people shouldn't really be able to do," Moorhead said. "You kinda marvel at it when you come in to watch the film on Sundays. Whether it's rushing the passer, splitting the double team or chasing down a screen, he's just a big, strong, physical, athletic guy that's had a ton of production … he's really been the consummate student-athlete in my time here."
If Simmons was anything less than the consummate student-athlete, he wouldn't be in the position he's in now. That is, destined for millions and possibly a long NFL career.
The headlines Simmons will generate in the coming months will be far different from the one that defined the 5-star recruit's controversial arrival at Mississippi State.
"Video surfaces of top football recruit Jeffery Simmons repeatedly punching woman."
The story about Simmons punching a woman on the ground was national news. Simmons was charged with disturbing the peace for fighting and simple assault, both misdemeanors. The viral video, which did him no favors in the court of public opinion, had a more lasting impact than the charges.
Less than 2 months earlier, Simmons chose Mississippi State on National Signing Day and signed his National Letter of Intent. That meant then-Mississippi State coach Dan Mullen had a decision to make. Mullen basically had to tell the No. 1 recruit in Mississippi to take a hike or he could reprimand him and hope it was an extremely isolated incident.
Mullen chose the latter, and he got hammered for it.
That June, Simmons was allowed to enroll at MSU (amid controversy), where he was set to begin his career by serving a 1-game suspension. Plenty of people accused Mullen of only slapping Simmons on the wrist just because he was one of the highest-rated MSU signees ever. We even criticized Mullen's decision here at SDS. Not taking a strong stance against domestic violence made Mullen an easy target.
Two and a half years after the fact, I asked Mullen — now the coach at Florida — about why he made the decision he did.
"When (Simmons) came on campus, we had been recruiting him for a long time. I knew the type of person he was," Mullen said. "Anytime something like that happens, one, you know the background because you've been recruiting him for so long. You know all about the prospect. You investigate the whole thing and what happened, so you have a lot of knowledge.
"More than maybe just a lot of people that look and read a headline or a hit and they want to make their opinion on whatever the blog or whatever it is they read about it. They look at that and want to form their final opinion off of just that. You have to really investigate everything that went on in the situation and his background and knowing all about him and who he was."
The background of the incident varied depending on who was asked. The video showed Simmons initially trying to break up a fight between his sister and another girl, and he said that his intentions were to protect his family.
But it still didn't change the result. That is, Simmons committed a violent act against a woman and everyone saw it. That prompted him to release a since-deleted Facebook post:
"I take full responsibility for my actions that occurred on Thursday evening. My apology goes out to the Taylor family and especially to Sophia Taylor. What was I thinking? Honestly, I wasn't thinking. All I could think was this is my family, and I am supposed to defend my family."
Mullen defended Simmons by telling administration that he thought Simmons was more than what that video showed. Then-athletic director Scott Stricklin publicly supported the decision while SEC commissioner Greg Sankey said that he "wasn't comfortable with it" even though the league had no power to rule on the issue. Stricklin was mocked for a statement that claimed Simmons "will be held accountable for his actions while at MSU."
When Simmons arrived on campus, Mullen sat him down and gave him some real talk.
"I said, 'Hey, I'm going to put myself out there to give you this opportunity and you have to understand that you're going to be scrutinized much more than everybody else,'" Mullen said on Wednesday. "And so we had that discussion beforehand that there might be people that tempt him or try to provoke him into situations. But no matter what happens, he's going to be very, very scrutinized."
In other words, "you're on thin ice, pal."
In 3 years, though, Simmons skated clean and earned high marks in the process. After he had that talk with Mullen, Simmons responded by earning a 4.0 GPA while garnering Freshman All-SEC honors.
A Facebook post and repeated public apologies wasn't going to be enough for Simmons to turn around his damaged reputation. Even just keeping his head down and dominating on the field probably wouldn't change any opinions. After all, that's what everyone expected the 5-star recruit to do.
Plenty of people also probably expected Simmons to spoil his second chance, many of whom would argue that he should have never been given that opportunity the first place. Any negative headline — whether that was getting into a fight on campus or facing discipline for a violation of team rules — would have fueled the responses of "see, I told you that guy was a problem."
To his credit, Simmons never gave people a second chance to do that.
"Many people don't get a second opportunity in life. From the time I stepped on campus up to now, I've been holding my word to the A.D., like I told him I would," Simmons said in a recent video for Hail State Productions.
With more individual accolades likely on the way for the preseason All-American, the Egg Bowl is expected to be Simmons' last SEC game at MSU before entering the NFL Draft. Surely every NFL front office person will be aware of Simmons' past.
When they finish watching the 6-4, 310-pound defensive tackle blow up the NFL Combine, they'll sit him down and ask him how he handled the biggest mistake of his life. Or rather, how he plans to continue to show that he's not the guy in that video.
It's a fair question now, and it was a fair question when Mullen asked it to Simmons back in 2016.
"Now, several years later," Mullen said, "you look at him, the type of career he has not just as a football player, his impact on the community, the type of success he's had in the classroom and the type of person he is in the classroom, I think a lot of people look back and say, 'Hey, I think we made the right decision by giving him the opportunity to go to Mississippi State.'"