SEC
SEC Media Days 2014: What They Meant To Say
Another SEC Media Days has passed, and it's time yet again for an edition of "What They Meant To Say" courtesy of William Wallace.
Mike Slive, SEC Commissioner
"Why are we still doing this in Hoover, Alabama? Do you guys realize how much money we make? We could afford to do this on Pandora, the mythical land from Avatar, and we do this in Hoover? At the very least Charleston."
Nick Saban, Head Coach, Alabama
"This season will be really exciting… Hold on, (Pulls out phone, makes fake ringing sound, steps a few feet away from the mic) Hello: Oh, hello Jerry Jones of the Dallas Cowboys (Holds back laughter). What? You want to pay me $9 million a year? That's interesting. I'll get back to you. (Hangs up phone. Giggles, and tells reporters to wait one second… Phone rings for real). Oh, hello, Athletic Director Battle. What's that? You want to give me a raise up to $10 million a year? Well, sure, I'll take it and yes, I'm committed to the University of Alabama. (Hangs up). It's that easy, Folks."
"The only thing I'll miss about AJ McCarron is his girlfriend and his mom. Otherwise he was always a little too much of a cryer for my tastes."
"I'm trying to see if there is anything I can't do at this point. That's how Lane Kiffin happened. I was on a private space flight with Richard Branson, Gates and some oil guy from Kuwait, anyway, they dared me to hire Lane, just to see if anyone at Alabama would even bat an eye or tell me no. So I tried it and here he is. After he got here I've realized why he's failed everywhere he's gone. He's a total clown. So yeah, looking back it wasn't the smartest move. These are the consequences of unmitigated power."
Mark Richt, Head Coach, Georgia
"Here's an interesting fact about last season: we didn't have one 3rd down, on offense or defense, in which a Georgia player didn't tear his ACL. Look it up."
"I was told the more arrests you have the better off your championship odds will be. It worked for Urban and Les. I'm yet to see those kind of results. Probably because I kick these guys off… I should probably stop doing that."
Will Muschamp, Head Coach, University of Florida
"I'm making the most of this trip. I have a few copies of my resume. I'm open to being a linebackers coach, or something like that next year. Special Teams… I lost to Georgia Southern, my options will be limited."
"It's strange, I walk the streets of Hoover, and there is a sense that this is my last time here… So, at least I've got that going for me."
Derek Mason, Head Coach, Vanderbilt
"No, I did not shoot Stringer Bell. That was a totally different guy, and he was acting. I've never met Omar, who also isn't real. He's an actor, too. I'm just wearing a Bowtie."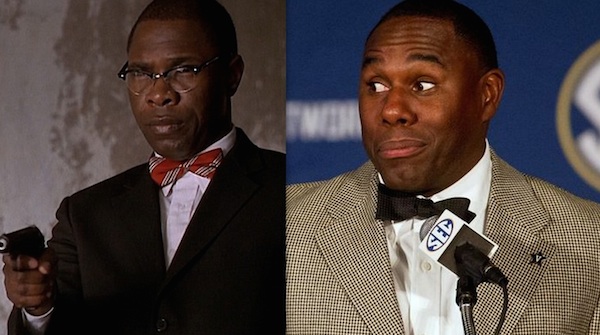 Steve Spurrier, Head Coach, South Carolina
"Sure, I own Clemson, but they are coached by a grown man named Dabo, so is that really an accomplishment? It doesn't feel like one."
"Is Nick Saban paying recruits? That's crazy. I'm not saying that Nick Saban gives money to recruits. All I'm saying is that Nick Saban identifes elite athletes and then the Bag Man comes in and pays them. That's all I'm saying."
Gary Pinkel, Head Coach, Missouri
"We lost James Franklin, Henry Josey, L'Damian, Washington, Michael Sam, Kony Ealy, and DG F'ing B! Last year was wonderful and all, but we did lose to the two best teams we played. Now we lost all of those guys? This might look a lot more like 2012 than 2013."
"Michael Sam wasn't a distraction, he unified this team. He was a real leader. In fact, it worked so well, I'm urging a couple of guys just to be gay for the season, and see if we can recreate that magic. Step up, for the good of the program."
Bret Bielema, Head Coach, Arkansas
"People keep saying, 'You went 3-9, you didn't even win a game in the SEC, you should have stayed in the Big Ten.' To those people I say, "$3.2 million! That's what it's all about, fools."
"We have an Australian Punter for the simple reason, Australian punters are awesome. I'm thinking about fielding an entire team of Australian Punters. We wouldn't be any worse than we were last year."
"I walked by Will Muschamp and he told me to hang in there. That can't be a good sign."
Kevin Sumlin, Head Coach, Texas A&M
"Keep in mind, nobody wanted Johnny Manziel to play quarterback for them and I turned him into a better version of Michael Vick. Now that Johnny is gone I'll turn somebody else into _______ Football. It's the system, y'all."
"Mike Evans, him I'll miss, now. 6'5" Wide Receivers with Super Hero bodies are of hard to find. 5'11" white dudes who like to get hammered? Not so hard."
Mark Stoops, Head Coach, Kentucky
"Bob's been insufferable. I mean, that game meant nothing to Alabama. They're used to playing for national titles. But you can't tell that to Bob. I'm like, dude, you lost to Mack Brown's corpse. Baylor beat you by 30. Have some perspective. What a dick."
Les Miles, Head Coach, LSU
"You guys seeing this?" (Chases a laser pointer for all of his allotted time).
Gus Malzahn, Head Coach, Auburn University
"I'm thrilled Nick Marshall got in some trouble. Traditionally, Auburn thrives when their quarterbacks are disasters off the field."
"I didn't expect to be in the National Championship game in my first year. Second year? Sure, I'm an offensive genius, that should be a realistic expectation. So we're a little ahead of schedule."
"If Nick is worth that, and I own Nick now, how much do you think I'm worth? Like $11 million?"
Dan Mullen, Head Coach, Mississippi State
"Our expectations are high? Why, just because we bring back 18 starters? It's not like they were good starters. Please just keep those expectations where they always are; mediocre to slightly above mediocre."
Butch Jones, Head Coach, Tennessee
"I actually have no idea if I'm a good coach or not. I thought I was, I really did. Now I'm not so sure. Life was pretty easy in Cincinnati…"
"I know I'm keeping the seat warm for Peyton. He'll get tired of losing Super Bowls soon, then he'll come take my job. It is what it is."
Hugh Freeze, Head Coach, Ole Miss
"I love that Spurrier is hinting about Alabama paying recruits because it keeps people from talking about us paying recruits."
"Bo Wallace thought his hair looked like Chris Hemsworth from Thor but it really looked like Charlize Theron from Monster, so he had to cut it."