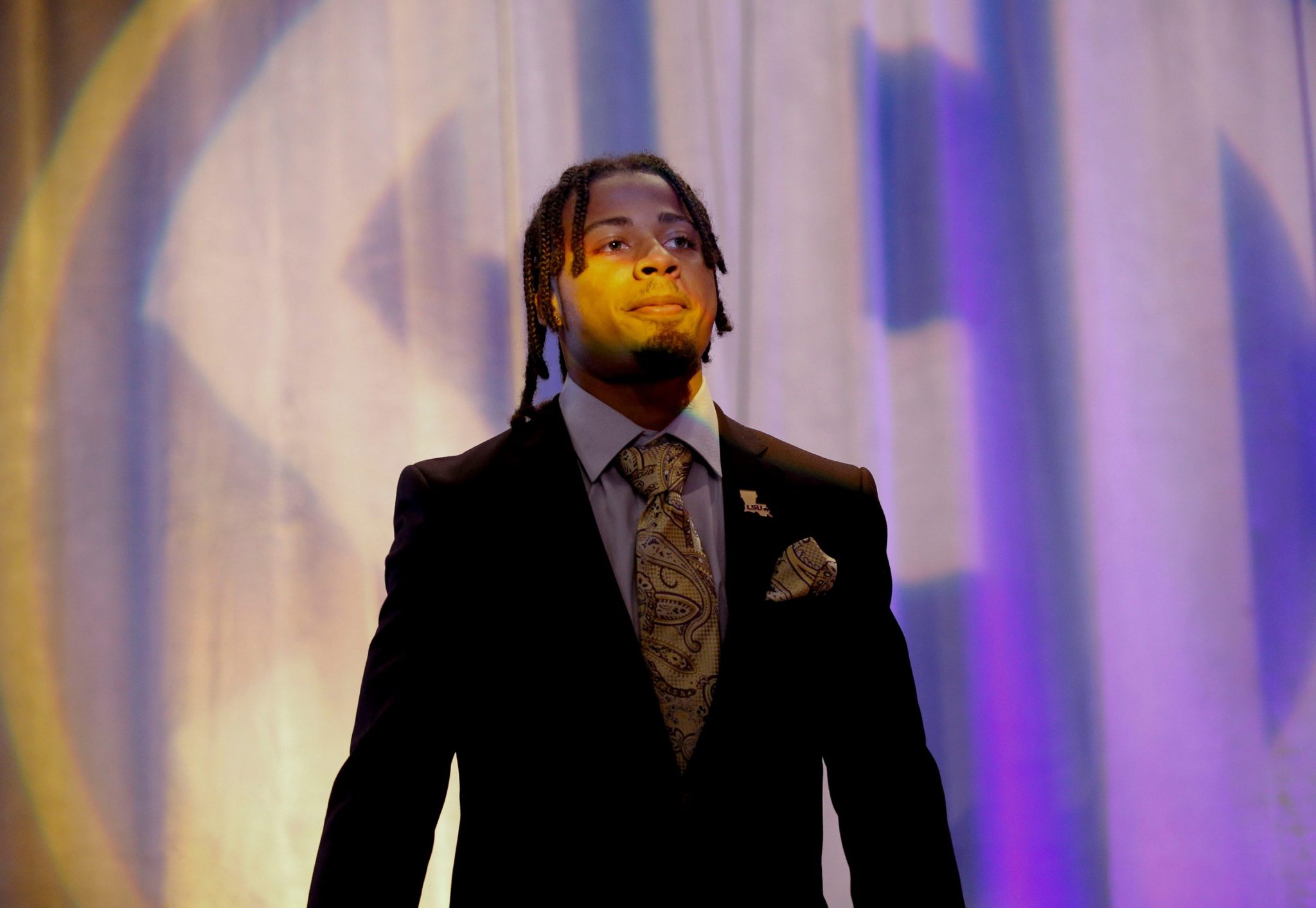 SEC
5 most interesting things from Day 1 of 2021 SEC Media Days
HOOVER, Ala. — Let's be honest: SEC Media Days is usually all about getting the college football season started in July. Hosting this event in mid-July means that we're smack dab in the middle of talkin' season.
But yeah, this year feels different.
It's not just the fact that we're here in Hoover for the first time in 2 years. It's that there's actual news and developments to discuss. As SEC commissioner Greg Sankey said, "the times they are a changing."
(Minus the part where all of us meet in a mall/hotel and predict the same SEC Championship.)
Think about it, though. Name, Image and Likeness is all the rage, as are the ongoing COVID vaccination discussions. There's also the whole "12-team Playoff deal." It's almost like there are actual things to talk about instead of watch lists and quarterback rankings. What a crazy concept.
So here were the actual interesting things that we took away from Monday at SEC Media Days:
1. Dan Mullen isn't quite in Darth Vader mode, but he's still got some 2020 in him
I was hoping that Mullen would show up rocking full Darth Vader costume and poke a little fun at the 2020 version of himself, but we didn't get that. We didn't get the Mullen who looked like a loose cannon in postgame press conferences after losses. We got the 2021 version of Mullen … who still had a little 2020 in him.
Before Mullen took the stage, he delivered a cross-state jab. Earlier this month, Miami agreed to a deal with American Top Team — a mixed martial arts academy with 44 licensed gyms — and will offer $500 a month to all of Miami's scholarship players to advertise for the company on social media platforms.
Mullen, apparently, wasn't amused. "Is that legal?" Mullen responded (per Matt Baker of the Tampa Bay Times).
It is indeed legal in the current NIL era that lacks universal rules. It's a fair question, though.
Speaking of questions, Mullen had a question of his own about the SEC power dynamics.
Dan Mullen at SEC Media Days on Georgia being the team to beat in the SEC East: 'Didn't they say that last year?'

— Edgar Thompson (@osgators) July 19, 2021
Well, not really. Florida was the preseason pick to win the East. But hey, that's irrelevant. Mullen sort of hovered that line of "we don't get enough respect."
On the flip side, Mullen said that he'd like the league to do away with the SEC's annual crossover matchups.
"I don't want to get the commissioner in trouble here, but I'd love us to maybe do away with the permanent crossover team so you get these type of games more often," Mullen said Monday. "I think for the players, for the fan bases, I really think it's exciting to see some more of maybe mixing up the teams from the West and playing two different teams each year instead of a permanent crossover. I think that would be really exciting so you get this matchup."
That was in response to a question about getting to host Alabama in 2021, which is something that the Gators haven't done in a decade. Would Mullen's comments be different if Florida's annual crossover game was against MSU instead of LSU? Perhaps. But it's always interesting when an active coach wants to do away with something that's an annual staple.
The Florida coach clearly didn't care about ruffling a few feathers Monday. There were certainly some 2020 vibes from the Florida coach, but in a less divisive way.
2. Ed Orgeron, perhaps not surprisingly, didn't offer the slightest input on the Title IX lawsuit he's involved in … but thanks for asking
Did anyone expect Ed Orgeron to directly address the Title IX lawsuit for his handling of a rape allegation involving Derrius Guice? Nope. But read this exchange with Yahoo's Pete Thamel:
Thamel: "In the past few months, LSU is a school, the athletic department, and you personally have been linked to serious sexual misconduct allegations. I know obviously there's some active lawsuits. I'm not so much asking you to comment on that specifically as curious if the past few months you've had any takeaways in terms of changed behaviors in how you're going to maybe act differently as a coach and handling such situations in the future."

Orgeron: "That's something I'm not going to comment on. It's an ongoing investigation, and I'm not going to comment on any of that. Thanks for asking, though."
The "thanks for asking, though" came off more like "how dare you ask me about that." I'm not sure that's the best look right now.
Is there a way in which Orgeron could've addressed the matter while laying out a plan for how he's made strides as a human being? Probably not. At least not without it sounding like he admitted to a certain degree of negligence.
The lawsuit is ongoing, and anything Orgeron says can and will be used against him. Even something sympathetic about sexual assault victims probably wouldn't have addressed the question. Then again, Thamel didn't ask the question in hopes that Orgeron would specifically address the lawsuit. Thamel asked Orgeron to answer a challenging question about sexual assaults as a whole.
It was, however, just a bit strange to go from hearing Orgeron give that non-answer to totally shifting gears with a question about how excited he is for Shane Beamer at South Carolina. Consider that a strange byproduct of the Media Days setting.
3. Derek Stingley had a telling comment about LSU's 2020
Stingley offered up a brief opening statement and then finished it by saying "I'm looking forward to showing what real chemistry looks like."
Hmmmmmm.
This isn't breaking news to say that LSU lacked chemistry in 2020. When you go 5-5 with opt-outs and transfers like LSU had, it'd be more surprising to hear that there was actually chemistry. There was clearly a divide with 1-and-done defensive coordinator Bo Pelini, who somehow coached the worst passing defense in FBS despite the fact that he had Stingley and All-SEC corner Eli Ricks.
Stingley elaborated and said that at times last year, they didn't have that. This year's group, led by new defensive coordinator Daronte Jones, apparently has that. With Ricks, Ali Gaye, BJ Ojulari and Clemson transfer Mike Jones, LSU's defense is poised to improve after last year's group looked like it was being asked to learn Mandarin every time an offensive player went in motion.
Orgeron said this year's defense will be more simple than last year's. The coverages will be more cohesive, he hopes.
And yeah, real chemistry.
4. Shane Beamer had a not-so-subtle recruiting message for a certain tight end
Beamer delivered a 13-minute opening statement that basically hit the entire roster. And it even hit potential future members of the roster.
South Carolina is in hot pursuit to land a commitment from 4-star Georgia tight end Oscar Delp. Naturally, Beamer made sure to tell the college football world just how much he plans on utilizing the tight end:
#WeWantDelp @DelpOscar pic.twitter.com/yE0vn6gO6e

— The Spurs Up Show (@TheSpursUpShow) July 19, 2021
He really emphasized "WE WANT." South Carolina fans know the #WeWantDelp hashtag well.
Delp is the No. 99 recruit in the 2022 class, and he has offers from Alabama, Florida, Georgia, Michigan and a whole lot of others. Those are just the schools he visited.
But did any of those other schools give Delp a pretty obvious shoutout at Media Days? Nope. At least not yet. Beamer brought tight end Nick Muse to SEC Media Days, too.
Oh, and Delp noticed the love from Beamer:
4⭐️ TE Oscar Delp (@DelpOscar) on the Shane Beamer line at #SECMD21:

"It was super cool hearing that and him (Coach Beamer) talk about that. I definitely want to be at a school that utilizes that position and I'm really feeling the love from the whole South Carolina fan base." https://t.co/LFzGwpKxJw

— Brett Greenberg (@74Talk) July 19, 2021
Beamer was the winner of Day 1 of SEC Media Days if for nothing other than exciting a fan base and crushing his first national platform.
5. There's a clear message: Get vaccination thresholds up or else 2020 flashbacks will happen
I mean, the very first question asked to an SEC player or coach was to Dan Mullen about what percentage of his team was vaccinated. Goodness.
(In case you were wondering, Mullen said that he didn't want to specifically answer that, but added "we're getting close to the threshold numbers that you need to be at.")
Sankey also went in-depth about the desire to get vaccination numbers up. He announced that 6 of the 14 SEC teams are at the 80% threshold needed.
"That number needs to grow and grow rapidly," Sankey said. "We have learned how to manage through a COVID environment, but we do not yet have control of a COVID environment, and that finds us preparing to return towards normal this fall, but we see realities around us."
What about minimum roster requirements? Sankey said those are still in place, but that he'd like to do away with them. He said he wants teams to take ownership of staying healthy and that this year's schedule doesn't have flexibility in the same way last year's did.
In other words, yes, forfeits can happen.
Sankey wasn't the first Power 5 commissioner to share some strong sentiments about the need to increase vaccination numbers. Big 12 commissioner Bob Bowlsby said last week that, "You have to look at this and say 'We wish we were done with it,' but we're probably not quite done with it" (via The Oklahoman). Both commissioners cited the NC State baseball team's outbreak that led to the Wolfpack ultimately losing a chance on competing for the College World Series.
Will we have cases like that in 2021 with Power 5 programs? It certainly sounds like the Power 5 commissioners have joined forces to deliver a unified COVID vaccine message in hopes to prevent that.
We'll have a better idea of what that looks like in 6 weeks.