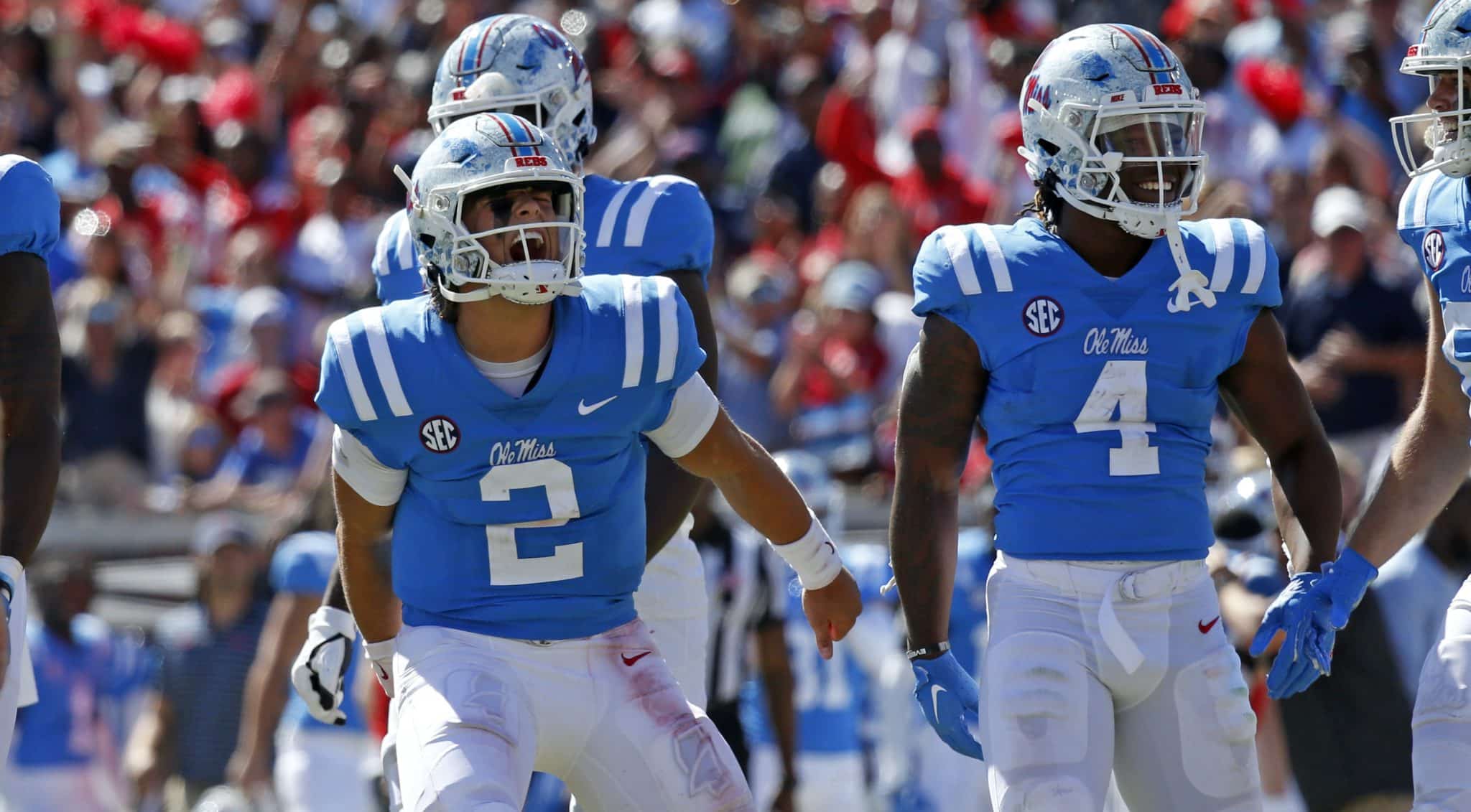 SEC
Best Week 6 SEC picks and ATS predictions
We may officially be in the "fade me" part of the schedule after an 0-2 whiff on my Week 5 picks dropped my season-long record to a dismal 3-7. But the best way out is always through, so it's onto Week 6.
All 14 SEC teams are playing conference games Saturday (Oct. 8), so there are 7 matchups on this week's slate.
The table below shows the moneyline, point spread and game totals for all 7 games from Caesars Sportsbook Louisiana. Below the table, find the bets I'm making this week, and do with that information as you see fit.
Team
Moneyline
Spread
Total
Date/Time
Tennessee
-145
-3 (-110)
O 63.5 (-110)
Oct. 8
LSU
+122
+3 (-110)
U 63.5 (-110)
12 pm ET
Team
Moneyline
Spread
Total
Date/Time
Arkansas
+240
+8 (-110)
O 61.5(-110)
Oct. 8
Mississippi State
-305
-8 (-110)
U 61.5 (-110)
12 pm ET
Team
Moneyline
Spread
Total
Date/Time
Missouri
+328
+11 (-110)
O 55 (-110)
Oct. 8
Florida
-430
+11 (-110)
U 55 (-110)
12 pm ET
Team
Moneyline
Spread
Total
Date/Time
Auburn
+2000
+30 (-110)
O 49 (-110)
Oct. 8
Georgia
-10000
-30 (-110)
U 49 (-110)
3:30 pm ET
Team
Moneyline
Spread
Total
Date/Time
Ole Miss
-1000
-18 (-110)
O 62 (-110)
Oct. 8
Vanderbilt
+650
+18 (-110)
U 62 (-110)
4 pm ET
Team
Moneyline
Spread
Total
Date/Time
South Carolina
+310
+10.5 (-110)
O 49 (-110)
Oct. 8
Kentucky
-400
-10.5 (-110)
U 49 (-110)
7:30 pm ET
Team
Moneyline
Spread
Total
Date/Time
Texas A&M
+1350
+24(-110)
O 51.5 (-110)
Oct. 8
Alabama
-3500
]-24 (-110)
U 51.5 (-110)
8 pm ET
Pick 1: Ole Miss -18 (-110) at Vanderbilt
It's no secret what this year's Ole Miss team wants to do on offense: run the ball early and often. Including QB Jaxson Dart, the Rebels already have 3 players with over 250 yards rushing, led by Quinshon Judkins, whose 535 yards put him second in the SEC to Arkansas' Raheim Sanders.
In theory, that bodes well for Vandy; it's biggest weakness is the secondary, which is prone to being shredded by top-tier passing attacks. But that doesn't mean Vandy's front seven is a "strength." When the 'Dores went up against an elite offensive line in Alabama, they surrendered 228 yards on the ground at 6.7 yards per carry.
Yes, Vandy had to pay considerable attention to Alabama's passing game — which also racked up 400 yards — so the question this week becomes: Can Dart make Vandy pay with his arm if the Commodores dedicate disproportionate resources to stopping the run? If he can, this game will be another blowout loss for Vanderbilt in conference play.
Until the 'Dores show any ability to stop a top-25 offense — they gave up 55 points to Bama and 45 to Wake Forest, the only Power 5 teams they've played so far — I'm going to assume they won't. Coming off a game-saving performance against Kentucky, the Ole Miss defense is averaging just 11.8 points against and is top-5 in the nation in yards allowed. Vandy's young offense, with freshman AJ Swann under center, won't be able to keep this respectable.
Pick 2: Auburn +30 (-110) vs Georgia
The Bulldogs lost their No. 1 ranking in the AP Poll and Coaches Poll thanks to a second straight lackluster performance, eking out a 26-22 win over Missouri. Georgia never led until the final 5 minutes. That came on the heels of a 39-22 home victory over Kent State where they failed to cover by 4 touchdowns.
The Bulldogs have slowed down on both sides of the ball. The defense, which surrendered just 10 points in the first 3 games, has given up 44 over the past 2. Week 5 was the first time the offense has been held under 30 this year. Stetson Bennett had been a top-5 favorite in the Heisman odds, but is now barely in the top 10.
In Week 6 college football odds, UGA is staring down the barrel of another massive spread, laying 30 points at home to Auburn.
Don't get me wrong; there is nothing imposing about this year's Auburn team. The only reason they are over .500 (3-2) is because of a cupcake nonconference schedule that included wins over Mercer (42-16) and San Jose State (24-16), no offense to the Spartans. But Auburn's defense has put in 2 solid performances over the past 2 weeks: a 17-14 win over Missouri and 21-17 setback to LSU, both at home. It ranks 21st nationally in Defensive FEI.
Auburn should have beaten LSU last week as 8-point home underdogs but shot themselves in the foot with 4 turnovers, squandering a 17-0 lead. They outgained LSU 438-270.
While the motivation should be there for Kirby Smart's team to put in a statement win, actually covering a 30-point spread against a good defense is another matter.