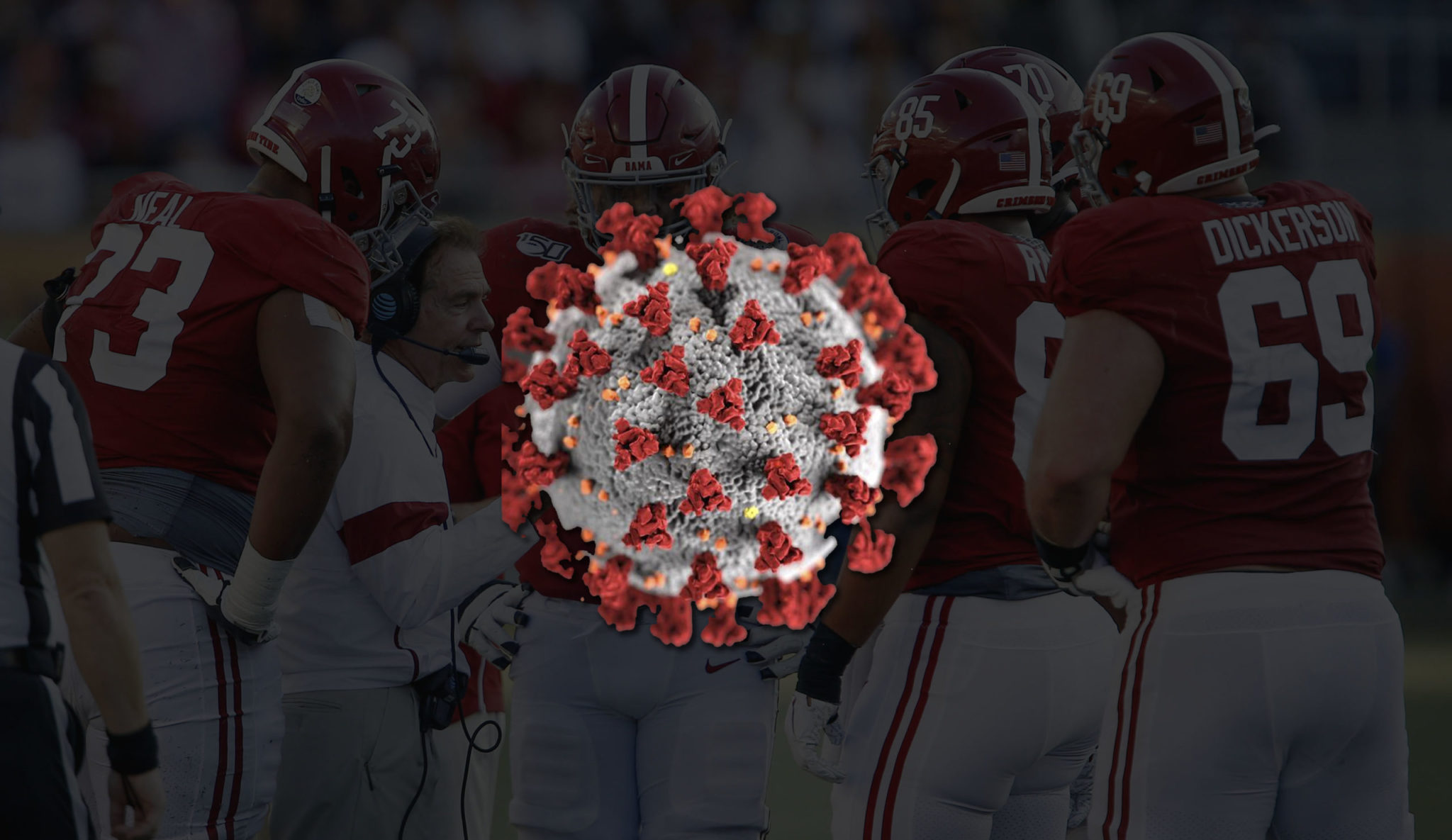 SEC
COVID-19 and college football: A review and discussion of recent headlines
It has been a challenging few months. COVID-19, a global pandemic, has affected just about every area of life and resulted in isolation, business failures and loss of life few anticipated when we turned the page from 2019 into 2020.
While the population mostly embraced the collective shutdowns and actions to battle the virus a few months ago, the discussion and debate have been more divisive, more confusing and more political in recent weeks and months. As society and sports have attempted to return to a degree of normalcy, the conversation has gotten further complicated. And lastly, with a resurgence of positive cases in recent weeks in much of the south — areas of the country that navigated the initial phase of the virus spread better than other parts of the country — discussions about how we move forward have become, well, tense.
College football players have entered the news with reports of positive cases at programs that have had players return to campus for workouts. In most cases, the reaction has been many in the national media sounding alarm over potential cases while getting shouted down by a number of fans claiming that young people will be fine if infected. But, like most issues of the day, these Twitter reactions and arguments do little to bring about reasonable conversations and potential solutions to COVID-19 and college football. So, what should we make of players getting the virus? Should we be alarmed? Or is this just the new normal?
The recent headlines
First, let's review the recent headlines that have gained quite a bit of attention.
Clemson: Clemson reported Friday that the athletic department tested 315 athletes and staff and found 28 positive results. Most cases were asymptomatic and no hospitalizations were required.
LSU: It was reported that up to 30 LSU athletes were being quarantined, with some of those testing positive for COVID-19.
Kansas State: Kansas State paused all voluntary workouts after 14 athletes (not necessarily all football players) tested positive for COVID-19. The 14 positive cases were found after testing more than 130 student-athletes.
The response from many national college football writers has been one of alarm.
The rush to bring kids back to campus was short sighted and ill-considered. College football has zero leadership at the moment – none at all – and its is threatening the season https://t.co/a5CY7uSTAU

— Dan Wolken (@DanWolken) June 20, 2020
We expected there to be positive tests. I don't think we expected such large numbers at some schools, and they're not even practicing yet. https://t.co/FOShYvLrMU

— Stewart Mandel (@slmandel) June 20, 2020
Yikes. Big breaking news from Ross: https://t.co/L3LpmeqEt9

— Pat Forde (@ByPatForde) June 20, 2020
On the other end of the spectrum, there are well-known personalities such as Clay Travis saying this is no big deal:
College kids are more likely to die of the flu than they are the coronavirus. Yet whenever a player has the flu it's almost never news. Wonder why that is? Media fear porn is out of control. pic.twitter.com/aQwlKCSJsK

— Clay Travis (@ClayTravis) June 21, 2020
Lastly, guys like Danny Kanell are making the case that these athletes wouldn't even be getting tested if they weren't on college campus, and ultimately, these positive cases are a sign of the system working.
Thank goodness these college football players were tested. If they would have been been home they would have been walking around and not knowing. Now they know, get quarantined and receive the best possible nutrition and healthcare for a quick return and a negative test! ?

— Danny Kanell (@dannykanell) June 19, 2020
So what is the right answer? Are college football programs being reckless? Or are they examples of the best way to handle this new world of coronavirus?
The recent spread
As someone who lives in Central Florida with a pregnant wife and a mom with high-risk pulmonary issues, I've been very on top of the COVID-19 news from the beginning. According to my Amazon history, I ordered a few large dispensers of hand sanitizer in late February before most of our country even heard the word "coronavirus."
I say this because it's important to know that I've taken the virus very seriously and continue to in many ways. I definitely have not been in the "COVID-19 is not big deal" camp.
Looking back at the shutdowns that began in March, they were the right moves at the time based on the information known at the time. We knew very little and taking extreme actions at the time made sense.
But we've learned a lot since then. We know certain segments of our population are much higher risk than others. By and large, we know that by implementing some common-sense measures, we can do many of the things we need and want to do in our lives without contracting COVID-19. And our medical and testing infrastructure is in much better shape to handle the virus as opposed to early March.
Unfortunately, the reduced fear also has helped lead to a recent surge in positives, and where I live in Central Florida is one area experiencing this spike.
I've been extremely frustrated with the typical coverage of the recent increase in cases in Florida where I live and other areas. Unfortunately, most will assume a certain political position simply based on offering my take on the COVID-19 case numbers, and to be honest, much of the discussion out there currently is based on political agendas and bias. That's to be expected today. But my frustration centers around the lack of nuanced reporting and context surrounding the recent spread of the virus. Let me be clear, I'm making no political statement here. Like most leaders, I believe the Florida leadership has done some good things and some bad things. We'll leave it at that.
So, because I live in Florida, let me just dive into the situation here further. Cases are rising quickly. So is testing. But those who say the cases are rising because of an increase in testing are wrong at this point. The virus is indeed spreading.
But the average age of the COVID-19 patients has declined tremendously, and the death rate continues to drop. The following charts are from the state of Florida COVID-19 dashboard: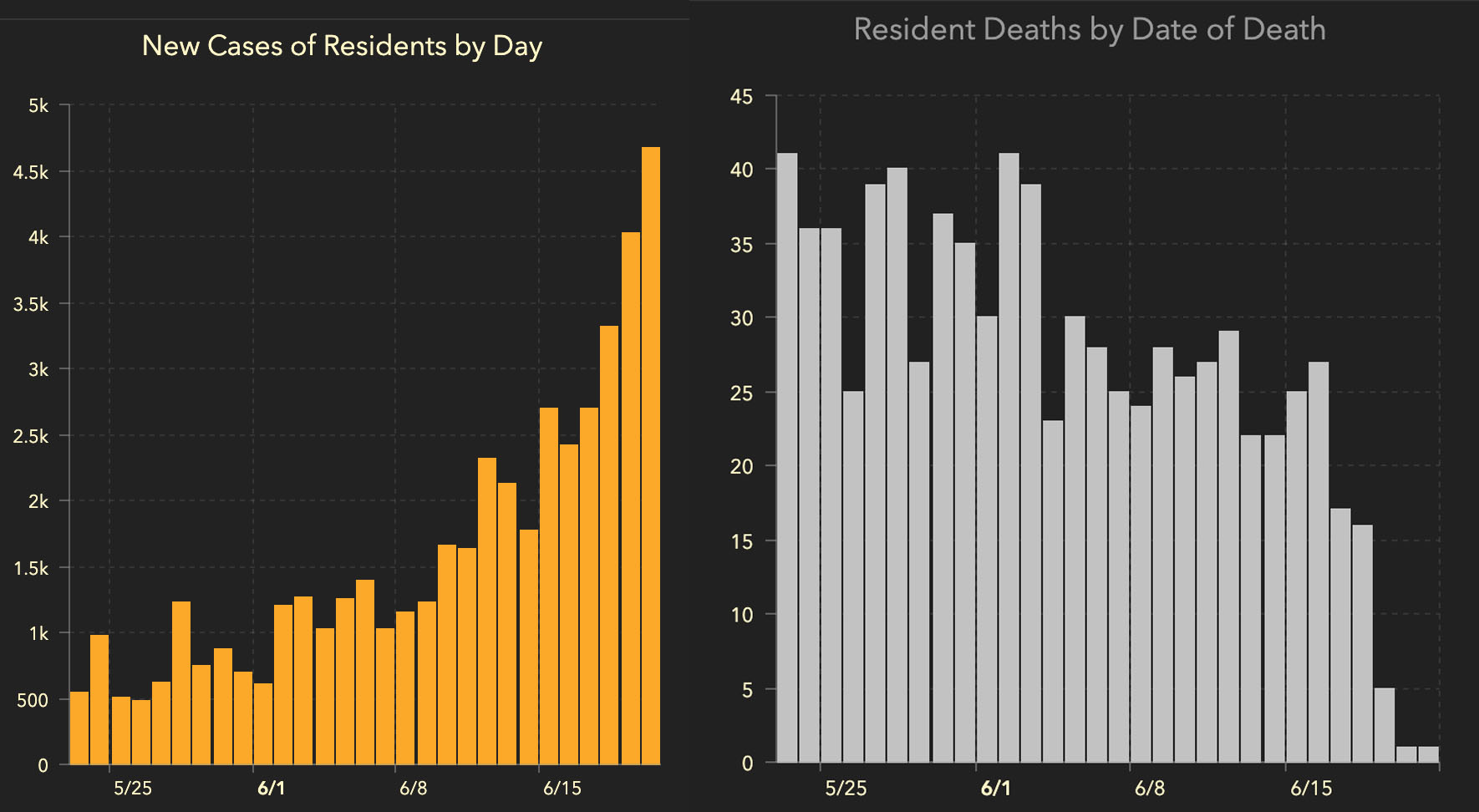 By looking at that data, it appears that while COVID-19 is very much a still a part of our society and growing in places like Florida, the cases are getting milder and the high-risk folks are still being extremely cautious.
From my own anecdotal experiences, my suspicion in recent weeks was that young people are driving much of the spread. I've seen photos of packed bars in downtown Orlando, and for the first time I knew of some people that contracted the virus (all people in their 20s). The data backs this up as well.
From the state of Florida data, Orange County (Central Florida) shows an increase in cases over the past couple of weeks with a median age now in the 29-32 range:

So, what do we make of this? If a bunch of young people are getting COVID-19, is it no big deal? I think to say that there's zero concern would be overly dismissive. But I think you can make the reasonable argument that, at least to some degree, we've reached a point that was established as a milestone or goal when COVID-19 first drove the initial shutdowns in our country. With the country shut down, reaching a point where the country could open up to a degree, high risk and elderly folks were sheltered and protected, the death rate continued to decline and hospital capacity was stable and in good shape was in fact a worthy goal. And we've reached that.
Now, would I like to see the young people chill out a bit and not pack shoulder-to-shoulder in a small, crappy bar with minimal ventilation? Absolutely. Do I think people who refuse to wear masks for some quasi-political purpose are kind of idiots? Yeah, I do. But let's not lose sight of the context here and the fact: Yes, even with a surge in cases in some areas like Florida, we're much further along than we were a few months ago.
But let's get back to the college football situation.
What the national media is missing
So, college athletes have registered positive tests. Because we're a headline culture, the headline numbers can lead to emotional and alarmist reactions. But like the state of Florida data I discussed earlier, the college football COVID-19 data requires more detail than simply headline numbers. There are two main elements here that I believe are being missed when people react merely to reports of positive cases within athletic departments.
1. The problem isn't within athletic facilities. It's outside the facilities.
In a recent Associated Press article, Baylor AD Mack Rhoades mentions that the workouts are only 2 hours per day and he worries what the kids are doing the other 22 hours during the day.
In a detailed article on The Athletic describing the process for which Kansas State has tested and identified players infected with COVID-19, the article mentions that some of the infected players "are believed to be part of a large group that attended two off-campus parties last weekend, which might have spread the virus to additional teammates."
These examples illustrate the challenge facing the athletic departments. When the kids are in the practice facility, they are likely mandated to follow strict protocols. Outside the facility, there are no protocols.
One thing that's becoming clear: The only way teams are going to avoid outbreaks during the season is if college players don't be college kids. LSU's was from guys going to bars, K-State's from a party.

"Harmless" in June, but it would cost the quarantined two games in season.

— Stewart Mandel (@slmandel) June 22, 2020
2. The athletic departments are doing proactive testing.
All major athletic departments have put considerable time and resources into navigating the new normal of COVID-19. The school officials are consulting CDC and national health officials for guidance, implementing strict protocols within facilities and engaging in proactive testing within the athletic department.
If you recall from the headlines out of Clemson, the 28 positive tests came from the athletic department testing 315 athletes and staff. Since most of the 28 positives were asymptomatic, we can deduce that the vast majority of the 315 people were tested due to proactive actions, not reactive. In these scenarios, I would agree with Danny Kanell's tweet mentioned earlier. This is a good thing that this testing is being done, not a bad thing. I'd hope the national media can react with less alarm when positive cases like these are reported so as not to discourage athletic departments from continuing proactive testing and communication of the results to the media and fans.
The reality is that most of these individuals would never have been tested if they were not on campus and not an athlete. You might argue that it's a good thing that these athletes are back on campus for this very reason. These kids aren't in a bubble at home, staying away from any potential risks. On campus, they're a part of a well-resourced infrastructure that includes testing and medical care. Much more so than the non-athletes who are and will continue to return to campuses.
The real question
Are the recent headlines a sign that things are working as players return to campus and sports slowly move toward a fall restart? Or are these headlines a sign that restarting college football is going to be tougher than we thought? Perhaps the answer is somewhere in the middle, but I don't think these are the right questions.
The real question seems to be whether we believe kids should be on college campus or not, both athletes and non-athletes. Since much of the virus spread occurs in social settings where young people aren't abiding by recommended precautionary guidelines, how the athletic department is handling this new normal environment is really a small piece of the puzzle. If anything, the athletic department is a net positive for these athletes amidst the uncertainty of a college campus environment.
Furthermore, the question of whether college campuses should be open gets at the broader question of how we navigate the COVID-19 world before a vaccine is available. Should the young and healthy go about most activities (along with reasonable precautions) while we do our best to protect those with a higher risk? Or do we shut down everything except the essential services in life? I think most people prefer the former option.
Are there risks? Of course. So let's have the right conversations with the complete picture at hand. Let's encourage the athletic departments to continue the testing, contact tracing and other work they are doing. And let's encourage them to continue to be upfront about the results as they come in, even if it results in criticism.