SEC
Where every SEC head coach was a decade ago
If there's ever a question of how transitory and temporary the coaching profession can be, look at the relative recent career history of the current SEC head coaches.
A decade ago, one coach was at the high school level, while another was just a year removed. Another was leaving the NFL, while their more established colleagues coached for different schools across the SEC. But in a theme that echoes around the SEC, only one coach was in his current position a decade ago.
Here is where each SEC coach was in his career in 2008:
Alabama (Nick Saban)
Nick Saban is the only SEC head coach who had the same job in 2008.
Hired on Jan. 3, 2007 after being pursued for 38 days, Saban went 7-6 in his first season. In 2008, the Tide was undefeated until losing to Florida in the SEC Championship Game. In 2009, Alabama finished 14-0 with a BCS Championship win over Texas, the first of Saban's five national titles in Tuscaloosa.
Arkansas (Chad Morris)
Morris was in his first of two seasons coaching Lake Travis High School just outside of Austin, Texas. That was his fifth head-coaching job at that level in Texas. Morris led the Cavaliers to two consecutive 16-0 seasons. He left Lake Travis to be the offensive coordinator at Tulsa in 2010. The 2009 season capped 16 years as a head coach at the high school level, where he went 169-38, including the back-to-back undefeated state championships at Lake Travis.
Auburn (Gus Malzahn)
In 2008, Malzahn was entering his second and final season as Tulsa's offensive coordinator. Tulsa finished 11-3 that season and led Conference USA in scoring (47.3 points). In 2009 he became Auburn's offensive coordinator until 2011. The Tigers' offense finished second in total offense in the SEC in 2009, and finished 8-5 with an Outback Bowl win over Northwestern.
Florida (Dan Mullen)
Mullen was not yet a head coach in 2008. It was his final year as Florida's offensive coordinator, and it ended with the Gators' second national championship in three seasons.
Mullen took over Mississippi State in 2009. He finished 5-7 in Year 1 but then guided the Bulldogs to eight bowl games in his 9-year stint before returning to Florida this offseason to become the Gators' head coach.
Georgia (Kirby Smart)
Smart was in his first season as defensive coordinator at Alabama, a position he kept until the 2015 season. The Crimson Tide defense finished second in the SEC in points allowed (14.3) and allowed just 260 yards per game, fewest in the league.
Kentucky (Mark Stoops)
Stoops coached for 6 years in Arizona as defensive coordinator and DBs coach from 2004-09, working for his brother, Mike, who was the head coach. Arizona went 8-5 in each of the final two seasons Mark Stoops was on staff. The Wildcats advanced to the Las Vegas Bowl and Holiday Bowl in those years. Arizona in 2009 was in the top five in the Pac-10 in every major defensive category. It would be Stoops' last season at Arizona before he moved to Florida State for three seasons. He was named Kentucky's head coach in 2013.
LSU (Ed Orgeron)
Coach O left the New Orleans Saints following the 2008 season, and in 2009, Orgeron joined Lane Kiffin's Tennessee staff as defensive line coach and recruiting coordinator. His title was also Associate Head Coach. The Vols went 7-6 and 4-4 in the SEC that season. He followed Kiffin to Southern Cal in 2010.
Mississippi State (Joe Moorhead)
In 2008, Moorhead was in his fifth and final year as an assistant coach at Akron. He was the Zips' OC the final two seasons, guiding an offense that helped turn around the program. In 2009, Moorhead began the first of two seasons as UConn's quarterbacks coach. The team, with Randy Edsall as head coach, went 8-5 including a PapaJohns.com Bowl win over South Carolina. The Huskies also closed the season on a four-game winning streak by beating Notre Dame, Syracuse, South Florida and the Gamecocks. The Huskies were top three in three of the four main offensive categories that season. He was promoted to offensive coordinator in 2011 and was named Fordham's head coach in 2012.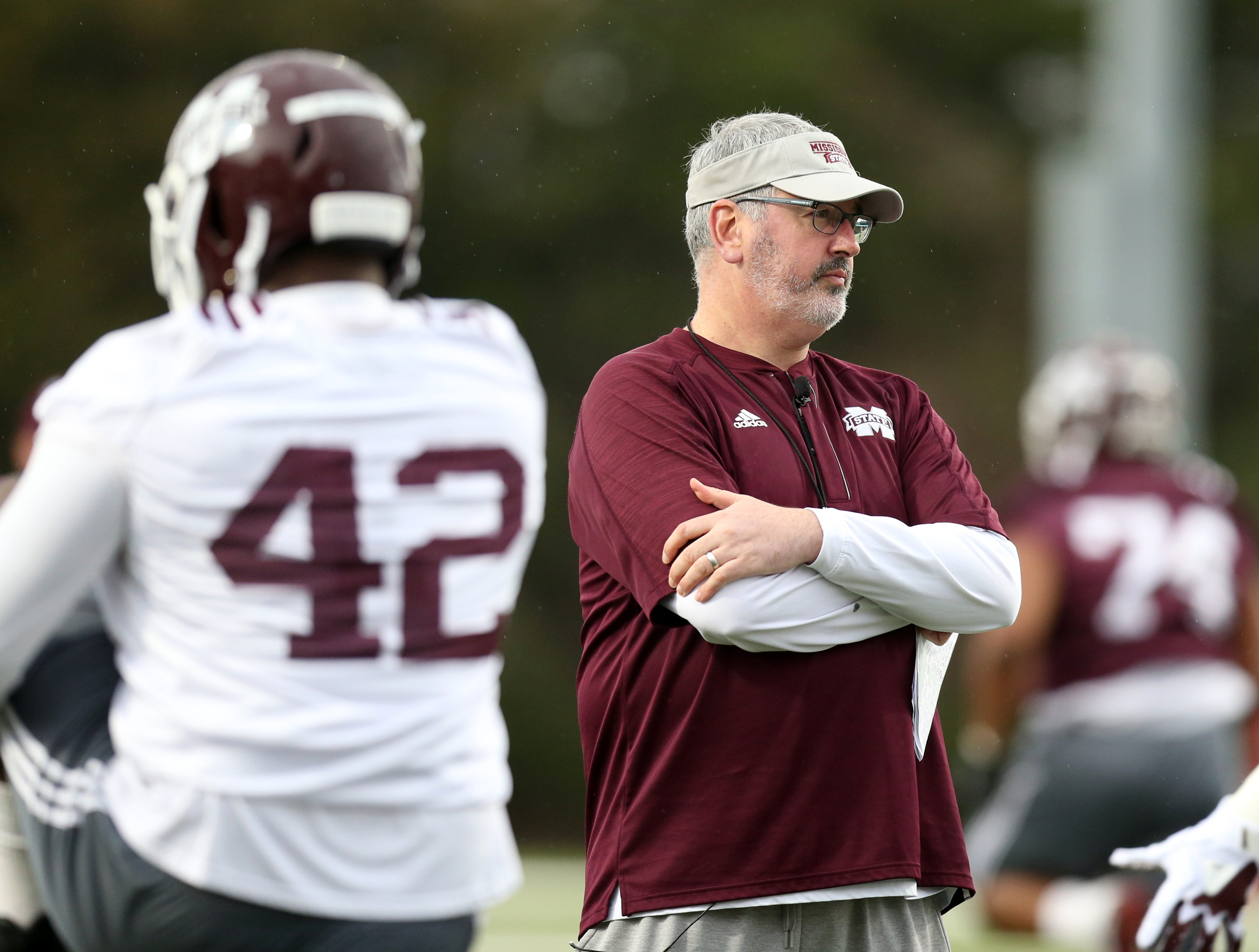 Missouri (Barry Odom)
In 2008, Odom was in his final season as Missouri's assistant AD/Director of Football Operations. The next season, he was promoted to coaching safeties under Gary Pinkel, a position he held until 2011. The Tigers were 11th in passing defense in the Big 12 that season. They went 8-5 in 2009 in a season that ended with a loss to Navy in the Texas Bowl.
Ole Miss (Matt Luke)
In 2008, Luke started his first season at Duke, and was the offensive coordinator along with overseeing the running game and offensive line for David Cutcliffe. Luke came to Duke following two seasons at Tennessee where he was recruiting coordinator, coached the tight ends and assisted with the offensive line.
South Carolina (Will Muschamp)
Before he took the Florida job in 2011, Muschamp was the defensive coordinator at Texas from 2008-10. Under Muschamp, the Texas defense ranked No. 1 in the nation with 119 sacks, and ranked in the top 10 nationally in rushing attempts, rushing yards per game and yards per game, all Big 12 bests during that span. In 2009, the Longhorns played in the BCS National Championship game, losing 37-21 to Alabama.
Tennessee (Jeremy Pruitt)
Pruitt was Director of Player Development at Alabama from 2007-09 before being promoted to coach defensive backs there in 2010. Pruitt came to that position following a stop at Hoover (Ala.) High School, where he was an assistant coach and defensive coordinator.
Texas A&M (Jimbo Fisher)
In 2008, Fisher was in his next-to-last season as offensive coordinator and "head coach-in-waiting" at Florida State. The Seminoles led the ACC in scoring (33.4) and went 9-4, beating Wisconsin in the Champs Sports Bowl. He replaced Bobby Bowden in 2010 and guided the Seminoles to the 2013 national championship.
Vanderbilt (Derek Mason)
Before he coached at Stanford, Mason was with the Minnesota Vikings from 2007-09 as the assistant defensive backs coach on a defense that ranked sixth in total defense in 2008 and 2009 as the Vikings won NFC North titles each season. The Vikings' head coach, Brad Childress, coached Mason at Northern Arizona.