SEC
How I filled out my NCAA Tournament bracket
If you're reading this, I imagine you're looking for 1 of 2 things.
You either filled out your bracket and you want reassurance that your bracket is destined for a big payday, or you haven't a clue about March Madness and you're legitimately seeking advice.
Lucky for you, this should cater to whoever you are. (Be sure to check out Mike Calabrese's Ultimate Gambling guide to the NCAA Tournament, too. It's loaded with tips, trends and picks.)
Well, I suppose I left out the other scenario. That is, you filled out your bracket and came here seeking reassurance only to find reasoning and picks you disagreed with.
That's fine. Arguing brackets sure beats the heck out of arguing whether college football should be played.
Let's lay out some ground rules and picks that you may or may not agree with:
It's hard to get too caught up in experience, at least with players
You know. The whole "not having an NCAA Tournament" thing last year means that as a result, we're going to see a whole lot of teams with rosters full of guys who have never been in the Big Dance. Even Luka Garza, who feels like he's been in college basketball forever, only has 2 games of NCAA Tournament experience (that thriller against Tennessee 2 years ago was 1 of the 2).
It's not like there's a team in the field that went to the Final Four last year and then returned 3 starters. In a way, that sort of levels the playing field. Here's an even crazier thought. Look at the No. 1 seeds. Here's how far each of them went in the 2019 NCAA Tournament:
Gonzaga — Elite Eight
Baylor — Round of 32
Illinois — Did not participate
Michigan — Sweet 16
And how many of those top 5 leading scorers from those teams are still on the roster? Michigan has 0, Baylor and Gonzaga have 1 and Illinois has … who cares how many Illinois has because it wasn't even in the field.
That's pretty standard. If a team was good enough to make a deep run 2 years ago like an Auburn or a Michigan State, chances are those key contributors are long gone.
Experience always gets talked about a ton this time of year, but in terms of doing it on the big stage, that's pretty hard to come by.
What I look for in a Round 1 potential upset
I get that everyone shoots 3s now, but I always find myself siding with the mid-major that can shoot the lights out of it and catch fire. I like that a team like Liberty that shoots it at a 39-percent clip from deep. If I'm an Ohio State fan, I'm a bit worried about Oral Roberts leading the nation in made 3-point attempts per game while doing so at a 39% clip.
(If we're being honest, I don't have anything that tracks how right I've been about that. All I know is there's nothing worse than watching one of your Final Four teams get ousted by a team that lights it up from deep with 5 dudes who can all shoot it.)
What else do I look for? The 12-5 is always popular, but the interesting about 2 of the 12-5 matchups is that they feature 12-seeds that only got in via a conference tournament win. Georgetown will be a popular upset pick in Round 1, in part because people know Patrick Ewing (just not the Madison Square Garden security team). Oregon State should also be a popular team after rolling through the Pac-12 Tournament en route to a trip to the Big Dance. I don't hate teams on a free roll with nothing to lose.
It's true that first-round upsets don't often bust brackets, but picking against the 3-seed that goes all the way can be a bracket death by a thousand paper cuts. Round 1 isn't the time to have anyone in that 1- 2-seed line get bounced. There'll be time for that.
The Big Ten thing that needs to be addressed
So the tournament is all taking place in Indiana, and the Big Ten has clearly been the best basketball conference in America this year. That's why it has not 1, but 2 of the 1-seeds and including Iowa State and Ohio State, it has 4 of the top 8 teams in the country.
But the conference still hasn't won a national title in 2 decades. That's right. Michigan State winning it all in 2000 (in Indianapolis) was the last time the conference claimed a mens hoops title. Yikes. Seven (!) times, it lost in the championship game. Are we heading in that direction again? Or is the league finally about to break through?
The best bet of anything in the tournament might just be to put a Big Ten team losing in the title game. Illinois and Michigan might beg to differ on that.
Don't. Pick. Only. Chalk.
Only once in the history of the NCAA Tournament did all the 1-seeds advance to the Final Four. It was in 2008.
You know what's a major bummer? Picking all the 1-seeds to go to the Final Four. Sure, you might still win your bracket pool. But did you really?
March, whether we admit it or not, isn't about winning our bracket pools. It's about inviting chaos into our lives for 3 unproductive weeks. It's not about rooting for structure and order. There's a time and a place for that. March ain't it.
Also, don't fill out a bunch of different brackets. Don't be that person.
Enough rules. Let's pick some regional champs!
West
Winner — Gonzaga
Team that can blow my bracket up — Iowa
Wait, didn't I just say don't pick a ton of chalk? Yes, but saying that the undefeated team is going to make the Final Four doesn't mean the entire bracket is chalk. It does mean that the draw is favorable as long as a daunting matchup with Virginia doesn't turn into a 40-minute slugfest like Tony Bennett would like it to.
As for Iowa, well, let's just saw the Hawkeyes terrify me too much to go deep into the tournament. As great as the aforementioned Garza is and as fun as they are to watch when they're rolling, a Fran McCaffery meltdown always feels imminent. And if not that, perhaps an Iowa defensive meltdown is a bit more imminent. I have Iowa going down to Dana Altman's Oregon squad in Round 2, which would keep McCaffery from his first Sweet 16.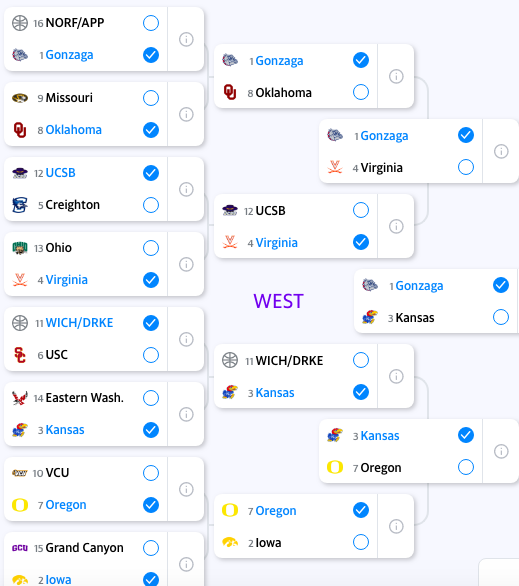 East
Winner — Alabama
Team that can blow my bracket up — UConn
I can close my eyes and picture the social media coronation of Dan Hurley for leading UConn to stunning upset of red-hot Alabama. That terrifies me, despite the fact the I believe the Crimson Tide can win any type of game and that even with that lack of tournament experience, Nate Oats' team was built to weather any storm.
(Ok, I just felt better typing that sentence.)
Alabama is a 1-seed in most years. This isn't most years. This is a year in which those spots were all but locked up before conference tournament week.
Speaking of that, I'm resisting the urge to slot Michigan for a deep run just because of how it played down the stretch and the looming Isaiah Livers injury. As temping as it is to put all the chips on Juwan Howard to avenge those national championship losses with the Fab 5, my gut says the Wolverines are going to look like a team who couldn't recover after some late-season adversity. I have Florida State beating Michigan and Leonard Hamilton reminding us all that some human beings are destined to stay the same age forever.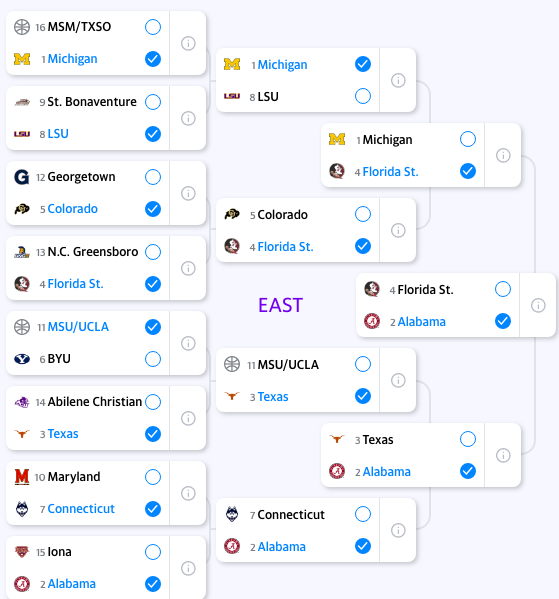 South
Winner — Baylor
Team that can blow my bracket up — Colgate
Baylor and Michigan are sort of in the same boat. That is, the team who was cruising for so much of the year and then didn't play as well down the stretch. How easily that we forget that Baylor just destroyed teams all year. Scott Drew's squad can light up the scoreboard with the best of them, and his draw looks plenty favorable to cruise to the Elite Eight, where a potential showdown with Arkansas would await.
As for Colgate, Matt Langel has a darn good program. In fact, it's so good that it hasn't lost since Jan. 3. It also has been limited to just 15 games in this COVID season. That's a team who is No. 3 in the nation in scoring, and if Eric Musselman's squad doesn't show up to defend for 60 minutes, it could mean the biggest Round 1 upset of the tournament.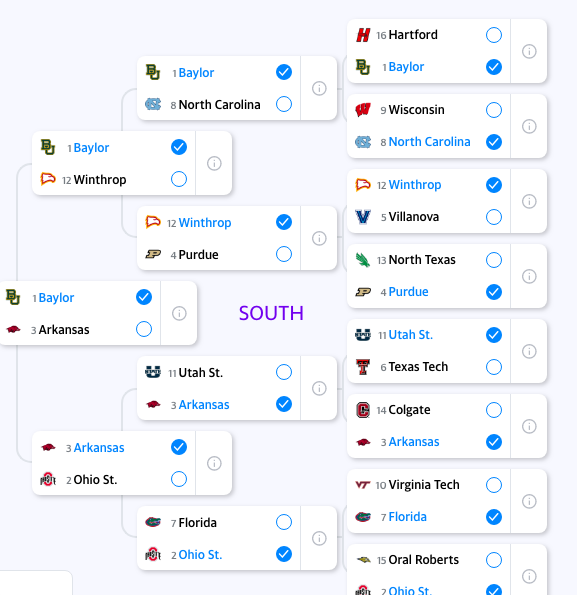 Midwest
Winner — Houston
Team that can blow my bracket up — Morehead State
I can see it now. Kelvin Sampson will be celebrating a regional title in Assembly Hall, where he once led an Indiana program so full of promise with Eric Gordon and D.J. White, only to watch it become engulfed in a cell phone scandal.
(If that sounds like I'm a bitter Indiana grad, it's because I am.)
In all seriousness, this is Sampson's best team at Houston. He has the No. 2 defense in America and a veteran-laden team that has won a ton of games over the last few years. That includes former Kansas guard Quentin Grimes, who was a third-team All-American in 2021.
Morehead State is terrifying because it can give West Virginia all sorts of problems in Round 1. Not many majors start off 4-6 and then turn around and rattle off 19 of 20 heading into the tournament. Bob Huggins' squad, however, lost 3 of 4 heading into that Round 1 matchup. Upset alert? Perhaps.
The Round 1 upset I do have is hot-shooting Liberty taking down Cade Cunningham and Oklahoma State. I can't praise Liberty's shooting twice and then not pick an upset, right?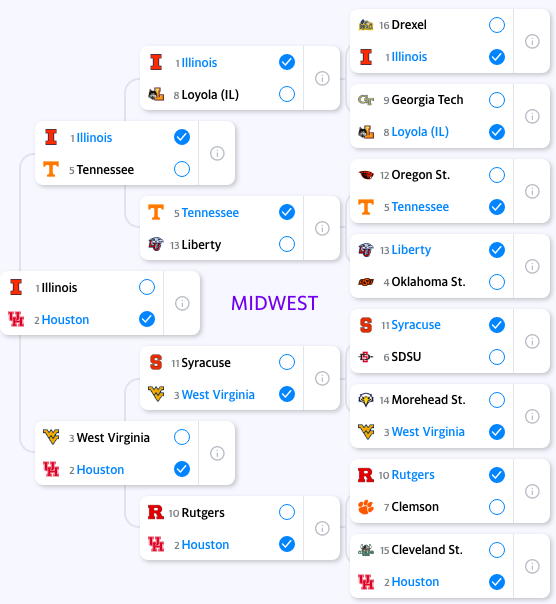 Final Four
Semifinals — Gonzaga over Alabama, Baylor over Houston
National championship — Baylor over Gonzaga
Chalky? Yeah, I'll admit it is. I hate myself for that.
At the same time, a pair of No. 1 seeds battling it out for the national title feels fitting to a certain extent. This was such a top-heavy year in the sport. Even more fitting it would be if Gonzaga played in a title game in Indiana to try and become college basketball's first unbeaten since 1975-76 Indiana.
So why Baylor? I like the fact that it seems like so many people will be off of the Bears after the Oklahoma State loss. I'd imagine the likes of Gonzaga, Illinois and Michigan will be the more popular picks to win it all. I'll take my chances on a team that played in a battle-tested conference and is loaded with better guard play than anyone in America. You don't need to worry about Baylor getting buckets down the stretch late.
It winds up being close, but no cigar on Gonzaga's bid at an unbeaten season.
Instead, it's Baylor who cuts down the nets and celebrates a long, winding road to a title.