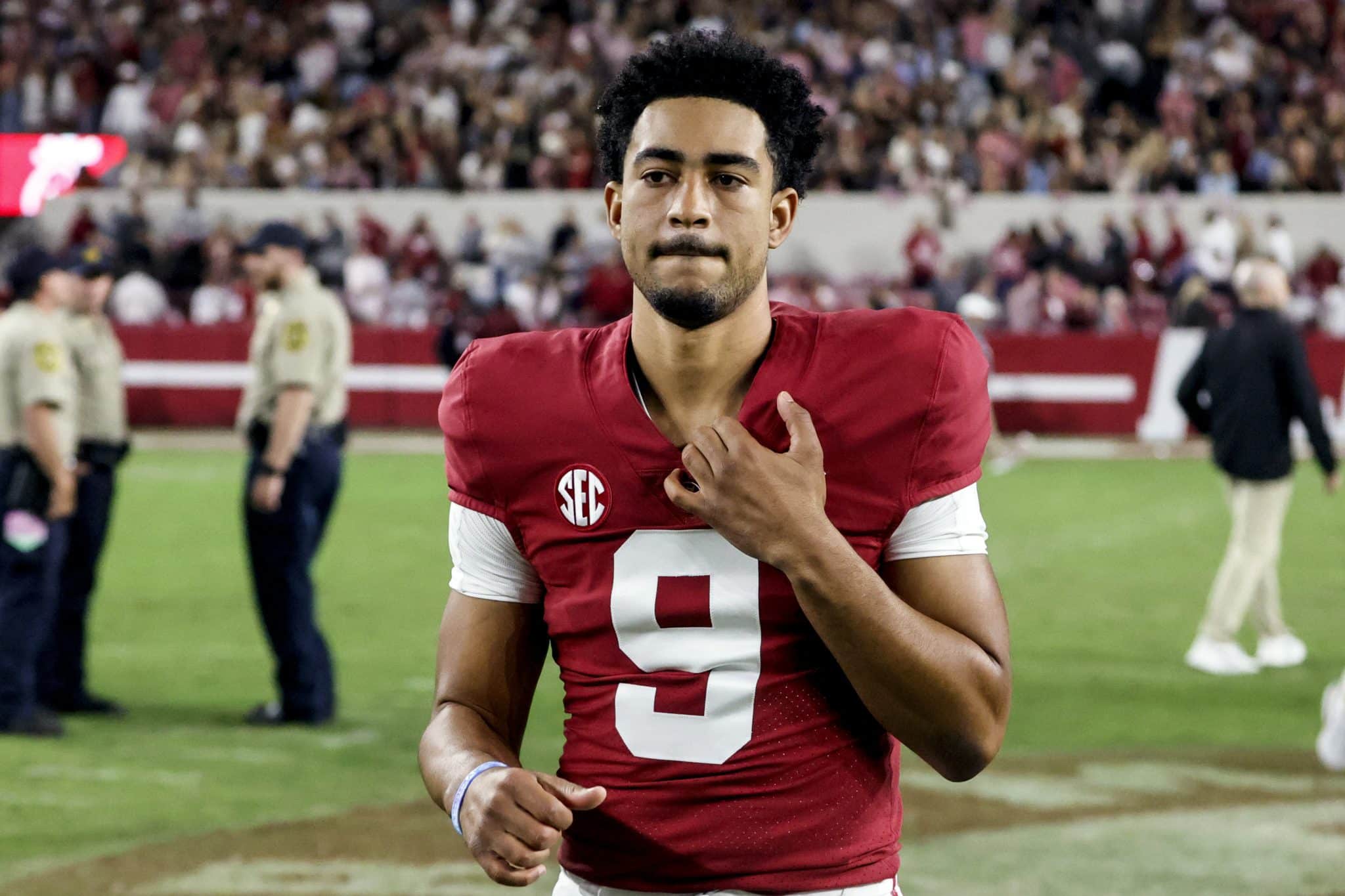 SEC
Week 7 SEC Primer: With or without Bryce Young, a blockbuster vs. Bama is the one Tennessee has been waiting for
Breaking down the weekend's SEC slate, all in one place.
The stakes
A collision of undefeated, top-10 teams with a couple of Heisman-caliber quarterbacks at this point in the season speaks for itself. In this case, though, it obviously speaks a little bit louder for Tennessee.
Okay, a lot louder. Alabama has been there, done that, and marked it on the calendar again for next year. Since 2007, the 1st year of the Tide's ongoing 15-game winning streak in the series under Nick Saban, they've swaggered into the Tennessee game undefeated 10 times. In that span, they've turned the rivalry into a ritual sacrifice, butchering the Vols by an average margin of 25.9 points. Last year's 52-24 final in Tuscaloosa was the 6th in a row decided by at least 3 touchdowns. More to the point, the post-Fulmer, Saban-era Vols have rarely had any reason to expect much better. By the 3rd Saturday in October, virtually all of those Tennessee teams were already understood to be lambs to the slaughter. Only 1 of them, in 2016, came into the game ranked. (Final score that year: Bama 49, UT 10.) The rest were footnotes at best on Alabama's BCS/Playoff resume. The only hints of drama concerned just how ugly how it would get, and what the subsequent fallout would mean for whichever one of Tennessee's perpetually embattled head coaches happened to be in charge.
Not this time. Through 6 weeks, the Vols' ascent from unranked to relevant is one of the biggest stories of the season, and the fact that they're playing for a lot more than pride on Saturday is notable in itself. At 5-0, they'll kick off against Alabama with a perfect record for the 1st time since their now-ancient national championship season in 1998, and with their highest ranking in the AP poll (6th) at any point in any season since 2005. They've already cleared 1 perennial hurdle, beating Florida in Week 4 for just the 2nd time in 18 years. And they've done it looking like exactly the kind of team Josh Heupel was hired to build: No. 1 nationally in total offense, No. 2 in scoring offense, explosive from all areas of the field. Hendon Hooker, initially an afterthought in Heupel's rebuilding plan, is the hottest quarterback in the country. The defense, a liability last year, is coming off its best game of Heupel's tenure in a 40-13 beatdown at LSU. GameDay is on campus, ticket prices are through the roof and the stage is set for the biggest event in Neyland Stadium in ages.
If it all goes wrong, well, at this point frankly Tennessee fans are all too well-prepared for that. Disappointment kinda comes with the territory. In fact, I'd wager many of them are bracing for that, strictly out of habit. But if it goes right? This team will cement its status as the most beloved Tennessee outfit in a generation: The one that put the Vols back on the map. From there, anything can happen.
The stat: 239
That's the number of consecutive pass attempts by Hooker without an interception, a Tennessee record and the longest active streak in the country. He's 1 of only 5 QBs nationally who have yet to throw an INT this season in at least 100 attempts; for his most recent pick, you have to go all the way back to last November, in the 2nd quarter of an eventual 41-17 loss to Georgia.
Given Hooker's success throwing vertically — he also leads the nation in completions of 40-plus yards, with 10 — his ability to keep the ball out of harm's way without reining in his aggressiveness is arguably his best asset. Last year, he threw just 3 INTs on 402 dropbacks, per Pro Football Focus, the best rate of any Power 5 passer, compared to 31 touchdowns, good for the best TD-to-INT ratio in the entire FBS. Add 10 touchdown passes this year, and his ratio as a Vol is an outrageous 41 to 3.
For the record, 1 of Hooker's 3 interceptions in '21 did come against Alabama, on an obvious miscommunication with his receivers:
a RARE Hendon Hooker interception — looked like the WR zagged when Hooker thought he was gonna zig pic.twitter.com/W305HKBjJO

— RockyTopTalk (@RockyTopTalk) October 24, 2021
It was a costly one, too, coming with Tennessee down 38-24 early in the 4th quarter; the giveaway nerfed a crucial scoring opportunity and set up a short-field Bama touchdown instead that turned a competitive game through 3 quarters into a runaway.
From that point on, though, Tide picks have been surprisingly few and far between — they've managed just 5 in the intervening 13 games, a clear source of frustration for Saban. Typically one of the SEC's thievingest defenses, Alabama has just 3 takeaways this season (2 INTs, 1 recovered fumble), fewest in the conference.
The big question: Is Bryce Young playing?
TBD, although the local vibes are optimistic. Young, who dressed but didn't play in last week's nail-biter against Texas A&M due to a sprained shoulder, returned to practice this week and has been throwing "on a little bit of a pitch count," per Saban, who also said Young lobbied to go in against A&M after the Aggies cut Bama's lead to 24-20 in the 4th quarter. Saban is rightly proceeding with caution: Young's top priority is maximizing his position in next year's draft, and (pregame hype notwithstanding) the team ultimately needs it star quarterback healthy for the stretch run more than it needs him for him a non-division test at midseason; neither goal is served by rushing him back. All signs point to a game-time decision based on how Young's shoulder feels on Saturday.
If Young stays on the shelf, the job will fall again to redshirt freshman Jalen Milroe, whose introduction to the rest of the country the past 2 weeks has been a mixed bag. There's certainly no question about the threat he poses as a runner: His breakaway, 77-yard touchdown run against Arkansas was an eye-opener, and he had 106 yards rushing (excluding sacks) in the win over A&M. On that front, at least, the Jalen Hurts comps are apt. As a passer, Milroe is predictably a work in progress. He did have 3 touchdown passes against the Aggies, 2 of them coming in obvious passing situations on 3rd down. But he was largely limited to simple reads (RPOs and screens) that put the onus on his receivers to make hay after the catch, and he hasn't had any success throwing downfield; his only attempt of 20-plus yards vs. A&M was an interception. More concerning, his inexperience in the pocket was evident on a pair of strip sacks that set up the Aggies' only touchdowns on the night.
Just what Texas A&M needed. Fadil Diggs makes the big play to force a turnover. pic.twitter.com/6a2ZOQia3x

— CBS Sports (@CBSSports) October 9, 2022
Regardless of who's taking the snaps, the more often the ball is in the hands of RB Jahmyr Gibbs, the better. With Young in the lineup, Gibbs served more of a dual-threat role, accounting more receiving yards in the first 4 games (187) than rushing (172). Alongside Milroe, on the other hand, he has thrived on the ground, taking advantage of the respect defenses are forced to pay a run-first quarterback to rack up 360 yards rushing the last 2 weeks on an absurd 9.2 per carry. Gibbs' emergence was a big reason Alabama survived last week despite Milroe's inconsistency through the air. Even if Young gets the nod, it's an aspect of the offense that has been too effective and explosive to leave on the cutting room floor.
The key matchup: Alabama OTs Tyler Steen and JC Latham vs. Tennessee edge Byron Young
The marquee pass rushers in this game, Alabama's Will Anderson Jr. and Dallas Turner, are on the opposite side of the ball, and they'll have their say in Hooker's performance, as they always do. Anderson and Turner were at their destructive best against Texas A&M, combining with the 3rd member of the edge-rushing rotation, Chris Braswell, to generate 23 QB pressures and 3 sacks. They're a problem.
But Tennessee's Young (not to be confused with Alabama's Byron Young) is rapidly achieving problemhood in his own right. Young, a former juco transfer, was quietly one of the SEC's most productive edge rushers in 2021, finishing with 34 pressures and a dozen tackles for loss in his 1st season on campus. This year, he has been the Vols' most disruptive defender by far, generating 24 pressures and breaking out in a big way last week with 4 sacks against LSU. (Officially, he was credited with 2.5 sacks: 1 solo plus 3 shared. For our purposes, a sack is a sack.) He boasts speed, length and a more certain future at the next level by the week.
Tennessee EDGE Byron Young made our stock watch show on @PFF_NFLSE this week

He plays incredibly fast

5 sacks, 7 QB hits and 11 more pressures in just 5 games (16.9 win %, @PFF) pic.twitter.com/xO7MyBk94a

— Connor Rogers (@ConnorJRogers) October 13, 2022
Steen (left) and Latham (right) have been sturdy enough bookends in their 1st season as Bama's starting tackles, having yet to allow a sack between them by PFF's accounting. But Latham has struggled with penalties, and Steen, a 5th-year transfer from Vanderbilt, is not the kind of automatic 1st-round athlete the Tide have had manning the starting LT spot for the past decade. Whoever is in the pocket, if Tennessee can force Alabama into obvious passing downs, Young and his counterpart, Tyler Baron, have a chance to make a big impact.
The verdict …
It's tempting to offer 2 predictions: 1 if Bryce Young plays and 1 if he doesn't. I won't go that far, but there's no doubting his value, especially in a belligerent road environment with the noise (and everything else) cranked to 11. Four of Alabama's last 6 true road games have come down to essentially the final play, including a white-knuckler at Texas earlier this year, last year's dramatic overtime escape at Auburn and their last regular-season loss at Texas A&M. Young went wire-to-wire and led 4th-quarter comebacks in each of those games; Milroe's only snaps outside the friendly confines of Bryant-Denny came a couple weeks ago at Arkansas, where he came off the bench with the Tide already leading 21-0.
So the consensus that Milroe isn't far enough along yet to get Bama past this kind of test is hard to dispute. Barring a meltdown by Hooker (nah) or his offensive line (maybe), Tennessee is going to score. The Vols are balanced, they're efficient, they have weapons. Their best receiver, Cedric Tillman, is doubtful due to an ankle injury for the 3rd consecutive game; so far, he hasn't been missed. In Tillman's absence against Florida and LSU, another headline target, 5-star USC transfer Bru McCoy — a former high school teammate of Bryce Young's — merely grew in his place.
It's been that kind of year for Tennessee, with Hooker vying to be to Rocky Top what Joe Burrow was to LSU. Just as it was for Burrow during the Tigers' high-flying championship run in 2019, the Alabama game is the Rubicon that separates the dream of a special season from the reality. The Vols are right on the cusp. All that's potentially stopping them from crossing over is a ferocious Bama pass rush and the inflammation in Bryce Young's right shoulder as of 3 p.m. ET Saturday.
– – –
• Tennessee 34 | Alabama 31
Whither Tank Bigsby? Auburn's offensive struggles might begin and end behind center, but they're embodied by the disappearance of the team's best offensive player: In 5 games vs. FBS opponents, Bigsby has averaged 58.6 scrimmage yards (rushing plus receiving) on a depressing 3.8 yards per touch, topping out with an 80-yard outing against San Jose State. That's despite remaining one of the most difficult players in America to get to the ground. Per PFF, he ranks 3rd among SEC backs with 33 missed tackles forced on 79 attempts, and 5th in rushing yards after contact, with 315. But nearly all his yards these days are coming after contact — that number represents a shocking 90 percent of his total output. Find this man just a sliver of daylight, please.
– – –
Ole Miss 29 | • Auburn 17
The point spread was all over the place earlier in the week, when Kentucky QB Will Levis' status remained in limbo, but finally settled down on Thursday with word that Levis is on track to start. He was sorely missed in last week's 24-14 loss to South Carolina, which frankly might have done as much for his stock in his absence as many of the games that he has actually played. At any rate, after consecutive losses the Wildcats need this one if they're going to salvage any of the early optimism that carried them into the top 10 in September: With a trip to Tennessee looming on the other side of an open date, another loss on Saturday would leave them staring down the barrel of an 0-4 October.
– – –
Mississippi State 30 | • Kentucky 27
LSU's Jayden Daniels and Florida's Anthony Richardson are a lot alike: Athletic, frustrating and central to their teams' fortunes. Where they differ is their attitude toward risk. Daniels has been so conservative in his decision-making that last week Brian Kelly came right out and said he could live with a few interceptions in exchange for more big plays. (Daniels obliged with his 1st pick of the year in the Tigers' loss to Tennessee, albeit on his last attempt in a blowout.) Richardson, on the other hand, has been a turnover machine, offsetting occasional flashes of brilliance with 7 interceptions (including a back-breaking pick-6 against Kentucky) and 2 lost fumbles. If LSU's defense manages to force those types of mistakes on Saturday, is LSU's offense aggressive enough to make them pay off?
– – –
• LSU 27 | Florida 24
I have no idea why the Razorbacks agreed to this trip on the heels of a 3-game division stretch against Texas A&M, Alabama and Mississippi State, but at least they don't have to make it without QB KJ Jefferson, who's expected to start after sitting out last week's loss in Starkville with an apparent concussion. Jefferson's presence as a massive, between-the-tackles workhorse is a major component of Arkansas' offense, which assuming (hoping?) the Hogs are committed to keeping his plunges into the line to a minimum is a component they're going to continue to miss. But between Rocket Sanders, Dominique Johnson and a BYU defense that has been fairly porous against the run, pounding out a living on the ground should not be a problem.
– – –
• Arkansas 32 | BYU 28
Spiritually, Vandy hasn't won at Georgia in eons. In real time, it has only been 6 years: The 2016 Commodores dealt 1st-year coach Kirby Smart a sobering 17-16 defeat when UGA was stopped short on a 4th-and-1 run with the game on the line, still the lowest point of Smart's tenure. ("It's embarrassing, and I'm sick to my stomach," he said at the time.) On the opposite end of the spectrum, the Bulldogs led last year's meeting in Nashville 35-0 after the 1st quarter and went on to win 62-0, holding Vanderbilt to 4 first downs and 77 total yards. This one isn't likely to be that lopsided again, but as usual, the only real suspense is whether the Dogs cover. Plus, Brock Bowers is overdue for a viral highlight or 2.
– – –
• Georgia 48 | Vanderbilt 6
SCOREBOARD
Week 6 Record: 6–1 straight-up | 4–3 vs. spread
Season Record: 44–7 straight-up | 21–28 vs. spread