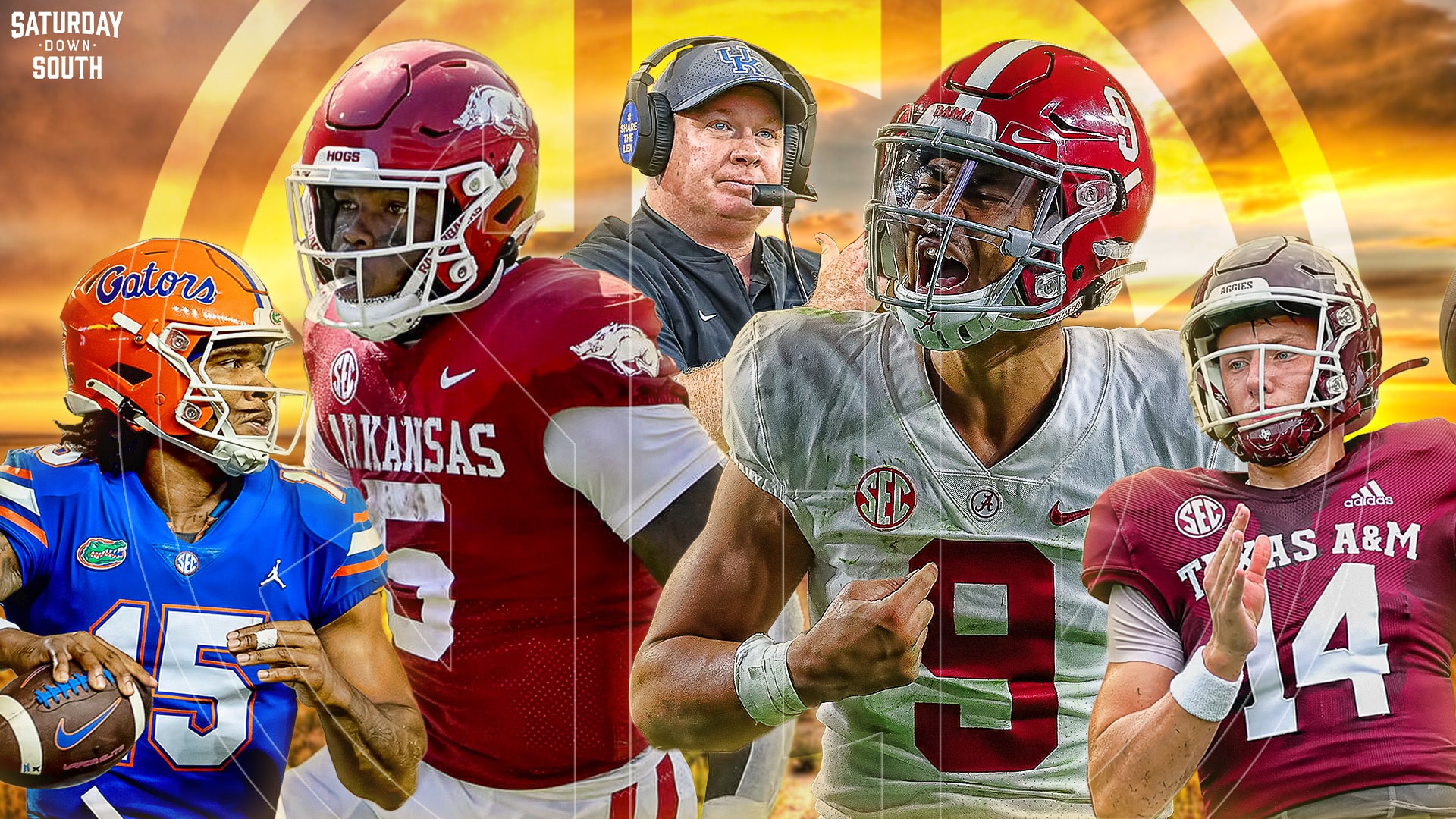 SEC
Monday Down South: As long as Alabama has Bryce Young, does it matter what they don't have?
Weekly takeaways, trends, and technicalities from the weekend's SEC action.
Much of the value of a great player like Bryce Young stems from his ability to solve problems, or at the very least cover them up. And if there was any larger lesson in Alabama's skin-of-the-teeth, 20-19 escape against Texas, it's that the Crimson Tide have far more than their usual share of problems left to solve.
Some of those issues are more solvable than others. Bama's reputation for machine-like, professional-grade consistency has been tested many times over the years, in many different ways. But rarely has a Nick Saban team looked quite so overtly sloppy. The first three quarters in Austin produced some of the most disheveled football since the dynasty was just getting off the ground. The Tide were flagged for 15 penalties, a Saban-era record, a shocking number of them of the purely self-inflicted variety – false starts, neutral-zone infractions, illegal substitutions, personal fouls that extended Texas drives and cut Alabama's short. Between the flags, the drops, the blown protections and miscommunications, they spent the majority of the afternoon looking like an outfit that was plainly and uncharacteristically not ready for primetime.
But the marginal, mostly mental mistakes that plagued this particular early-season outing are also the most correctable. They fall into the categories of focus and fine-tuning. The deeper concern was the fundamental lack of execution, particularly on offense. Between the end of the first quarter, when Jase McClellan broke off an
81-yard touchdown run that put the Tide up 10-7, and the start of the fourth, when they began their rally from a 16-10 deficit, Alabama punted on 6 consecutive possessions, including 4 consecutive 3-and-outs. On a couple of those occasions, they were frankly lucky to punt.
The ground game, which increasingly took a backseat to Young's arm over the second half of last season, was a slog: Outside of McClellan's breakaway, the running backs as a unit eked out 42 yards on 2.6 per carry. Bama effectively abandoned the run after halftime, and on the day's most obvious, gotta-have-it running down, a 4th-and-1 at the UT 25-yard line with 3:55 to go and Alabama clinging to a 17-16 lead, Texas stuffed Roydell Williams for no gain after he tripped over his own lineman in the backfield.
The receivers, while faring better than the backs on paper, were arguably even more glaring in their lack of separation and big-play pop – a pressing question mark throughout the offseason that emerged on Saturday as a full-blown concern. Young's most frequent target, RB Jahmyr Gibbs, was almost strictly a run-after-catch threat on swing passes and checkdowns. The wideouts as a group were conspicuously quiet until the fourth quarter, and then more workmanlike than explosive. Traeshon Holden, Ja'Corey Brooks and Jermaine Burton all made first-down catches down the stretch but didn't have a single catch beyond 20 yards downfield. (Their longest gain covered 21 yards, courtesy of some minor YAC by Holden.) Young was 0-for-3 on 20+ yard attempts vs. Texas after going 0-for-1 in the season opener vs. Utah State. Jameson Williams' absence is palpable.
It's been a long time since Alabama, home to 7 first-round wide receivers in as many years since 2014, has failed to identify a legitimate home-run threat at the position from the abundance of blue-chip talent on hand. If there's one on the current depth chart, though, he's yet to emerge – or, in the case of much-anticipated Louisville transfer Tyler Harrell, yet to suit up due to injury. For now, you might have to go back a decade for the last time any of the 4 wideouts who touched the ball on Saturday could have cracked the starting rotation.
But then, at the end of the day, they still have Young, whose ice-cold brilliance with the game on the line almost singlehandedly rendered everything else irrelevant. On one of his worst days statistically, Young still managed to find his rhythm in the clutch: In the fourth quarter, he was 15-of-19 passing for 136 yards, 6 first downs and 1 touchdown, while adding another 41 yards on 3 key scrambles. On the go-ahead TD drive that snapped the offense out of its doldrums, he converted 3rd-and-7 with his legs, 4th-and-3 with his arm, and capped the march with an ad-libbed gem whose combination of mobility, composure, footwork and accuracy possibly no other active college QB can match:
Bryce Young. Wow. pic.twitter.com/pbqlcMXLND

— Patrick Greenfield (@PCGreenfield) September 10, 2022
Later, with the clock ticking under 30 seconds on the do-or-die drive that ultimately set up the game-winning field goal, he pulled off the defining play of the day, and possibly of his season – a deft escape from what, for a fleeting moment, looked like a potentially drive-killing, upset-clinching, season-altering, narrative-driving sack by an untouched blitzer off the corner:
mobile QBs are sooo valuable this was a game saving play by Bryce Young pic.twitter.com/z0NQGcn2nq

— Warren Sharp (@SharpFootball) September 10, 2022
One play in one game in early September isn't a long-term solution to Alabama's myriad problems, and there's no way to know yet what kind of impact if any it will have on the rest of the season. Based on everything that came before it, the Tide may be as vulnerable as they've been in years, for reasons that have nothing to do with Young and which he may not always be able to overcome. Their inconsistency in true road games, dating to last year's down-to-the-wire trips to Florida, Texas A&M and Auburn, obviously does not appear to be random. Their annual reservations in the SEC Championship Game and the Playoff are obviously not as automatic as they usually seem.
For all that we're still just learning about this team, though, the great escape did reinforce the one big thing we already knew: As long as the ball is in Young's hands, the Tide will never be out of a game. With a player like him, the rest of the team doesn't have to be flawless every time out. It just has to be good enough to keep giving him a chance.
Appalachian State 17, Texas A&M 14
When I was asked in a radio interview before the season about Jimbo Fisher's job security, I quickly dismissed the question. Up to that point I hadn't really even considered it. Texas A&M made an enormous bet on Fisher to elevate the program to a championship level, and in many ways in Year 5 that investment is only just beginning to pay off in terms of sustainable expectations. The Aggies delivered a top-5 finish in the AP poll in 2020 and a landmark upset over Alabama in '21 with essentially a backup quarterback. The product on the field was on the upswing, a blockbuster recruiting class had just arrived on campus, and AP voters were so optimistic about A&M's trajectory that they vaulted the Aggies from unranked to end last season all the way to No. 6 to open this one. Worst-case scenario, they underachieve this year and the hot seat cycle kicks into gear in 2023.
Well, after Saturday consider it officially considered. Even the worst-case scenario in August didn't take into account the possibility of A&M getting schooled at home by an unranked, 18.5-point underdog from the Sun Belt, and even if it had it wouldn't have imagined a specific scenario in which the Aggies limped to a single offensive touchdown against a defense last seen giving up 63 points in its season-opener. (A&M's second touchdown came via a 95-yard kickoff return by Devon Achane, the one player so far living up to his preseason billing.) Appalachian State is a perfectly respectable program that's been cranking out winning records and playing competitive games against Power 5 opponents for years. We all remember Michigan. But it has no business running up a 23-minute advantage in time of possession on an outfit that has spared no expense to transform itself into a contender. All that money, all that hype, all for results they could have just as easily have gotten from Kevin Sumlin for half the cost.
It's difficult to separate the result from Fisher's decision to appoint redshirt sophomore Haynes King as his starting quarterback over both a more experienced transfer, Max Johnson, and a more talented freshman, Conner Weigman, which King did very little on Saturday to justify. Quarterback was the void at the center of the preseason expectations, and 2 games in it still is. In King's defense, he was limited to just 8 possessions due to the defense's repeated failure to get App. State's opportunistic, clock-killing offense off the field. But he didn't help his own cause, either, failing to string together so much as 2 consecutive first downs on 6 of those 8 possessions. King finished with just 97 yards on 20 attempts and came in well below the Mendoza line per Total QBR (21.3) and Pro Football Focus (48.1).
Jalen McLeod (@_JayRashaan) long arms his blocker to the ground, gets the strip sack, stays with the play & strips it again allowing the defense to recover.

Effort will never betray you! #passrush #appstate pic.twitter.com/uyrTM56WCT

— DLineVids (@dlinevids1) September 11, 2022
The bottom line is that the Aggies were flatly out-coached, and whatever distant vision they had of competing for a championship this season has already vanished. Three of the next 4 games are against opponents ranked in the top 15 (Miami, Arkansas and Alabama), with a trip to Mississippi State sandwiched in between, for good measure. Last week, that stretch looked like an opportunity to cement their status as contenders heading into the (slightly) more forgiving half of the schedule. Now, it looks like a slog just to keep the season from spinning out of control.
Kansas State 40, Missouri 12
Eli Drinkwitz made no secret in the offseason about his determination to land a veteran quarterback via the portal, and in Missouri's wipeout loss at Kansas State it was painfully obvious why. QBs Brady Cook and Jack Abraham combined to finish 15/30 passing for just 128 yards (4.3 ypa), and at one point in the second half threw 4 interceptions — the first 2 by Cook, the latter 2 by Abraham — in the span of 10 offensive snaps.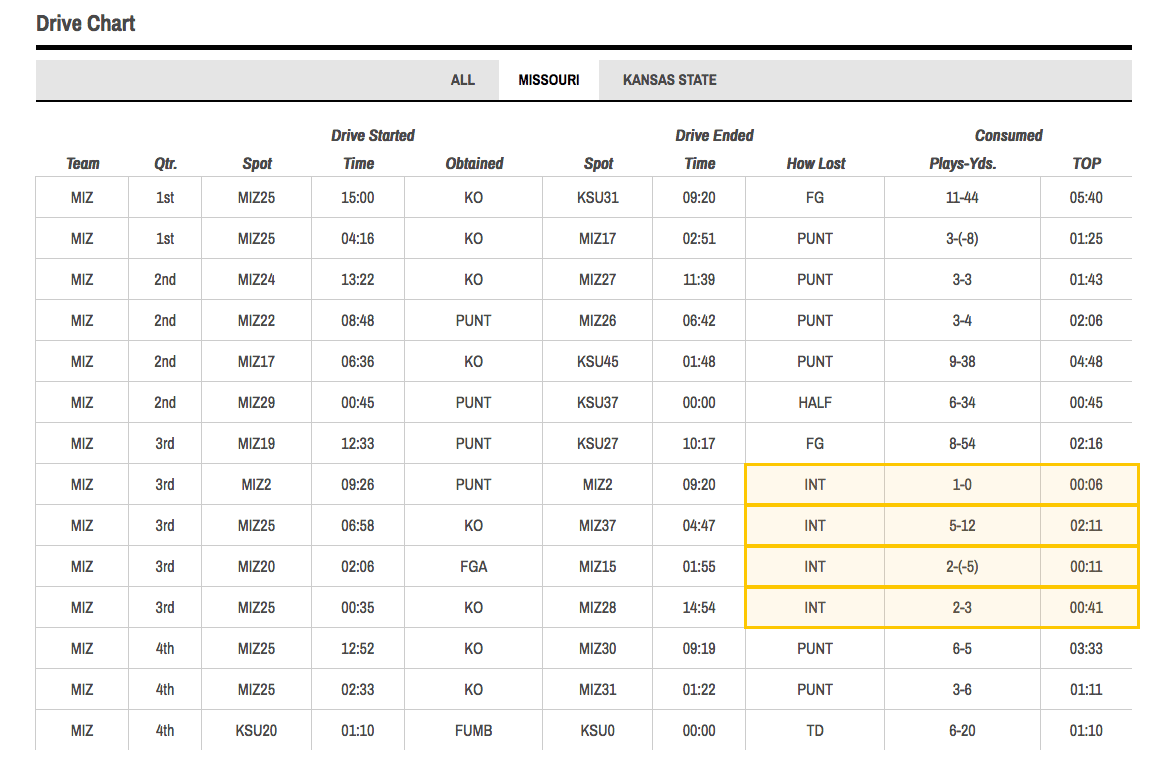 Cook, a redshirt sophomore who made his first career start in last year's Armed Forces Bowl and won the job in the preseason, started and finished the game on Saturday, with Abraham, a journeyman transfer with previous stops at Louisiana Tech, Southern Miss and Mississippi State, ushered on and off the stage in short order after getting picked twice on his only 3 attempts. (Abraham's second INT, in particular, was a ghastly one.) Neither of the available freshmen, redshirt Tyler Macon or true frosh Sam Horn, made an appearance.
Where do they go from here? Help is not on the way. It would be one thing if Drinkwitz, whose record at Missouri now stands at 12-13 overall and 8-12 vs. Power 5 opponents, had the job security to sacrifice one of the freshmen to the prospect of building toward the future. Under the circumstances, he can't assume he has that kind of time. If coaches trusted Macon or Horn with their jobs on the line, Tigers fans probably would have seen one of them on Saturday.
Meanwhile, Abraham, who at least has a couple years' worth of starting experience at Southern Miss, might have just permanently blown his chance to make a move. That leaves Cook, who after all was appointed QB1 in the first place for a good reason: There is nobody else.
One potential silver lining is this weekend's visit from Abilene Christian, which comes at an opportune moment to help rebuild some of Cook's confidence ahead of the SEC slate. But then he actually has to face the SEC slate, which begins with Auburn, Georgia, and Florida. When a midseason date against Vanderbilt looms as crucial swing game in Year 3, the clock is officially ticking.
Turning point of the week
Jordan Wright's Point-Blank Pick. Kentucky trailed Florida late in the first half, 16-7, with no momentum and very little hope of putting more points on the board before halftime: The Wildcats' previous 2 offensive possessions had ended with an interception, which set up a short-field touchdown drive for Florida's offense, and a 3-and-out, which resulted in disaster when the snap on the subsequent punt sailed over the punter's head for a safety. With a little more than 4 minutes remaining in the half and Florida getting the ball back following the safety, the goal on defense was just to get into the locker room without suffering any further damage.
Instead, Kentucky OLB Jordan Wright — who'd only been cleared to play barely 48 hours before kickoff due to an NCAA eligibility issue — turned in the play that turned the game on its head:
Kentucky's Jordan Wright with an incredible interception on a short-range Anthony Richardson pass! ? pic.twitter.com/Uxrttew3ak

— The Comeback (@thecomeback) September 11, 2022
Wright's return set up the Wildcats' offense with 1st-and-goal, which they promptly converted to cut the margin to 16-13 at the half, and the rout was on. Kentucky's defense dominated the second half, shutting out the Gators out the rest of the way and putting the go-ahead touchdown on the board courtesy of a demoralizing, 65-yard pick-6 by Keidron Smith. A couple of token field goals pushed the final score to 26-16 — a fittingly workmanlike number to push Mark Stoops past Bear Bryant on the list of Kentucky's all-time winningest head coaches.
With the win, the Wildcats vaulted to No. 9 in the updated AP poll, their first foray into the top 10 since the 2007 'Cats rose to No. 8 on the strength of a 5-0 start and an upset win over then-No. 1 LSU. That team wound up losing 4 of its last 5 in the regular season and falling out of the polls altogether by year's end. At 2-0, the 2022 edition has a lot going for it in the early going but a very long way to go.
Superlatives
The week's best individual performances.
1. Alabama QB Bryce Young. By efficiency, Young's outing against Texas ranked among the worst of his career, with his 123.6 passer rating coming in just ahead of last year's nail-biters against Auburn (110.3) and Georgia in the CFP Championship Game (114.6). By the Making Plays When His Team Needs Plays Index, he's never looked better.
2. Arkansas RB Raheim "Rocket" Sanders and LB Drew Sanders. The Razorbacks' 44-30 win over South Carolina was the Sanders Show on both sides of the ball. On offense, Rocket Sanders — a 6-2, 227-pound sophomore who hits the open field with all the velocity his nickname implies — put the rest of the league on high alert with a career-high 156 yards and 2 touchdowns on 6.5 per carry, adding another 30 yards as a receiver. (He played wideout in high school, a terrifying vision if you've ever been an undersized teenage corner, trust me.) On defense, Drew Sanders lived up to the hype that accompanied his transfer from Alabama and then some, recording 11 tackles, 5 stops, 4 QB pressures and 2 forced fumbles on a breakout afternoon for the former 5-star recruit.
It's South Carolina vs. Drew Sanders rn and South Carolina is losing.

This dude is a FREAK. #WPS pic.twitter.com/KKUJJuWG6j

— Collin Kennedy (@CKennedy247) September 10, 2022
As an edge rusher, Sanders was the odd man out at Bama, overshadowed by Will Anderson Jr. and passed on the depth chart last year by a couple of blue-chip freshmen, Dallas Turner and Chris Braswell, after he suffered a short-term wrist injury at midseason. As an off-ball 'backer in Fayetteville, he looks like he's coming into his own. In coverage, predictably, he's a work in progress: By PFF's accounting, South Carolina victimized Sanders on 6 passes Saturday that gained 94 yards. But his range and instincts as a sideline-to-sideline playmaker stand to make him a star.
3. Tennessee DEs Byron Young and Tyler Baron. The Vols' bookends wreaked havoc against Pittsburgh, hounding multiple Pitt quarterbacks throughout a 34-27 Tennessee win in overtime. Pro Football Focus credited Young and Baron with 11 combined stops — defined as tackles that constitute a "failure" for the offense — as well as 6 QB pressures and 2 sacks, both of which paid off on the scoreboard. The first, a strip sack by Baron late in the first half, set up a short Tennessee field goal just before halftime; the second, a 3rd-down takedown by Young early in the fourth quarter, forced the Panthers to settle for a field goal after a turnover set up Pitt's offense in Vols territory.
— pickett's pool (@PickettsPool) September 10, 2022
It's been a while since Tennessee has boasted a reliably disruptive presence off the edge — the last individual defender there with double-digit sacks was Derek Barnett in 2016. But Young and Baron are both future pros with all the fundamental tools to reset that streak.
4. South Carolina WR Antwane Wells Jr. Wells, a third-year transfer from James Madison, was quietly one of the most intriguing wide receivers in the portal last winter after a brief but decorated career at JMU. Against Arkansas, he turned intrigue into output, finishing with 8 catches for 189 yards on 10 targets. The vast majority of that came on 2 receptions in the second half, the first covering 62 yards for Wells' first touchdown as a Gamecock …
Don't say I didn't warn ya about Antwane Wells — dude is a star pic.twitter.com/CvhyeGLr7i

— Cam Mellor (@CamMellor) September 10, 2022
… and the second covering 64 yards to set up another TD two plays later:
Antwane Wells Jr. is SLIPPERY? #CollegeFootball

— The College Experience (@TCEonSGPN) September 10, 2022
If you insist on people calling you "Juice," those are the kinds of plays you have to make to justify it. This kid has "Juice" juice to spare.
5. Auburn Edge Derick Hall II. Hall led the push in a defensively-driven, 24-16 win over San José State, registering 8 tackles, 7 QB pressures and an 88.5 PFF grade, the best of any SEC defender in Week 2 vs. an FBS opponent. By the looks of Auburn's offense, the Tigers are going to need that kind of performance on a weekly basis to have any chance of keeping the score against sentient competition within reach.
Honorable Mention: Arkansas DB Dwight McGlothern, who allowed just 2 catches for 7 yards and recorded his 2nd interception in as many weeks in the Razorbacks' win over South Carolina. … Arkansas QB KJ Jefferson, who accounted for 229 total yards and 2 touchdowns by ground and air. … Georgia QB Stetson Bennett IV, who turned in a brisk, 24/34, 300-yard performance in a blowout win over Samford. … Tennessee QB Hendon Hooker and WR Cedric Tillman, who connected 9 times for 162 yards and 1 touchdown on 17 targets in the Vols' overtime escape at Pitt. … Alabama RB Jahmyr Gibbs, who accounted for 136 all-purpose yards and a receiving touchdown at Texas. … And Alabama Edge Will Anderson Jr., who offset 3 uncharacteristic penalties against the Longhorns with 2 clutch plays: A blocked field goal just before the half, and a third-down sack that ended Texas' last offensive possession with enough time for Bryce Young to orchestrate a response.
– – –
The scoring system for players honored in Superlatives awards 8 points for the week's top player, 6 for 2nd, 5 for 3rd, 4 for 4th, 3 for 5th, and 1 for honorable mention, because how honorable is it really if it doesn't come with any points? The standings are updated weekly with the top 10 players for the season to date.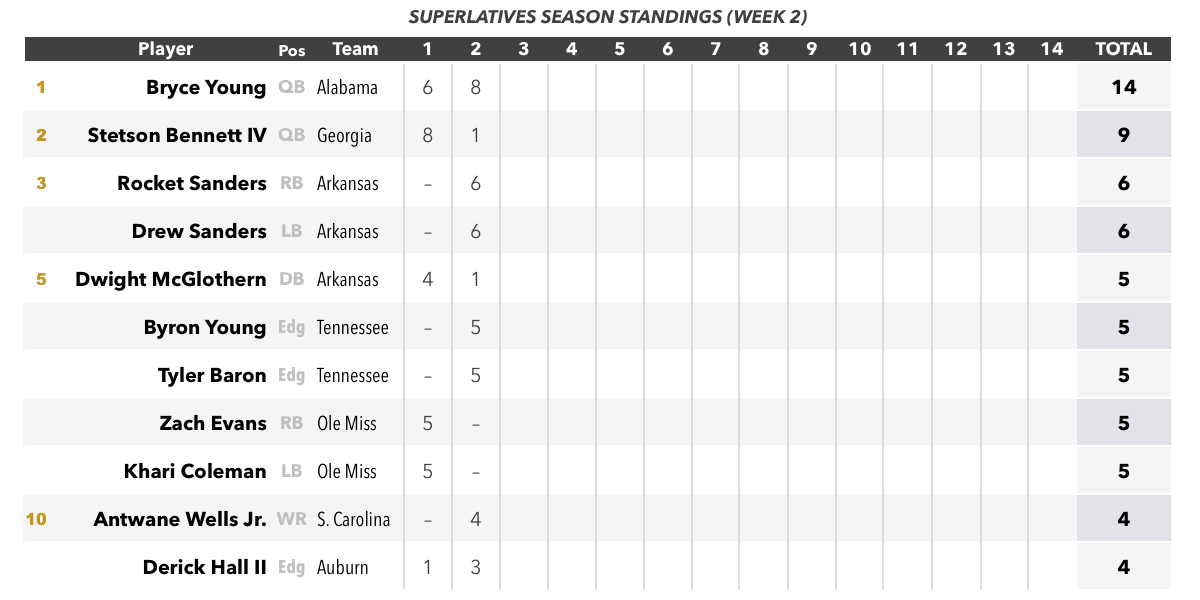 SEC Power Rankings
Updating the food chain.
1. Georgia (2-0). Bulldogs are all alone in the top spot this week after a business-as-usual romp over Samford. The offense scored on all 6 first-half possessions, while the defense didn't play a snap on its own side of the field until the fourth quarter. (Last week: 1⬌)
2. Alabama (2-0). Does Texas pull off the upset if Quinn Ewers plays the entire game? We'll never know, not that it's not going to stop UT fans from dwelling on the question for the rest of the season. While they're at it, they should also ask what if the offense had found a way to wring more than 16 points out of 5 trips inside the Bama 20-yard line. (LW: 1⬇)
3. Arkansas (2-0). What says more about the job Sam Pittman has done in Fayetteville: That Arkansas is ranked in the top 10 in September for the second year in a row, or that it doesn't even seem all that remarkable? (LW: 5⬆)
4. Tennessee (2-0). The offense was broadly productive against Pitt but streaky: All 3 touchdowns prior to the game-winner in overtime came on consecutive drives in the first half covering 80, 71 and 66 yards, respectively. The Vols' other 10 possessions in regulation netted just 6 points. (LW: 6⬆)
5. Kentucky (2-0). Expect Mark Stoops' name to come up early and often over the next few months in connection to the vacancy at Nebraska, but don't expect anything to come of it other than possibly another raise and/or extension to show how much he's appreciated in Lexington. Stoops is very well compensated in a gig where he enjoys high job security, manageable expectations, and at least as good a chance to win big in the foreseeable future as he would have at this point at Nebraska. Unless he's bored out of his mind, the only openings he should consider leaving for are ones that either a) have won national championships in the CFP era, or b) are in the NFL. (LW: 8⬆)
6. Ole Miss (2-0). We won't know much about the Rebels' rebuilt, transfer-heavy lineup until an Oct. 1 visit from Kentucky, which by that point — brace yourself — could very well be a collision of top-10 teams. (The Rebels' and Wildcats' combined opponents over the next 2 weeks: Georgia Tech, Tulsa, Youngstown State and Northern Illinois.) That would be by far the most high-stakes Ole Miss-Kentucky game of all-time, and then in all likelihood largely forgotten by Halloween. (LW: 7⬆)
7. Texas A&M (1-1). The Aggies plummeted from No. 6 in the AP poll to No. 24 — 3 spots behind Texas, which moved up from unranked to No. 21 after a loss. If they were rivals, that seems like the kind of thing that might get under A&M's skin. Good thing they're not! Honestly, they haven't even thought about each other in years. (LW: 3⬇)
8. Florida (1-1). Failures on offense overshadowed a dominant night by the Gators' d-line, including Brenton Cox Jr. forcing a first-quarter sack by hurling Kentucky's 6-6, 328-pound right tackle, Jeremy Flax, directly into Will Levis' lap like Flax was a small child.
Brenton Cox is strong strong ? pic.twitter.com/oR4r6DXT7v

— Cam Mellor (@CamMellor) September 10, 2022
There's no quick fix for the problems on offense, but there is quite a bit of margin for error. (LW: 4⬇)
9. Mississippi State (2-0). The Bulldogs dispatched Arizona, 39-17, in an occasionally sloppy but more or less routine game that, despite Zona QB Jayden de Laura's best efforts, was not nearly as chaotic as its time slot, setting and participants suggested it could be. At minimum, any game involving a Mike Leach team playing past midnight in the desert should at least feature some sleep-deprived suspense over the point spread. Not this one: Mississippi State covered the 11.5-point line with ease. (LW: 9⬌)
10. LSU (1-1). Brian Kelly logged his first win in Baton Rouge over cross-town Southern University, for the AFLAC trivia buffs. For everyone else, the Tigers' season resumes this week at Mississippi State. (LW: 10⬌)
11. Auburn (2-0). The defense is fine. The offense is a huge red flag heading into a prove-it date against Penn State. If I could vote to move any player in America to a better situation, there may not be another name on my ballot ahead of Tank Bigsby's. (LW: 11⬌)
12. South Carolina (1-1). The Gamecocks looked like could be in for the kind of season where an improved product on the field didn't necessarily result in an improved record in the standings, and with a decisive loss in their SEC opener they're on their way. Six of their remaining 10 games are against current Top 25 teams, at least one of which Carolina is going to have to knock off to get back to a bowl game. (LW: 12⬌)
13. Missouri (1-1). Mizzou is used to mediocre QB play, but unlike the past 2 years, there's no sign of the next Larry Rountree III or Tyler Badie rising to the occasion at running back, either. QB Brady Cook is the Tigers' leading rusher, while primary backs Cody Schrader and Nathaniel Peat are averaging a paltry 3.9 yards per carry. (LW: 13⬌)
14. Vanderbilt (2-1). If you had Vandy running the table, the dream is officially dead courtesy of Wake Forest. There's always next year. (LW: 14⬌)
Moment of Zen of the week
Man this had me rolling ? dude just took a brisk walk to the 10 in the middle of the game pic.twitter.com/utcV0Ec0a7

— Seth Lewis (@SethLewisInc) September 11, 2022
• • •