SEC
Monday Down South, ACC Preview Edition: The Clemson gap is not closing anytime soon
The first entry in Monday Down South's weekly conference preview series ahead of the 2020 regular season. Next week: The Big 12.
Not to spoil the suspense right up front here, but, well, that would require there to actually be some suspense to spoil, wouldn't it? No chance of that. In the ACC, everyone and their mother knows how it ends: With Clemson as the champ.
In fact, after 5 consecutive conference titles and 22 consecutive conference wins, the chasm between Clemson and the rest of the league is as wide as ever and only getting wider – a state of affairs that in many ways says as much about the ACC's other standard-bearers as it does about the Tigers. Their one-time rival at the top of the standings, Florida State, is at its lowest point in more than 40 years off back-to-back losing seasons under the swiftly exiled Willie Taggart. The other would-be national brand, Miami, is nearly two decades removed from its glory days with no return in sight.
Virginia Tech? Eight consecutive seasons with at least 4 losses. Georgia Tech? Mired in rebuilding mode as the program continues its transition away from the triple option. Louisville? Ascending, but only relative to the last-place mess that second-year coach Scott Satterfield inherited. North Carolina? Ditto as it enters Year 2 under Mack Brown. Virginia? Due for a regression after last year's unlikely run to the conference title game. And so on down the list. Other than Clemson, the ACC placed zero teams in the final AP Top 25 last year after managing just one in 2018 (Syracuse). (Usual part-time member Notre Dame, a full conference participant this season, was No. 12 last season.)
Which is not necessarily to say the rest of the league is not interesting. The fun side of the #GoACC experience, for those willing to embrace it, is its extreme unpredictability: Where no other outfit has separated itself from the pack, none have significantly lagged behind, either – every ACC team has played in multiple bowl games in the past 4 years – meaning most games not involving Clemson really are often akin to spinning a roulette wheel that could land on any of a wide range of results. On the Coastal Division side, the pecking order has been so consistently, hilariously fluid that all 7 teams have taken a single turn in the championship game in the past 7 years.
At that point, though, they're little more than lambs to the slaughter, going 0-7 in those games with the past 3 losses coming by at least 32 points apiece. The fact that the league has scrapped the two-division format for 2020 isn't about to change that dynamic. The remnants of the Atlantic Division are a combined 1-34 vs. Clemson since 2015. The ad-hoc absorption of Notre Dame into the conference slate poses a minor threat, at best. (The Tigers were already scheduled to visit South Bend in November; see below.) ESPN's Football Power Index gives Clemson a 53.9 percent chance of running the table against its current schedule, more than twice the odds of any other FBS team, and an absurd 92.7 percent chance of making the Playoff. No bet in this weird, unprecedented season could be safer.
There's something to be said for a conference race in which as many as a dozen teams can realistically expect to be within a big play or two of a W on any given weekend. Depending on how it unfolds, this could also be a landmark year in the movement to scrap divisions across the sport. (Seriously, ban divisions.) But no matter what other surprises might be in store it is in every sense a race for second place.
The front-runner
Clemson
So can we officially call Clemson a dynasty yet or what? Five consecutive Playoff appearances, 2 national championships with 2 different starting quarterbacks, 76 consecutive weeks in the AP top 10, the nation's best overall winning percentage over the same span: If that's not a dynasty, it's right up there. A 3rd title in 5 years would certainly clinch it, asterisks be damned.
Regardless, the window didn't open with Trevor Lawrence and Travis Etienne and it's not going to close with them, either. The Tigers are well into the lifespan of a year-in, year-out national recruiting power with no end in sight. Take the 2020 class, Dabo Swinney's most touted to date: 10 more top-100 recruits joined the fold from 7 states and Washington, D.C., all of whom will likely have to settle for rotational roles as freshmen, at best. The haul included the No. 1 overall prospect in the country, DL Bryan Bresee, and Lawrence's heir apparent behind center, Californian D.J. Uiagalelei, who arrived in the spring as Swinney's first 5-star signee from west of the Mississippi. It was also the first Clemson class to rank in the top 5 nationally in 247Sports' composite rankings, a distinction the 2021 class is well on its way to repeating despite a rare de-commitment from top DL prospect Korey Foreman.
When that's the norm, the question isn't so much how many more opportunities they're going to have to add to the trophy case in the foreseeable future as how many of those opportunities are ultimately going to pay off.
The challenger
Notre Dame
Yes, in another of many ongoing signs of the apocalypse in 2020, the Fighting Irish have crossed themselves, forsaken independence and conceded to playing a full conference schedule for the first time in school history. And yes, if we somehow make it to December they are 100-percent eligible to play in the ACC Championship Game. (Although the league has temporarily nixed divisions for this season, in spirit Notre Dame would obviously represent the Coastal Division, if only to extend the streak of 8 Coastal reps in the title game in the past 8 years.) As we discussed in last week's Playoff reset, the Irish will be favored in every game outside of a Nov. 7 visit from Clemson – heavily so in most of them – and therefore just one big upset from potentially crashing the Playoff.
Again, though, to be clear if that happens it will be a big upset. While Notre Dame is in the midst of its best runs in decades, posting a 33-6 record over the past 3 years with 29 weeks in the AP top 10, it has done nothing to improve its dismal rep against elite competition. Quite the opposite: Brian Kelly's teams have lost 9 straight vs. opponents that finished in the top 10, including an indelible face-plant against Clemson in the 2018 Playoff semifinal. This year's team, like that one, can rely on steady QB Ian Book and at least a marginal talent edge over almost everyone else. But there's no reason to suspect it's any closer to catching the Tigers.
The dark horse
Miami
The U's fortunes seemed to rise and fall on a weekly basis in 2019, and ended the year at just about the lowest ebb imaginable: On a 3-game losing streak at the hands of Florida International, Duke and Louisiana Tech. Prior to that, the Canes had appeared to be on the upswing, opening the month of November with easily their best performances of the season in wins over Florida State and Louisville; just a few weeks later, the same team limped into the offseason with a losing (6-7) record, an apoplectic fan base, and first-year coach Manny Diaz promising "dramatic" changes.
He delivered on two fronts. Change No. 1: Ditching much-maligned offensive coordinator Dan Enos for Rhett Lashlee, a Gus Malzahn acolyte who arrives from a successful stint at SMU with a mission to push the tempo. Change No. 2: Recruiting one of the most sought-after players on the grad-transfer market, ex-Houston QB D'Eriq King, to inject a jolt of electricity. When healthy, King is a touchdown machine with obvious upside — he ranked in the top 10 nationally in 2018 in total offense, pass efficiency, and QBR despite suffering a torn ACL late in the season — and an obvious upgrade at a position that has been a revolving door the past 2 years. He's also coming off an aborted 2019 campaign in which he struggled early before shutting it down to preserve a redshirt. If King is his old, dynamic self behind a nowhere-to-go-but-up offensive line, the offense stands a decent chance of fulfilling the potential that it only briefly glimpsed last year on the way to a strong rebound in Diaz's second season. If not, it will be up to the defense again to keep things from getting ugly.
The upstart
North Carolina
Last season in Chapel Hill was a roller coaster: Nine of the Tar Heels' first 10 games were decided by a touchdown or fewer, including come-from-behind wins over South Carolina, Miami and Duke; a 6-OT heartbreaker at Virginia Tech (see below); and a 1-point loss vs. Clemson in the Tigers' only remotely close call of the regular season. The combined margin in UNC's 6 losses came to just 26 points.
For an outfit used to losing considerably more often by considerably bigger margins over the previous 2 seasons, that represented a significant leap in Mack Brown's first season as head coach; for an outfit that returns more or less intact in Year 2, the hope is that it was only the first step. Honestly it feels a little too easy to get carried away with the Heels' potential. Face-of-the-program QB Sam Howell was a revelation as a true freshman, boasting the poise of a veteran and the stat line of a future star; virtually everyone else who touched the ball is also back, including four players (RBs Michael Carter and Javonte Williams, WRs Dazz Newsome and Dyami Brown) who each went over 1,000 yards from scrimmage.
On defense, senior Chazz Surratt is on the short list of the best linebackers in the country after converting from quarterback. And Brown has already parlayed the initial momentum into sustained success on the recruiting trail, assembling a 2020 class that ranked 13th nationally per 247 (second in the ACC only to Clemson) and a 2021 class that ranks 12th — unprecedented territory for North Carolina football.
Of course, it's much too early on the curve to suggest a team that reveled in a 7-6 finish last year is on the verge of national relevance with a lineup still consisting mainly of former 3-stars. At this rate, though, if any team has a chance of emerging as a viable threat to Clemson in the next 2 to 3 years suddenly the Tar Heels are beginning to look like the most intriguing bet.
The doormat
Syracuse
Technically, Syracuse is only 2 years removed from a 10-win season in 2018, one of the more quietly stunning campaigns of the past decade, but after last year's regression to 5-7 that kind of success could hardly feel further away. The 2019 Orange fell fast and hard, with an early blowout at Maryland setting the tone for a dismal, 2-6 mark in ACC play that offered no hints of brighter days ahead. (Ominously, Maryland would go on to lose 9 of its last 10 after trashing Syracuse, the lone victory coming vs. Rutgers.) The lineup features little notable experience outside of QB Tommy DeVito and DB Andre Cisco and even less in the way of rising talent. Coach Dino Babers has done an admirable job at a difficult place to win, but 5 years into his tenure he's right back where he started.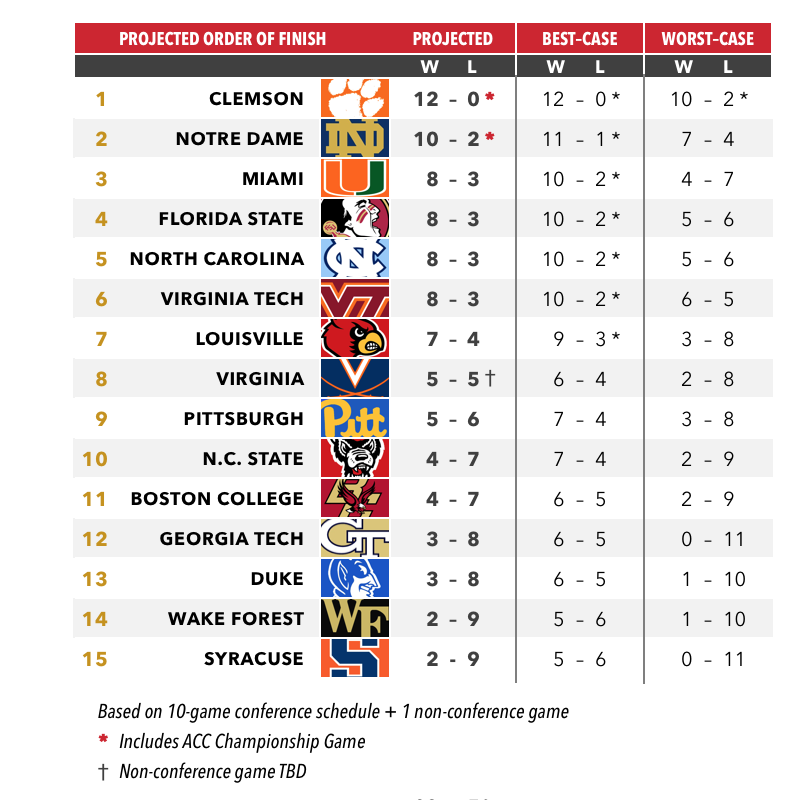 Offensive Player of the Year
Clemson QB Trevor Lawrence
What's left to say about the reigning Face of College Football? If anything, the decade's most decorated recruit has actually exceeded the hype, extending a national championship run in Year 1 into a 25-game winning streak in Year 2 while entrenching his status as the most coveted pro prospect since Andrew Luck. If Year 3 goes as planned, you can probably push the comparison all the way back to Peyton Manning.
Before we induct him into the Hall of Fame, it is worth noting that Lawrence is coming off the most mortal performance of his career in Clemson's championship loss to LSU, which saw him post a career-low passer rating (101.8) and fail to throw a touchdown pass for the first time in a complete game. (He did run for a score, in keeping with his significantly improved output last year on the ground.)
But there's certainly no shame in getting outdueled by Joe Burrow in peak form – or in having your top receiver locked down by Derek Stingley Jr. – and for a guy who'd already eliminated Tua Tagovailoa and Justin Fields in consecutive seasons, there was nothing left to prove, anyway. At this point, the only real question about Lawrence in his final turn on campus in whether he'll get the chance to finish it.
Defensive Player of the Year
FSU DT Marvin Wilson
Wilson's decision to return to school last winter was as shocking as any, which is saying something in a year that saw Travis Etienne and Najee Harris make the same call. Before the hand injury that prematurely ended his season, Wilson was a run-stuffing, pocket-collapsing force in the middle of Florida State's defensive line, earning one of the highest grades of any interior lineman nationally from Pro Football Focus for the second year in a row.
If there's a knock on his game, it's that he's not quite the finisher as a pass rushers (just 9 sacks the past 2 years) that scouts would ideally like to see from a potential top-10 pick in an era when old-school, 2-gap behemoths are declining in value. In every other way, he looks like a clone of Auburn's Derrick Brown after he opted to pass on the draft last year and is poised for identical results.
Breakout Player(s) of the Year
Clemson WRs Joseph Ngata and Frank Ladson Jr.
Clemson lost its most productive receiver, Tee Higgins, to the draft, and its most gifted receiver, Justyn Ross, to a congenital spinal condition that will sideline him for at least the upcoming season. But they call the place WRU for a reason, folks. As far as the outlook for the Tigers' passing game, all that really means is that the heirs apparent will get their turn at the top of the rotation a year earlier than expected.
As usual, the new guys look just like the old guys: At 6-3, 200-plus pounds apiece, Ngata and Ladson are already first-off-the-bus types who pose the same matchup problems for opposing corners as Higgins and Ross. They both flashed in reserve roles in 2019, too, confirming their blue-chip potential with a combined 480 yards and 6 TDs on 15.5 per catch as true freshmen.
Joseph Ngata goes 🆙 and snags it! #ALLIN #MustSeeACC | @ClemsonFB @josephngata pic.twitter.com/C2Fuu7VZ6o

— ACC Digital Network (@theACCDN) October 19, 2019
Oh my goodness, @_FrankLadson!

The freshman comes up with the sick grab.#ALLIN #MustSeeACC | @ClemsonFB pic.twitter.com/T1wB5YOKSP

— ACC Digital Network (@theACCDN) September 15, 2019
The names change; the results stay the same.
Most Exciting Player
Louisville WR Chatarius "Tutu" Atwell
At 5-9/165, Tutu can usually count on being the smallest guy on the field. But he is always the fastest. In 2019 Atwell was a big-play magnet for Louisville's resurgent offense, accounting for 18 plays that gained 20+ yards and 4 that went for at least 70 yards, most in the nation. He's capable of administering blisters to opposing defenses vertically …
https://twitter.com/ACCFootball/status/1198371643200098304?s=20
… horizontally …
Tutu Atwell is just too too fast! #GoCards #MustSeeACC | @c5_atwell @UofLFootball pic.twitter.com/kNliCUy1WQ

— ACC Digital Network (@theACCDN) October 26, 2019
… in the open field …
https://twitter.com/theACCDN/status/1195914457437921280?s=20
… in the not-so-open field …
… in the red zone …
The CB had no chance when Louisville WR Tutu Atwell burst out of the break for the TD #NFLDraft #Louisville pic.twitter.com/DPV0BjaThl

— Brian Johannes (@Draft_Brian) May 25, 2020
… and even, as Mississippi State learned the hard way last December, with his arm:
Tutu Atwell: WR1 & QB2? 😂💪#GoCards #MustSeeACC | @c5_atwell @UofLFootball pic.twitter.com/P5DW4SNXyQ

— ACC Digital Network (@theACCDN) June 29, 2020
(He was a QB at Northwestern High School, the same program in Miami that produced Teddy Bridgewater … and Amari Cooper … and so on and so forth.) Not surprisingly, Atwell racked up more yards after catch last year (752) than any other returning FBS wideout according to PFF, which named him a first-team All-American based on his best-in-the-nation grades from the slot and on screen passes. Any given play when he's on the field is a potential house call.
Sleeper of the Year
Virginia OLB Charles Snowden
Snowden may not possess the position-defying athleticism of, say, Isaiah Simmons. He has, however, been a reliably steady presence on a reliably steady Virginia defense, logging 27 consecutive starts at outside linebacker. And his rangy, 6-7, 240-pound frame is freaky enough in its own right, boasting the expansive wingspan of a 7-footer – a reminder of the serious basketball prospect he was before going out for football as a high school junior. That kind of reach is a constant nuisance to opposing QBs, who have to worry about Snowden as a pass rusher (10 career sacks) and the equivalent a human windmill in passing lanes, where he's swatted down a dozen passes the past 2 years. For a 5th-year senior whose career trajectory is still on the upswing, that stands to become his M.O. for many more to come.
Most Valuable Transfer
Miami DE Quincy Roche
With all due respect to D'Eriq King, Miami's best offseason addition came on the same day on the other side of the ball. At Temple, Roche was a reliable terror off the edge each of the past 3 years, boasting more career sacks (26) and TFLs (40) heading into his senior season than any other active FBS player.
In 2019 he was recognized as the American Athletic Conference's Defensive Player of the Year in his first turn as a full-time starter, setting the stage for a transfer to a more high-profile program in hopes of convincing pro scouts that his marginal size (6-3/245) is not a liability against better competition.
Initially, Roche was slated to start opposite the returning FBS sack leader, Gregory Rousseau, to form the most hellacious bookend rushing tandem in the country; when Rousseau opted out of the season to preserve his elite draft stock, the newcomer became the headliner.
Rousseau's replacement: Former UCLA transfer and 5-star recruit Jaelan Phillips, who moves into the lineup with massive expectations in his own right after sitting out 2019. Between them, the edge remains, if not quite a nightmare, stiil undeniably the strength of Miami's defense.
Best SEC Alum
Ga. Tech DL Antonneous Clayton
At Florida, Clayton was a bust, struggling to get on the field after arriving as a major recruit in 2016. At Georgia Tech, he'll debut as arguably the best player on the defensive line before he's taken a snap. Admittedly, that says more about Tech's defense, which finished next-to-last in the ACC in scoring D and dead last in sacks last year with Clayton confined to the sidelines, than it does about anything Clayton has accomplished yet himself.
Still, with a year under his belt in Geoff Collins' system, Clayton is primed to break out as a 5th-year senior on a front that badly needs his presence: A blue-chip transfer can't ramp up the heat for the Yellow Jackets, it's hard to see it coming from anywhere else.
Best Position Group
Clemson's Defensive Line
The Tigers replaced the best college d-line ever assembled with 4 new starters in 2019 and hardly missed a beat: Even the "rebuilding" version of Brent Venables' unit ranked in the top 10 nationally in total and scoring defense for the 4th year in a row, and in the top 6 in TFLs for the 7th year in a row. And although the returning starters up front – Justin Foster, Nyles Pinckney and Tyler Davis – are not nearly as decorated (yet) as the vaunted 2018 front, the rotation as a whole is as deep as it has ever been.
The new starting end opposite Foster, K.J. Henry, is a former 5-star recruit on breakout watch after biding his time the past 2 years – that is, unless he's surpassed by true freshman Myles Murphy, the No. 1 DE in the 2020 class. (Don't forget about returning starter and aspiring first-rounder Xavier Thomas, either; while he plans to redshirt in recovery from COVID-19 – still an incredible sentence to write – coaches haven't ruled out the possibility of a late-season comeback.) Inside, Pinckney and Davis are only the first wave in a rotation that also includes 2019 regular Jordan Williams and 5-star arrivals Bryan Bresee and DeMonte Capehart. In general, it's an exaggeration to suggest Clemson's backups would be sure-fire starters almost anywhere else in the league; in this case specifically, it might be an understatement.
Game of the Year
Virginia Tech at North Carolina
Last year, the Hokies outlasted UNC 43-41 in the wildest game of the season – a 6-overtime epic that went in the books as both the longest game in ACC history and the first decided by the "shootout" OT rules that mandate dueling 2-point conversions beginning in the third session. The box score confirms a dead heat in terms of total offense (491 yards for UNC, 490 for VT), first downs (23 apiece), and emotional torment: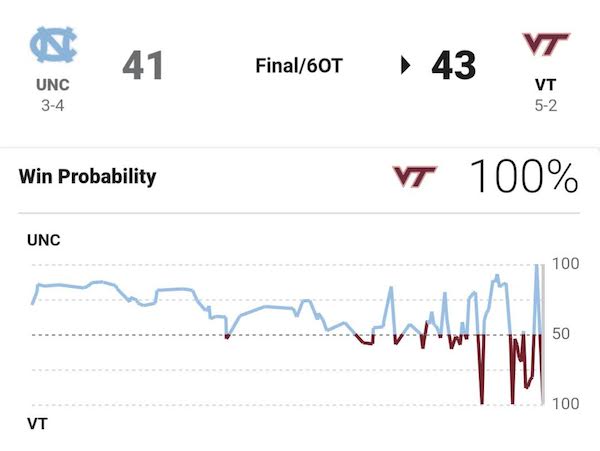 The only thing that game lacked: Broader significance in the conference standings. At first glance, the Oct. 10 rematch in Chapel Hill doesn't exactly have the makings of a high-stakes affair, either, at least for anyone who doesn't have a rooting interest. On the other hand, if you're quietly banking on a run by either side then it's the crucial early test that defines whether higher stakes are even possible. The winner vaults to the front of the pack of aspiring dark horses behind Clemson and Notre Dame; the loser is all but eliminated before midseason. Outside of a random lapse by Clemson – since 2015 the Tigers have been good for exactly one inexplicably close call per year – that sense urgency combined with the potential for another edge-of-your-seat finish is as dramatic as this league is likely to get.