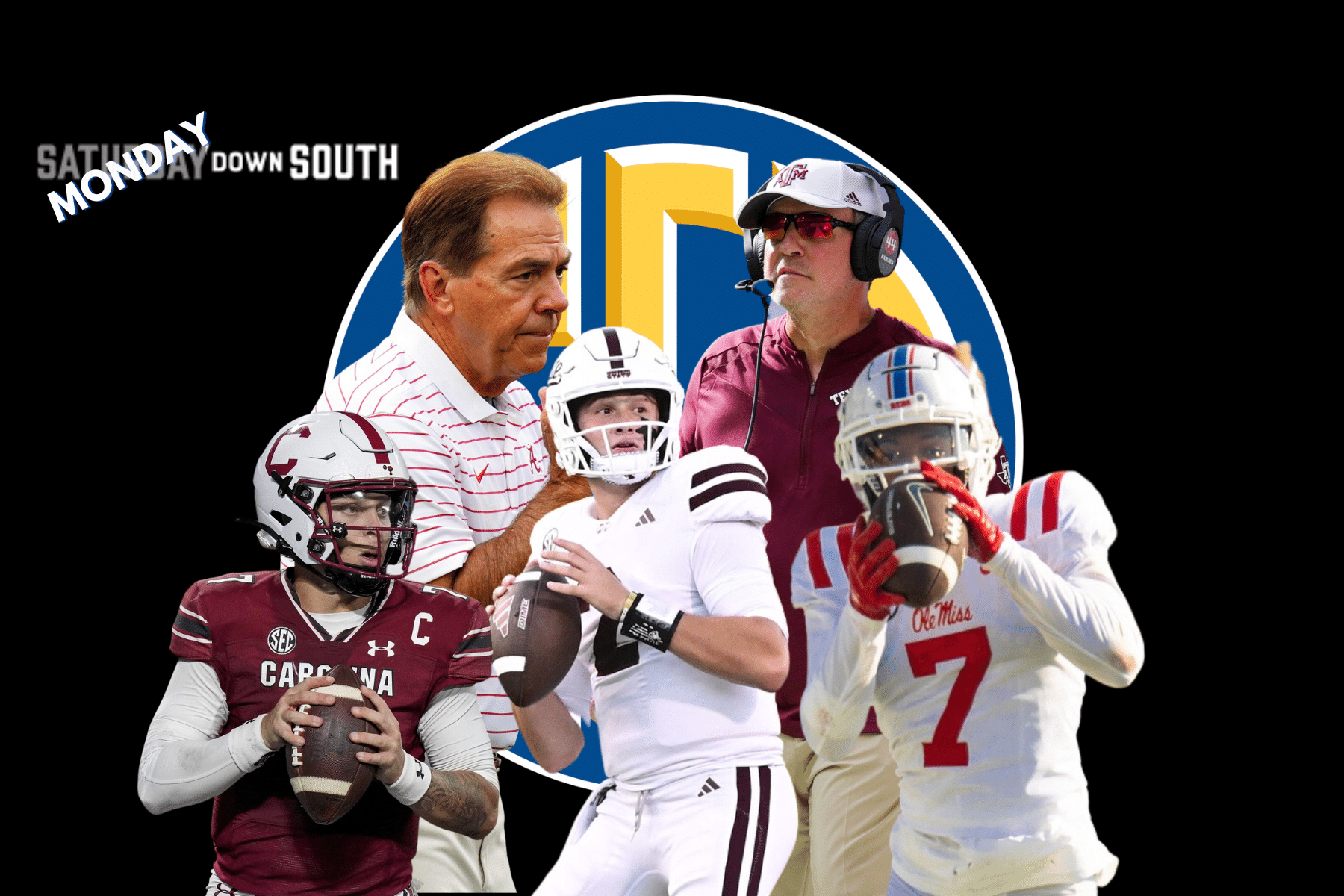 SEC
Monday Down South: Alabama is used to bouncing back from the brink. Why this time feels different
Weekly takeaways, trends and technicalities from Week 2's SEC action.
In this week's sun-baked edition of Monday Down South …
Wasting away again in Aggieland
Changes in latitude at Mississippi State
War Eagle in paradise
Superlatives and Power Rankings
… and more! But first:
Crimson Tide at crossroads
Part of the bargain of Alabama's unprecedented longevity at the top of the sport is that, on some level, every loss feels like a crisis. For a team that has been favored to win nearly every time it has set foot on the field for the past 15 years, arguably it is. Bama doesn't just lose. The ground shifts a little. The locals look to the sky. Is this the Big One? The beginning of the end? The clock striking midnight a decade after it was due?
So far, the answer has always been a resounding no. Or at least, not yet. Those who come to bury the Bama dynasty inevitably wind up digging a hole for themselves. In the Nick Saban era, the Crimson Tide have rebounded from a regular-season upset to play for the national championship in 6 different seasons (2011, '12, '14, '15, '17, and '21), ultimately wining the title in 4 of them.
Three of those losses came in Tuscaloosa, including the September 2015 shootout against Ole Miss that, at the time, seemed to represent the most urgent red flag of Saban's tenure. Alabama plummeted out of the top 10, amid speculation that the window for the kind of dominance the Tide had come to take for granted was finally beginning to close — more or less on schedule, historically speaking. Instead, from that point on they embarked on a 26-game winning streak with a national championship (and very nearly two) to show for it. They've won 2 more since that one, opening 5 of the subsequent 7 seasons at No. 1 in the preseason AP poll. Bama's style of play evolved, but nothing really changed.
In that context, there's no take hot enough in the wake of Saturday's 34-24 loss to Texas that Alabama hasn't heard it before, and hasn't immediately rendered it irrelevant. The Tide are down, dropping from No. 3 to No. 10 in the updated AP poll, but, as ever, not out. They still control their fate. Every goal, from the SEC West to the national crown, remains in their own hands. Man for man, the roster remains the most talented in the college game. As a program, there is no challenge standing between them and the usual milestones that they haven't surmounted, and no test they haven't passed.
Now: With all that out of the way, how convincing does it sound right now when applied to the outfit that tens of millions of Americans just watched get thoroughly outgunned on its own turf?
Ironically, the most shocking part of Saturday's result may have been just how not shocking it was in real time, in contrast to pretty much every other regular-season Alabama L in the dynasty years. Even in the blockbuster 1 vs. 2 showdowns with LSU in 2011 and 2019 — upsets only in the narrowest sense — Bama losses have tended to unfold with a mounting sense of a major upheaval in progress that was largely absent against Texas.
The Longhorns arrived as 7-point underdogs, a concession to the divergent reputations of the programs since their landmark meeting in the January 2010 BCS Championship Game. Alabama has owned the biggest stages; Texas, notoriously, has not. But they also arrived with a stacked roster, a burgeoning star behind center, and fresh memories of last year's 20-19 nail-biter in Austin. Just like last year, the 'Horns led on Saturday for the vast majority of the game. Unlike last year, once they began to pull away in the fourth quarter, it felt less like an upset and more like a standard-issue butt-kicking by the better team.
Texas controlled the game statistically, outgaining Alabama overall (454 yards to 362) and on a per-play basis (6.1 ypp to 5.8), but the contrasts on the field were sharper than in the box score. The Longhorns' gifted young quarterback, Quinn Ewers, fulfilled his massive recruiting hype, connecting with his fleet of blue-chip receivers on nearly every area of the field; he was extraordinarily well-protected, facing pressure on just 5 of his 40 dropbacks, per Pro Football Focus, wasn't sacked, and didn't commit the major mistake that Alabama's defense has so often thrived on over the years. When Bama took its first and only lead at the end if the 3rd quarter, Ewers needed less than a minute to respond in kind.
— go to ➡️ collegefootballnetwork.com (@PickettsPool) September 10, 2023
Meanwhile, the Crimson Tide's gifted young quarterback, Jalen Milroe, flashed his immense potential on a couple of long touchdown strikes in the second half, but also threw 2 killer interceptions — one early, one late — that Alabama quarterbacks on Saban's watch historically just do not throw. The picks led directly to 10 Texas points, accounting for the final margin. Milroe was pressured on roughly half of his dropbacks (19-of-39, per PFF), took 5 sacks, and repeatedly struggled to salvage bad snaps from center Seth McLaughlin.
Jerrin Thompson with a huge pick! pic.twitter.com/LMagEOSiZZ

— Hook'em Headlines (@HookemHeadlines) September 10, 2023
It turns out that a promising outing against Middle Tennessee was not a sound basis for anointing Milroe as the next Jalen Hurts or Bryce Young. For a redshirt sophomore just getting his feet wet as QB1, that should hardly be a surprise. The deeper issue, though, is that Alabama needed him to play at that level so soon, and had no solutions for making his job any easier.
The non-Milroe portion of the running game was non-existent; pass protection unraveled as the game slipped away; the defense couldn't get Texas' offense off the field with any kind of consistency. The run defense held up, when the Longhorns bothered to run; otherwise, the Tide were outplayed in every facet. The inexperienced QB was thrust into a position where he was forced to overcome the deficiencies of the rest of the team, not the other way around, with all-too-predictable results.
When Alabama fans' stomachs began to collectively sink in the 4th quarter, it wasn't only in response to the score; it was also in recognition of just how easy it was to see coming if you dialed back the Bama mystique. Much of the lingering skepticism from last year's 11-2, non-Playoff finish was based on exactly that scenario. Bryce Young (and, to a lesser extent, Will Anderson Jr. on defense) singlehandedly painted over many of that team's flaws and still couldn't carry them back to the CFP. By the championship-or-bust standard, the 2022 Tide were widely regarded as the most underwhelming entry of the Saban era. How were the Tide supposed to watch their 2 most valuable players go with the No. 1 and No. 3 picks in the NFL Draft and get better?
If the skeptical line got a hearing during the offseason, it was usually a brief one before being dismissed in favor of the entrenched preseason logic that Bama is Bama, the next wave of blue-chip talent will be just as good as the one it's replacing, and the Crimson Tide will inevitably be one of the last teams standing. That logic has held up for more than a decade, and again, it still can in 2023.
No one wants to be the sucker who gets caught openly betting against the Saban Death Star. The difference now, from the sober side of the question, is that the Tide no longer have the benefit of inertia pulling them back toward the top of the polls. For the first time in ages, it's just as easy to imagine an Alabama team merely treading water, or even continuing to drop, as it is to imagine them rising again. It can still go either way. But whichever path they take from here on out, it will be the one they've earned.
Former Alabama running back Keilan Robinson to the section of Alabama recruits: "All y'all come to Texas" pic.twitter.com/Cra5yXy5S8

— Blake Byler (@blakebyler45) September 10, 2023
Texas A&M: New year, same Aggies
Texas A&M's collapse was a recurring theme in this space in 2022, and judging from the Aggies' 48-33 flop at Miami, we're in for another season of getting far more intimately acquainted with Jimbo Fisher's buyout clause than anyone other than his agent should ever be. For the record, firing him before the end of the calendar year would coast A&M in the neighborhood of $76.8 million, which still ain't happening. This marriage may be a disaster, but a divorce remains too expensive to contemplate.
The Aggies actually came off the bus hot, scoring on each of their first 2 possessions while forcing Miami's offense into consecutive 3-and-outs to open the game. From that point on, the Canes' remaining possessions yielded 5 touchdowns, 2 field goals, a missed field goal and just 1 subsequent punt — this from essentially the same offense that averaged a pathetic 16.9 points per game last year vs. Power 5 opponents. Tack on a house call on a kickoff return, and the result was the U's highest-scoring outing vs. an FBS opponent since 2020.
BRASHARD SMITH 98 YARDS TO THE HOUSE! #TheU pic.twitter.com/P3imNHlKsN

— Video from: @TSV__1 (@TSV__1) September 9, 2023
The defense, stacked as it is with all those former blue-chip recruits, was supposed to be the backbone of the Aggies' turnaround while the offense ramped up under new OC Bobby Petrino. Instead, neither side looked ready for primetime. Before you read too much into the final score, note that A&M's 2 first-half touchdowns both came on short fields following a blocked punt and a punt, respectively; and that both of their second-half touchdowns came with the Aggies' facing a double-digit deficit. Meanwhile, the offense committed 3 turnovers of its own, 2 of which led directly to Miami points and the third of which effectively ended the game.
Is it possible the Hurricanes are vastly improved over the underachieving outfit that limped to a 5-7 record last year? Sure. It would be hard for them not to be. But Texas A&M was banking (literally) on being the most improved team in America, largely due to the emergence of the massively hyped 2022 recruiting class in Year 2. So far, the only member of that crop playing up to the advance billing is 5-star wideout Evan Stewart, who was targeted a staggering 17 times Saturday out of necessity; he came down with 11 catches for 142 yards, more than tripling the output of any other A&M receiver. At that rate, he's going to become what the departed Devon Achane was to the Aggies last year: A dynamic individual talent whose disproportionate share of the team's total offense says as much as about the rest of the team as it does about him.
Mississippi State: Back to the land
Coach Zach Arnett made no secret this offseason that Mississippi State was moving on from the Air Raid, bringing in new offensive coordinator Kevin Barbay from Appalachian State with a mandate to instill more balance. Based on the early returns, though, the new offense is not so much "balanced" as it is a full-on pendulum swing in the opposite direction. Through 2 weeks, the Bulldogs have kept the ball on the ground on 62.9% of their total snaps, a near inversion of the lopsided run-pass ratio they took for granted under the late Mike Leach.
In fact, the skew in Saturday's 30-24 overtime win over Arizona was actually more run-oriented than MSU's season-opening blowout of Southeastern Louisiana, which was itself the Bulldogs' most run-oriented outing since prior to Leach's arrival. Senior QB Will Rogers, coming off a career-low 29 attempts in the opener, put the ball in the air just 17 times against the Wildcats for 162 yards, including 2 attempts in the extra session. That comes out to barely 1/3 of Rogers' per-game average in 2021-22, when he routinely put it up 50 times or more.
Instead, the new offense has replaced the litany of screens and check downs that functioned as de facto handoffs in Leach's system with, well, actual handoffs. Senior RB Jo'Quavious Marks, a productive target on the short, safe stuff throughout his career, entered the season with zero career 100-yard rushing games; under Barbay, he has 2 in a row, going for 127 yards on 19 carries in the opener and 123 on 24 carries (a career-high) in the win over Arizona. He's the early SEC leader in carries, rushing yards and yards from scrimmage.
Emphasis, of course, on early. It's much too soon to start drawing sweeping conclusions about how those numbers figure to play out over the course of the season based on 2 games the Bulldogs were comfortably favored to win and led from start to finish.
More to the point, the run/pass breakdown where the Air Raid is involved always felt semantic: Is there a functional difference between handing the ball off to Marks for 5.8 yards a pop and hitting him on a swing pass behind the line of scrimmage for 6? The real distinction isn't the quantity, but the quality: Rogers' yards per attempt (9.5) and overall passer rating (214.8) on Saturday night were both the best of his career vs. an FBS opponent.
Aubie up all night
The weekend's oddest box score came out of the weekend's oddest matchup: Auburn's late-night trip to Berkeley, California, where the Tigers managed just 230 yards of total offense, committed 4 turnovers, finished with a nearly 10-minute deficit in time of possession … and won, 14-10, to secure Hugh Freeze's first non-cupcake victory as Auburn's head coach.
As sloppy as the Tigers were on offense, they were equally opportunistic on defense, forcing 3 takeaways while holding a Cal offense that went off for 58 points on 683 total yards in its Week 1 win over North Texas to 10 points on 273 yards. That was despite the defense playing with its back against the wall for most of the night: The Golden Bears had 8 possessions with the ball in Auburn territory and came away empty on 6 of them.
DJ James interception Cal dagger #WDE pic.twitter.com/bTi6txeoE6

— Power of Dixieland (@PwrofDixieland) September 10, 2023
Aside from the result, the silver lining for Auburn's offense was the return of its best player, junior RB Jarquez Hunter, from a what previously looked like an open-ended suspension. Hunter's stat line (53 yards on 11 carries) was less notable than the fact he was on the field at all: Although he ultimately missed just 1 game, an entire summer's worth of speculation over the fallout from a sex tape in which Hunter allegedly appeared earlier this year — along with radio silence on the subject on Auburn's end — left his status in limbo right up until he jogged out with the first-team offense on Saturday night. I doubt even the most pie-eyed Tigers fans right now are looking forward to getting very much this season from the passing game, which Freeze (justifiably) does not appear to trust. (Auburn put the ball in the air just 17 times for 5.5 yards per attempt.) With Hunter back in the fold, though, at least an attack with one functional dimension is better than none.
Obscure stat of the week
Ole Miss beat Tulane, 37-20, despite finishing a dismal 1-for-13 on 3rd-down conversions (7.7%), the lowest conversion rate by an SEC team in a win since 2011. (Minimum 10 attempts.) Four of the Rebels' 6 scoring drives came off without a 3rd- or 4th-down conversion, as a result of short fields and explosive plays.
Superlatives
The week's best individual performances.
1. Mississippi State LB Jett Johnson. Johnson, a 6th-year senior, had a career night against Arizona, finishing with a team-high 11 tackles (including 2 for loss), 5 QB pressures, and 2 of the Bulldogs' 4 interceptions off Zona QB Jayden de Laura in the weekend's most dramatic finish.
Jett with the PICK! (AGAIN!!)#HailState? pic.twitter.com/LzpoDTB6ED

— Mississippi State Football (@HailStateFB) September 10, 2023
Beyond his standard box score line, Johnson stood out according to PFF's "stops" metric, recording 5 tackles that constituted a failure for the offense based on down and distance. One of those, a 3rd-and-short stuff on Arizona's final possession of regulation, led directly to the Wildcats settling for a field goal to force overtime rather than push for the game-winning touchdown.
2. Ole Miss CB Deantre Prince. Prince brought the handcuffs on Ole Miss' trip to Tulane, putting his side of the field on lockdown. Per PFF, he allowed a single reception on 7 targets, with 1 interception (the 6th of his career) and a couple of passes broken up among the incompletions. Five of those targets came opposite the Green Wave's top receiver, Notre Dame transfer Lawrence Keys III, who had 4 catches for 88 yards against the rest of the Rebels' secondary but just 1 for 8 yards against Prince.
Going Our Way ↪️@prince_deantre pic.twitter.com/QGef820xzN

— Ole Miss Football (@OleMissFB) September 9, 2023
That pick led directly to a go-ahead field goal, completing the Rebels' comeback from 17-7 down in the first half and kicking off a 4th quarter in which Ole Miss outscored Tulane 20-3.
3. Auburn LB Eugene Asante. Asante, a 5th-year senior, barely saw the field in 2022 after transferring to Auburn from North Carolina. On Saturday, he earned his his first start as Tiger, but certainly not the last. He was at the heart of Auburn's stellar defensive effort at Cal, recording a team-high 12 tackles with 7 stops, 4 QB pressures and a meager 17 yards allowed in coverage on 5 targets.
4. Mississippi State RB Jo'Quavious Marks. At 5-10, 210 pounds, Marks has always had workhorse potential, and thus far the new offense seems specifically designed to exploit it. 25+ touches on a weekly basis may not be sustainable, but give him 18-20 and large swaths of the school record book are his for the taking.
5. South Carolina QB Spencer Rattler. Big stats against FCS filler rarely move the needle here, but on a Saturday when several of his peers looked bored against inferior competition Rattler was almost perfect, finishing 25-for-27 for 345 yards, 3 touchdowns, and a 4th TD on the ground in a 47-21 win over Furman.
Spencer Rattler gets a game ball for his performance against Furman. Well deserved. pic.twitter.com/Ex7PWAeg0T

— The Spurs Up Show (@TheSpursUpShow) September 10, 2023
Yeah, Furman. Next up: Back in the national spotlight against Georgia.
Catch of the year of the week
Missouri fans spent all of 2022 waiting in vain for 5-star freshman Luther Burden III to break out. So far, their wish is coming true in '23. In Week 1, Burden set career highs for receptions (7) and receiving yards (96) in a blowout win over South Dakota; on Saturday, he raised the bar again, coming down with 8 catches for 117 yards in a 23-19 decision over Middle Tennessee. The highlight, a leaping, 44-yard grab from QB Brady Cook in the 3rd quarter, also represented a new career long — exactly the kind of explosiveness the Tigers are banking on in Year 2 from a guy who was rarely targeted deep as a rookie.
One of the downfield shots for #Mizzou against MTSU with Luther Burden going skyward for the catch
WATCH⤵️ pic.twitter.com/OlzFY94b5s

— Ben Arnet (@BenArnetKOMU) September 10, 2023
The next step: Converting downfield shots into home runs. Per PFF, 6 of Burden's 7 career receiving touchdowns to date have come on screen passes caught behind the line of scrimmage.
— — —
Honorable Mention: LSU QB Jayden Daniels, who lit up Grambling for 269 yards and 5 TDs to 4 different receivers. …Texas A&M WR Evan Stewart, who had a busy afternoon in the Aggies' loss to Miami with 11 receptions for 142 yards on 17 targets. … Kentucky WR Tayvion Robinson, who hauled in all 6 passes in his direction for 135 yards and 2 TDs against Eastern Kentucky. … Vanderbilt WRs Will Sheppard and London Humphreys who combined for 196 yards and 3 TDs on 12 catches in a losing effort at Wake Forest. … Tennessee DB Kamal Hadden, who picked off 1 pass, broke up 3 more, and allowed 17 yards on 10 targets in the Vols' win over Austin Peay. … Tennessee LB Aaron Beasley, who had 5 TFLs and gave up 22 yards in coverage on 8 targets. … Ole Miss LB Khairi Coleman, who had a team-high 7 tackles and forced the fumble that turned into the game-clinching touchdown against Tulane. … Georgia DB Daylen Everette, whose only reception allowed on 5 targets vs. Kent State netted minus-2 yards. … And Georgia WR/PR Mekhi Mews, whose 69-yard punt return TD snapped the Bulldogs out of their early doldrums against Ball State.
SEC Power Rankings
Updating the food chain.
1. Georgia (2-0). The Bulldogs yawned their way through a scoreless first quarter against Ball State, resulting in a tense commercial break or two before they finally got around to nuking the Cardinals in the second. Most of the credit for the 45-3 final score goes to the defense and special teams: 24 of UGA's 31 2nd-quarter points came by virtue of Mehki Mews' punt return TD and 3 short-field scoring drives set up by interceptions. (Last week: 1⬌)
2. Tennessee (2-0). The Vols' offense pulled off the rare feat Saturday of generating exactly 228 yards rushing and 228 yards passing. The caveat: They had to leave their starters in till the end of a 30-13 snooze-fest against Austin Peay to do it. (LW: 3⬆)
3. Alabama (1-1). The Tide have a lot to fix to remain relevant in the CFP race and not a lot of time to fix it. At the top of the list: A ground game that managed just 107 yards against Texas on 3.1 per carry. (LW: 2⬇)
4. Ole Miss (2-0). A 17-point road win over a ranked opponent is a 17-point road win over a ranked opponent, but the Rebels' trip to No. 24 Tulane was not nearly as reassuring as the 37-20 final suggests. On top of playing without their star quarterback on offense, the Green Wave's defense gave Ole Miss' offensive line all it could handle, registering 4 sacks and holding the Rebels to one of the worst rushing lines (89 yards on 2.5 per carry) of Lane Kiffin's tenure. (LW: 4⬌)
5. LSU (1-1). The Tigers followed their Week 1 flop against Florida State with a 72-10 annihilation of Grambling that should never be spoken of again. At this point, I'm open to striking the stats in these FCS turkey shoots from the record books altogether. (LW: 4⬌)
6. Arkansas (2-0). Extremely sluggish outing from the Razorbacks' offense, which managed just 308 yards and 21 points against a Kent State defense that UCF vaporized in the season-opener. (The Hogs added a 4th touchdown via pick-6 to push the final score to 28-7.) Or were they just extremely slow? Arkansas' last 3 offensive possessions drained more than 20 minutes off the clock, resulting in 2 TDs and a kneel down to end the game. (LW: 8⬆)
7. Mississippi State (2-0). They may be committed to the run now, but the Bulldogs are still out here completing bombs.
Zach Arnett dropping an f-bomb after the game with @colecubelic ??? pic.twitter.com/meDncpBQFO

— Video from: @TSV__1 (@TSV__1) September 10, 2023
As a native Mississippian, after watching that interview I had to double-check where Zach Arnett is from (New Mexico), because clearly this is a man who has found his spiritual home in the Magnolia State. You can't tell me that boy ain't got kin in Choctaw County. (LW: 9⬆)
8. Kentucky (1-0). The Wildcats survived the weekend's closest call in body bag mode, a 28-17 decision over Eastern Kentucky that was still in doubt well into the 4th quarter. Their Week 4 SEC opener at Vanderbilt looks a lot more interesting than they'd like. (LW: 7⬇)
9. Texas A&M (1-0). Either Miami is a lot better than anyone suspected or it's going to be another long, depressing year in the Lone Star hinterlands. (LW: 6⬇)
10. Auburn (2-0). The offense is not fun to watch, but defensively the Tigers aren't going to be very fun to play, either. They may not be favored in a single SEC game outside of a Nov. 4 trip to Vandy, but win or lose, I'd wager most of them are going to be as competitive as they are ugly. (LW: 10⬌)
11. South Carolina (1-1). The Gamecocks get the conference's first crack at Georgia this week in the afternoon CBS slot. At least a few of y'all are going to take the prospect of an upset seriously based on nothing except a growing sense of UGA fatigue. If you or someone you know is at risk, you're strongly advised to go back and watch South Carolina's offensive line in its Week 1 loss to North Carolina again before taking any further measures. (LW: 12⬆)
12. Missouri (2-0). The Tigers take the last entry in the "too close for comfort" column, courtesy of a 23-19 win over Middle Tennessee — the same Middle Tennessee last seen getting torched 56-7 by Alabama in Week 1. Not that Mizzou holds itself up against even the low-calorie version of Bama, but a result like that only reinforces how wide the gap really is. (LW: 11⬇)
13. Florida (1-1). The Gators needed an easy win after their opening-night flop at Utah, and got it in a 49-7 romp over McNeese State in which everything worked exactly like it's supposed to. Now all they have to do is sustain the good vibes in this weekend's conference opener against Tennessee. (LW: 13⬌)
14. Vanderbilt (2-1). Vandy's loss at Wake Forest means that, assuming the Commodores take care of business this weekend against UNLV, they need to go at least 3-5 in conference play to reach bowl eligibility. The last time the Dores won 3 SEC games: 2018, also the last time they played in a bowl game. In 4 seasons since they're 3-30. (LW: 14⬌)
Moment of Zen of the week
This announcer is OUT OF POCKET! pic.twitter.com/C78czQ43c3

— Kevín (@KevOnStage) September 9, 2023
• • •