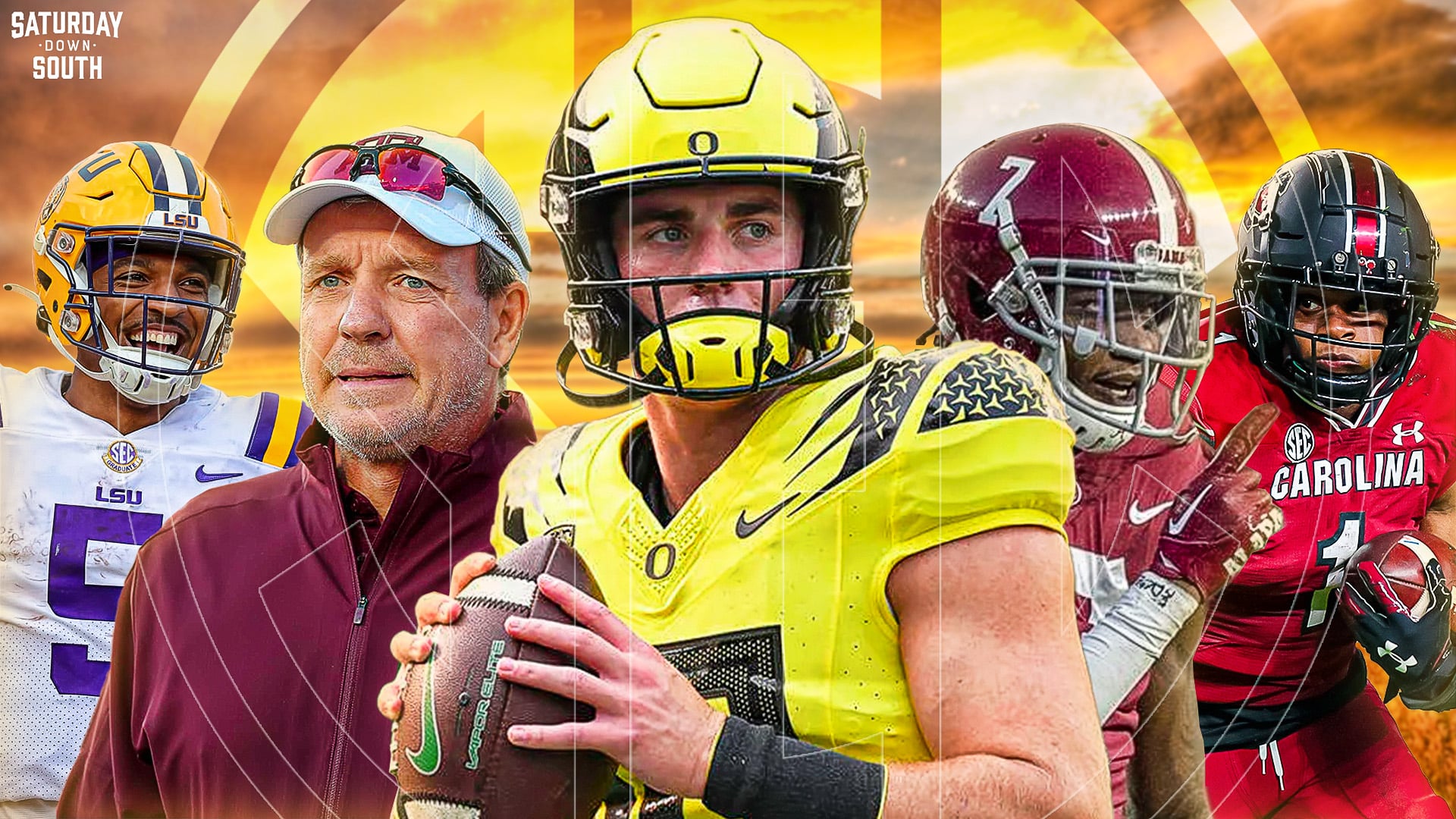 SEC
Monday Down South: As the Jimbo Fisher project unravels, Texas A&M is getting exactly what it bargained for
Weekly takeaways, trends and technicalities from the weekend's action.
Jimbo in limbo
Texas A&M lost another game it was supposed to win Saturday night, a 30-24 decision at South Carolina in which the Aggies dug themselves a 17-0 hole in the first 5 minutes and failed to crawl out. You know what that means! It's time for another gripping episode of Guess That Buyout.
Sorry, does that say gripping? It should say mind-numbingly familiar. In fact, it might as well be a rerun. Saturday's flop was A&M's third consecutive loss and its 8th in its past 14 games vs. FBS opponents, and despite some slapstick moments it didn't introduce any new plot lines that haven't already been thoroughly exhausted in that run.
The offense (still) stinks, languishing at the bottom of the SEC in both yards and points per game. The quarterback situation, allegedly Jimbo Fisher's specialty, is (still) untenable. The blue-chip personnel is (still) playing down to relatively mediocre competition. The remaining schedule is (still) a slog. Fisher is (still) not relinquishing play-calling duties, at least not anytime soon. Midway through Year 5, his overall winning percentage is (still) virtually identical to Kevin Sumlin's.
And, yes, as if you have to ask: Fisher's big, fat championship-or-bust contract is (still) a historic burden that all but guarantees his job security for the foreseeable future. It is (still) among the worst deals ever signed in a sport notorious for handing coaches lopsided contracts, and getting worse by the week. Parting ways before the end of this year would cost A&M not one penny less than $85,950,000, a truly obscene number that (still) demands to be written out in full. There's no loophole for losing, no brilliant TAMU attorney about to burst into the room with a novel idea for getting around it. (If there was anybody like that around, ideally they would have stopped the deal from going through in the first place, or at the very least the extension that solidified Fisher's position without him even asking.)
The buyout isn't scheduled to dip below $50 million until 2026. In the meantime, some enterprising local business may as well go ahead and gin up a little publicity by erecting the official Jimbo Buyout Clock, because it's obvious enough by now that the buyout question is not going away, and neither is Jimbo.
At this point, the fact of Fisher's lingering entrenchment itself might be the most compelling part. In most doomed coaching cycles, Saturday's loss would have felt like a nail in the coffin. Year 5, diminishing returns, no hardware, and no momentum usually means the end is nigh. At 3-4, the Aggies have no chance of salvaging a finish that justifies their top-10 preseason ranking, or that can plausibly be spun as a step forward from their 8-4 record in 2021 – also a disappointment for a team that, just like the current version, started out at No. 6 in the AP poll.
Barring an unlikely sweep of Ole Miss, Florida, Auburn and LSU down the stretch, they're bound for their third unranked finish in the past 4 years. That's exactly the trajectory that got Sumlin canned in 2017 after a promising start to his tenure, joining a long, not-so-distinguished list of cast-offs who won more than they lost in high-profile gigs but never won big.
So Fisher – a coach in the throes of what would normally feel like the end stage of the hot-seat cycle, but who at the same time remains logistically un-fireable – finds himself in a unique spot. If this is the final stage of his tenure, it has the potential to linger for years. Texas A&M has invested so much in him personally and his vision of the program that he is almost literally, for a little while longer, too big to fail.
The baseline advantages that supported high expectations the past 2 years (specifically the raw talent on hand) have not changed. The massively hyped 2022 recruiting class has barely gotten its feet wet. It's (still) easy to look at a 2-deep featuring highly touted freshmen and sophomores and nearly every position, including quarterback, and imagine them turning the corner in 2023 or '24.
A&M boosters may not be the most patient people, as a rule, but they are old enough to remember when the idea of signing a No. 1 recruiting class didn't even qualify as a pipe dream. Fisher delivered on that phase of the project, and giving him a chance to finish what he started with that group is part of the deal, too.
By this point in the Jimbo experience, though, paeans to bigger things to come should be immediately recognizable for what they are: More of the same. "Wait till next year" works for a while, as long as you're reliably winning the ones you're supposed to. When it's 5 years in and every game regardless of the opponent is a white-knuckler that hinges on a big special-teams play or freak turnover, optimism is a harder sell.
This was supposed to be one of the years the Aggies have been waiting for: The bridge from a program on the cusp of competing for championships to one that has arrived as an annual contender alongside the likes of Alabama and Georgia. Instead, they've regressed, while watching an insurgent Tennessee team that wasn't even ranked in the initial polls pull off the season they envisioned for themselves in just its second year under Josh Heupel.
The comparison with the Vols, whose quick turnaround under Heupel is consistent with the most successful rebuilds of the past 25 years, is instructive. When the right coach clicks with the right personnel, it doesn't take long to see the results. But when the coach is still waiting on the right personnel to emerge after half a decade, it's past time to start asking if — not when — the results are ever going to come.
LSU: Finding its rhythm one drive at a time
Two weeks ago, LSU's offense was a basket case with grim implications for the rest of the season. Now, heading into the open date with Alabama on deck, suddenly it's a marvel of efficiency.
In Saturday's come-from-behind, 45-20 win over Ole Miss, the Tigers scored on 7-of-10 offensive possessions (6 touchdowns, 1 field goal), including 4 consecutive extended TD drives to close the game. That came a week after they scored on 7-of-8 offensive possessions (6 touchdowns, 1 field goal) in a 45-35 win at Florida, including 6 consecutive extended TD drives to open the game.
That's 12 touchdowns in 18 possessions — 1 more than the offense managed in LSU's first 4 games vs. Power 5 opponents this season combined. They're not getting them for cheap, either: All but 2 of the touchdown drives against the Rebels and Gators covered at least 70 yards.
Beyond the results, another way to think about efficiency on a possession-by-possession basis is by what efficiency guru Brian Fremeau refers to as "available yards" — total yards gained (or allowed) as a percentage of the maximum possible yards that could be gained on a given possession. (A touchdown drive, for example, always represents 100% of available yards. A drive that starts at the offense's 20-yard line and ends at the opposing 40-yard line represents 50% of available yards, and so on.) The most efficient offenses typically account for somewhere in the neighborhood of about 70% of available yards; as a point of comparison, Ohio State led the nation last year at 71%, and leads again at 76.9%.
LSU's offense has easily exceeded that benchmark each of the past 2 weeks, accounting for 90% of available yards in the win over Florida (559 out of a possible 619, including penalties) and 79.6% against Ole Miss (551 out of a possible 692). That's elite efficiency, coming at just the right time to potentially blow the SEC West race wide open.
Look At That Smile. Touchdown. 5. @JayD__5

?CBS pic.twitter.com/66xL6Oic6G

— LSU Football (@LSUfootball) October 22, 2022
Still, before visions of a season-defining upset over Bama take over the hive mind, it's worth recalling that as impressive as it's been the past 2 weeks, the same LSU offense is less than a month removed from a couple of mostly putrid performances against Auburn (a 21-17 win, with a significant boost from the defense) and Tennessee (a 40-13 loss that was as bad as the score implies).
Jayden Daniels looked like a very different, much less self-assured quarterback in those games than the guy who has personally accounted for 11 touchdowns without a turnover the past 2 weeks. If he's really turned a corner, he has the athleticism and the Tigers have the firepower at the skill positions to give Alabama a real run for its money on Nov. 5. For now, that remains a very big if.
Eli's coming
Bama's secondary landed in the burn ward in Week 7 courtesy of Tennessee, opening the door for some new blood in the lineup in Week 8. Enter Eli Ricks, finally.
A former Freshman All-American at LSU, Ricks was conspicuous in his absence over the first half of the season. Although he arrived earlier this year as arguably the most touted corner on the transfer market, he was relegated strictly to special teams and garbage time in the first 7 games and didn't appear at all on defense in close calls against Texas, Texas A&M and Tennessee. (An offseason arrest, minor as it was, presumably did not help his case in the preseason pecking order. Nor did a nagging injury in preseason camp.) After finally cracking the rotation this weekend against Mississippi State, though, it's a safe bet he won't be conceding the position again anytime soon.
Starting in place of redshirt freshman Terrion Arnold, Ricks played every snap against the Bulldogs and looked every inch the star the offseason hype foretold: Targeted on 10 passes, he broke up 4 of them while allowing a single completion (for 19 yards), effectively locking down his side of the field in a dominant, 30-6 win that unfolded more like an old-school Bama knockout circa 2012 than the shootout in Knoxville. Mississippi State QB Will Rogers kept throwing, eventually attempting 60 passes out of sheer instinct, but finished with career lows for completion percentage (50.0%), yards per attempt (3.9), pass efficiency (82.3) and Total QBR (38.9). The Bulldogs only avoided a shutout due to an otherwise meaningless touchdown as time expired.
It's safe to say Eli Ricks earned his spot tonight ? https://t.co/Fi1wNcBiow

— Cam Mellor (@CamMellor) October 23, 2022
Bama fans who wondered why the heck this guy couldn't get on the field in the course of giving up 52 points to the Vols are vindicated. If his debut was any indication, Ricks just turned one of the Tide's biggest question marks into a strength overnight. Opposite Kool-Aid McKinstry (who also had 4 PBUs on Saturday), he gives them two legitimate shutdown corners going forward with 5-star pedigrees and NFL-ready length in the mold of former Tide star turned Dallas Cowboys ball-hawk Trevon Diggs. Exactly why it took so long to get a potential first-round talent in the mix is a question Nick Saban should get tired of answering over the next few weeks. But as much as Alabama still has to play for, better late than never.
Bo Nix: Finally in his niche
Speaking of the portal: No player in America has benefited more from a fresh start at a new school this season than Bo Nix. Reunited with his former Auburn coordinator, Kenny Dillingham, Nix is thriving at Oregon to an extent that never seemed possible on The Plains.
SEC fans might have been inclined to write Nix off as the Same Old Bo after the Ducks' opening-day flop against Georgia, when the Dawgs picked him off twice in a 49-3 massacre. It was as ugly a performance as he ever delivered at Auburn. Since then, though, he's been almost flawless, accounting for 25 touchdowns (17 passing, 8 rushing) to just 1 interception while posting easily the best numbers of his career across the board. Oregon has won 6 straight while scoring 40+ points in every game, rising to No. 8 in the updated AP poll after administering a 45-30 beatdown of UCLA on Saturday. Nix ranks 6th nationally in Total QBR and is moving quickly onto the short list of legitimate Heisman contenders.
— pickett's pool (@PickettsPool) October 22, 2022
Nix has looked more at home as a Duck than he ever did at Auburn, where he always seemed like the victim of inflated expectations that he never deserved in the first place. Recruitniks set the bar too high by anointing Nix as a 5-star prospect; Gus Malzahn pushed him to do too much too soon by anointing him as QB1 from virtually the moment he set foot on campus; and neither Malzahn nor Bryan Harsin managed to surround him with top talent. He bounced through 3 different coordinators in 3 years, never settled into his comfort zone, and never put together more than a couple of B+ or better performances in a row without bombing. Under different circumstances, with more stability, a better supporting cast, and more realistic expectations — in other words, his current circumstances at Oregon — his tenure might have played out differently.
Given the current disarray of the position at Auburn, the contrast couldn't be any sharper. As well as he's played in Eugene, there's not much reason to believe that if he'd decided to hang around at Auburn he'd be faring much better than he did in his first 3 years. The Tigers have struggled to run, struggled to protect and struggled to identify any reliable playmakers in the passing game, none of which the quarterbacks can control but all of which drags them down in ways they're not good enough to overcome.
Even Nix, who it turns out has a bona fide blue-chip skill set after all, spent most of his time at Auburn bogged down by dysfunction. It seems now that his trademark volatility was less a cause than an effect.
Who knows? There's still time for "Bad Bo" to flip the switch and come roaring back with a vengeance. But "Good Bo" is finally having his moment, and for his sake, thank goodness he wasn't too stuck on being the face of the program on The Plains to find a situation where that was still possible.
Superlatives
The week's best individual performances.
1. Alabama DB Eli Ricks. Only Alabama could poach an All-American from a rival school, leave him marinating on the bench for half the season, and then decide in late October, hey, maybe it's time to give this guy a shot?
2. LSU QB Jayden Daniels. Daniels looked great for the second week in a row, following up his best passing performance of the season at Florida with his most balanced effort against Ole Miss: 21/28 passing for 248 yards;121 yards rushing (including sacks) on 5.3 per carry; 5 total touchdowns (2 passing, 3 rushing). As a runner, he forced 7 missed tackles, per Pro Football Focus, the most of any SEC player on the week.
3. LSU DL Mekhi Wingo. LSU's defense allowed 20 first-half points, including a couple of extended touchdown drives on Ole Miss' first 2 possessions of the game, but shut the Rebels out after halftime. No individual defender played a bigger role in that effort that Wingo, who finished with 7 tackles, 2 sacks, 2 batted passes and a forced fumble, for good measure. He came into the game as PFF's highest-graded SEC defender vs. the run and exited still boasting the title after playing a leading role in holding Ole Miss to season lows for rushing yards (117) and yards per carry (3.2).
4. Vanderbilt LB Anfernee Orji. Vandy's best player turned in his best game at Missouri, finishing with 12 tackles, including three for loss; his first career interception; and a strip sack that put the Commodores on the board in an eventual 17-14 loss. While teammate CJ Taylor was responsible for making the "strip-6″ a viral highlight, fully hurdling a running back in pass pro on his way to scooping the loose ball for a touchdown, it was Orji (No. 0) who actually separated Mizzou QB Brady Cook from the ball on the cleanest shot at an opposing quarterback he'll ever get:
Vandy's CJ Taylor HURDLES the RB to get the strip sack + TD?

— PFF College (@PFF_College) October 22, 2022
That's probably the hardest hit on a quarterback they'll still let you get away with, and only as long as his first name is Brady and not his last.
5. South Carolina RB MarShawn Lloyd. Lloyd was the best player on the field in the Gamecocks' win over Texas A&M, accounting for 116 yards (92 rushing, 24 receiving) and 2 of Carolina's 3 touchdowns in workmanlike fashion. The vast majority of that output was of his own making: PFF credited Lloyd with forcing 5 missed tackles and picking up 88 of his 92 rushing yards after contact, leaving just 4 yards on the ledger before contact. Which … yeah, that checks out.
MarShawn Lloyd is the real deal pic.twitter.com/ddBvRNRJGc

— Cam Mellor (@CamMellor) October 23, 2022
Lloyd's role in the offense is expanding weekly. The gem of South Carolina's 2020 recruiting class, he missed all of his freshman season to a torn ACL and was limited to a part-time role in 2021; as of a month ago, he was still a rotational option who'd yet to record his first career 100-yard game. In the Gamecocks' subsequent 4-game winning streak, he's hit the century mark three times.
Honorable mention: Texas A&M RB Devon Achane, who was his usual, versatile self against South Carolina, accounting for 156 yards (99 rushing, 57 receiving) and a touchdown in a losing effort. … Alabama Edge Will Anderson Jr., who wreaked his typical havoc with 6 QB pressures and 2 tackles for loss in the Tide's win over Mississippi State. … Alabama QB Bryce Young, who finished 21/35 for 249 yards and 2 TDs in what will almost certainly be his last night game in Bryant-Denny. … Tennessee QB Hendon Hooker, who casually bombed UT-Martin for 276 yards and 3 TDs in a light afternoon for the starters. … His top receivers, Jalin Hyatt and Ramel Keyton, who combined for 245 yards and 2 TDs on 12 catches. … Ole Miss WR Malik Heath, who hauled in 8 receptions for a career-high 145 yards in the Rebels' loss at LSU. … Missouri DBs Ennis Rakestraw Jr. and Jaylon Carlies, who combined for three PBUs and an interception on 10 targets while allowing just two catches in the Tigers' defensively driven win over Vanderbilt. … And Vanderbilt DB Jaylen Mahoney, who finished with 11 solo tackles and 5 TFLs at Mizzou, matching the single-game high for TFLs by a Vandy defender this century.
– – –
The scoring system for players honored in Superlatives awards 8 points for the week's top player, 6 for 2nd, 5 for 3rd, 4 for 4th, 3 for 5th and 1 for honorable mention, because how honorable is it really if it doesn't come with any points? The standings are updated weekly with the top 10 players for the season to date.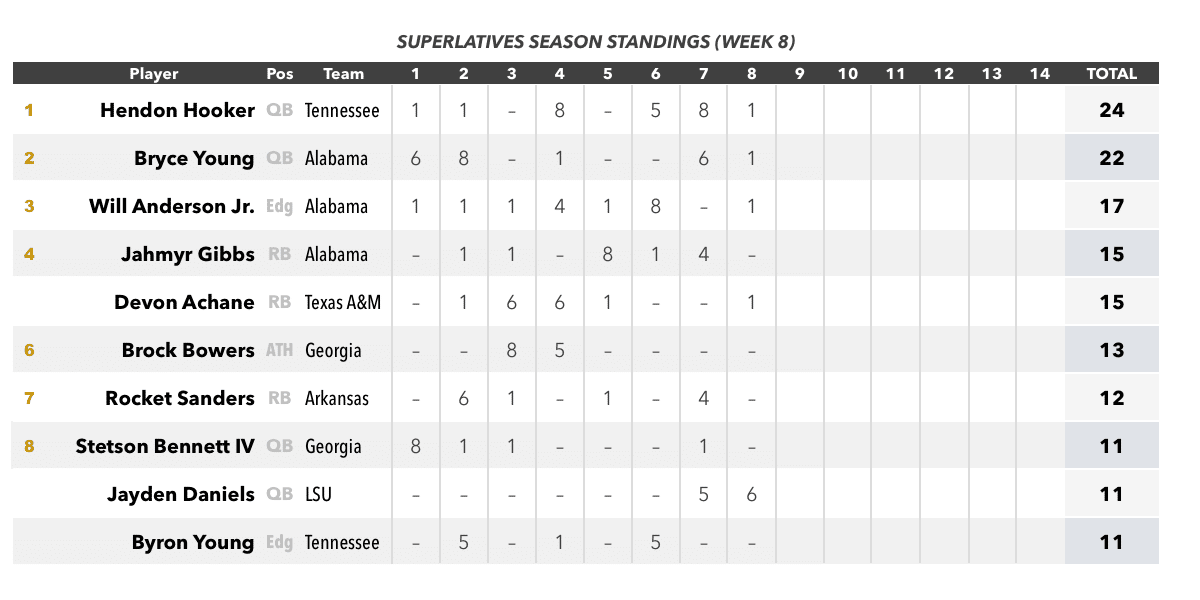 Moment of Zen of the week
Mississippi State's Shawn Preston's reaction to seeing his little brother Alabama's Shazz Preston on the field at the same time was great!#RollTide #HailState pic.twitter.com/eVS7htSlvK

— MattHasTweets (@MattHasTweets_) October 23, 2022
• • •