SEC
Monday Down South: In case you haven't heard, Alabama has this quarterback, Tua Tagovailoa ... and the kid is really good
Breaking news: Tua Tagovailoa is good. You know it. He knows it. Jalen Hurts' dad knows it. Fans of rival teams know it. Opposing defenders know it intimately, in the moments before they're turned into pillars of salt. Twitter trolls know it. Dudes in the comments section posing as Tua skeptics know it. Nick Saban certainly knows it, as much as it causes him deep existential pain to admit it. We knew it in January and we know it now. No one is left to be convinced.
All of which, frankly, makes writing about him at this point feel a little like trying to convince someone they should really get into a popular new show they're already binging. Here's a young quarterback who was met with unfair expectations coming into the season, and is so clearly in the process of exceeding the hype that it's already becoming a challenge to find new ways to put his impact into context.
The highlight reel is ubiquitous, but not quite spectacular. The scouts are agog, but not zeroing in yet on a sophomore who won't be draft-eligible until April 2020. The stats, impeccable as they are, only go so far: Tagovailoa's efficiency numbers are borderline absurd — he continues to lead the nation in yards per attempt and overall passer rating, setting an historic pace for the latter — but Alabama's time-share approach to the position early in the season has prevented him from truly racking up in the raw fantasy categories (yards and touchdowns) that still tend to drive the conversation.
Tua is casually dominant in a way that, so far, seems content to stop just short of breaking records or defenders' ankles — that is, in a way that's thrilling to watch but difficult to convey beyond nodding in appreciation. This kid is for real, y'all. Tune in again next week for another exciting installment (second half optional).
It doesn't help, of course, that casual dominance is Alabama's default setting. Start-to-finish blowouts like Saturday's 45-23 pasting of Texas A&M are so routine under Nick Saban they're barely worth mentioning, this time of year especially. A 22-point romp over a fringe Top-25 team is par for the course, and it wasn't as close as the final score. 51-14 over Louisville? 62-7 at Ole Miss? What else is new? Bama looks like Bama. Oh wait, Bama has a Heisman-caliber quarterback now? In that case, Bama … still looks like Bama.
But it is worth pausing at the quarter-turn of the regular season to take stock of the Tua Effect on Alabama's offense relative to, well, Alabama's offense. Even with one more game to go to close out September, Tagovailoa's first month in the starting role is quantifiably the highest-flying, highest-scoring month of Saban's entire tenure: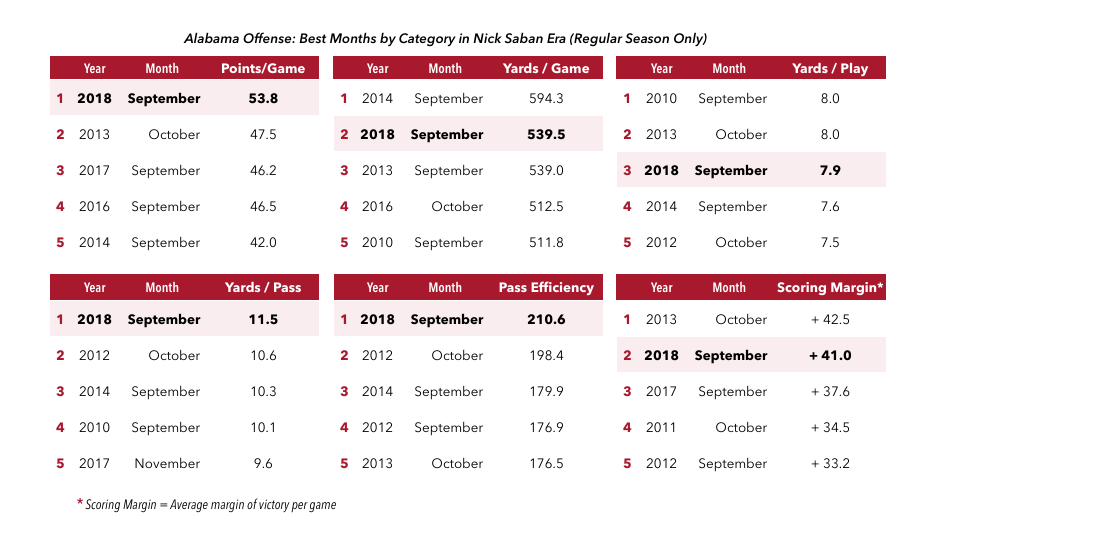 A couple things stand out in that comparison, the first being that Tagovailoa has taken far fewer snaps through his first four games as QB1 than any other Saban-era starter in any four-game stretch. (In fact, he's yet to take set foot on the field in the fourth quarter, which is as crazy a stat a third of the way through the regular season as any.)
Isolate Bama's production when he's on the field, and the September 2018 numbers are significantly more impressive: Personally, he's accounting for just shy of 13 yards per attempt with an outrageous efficiency rating of 230.5, and Alabama as a team is averaging more than 9 yards per play with Tua behind center. Jalen Hurts has handled his demotion well, but the drop-off on his turns is steep.
The other, more glaring takeaway — and the more important one in the long haul — is the complete absence of the word "November" in any category. Even in their best years, the Tide have always found the terrain much less hospitable down the stretch against LSU and Auburn (and Mississippi State, occasionally) than in the early going, and one fact of life in Tuscaloosa that definitely has not changed is that every Bama team, and every Bama quarterback, will be judged above all by what happens in those games and beyond. Tagovailoa knows that first-hand: The 2017 edition got off to a typically roaring start, only to run out of gas in the final few weeks of the regular season and limp into the Playoff in controversial fashion.
Not that there's any doubt about Tua's ability to deliver on big stages or against top competition. On the contrary: He owes his job to it, as well as the fact that it doesn't seem to have occurred to anyone to attempt to dismiss his flame-throwing start as the latest entry in the annals of the "September Heisman." That kind of self-possessed heat on display against Texas A&M is exactly what we expected before the season — what recruitniks expected years ago, when they made him a 5-star prospect, an unprecedented pedigree for a Saban quarterback — and still felt somehow like it was only scratching the surface of Tagovailoa's potential. The only part of his coming of age more terrifying than the ruthless efficiency of it all is the feeling that what we've seen so far is only the beginning.
NOTEBOOK
Around the conference.
ALABAMA 45, TEXAS A&M 23: We've reached the point in the season — let's call it the Rat Poison Checkpoint — when contemplating Bama's strictly hypothetical vulnerabilities is more interesting than documenting its very obvious strengths, and since the Tide didn't miss a field goal in this one, the red flag landed in a surprising spot: The running game. Altogether, Alabama managed just 109 yards rushing against A&M, its worst output on the ground since 2014, and a good chunk of that came on the Tide's final garbage-time drive in the fourth quarter. Prior to that, only 4 of their 22 first downs for the game came by ground.
It's not worth pretending that represents some kind of looming crisis. Bama easily topped 200 yards rushing in each of its first three games, as it has in all but a handful of outings over the past five years, and still boasts a dynamic one-two punch in Damien Harris and Najee Harris, both of whom average well north of 6 yards per carry for the season. It's a lock the Tide will be back over the 200-yard mark this weekend against Louisiana, and most likely in subsequent dates with Arkansas, Missouri and Tennessee, too, at which point the blip against the Aggies will be forgotten.
Still, for a game as lopsided as this one, their inability to pound out a living between the tackles was out of character. Tagovailoa has above-average mobility, but obviously doesn't play the role of de facto tailback the way Hurts did the past two years and isn't about to start; as yet, neither of the Harrises is getting anywhere near the increased workload to account for Hurts' absence as an every-down threat. If not for Tua — who accounted for all four of Alabama's third-down conversions as a passer — it could have devolved into the kind of slugfest the Tide usually reserve for the likes of LSU and Auburn. How effectively they'll be able to slug it out when they actually arrive at those games may not be the foregone conclusion it usually is.
GEORGIA 43, MISSOURI 29: The score doesn't quite do justice to how well the Bulldogs held up against the most explosive offense they'll see this year until the SEC Championship Game, so maybe this will paint a more accurate picture:
Lock is a bona fide first-rounder, the only quarterback in the SEC East with the experience and sheer arm talent to pose a serious challenge to Georgia's rebuilt secondary; playing at home in arguably the biggest game of his career, he averaged an anemic 4.6 yards per attempt. Mizzou fell behind by double digits in the second quarter and spent the rest of the afternoon fending off a blowout.
UGA was slightly less successful against the run, yielding 172 yards and four touchdowns on 4.7 per carry, but the bulk of that output came with the Bulldogs already comfortably in front and willing to concede cheap, time-consuming yards on the ground in exchange for preventing the big play that Missouri's offense thrives on. (For its efforts, Mizzou's longest rush covered just 16 yards; aside from a 25-yard completion on Lock's second attempt of the game,16 yards was also the yield on the Tigers' longest pass the rest of the way. It didn't help that leading receiver Emanuel Hall continued to play despite clearly struggling with a nagging groin injury; he didn't record a catch.) This could have been a harrowing trap game for Georgia on the road. Instead, UGA left Columbia with the No. 1 defense in the nation according to ESPN's Football Power Index and an even more wide-open path to the East Division crown than it already had.
KENTUCKY 28, MISSISSIPPI STATE 7: A couple weeks back I wrote about the Wildcats' surprising, 300-yard rushing effort against Florida, assuming at the time it was just a blip on the way to Kentucky being … well, Kentucky. Almost nothing in the recent history of UK football exists to suggest the Wildcats can consistently win at the line of scrimmage against the top half of the conference schedule; on the rare occasions they've been relevant in the past, it's been behind a pro-style quarterback (Tim Couch, Andre' Woodson) at the controls of a high-volume passing game. Then I watched them outrush a heavily favored Mississippi State outfit that's built for the trenches, 229 yards to 56, with no passing game to speak of, and I can report that that assumption no longer holds.
Under the circumstances, the one-dimensional nature of the romp seemed fitting: Most of the game was played in a downpour that made passing inadvisable, and the fact that MSU knew full well what was coming with the game on the line only highlighted its inability to stop the Wildcats from imposing their will. Late in the third quarter, Kentucky QB Terry Wilson threw a potentially killer interception with UK still clinging to a 14-7 lead; the defense held, and from that point on Kentucky didn't put the ball in the air again, running on 17 consecutive plays to close out the game. Two of those carries were back-breaking touchdown runs by Benny Snell Jr., covering 36 yards and 23 yards, respectively, that will remain the indelible image of one of the biggest and most encouraging wins of Mark Stoops' tenure.
At 4-0, the Wildcats moved into the AP Top 25 this week for the first time since 2007, and it's not unrealistic to think they have a decent chance of finishing there for the first time since 1984. The defense is a veteran group that ranks second in the league in total defense and third in scoring. With Snell, the offense has a proven workhorse on the cusp of the national consciousness; with Wilson, they have a speedy complement in the zone-read game with enough juice as a passer (in decent conditions, anyway) to keep defenses honest. The offensive line, never a strength in Lexington, has been a revelation in both SEC wins, in each case winning the night against the kind of solid, blue-chip defenses that have traditionally stuffed Kentucky.
True, the Wildcats got off to a promising start in 2017, too, going 5-1 before their fortunes abruptly reversed at midseason. This year, FPI pegs them as underdogs in four of their next five games, setting the stage for another potential spiral. But the upcoming stretch is also an opportunity: With the exception of Georgia on Nov. 3, every game is at least as winnable as the two conference wins Kentucky already has under its belt. If the East is still in play six weeks from now, just the idea of a meaningful game in Lexington in November is a major step forward.
FLORIDA 47, TENNESSEE 21: Vol fans took this one hard, less because of the result itself — this is a team that came in on a nine-game conference losing streak — than the giant swelling wave of disappointment that crashed over the stadium in the first half.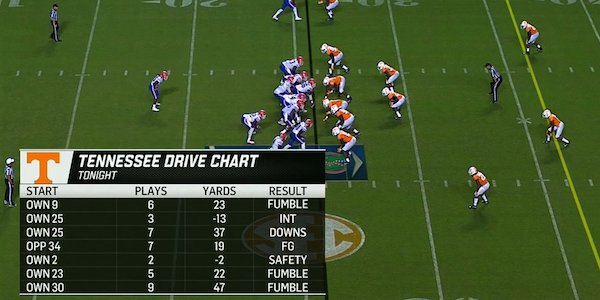 The number of breakdowns, mistakes, and outright gaffes in the first 30 minutes alone that either a) directly cost Tennessee points, or b) led directly to points for Florida was mind boggling:
1. On UT's first series of the game, quarterback Jarrett Guarantano fumbled as the result of a blindside hit; Florida recovered to set up a quick, 21-yard touchdown drive for a 7-0 lead.
2. On UT's second series of the game, Guarantano was picked off, setting up an even quicker, 7-yard touchdown "drive" that extended Florida's lead to 14-0.
3. Early in the second quarter, running back Tim Jordan was swarmed over in his own end zone for a safety, pushing Florida's lead to 16-3.
4. Following a long Florida touchdown that extended the lead to 23-3, the Vols responded with their biggest play of the night: A 54-yard, 4th-and-1 pass from Guarantano to tight end Austin Pope that ended with Pope, inches from an apparent touchdown that would have energized a despondent crowd, fumbling out of the back of the end zone for a touchback instead.
This was the game's defining moment, when all hope was officially lost.
5. On its next offensive possession, Tennessee marched inside the Florida 25-yard line before fumbling the ball away for the third time in the first half.
6. To open the second half, the Vols fumbled away the opening kickoff; on the next play Florida's Jordan Scarlett scored from 19 yards out to push the score to 33-6 just a few seconds into the third quarter. This was the moment when they headed for the exits.
Tennessee fans headed to the Memphis bandwagon like……. pic.twitter.com/dhmWXva5LR

— Devin Walker (@Devin_Walker2) September 23, 2018
Nothing that happened from that point could have altered the final outcome or the sinking feeling in the pit of Vols fans' stomachs that 2018 under Jeremy Pruitt is going to look a lot more like 2017 under Butch Davis than they'd hoped. If anything, it might be worse: At least the 2017 team was competitive against Florida, which appears to be on a much more encouraging track under its first-year coach.
Considering the Gators are two weeks removed from a home loss to Kentucky in Dan Mullen's first SEC game, that's not saying very much. But a rocky track is better than no track, and any semblance of forward momentum Tennessee may have felt coming into the season has been thoroughly derailed.
SUPERLATIVES
The best of Week 4 …
A few notes on @benny_snell
✅ UK career record with 3⃣9⃣ total TDs
✅ Tied the UK record for TDs in a game
✅1st player in UK history to have 4⃣ TDs twice in a career
✅ 1⃣5⃣th 100-yard game, ranks second in school history
✅ 2⃣9⃣6⃣4⃣ career yards, ranks fourth at UK pic.twitter.com/OLWq7lqpQU

— Kentucky Football (@UKFootball) September 23, 2018
1. Kentucky RB Benny Snell Jr. Snell is not a jaw-dropping specimen on the level of a Leonard Fournette or Derrick Henry, and playing for Kentucky means he's only going to get one or two chances to break out in front of a big national audience. (The Georgia game on Nov. 3 is his best bet for that kind of exposure, and probably his only one.) But it doesn't take a full-on Heisman campaign to recognize that his junior year — very likely his last in Lexington — is shaping up as a special one, even beyond the box score: According to Pro Football Focus, 90 of Snell's 166 yards on the ground against Mississippi State came after contact, and if you'd asked them in the immediate aftermath Bulldogs fans would have sworn it was an even higher share than that.
Add his 175-yard romp against Florida and you have the makings of an All-American pace. Through four games, Snell ranks among the top three nationally in rushing yards, yards per game, and touchdowns; among players averaging at least 20 carries per game, he leads the way at 6.2 yards a pop, putting him on par with the nation's premier workhorses. He's well on his way to a third consecutive 1,000-yard season, a rarity among SEC runners. As long as the Wildcats keep piling up wins, eventually the rest of the country will notice.
2. Alabama QB Tua Tagovailoa. I'm about a week or two away from granting Tua emeritus status in this section just to free up a slot for someone less dead-obvious. Kid is wrecking the curve for everybody.
3. Alabama DL Isaiah Buggs. This one could go to the entire Bama front, which turned in a typically suffocating effort against Texas A&M across the board. The individual nod this week goes to Buggs, a senior, who had a hand in 3 of the Tide's 7 sacks and 2 of their 12 QB hurries on — statistically, at least — the best day of his career, by far. See also: OLB Anfernee Jennings (2 sacks), DL Raekwon Davis (4 QB hurries), and NT Quinnen Williams, who didn't register on the stat sheet but effectively anchored the run defense from the nose and supplied the pressure that led to Alabama's first interception (and subsequent touchdown on the next play). You know, it's a Bama front.
4. South Carolina DT Javon Kinlaw. The former JUCO transfer wreaked absolute havoc at Vandy, racking up 3 tackles for loss (2 of them sacks), a pair of QB hurries, and a deflected pass for good measure, all from the interior of the Gamecocks' d-line.
9/22/18 — South Carolina's Javon Kinlaw sacks Vanderbilt's Kyle Shurmur, fumble recovered by Aaron Sterling. pic.twitter.com/jjlzIHG5Wu

— College Football Clips (@CFB_Clips) September 23, 2018
Both of Kinlaw's sacks resulted in fumbles, the second of which (see above) led directly to a short-field touchdown that effectively put the game of reach in the third quarter. Kinlaw has reportedly shed more than 40 pounds since arriving at Carolina last year, and the leaner, meaner version is beginning to flash all-conference potential.
5. LSU LB Devin White. White had a ridiculously productive night in the Tigers' 38-21 win over Louisiana Tech, even for him: 11 tackles, 3 TFLs, 3 PBUs, and a fumble recovery/return that set up an easy touchdown from the La. Tech 3-yard line. Like Tua, it might be time to acknowledge White with permanent "Superlatives" status just to give other linebackers a chance.
Honorable Mention: Kentucky LB Josh Allen, who was everywhere against Mississippi State with 6 tackles, 2 TFLs, a pass broken up, and multiple QB hurries in the win. … Auburn DE Marlon Davidson, who led the Tigers' pass rush against Arkansas with 4 QB hurries. … Arkansas LB Dre Greenlaw, who had 8 tackles and 3 TFLs in a losing effort … Ole Miss DEs Charles Wiley and Markel Winters, who combined for 6 of the Rebels' 7 sacks against Kent State … Florida DB Brad Stewart Jr., who had 7 tackles and accounted for 2 of the Gators' 6 takeaways (an interception and a forced fumble on a kickoff) against Tennessee … And Georgia LB D'Andre Walker, who was credited with 2 sacks, 2 forced fumbles, and a PBU at Missouri and earned top marks from PFF.
Catch of the Year of the Week: D.K. Metcalf
Surprise! An Ole Miss receiver did something incredible. Metcalf hauled in 5 receptions against Kent State on just 6 targets, the best of which required a single oversized mitt:
DK Metcalf is 6-foot-4, 240 pounds and does stuff like this:pic.twitter.com/uY5xZZSxLL

— Rob Lowder (@Rob_Lowder) September 22, 2018
That listed weight of 240 pounds might be a stretch, but yeah, not by much. This guy should already be playing on Sundays.
DEMERITS
… and the worst.
9/22/18 — Auburn's Noah Igbinoghene 96-yard kickoff return for touchdown vs. Arkansas pic.twitter.com/v2CCWywcMA

— College Football Clips (@CFB_Clips) September 24, 2018
Arkansas' Special Teams: On paper, the Razorbacks were surprisingly competitive against Auburn, coming out ahead in terms of both total offense (290 yards to 225) and yards per play (4.1 to 3.9). They also matched the Tigers' 13 first downs. How does a game that looks that evenly matched on a down-by-down basis turn into a 34-3 blowout? The kicking game.
The swing on the scoreboard came almost entirely via special teams, which in Arkansas' case were abysmal from start to finish: In the first quarter alone, the Hogs allowed a 48-yard punt return that led to Auburn's first touchdown; missed a 40-yard field goal attempt; and shanked a punt that set up Auburn's offense in plus territory. In the second quarter, the Tigers blocked a punt, setting up a short touchdown "drive" that extended their lead to 17-0 at halftime. In the third, they responded to Arkansas' only score of the night with an untouched, 96-yard kickoff return by Noah Igbinoghene, pushing the margin to 24-3. In the fourth, the Razorbacks allowed a 36-yard punt return that set up a field goal.
That adds up to 24 of Auburn's 34 points that were directly attributable to special teams, on a night when the Tigers' offense struggled to generate big plays and mounted only one sustained scoring drive that began on Arkansas' side of the 50. If there's any solace for the Razorbacks in the defense holding its own, it's not much.
Missouri's "missed" field goal: Trailing 7-0 midway through the first quarter, Missouri lined up for a 41-yard field goal attempt by Tucker McCann, which he proceeded to push juuuust a bit outside. Or … uh, did he?
Pretty sure this field goal was good. pic.twitter.com/qGxvg5fgmm

— Yahoo Sports College Football (@YahooSportsCFB) September 22, 2018
(If you're feeling like that look's not quite definitive, note that on its way down part of the ball actually passed behind the right upright, which wouldn't be possible from that camera angle if the kick was no good — it would pass completely over or in front of the upright, never behind it. Angles can be deceiving, but in my mind I'm more than "pretty sure." Kick was good.)
This is the second time in three weeks an SEC crew has ruled a kick that appeared to clearly travel through uprights no good, following a similarly botched call in the Florida-Kentucky game in Week 2. Neither call affected the outcome in any discernible way, but judging field goals and PATs si supposed to be one of the few areas of officiating (along with false starts and facemasks) that's so cut-and-dry it's impossible to screw up, which might be why it's not subject to review. Maybe it should be.