SEC
Monday Down South: New year, same dominant script for Georgia's march through the SEC East
There was a point in Georgia's 41-17 thumping at South Carolina, toward the end of the first half, when it was possible to imagine the Gamecocks making a real game of it. Carolina had weathered UGA's initial punch, scraping together just enough offense to keep the deficit manageable — 10 points at the half, hey, coulda been worse — and the home crowd on its feet. The teams came back out to "Sandstorm" and the very real possibility of a tight, competitive finish, if not actual drama.
That sense of anticipation was crushed immediately. In two minutes and five seconds, to be exact, the amount of time it took Georgia's offense to drive 75 yards for a touchdown and turn a hostile environment into a graveyard. On its subsequent series South Carolina's offense went 3-and-out; six plays later the Bulldogs were in the end zone again, pushing the margin to 24 points less than six minutes into the half. Another 3-and-out by the flailing Gamecocks; another extended touchdown march by Georgia, slamming the door shut on another routine blowout in the span of 12 minutes.
The surge erased any shred of optimism in Williams-Brice Stadium with such cold, workmanlike efficiency that it might as well never have existed in the first place, and after watching it unfold it's hard to imagine that there's any left for the rest of the SEC East. At least before the trip to Columbia there was some small, irrational notion that the red-and-black machine that effortlessly bludgeoned the division last year might have lost some crucial piece that it wouldn't be able to easily replace — Roquan Smith? Nick Chubb? Sony Michel? Isaiah Wynn? — or if nothing else, taken on some light rust. Clearly it has not. As expected, the outfit that showed up Saturday was well-oiled, balanced, and indistinguishable from the 2017 edition in any notable way.
That's what we expected from the Bulldogs coming into the season; until something happens to suggest otherwise, it's safe now to say it's what we know about them. On paper, the trip to Columbia looked like a legitimate test, one of the few Georgia was likely to face this year before the SEC Championship Game. So much for that. According to ESPN's Football Power Index, UGA is a virtual lock (at least 85 percent likely to win) in seven of its remaining 10 games, and well over 70 percent in each of the other three.
The first two of those — at Missouri on Sept. 22, at LSU on Oct. 13 — look like obstacles on the march to Atlanta in the same way South Carolina looked like an obstacle, hypothetically capable of rising up on a given Saturday. More realistically, there's the annual date with Auburn, the only one daunting enough to knock Georgia off-course last year until the waning moments of the national title game. That's two months away. And it's in Athens. In the meantime, like all great teams, the Bulldogs' only real concern is between their own ears.
Notebook
Around the conference.
Georgia 41, South Carolina 17: One lingering question entering the season was how the Bulldogs would divvy up carries in competitive and semi-competitive games, and specifically whether sophomore D'Andre Swift could expect enough touches to mount a legitimate Heisman campaign. The distribution against South Carolina suggests probably not: Swift earned just 12 carries against the Gamecocks, finishing with 64 yards and a touchdown as part of a three-man rotation with juniors Elijah Holyfield and Brian Herrien. (True freshman James Cook assumed the garbage-time role Saturday, logging 11 carries in the fourth quarter, in part because he was suspended for the first half for a targeting call in Week 1.)
That's consistent with UGA's pattern in 2017, which split carries roughly evenly for starters Nick Chubb (roughly 15 per game) and Sony Michel (11 per game) while working in Swift (5.4), Holyfield (3.9), and Herrien (4.4) less frequently.
That rotation had the benefit of keeping the stars fresh all year, a pressing concern given both Chubb and Michel's history of injuries as underclassmen; it also kept them from seriously challenging for postseason awards and All-America lists despite dominant production on a per-carry basis. On his own, Swift (below) has obvious headliner potential on par with some of the most decorated backs in the country. In this backfield, it looks like he's going to have to be content to keep sharing the wealth.
Clemson 28, Texas A&M 26: First of all, it should go without saying that A&M isn't paying Jimbo Fisher stupid money to lose to Clemson. By any margin, under any circumstances. The Aggies are invested — financially and otherwise — in championships, not moral victories. Kevin Sumlin actually pulled off a monumental upset in his first season in College Station, and look how far it got him. And so on, etc.
But yeah, man, even in real time this one felt like an instant classic, a weird, intense, fun game that went right down to the wire in an asylum-like environment. Grains of salt aside, it also played out (in the second half, anyway) like a foundational effort in Fisher's long-term project. It was a glimpse of the team the Aggies eventually want to be.
The quarterback of that team is clearly Kellen Mond, who spent the evening under steady assault from Clemson's NFL-ready front four and responded with the game of his life. Nothing in Mond's previous nine starts at A&M suggested this was coming; last year he was benched specifically for lacking the wherewithal to hold up against a sustained pass rush or the arm to challenge upper-crust SEC secondaries downfield. His only other performance under Fisher was an unremarkable outing against Northwestern State. As of the opening kickoff Saturday, there was an even chance the job would be up for grabs again by the closing gun.
Instead, Mond caught fire sometime around the middle of the third quarter and only kept getting hotter, marching the Aggies to a touchdown, or within inches of one, on four of their last five offensive possessions. On those drives alone, Mond was 14-of-20 passing for 290 yards (not including multiple pass interference penalties by Clemson) with 6 completions covering 20 yards or more; taken all by itself, that stretch was arguably better than any four-quarter performance against Clemson's defense in all of 2017.
As a whole, Mond's night was one of the best against any version of the Clemson D in the past five years: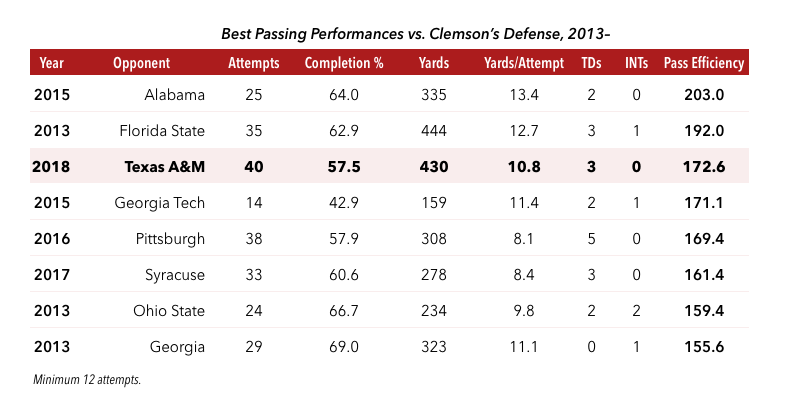 Sophomore quarterbacks with a tenuous grasp on the position don't just light up a Brent Venables defense at random. (Recall what happened to Jarrett Stidham in Auburn's Week 2 visit to Clemson last year.) In terms of efficiency, the only two outings that rank ahead of Mond's on that list were turned in by Jacob Coker, the beneficiary of multiple blown coverages in Alabama's win over Clemson in the 2016 national title game, and Jameis Winston, at the peak of his scorched-earth Heisman/national championship campaign in 2013. Only Winston has thrown for more yards; only Pitt's Nathan Peterman, in 2016, for more touchdowns. Mond isn't about to win the Heisman, but he didn't have the luxury of throwing to many wide-open receivers 30 yards downfield, either. Quite the opposite.
With Mond in sync, the rest of the pieces on A&M's offense seemed to fall abruptly into place, including a few even Aggies fans probably didn't realize were on hand. Trayveon Williams and Jhamon Ausbon were known quantities coming into the season; not so much sophomore wide outs Camron Buckley (4 catches for 93 yards vs. Clemson) and Kendrick Rogers (7 for 120 yards and 2 TDs), who between them accounted for more than half of the Aggies' total production through the air.
Rogers, especially, came out of nowhere, survived a nasty hit, used every bit of his 6-3 frame to bring down a couple of highlight-reel catches, and left looking a star in the making.
On paper, A&M should have been at least a year from leaving a likely Playoff team clinging to the chandelier, which only added to the sense that this group is significantly ahead of schedule. Of A&M's 11 offensive starters Saturday, eight are sophomores. (Not including Buckley, who technically didn't start.) Only two, left guard Keaton Sutherland and tight end Trevor Wood, are seniors.
Again, the caveats: It was one game — one half, really — and if any fan base should be wary of overreacting to early returns, it's Texas A&M's. The flip side of youth is volatility. By midseason, Mond could be back to fighting for his job, the fledgling stars at receiver regressing in turn. In two weeks the Aggies are due to have any lingering positive vibes snuffed out by Alabama, the first of three remaining road trips against teams currently ranked in the AP top 16. And that doesn't even include LSU. This is still an outfit facing a wide range of possibilities.
If the goal in Year 1 is to give a glimpse of what the upper end of that range looks like, though, well, mission accomplished. The Aggies proved that they're capable of competing with the heaviest hitters on the schedule, and have the potential to grow into a team that wins some of those games on a regular basis. Mond's performance alone puts them closer to that goal than they were 72 hours ago. For now, that's what progress looks like.
Kentucky 27, Florida 16: The honeymoon is certainly over for Dan Mullen, whose first notable distinction as Florida's head coach is being the guy who oversaw the Gators' first loss to Kentucky the internet was created. Even Ron Zook, Will Muschamp and Jim McElwain, who collectively suffered every other possible indignity the job has to offer, managed to avoid that one.
AND THATS THE BOTTOM LINE! @steveaustinBSR pic.twitter.com/eq3cfstfNZ

— Kash Daniel (@KashDaniel15) September 9, 2018
On the other end of the spectrum, though, the win might be the biggest yet of Mark Stoops' tenure at Kentucky, all the more so because of the way the Wildcats went about it — namely, by running the ball down Florida's throat. UK outgained the Gators by a huge margin on the ground, 303 yards to 128, averaging 7.4 yards per carry in the process. In the context of this series, those numbers are almost inconceivable: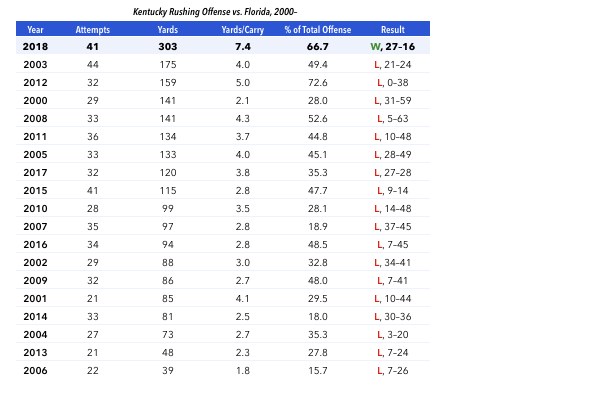 That's an incredible leap forward for an outfit that has been historically outmanned at the line of scrimmage on both sides of the ball, and especially from two years ago, when Kentucky was thoroughly humiliated in Gainesville in a 45-7 loss that marked the nadir of Stoops' tenure. At that point it seemed inevitable that Stoops would get the ax in his fourth year and the rebuilding cycle would start over again from square one.
Instead, Stoops is still forging ahead in Year 6, as safe as ever, and with a legitimate running threat behind center — first-year QB Terry Wilson gashed Florida for 105 yards and a key touchdown on just 10 carries — may finally have a team that can not only survive on the ground, but potentially thrive. Even beyond the final score, this is the kind of win that says an awful lot about just how far his program has come, and just how far Mullen's has to go.
Mississippi State 31, Kansas State 10: If there was any doubt about the credibility of the Bulldogs' top-20 ranking, a 21-point romp in Manhattan should go a long way toward resolving it, and the game itself was more lopsided than the score. Offensively, Mississippi State established control of the line of scrimmage early and sustained it throughout, piling up more rushing yards for the game (384, on a whopping 9.8 per carry) than any Kansas State opponent since 2010. Defensively, MSU put the clamps on the K-State ground game, forced the Wildcats out of their comfort zone on third down, and unleashed a pass rush (4 sacks, 7 QB hurries) worthy of a bona fide SEC West dark horse.
The Wildcats' only touchdown came courtesy of a short field following Mississippi State's only giveaway; otherwise, they seemed resigned after halftime to being slowly squeezed into submission.
MSU doesn't get to enjoy many reassuringly boring wins in that vein over Power 5 opponents, but the blueprint is encouraging. The above-the-fold headline for the Bulldogs was the healthy return of Nick Fitzgerald, who went start-to-finish behind center and wasted no time getting into a full lather in his first game back — he finished with 19 carries for 159 yards, the vast majority of that coming on designed runs despite Fitzgerald's surgically repaired ankle. But if the afternoon belonged to anyone, it was running back Kylin Hill.
Hill, a true sophomore, was supposed to bide his time again this season behind senior Aeris Williams, the SEC's second-leading returning rusher from 2017. It's not working out that way, and it's not hard to see why: At 5-11, 215 pounds, Hill flashed a combination of power and explosiveness Saturday that MSU has rarely seen from the senior, breaking as many 30-yard runs in Manhattan (two) as Williams had all of last year. Williams didn't see the field at all vs. K-State after logging just two carries in Week 1, ceding nearly the entire load on the ground to Hill and Fitzgerald.
In fact, Hill's total output against K-State (211 yards on 12.4 per carry) marked the first 200-yard rushing effort by a Mississippi State running back since Anthony Dixon in 2009, on just 17 attempts. It will be a major disappointment if it's his last.
Colorado State 34, Arkansas 27: There's not a whole lot to say about this one, is there? The Razorbacks blew an 18-point lead against a Mountain West Conference also-ran that Phil Steele rated as the greenest team in the nation coming into the season, and which had already lost its first two games by a combined 41 points. I'd say that pretty much speaks for itself.
Obviously, Chad Morris isn't going anywhere anytime soon. For now, his top priority is settling on a quarterback, which is easier said than done after a pair of hot-and-cold outings from Cole Kelley, the opening-day starter, and Ty Storey, who had a brutal night against the Rams (5-of-13, 36 yards, 0 TDs, 2 INTs) after overtaking Kelley in Week 1; more to come on that dynamic in this week's edition of QB Curve. But the Razorbacks also have serious issues in the secondary, which collapsed totally down the stretch: Colorado State rang up 24 points on its last four offensive possessions alone, on drives covering 70, 96, 60, and 59 yards.
Nearly all of that came via the right arm of CSU quarterback K.J. Carta-Samuels, who flipped the switch roughly midway through the third quarter and finished with 389 yards and two touchdowns. (Both, for the record, to former Tennessee transfer Preston Williams.) If it's that easy, once the schedule shifts to conference play there may not be a single SEC game Arkansas is likely to win.
Superlatives
The best of Week 2 …
1. Texas A&M QB Kellen Mond. Mond's mastery of the playbook is debatable, but the beauty of his breakthrough performance against Clemson was just how much of it he seemed to conjure out of thin air: To some extent, all three of his touchdown passes were improvised, owing much more to his mobility, arm strength and moxie in the face of a relentless pass rush than to anything he's ever been taught about footwork or progressing through his reads.
9/8/18—Texas A&M's Kellen Mond 9-yard TD pass to Kendrick Rogers vs. Clemson pic.twitter.com/2hGlhysWIe

— College Football Clips (@CFB_Clips) September 10, 2018
Of course, moxie is the word for when the high-risk, on-the-fly decisions break your way; when they don't, the vocabulary takes a darker turn. But Mond consistently came down on the right side of that line Saturday night, and under the circumstances it was hard to imagine him keeping A&M in the game any other way.
2. Kentucky RB Benny Snell Jr. Snell made sure to get a little gloating in after UK's streak-busting upset over Florida, and he earned it: He was the workhorse of the effort, churning out 175 yards on 27 carries and — although he didn't score himself — playing an instrumental role on a pair of 90-yard touchdown drives. He has had bigger nights statistically, but none that Wildcats fans will remember longer.
3. Alabama QB Tua Tagovailoa. The Chosen One eviscerated Arkansas State's secondary for three touchdown passes in the first quarter alone — casual strikes covering 58, 31, and 41 yards, respectively — reinforcing both a) The distance between Tua and Jalen Hurts on the depth chart, and b) Just how deeply unfair it is to add a Heisman-caliber passer to an offense with Bama's usual array of blue-chip weapons. Tagovailoa's final stat line against the Red Wolves (13-of-19, 228 yards, 4 TDs, 0 INTs in roughly two quarters' worth of action) was nearly identical to last week's output against Louisville (12-of-16, 227 yards, 2 TDs, 0 INTs in roughly two quarters' worth of action), leaving him as the most efficient passer in the nation who has played on both weekends.
So just, you know, another day at the office.
4. Georgia CB DeAndre Baker. Baker was roundly mocked after his would-be pick-six against South Carolina for dropping the ball just short of the goal line, and rightfully so. (It's very dumb! In this case, teammate Juwan Taylor was technically credited with the recovery and the touchdown rather than Baker, which makes it no less dumb.)
PICK-SIX! @FootballUGA takes the early lead! pic.twitter.com/C9HP9HLHoV

— CBS Sports (@CBSSports) September 8, 2018
In addition to the opening-round haymaker, though, Baker also tallied six tackles and a pair of PBUs while holding Carolina's best receiver, Deebo Samuel, almost entirely in check — Samuel finished with six catches for a paltry 33 yards, on a long gain of just 10.
5. Mississippi State LB Erroll Thompson. The Bulldogs' slow throttling of Kansas State was a group effort, but if anyone stood out from the pack it was Thompson, who was credited with seven tackles, a sack, and a diving, athletic interception that was arguably the turning point in the game. The pick set up a quick-turnaround touchdown drive by the offense, extending MSU's lead to 17-3 late in the first half; the margin remained at least 14 points the rest of the way.
Honorable Mention: Missouri QB Drew Lock, who bombed an underrated Wyoming defense for 398 yards and 4 TDs passing. … Texas A&M punter Braden Mann, who blasted a pair of 70-yard punts out of his own end zone. … Texas A&M LBs Otaro Alaka and Tyrel Dodson, who combined for 17 tackles and 4 TFLs. … Kentucky QB Terry Wilson, who accounted for 356 total yards and 3 TDs against Florida. … And Auburn DB Daniel Thomas, who had 2 interceptions against Alabama State, one of them a pick-six.
Catch of the Year of the Week: Alex Weber: Weber, a fifth-year, bottom-of-the-depth-chart senior who's been resigned to garbage time throughout his career at Ole Miss, made his first career reception count in a big way:
"How in the world did he reel that in?!" #SCtop10 pic.twitter.com/t61B8Xd967

— SportsCenter (@SportsCenter) September 9, 2018
In these parts that's what we call going The Full Prothro, and in a less crowded receiving corps than the one in Oxford it might be worth a few more reps going forward while the outcome was still in doubt. As it is, at least he's got one for the grandkids.
Demerits
… and the worst.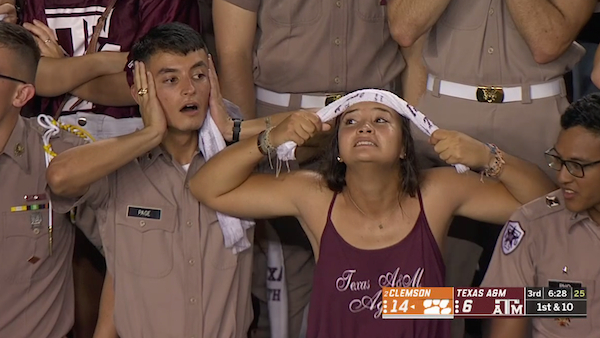 Nick Starkel's Cameo: Starkel ended 2017 as Texas A&M's unquestioned starter behind center, edging Kellen Mond from the top of the depth chart over the final month of the season, and acquitted himself well enough as QB1 that he was arguably the favorite to keep the title under the new coaching staff. He played extensively off the bench in the Aggies' season-opening win over Northwestern State.
So it wasn't some unfathomable gamble or anything when, with A&M trailing 14-6 in the third quarter and Mond temporarily sidelined by leg cramps, coaches called on Starkel to put the ball in the air on his first snap of the night. But it was one they would immediately regret.
9/8/18—Texas A&M QB Nick Starkel pressured by Clemson's Clelin Ferrell, intercepted by Justin Foster. pic.twitter.com/blddAwuzme

— College Football Clips (@CFB_Clips) September 9, 2018
The ensuing disaster was as much on sophomore LT Dan Moore Jr. — and on a blocking scheme that left him isolated against an All-American pass rusher — as it was on Starkel's failure to secure the ball under pressure. Either way, though, it was a crucial swing in what turned out to be a crucial sequence in the game. Prior to that, the Aggies had forced 3-and-outs on each of Clemson's first two offensive possessions of the second half, tacking on a field goal in between to cut the halftime deficit to 8 points. On the previous play, Mond had put them within sight of those points with a nifty 3rd-and-long scramble to the Tigers' 21-yard-line.
On the next play, Clemson promptly capitalized on the gaffe with a field-flipping, 50-yard bomb from Kelly Bryant to Tee Higgins; three plays later, the Tigers were in the end zone, extending their cushion to 15 points. Mond spent the rest of the night trying to clean up after that swing, and putting whatever questions remained about the Aggies' QB situation to rest.
Alabama's Kicking Game. Poor, beleaguered Bama. Why can't Nick Saban find a kicker he can trust?
The Tide hoped they'd found their man this year in Austin Jones, a grad transfer from Temple; instead, he immediately set off alarms in Week 1 by shanking 1 of his 7 extra-point attempts against Louisville. Saturday was worse: Jones clanged not just 1 but 2 consecutive PATs off the upright, one right after the other, in the span of just a few minutes in the first quarter. The next man up, redshirt freshman Joseph Bulovas, finished up by burying all 5 of his PAT attempts and a 39-yard field goal for good measure, but not before the fan base's kicker-specific PTSD had already been triggered.
As specialists go, Bulovas was a relatively coveted prospect, coming in sixth among 2017 kicker recruits according to 247's composite rating. But it's not an encouraging sign that he lost the preseason competition to Jones (who was hardly considered a sure thing after suffering a major knee injury at Temple), or that coaches apparently didn't see him as a viable option last year. Until proven otherwise, the foot of whoever is charged with putting the ball through the uprights on a given weekend remains Bama's Achilles' heel.
Florida Gets the Pipe: Speaking of putting the ball through the uprights: Trailing 21-10 late in the third quarter, Florida sent out true freshman Evan McPherson to attempt a 36-yard field goal that would cut Kentucky's lead to one score. Chaos ensued.
9/8/18—Florida's Evan McPherson misses(?) 36-yard field goal attempt vs. Kentucky. pic.twitter.com/tGXbyIapnV

— College Football Clips (@CFB_Clips) September 9, 2018
Despite all evidence to the contrary, the kick was judged no good — and un-reviewable, to boot — leaving McPherson, Dan Mullen, and large, inebriated swathes of The Swamp to sputter in futility.

In retrospect, frankly it's hard to argue that the botched call and subsequent ripple effects somehow determined the outcome of a game Florida went on to lose by 11 points. But of course, we're talking about justifiably jilted fans on the Internet here: Where there's a will, there's a way.