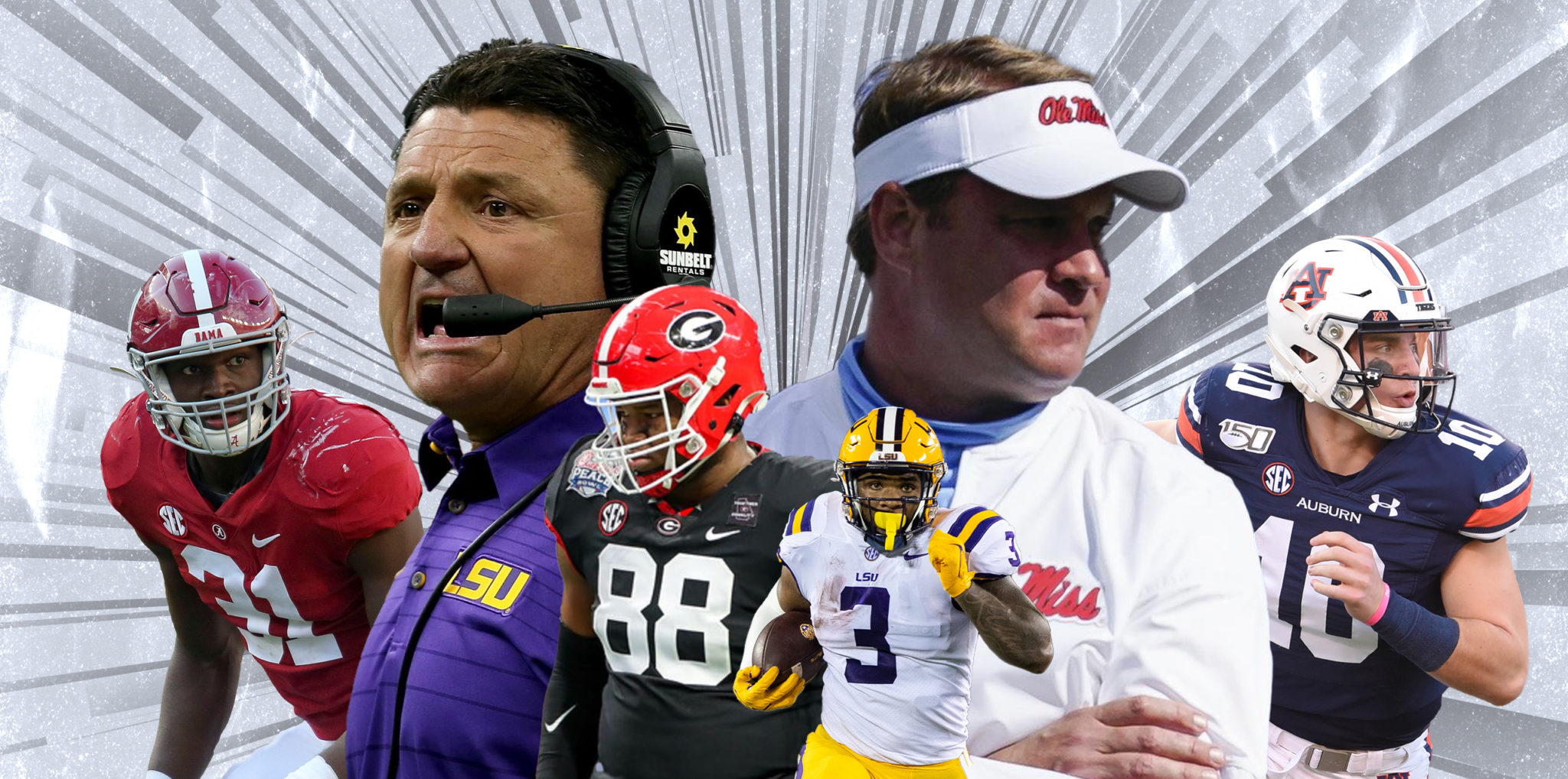 SEC
Monday Down South: Ed Orgeron leaves LSU the way he found it – in limbo
Weekly takeaways, trends and technicalities from the weekend's action.
Even by LSU standards, the Ed Orgeron years in Baton Rouge will go down as some of the strangest anyone can remember, a tenure that ran the gamut from the triumphant to the embarrassing to the surreal. So maybe it's fitting that the last chapter, confirmed less than 24 hours after Saturday's wild 49-42 upset over Florida, figures to be the strangest.
Normally, reflecting on a head coach who has just lost what's likely to be the best job he'll ever have feels a little like writing an obituary. Technically, though, the Orgeron era is not dead. It's more like a terminal diagnosis: Although he's reportedly agreed to move on in 2022, Orgeron will remain on through the end of this season, which with the Tigers sitting at 4-3 could still include a bowl game. In a sense, it's almost as if he's exiting through the same limbo phase that ushered him into the job on an interim basis 5 years ago. Not dead yet, but not fully alive, either.
In fact, in certain ways you could argue he's never really left the limbo phase. The hot seat was a kind of permanent state of being. In 2016, Orgeron was considered a longshot for a prestige job, a gruff presence with that raw cajun growl, an impulsive streak, and a disastrous record at Ole Miss in his only other stint as a full-time head coach, and then as a stopgap hire when he got it. Less than a month into his first full season, in 2017, he was already being sized up for the chopping block following a blowout loss at Mississippi State and a historic home flop vs. Troy. The 2018 team faced the lowest expectations for any LSU outfit the turn of the century, with the implicit premise that Orgeron would be on the hook for the decline.
When that didn't happen – after the 2018 Tigers exceeded expectations and the 2019 edition delivered one of the greatest seasons in the history of the sport en route to a surprise national championship – even the vindication was short-lived. Almost immediately, the comparisons started rolling in casting Orgeron as the next Gene Chizik: A one-hit wonder who captured lightning once behind a shrewd offensive coordinator hire and a transcendent quarterback acquired on the transfer market, and was unlikely to do it again.
And in the end, well, they were right. The Chizikening is complete in even less time than it took for Auburn to complete the original cycle.
The combination of the pandemic and a mass exodus of talent from both the starting lineup and the coaching staff doomed the 2020 team to one of the worst hangovers of any defending champ on record. (His decision to hand the defense over to Bo Pelini, in particular, will go down as one of the worst personnel moves of the decade.) The current team, blessed with the usual abundance of talent and the usual expectations that go with it, picked up right where the last one left with 3 losses in the first 6 games. The point of no return was last week's blowout loss at Kentucky, a debacle that sparked a fresh round of disgust in the media and an epic list of injured players who wouldn't be returning this season. Negotiations over Orgeron's exit reportedly began in the following days.
In the midst of the on-field decline, the off-field news was worse. A USA Today investigation earlier this year reported that Orgeron played a role in a larger pattern of mishandling accusations of sexual misconduct against athletes, including multiple complaints against star running back Derrius Guice. (Guice was subsequently arrested on domestic violence charges in 2020 and, although those charges were dropped earlier this year, suspended by the NFL for the first 6 weeks of the 2021 season; he's currently a free agent and recently had his name scrubbed from LSU's record book.) In June, Orgeron was added to a Title IX lawsuit against the university for failing to properly report an allegation of rape.
Meanwhile, amid the nationwide protests against police violence last summer, Orgeron alienated Black players by appearing on Fox News and saying Donald Trump is "doing a fantastic job" – a remark that contributed to players' decision to stage an on-campus march from Tiger Stadium to the university president's office a few weeks later, and which also earned a rebuke from his new boss, athletic director Scott Woodward, to avoid politics. Locally, there was widespread sentiment that Orgeron lost the locker room in those weeks, which coincided with the first of multiple waves of projected starters opting out of the 2020 season; as a former player told Sports Illustrated, "there's no getting the team back after that."
Behind the scenes, Orgeron's personal life following his divorce in early 2020 was irresistible bait for the message boards and strained the goodwill that accompanied the national title. According to a report in The Athletic, Orgeron reportedly made suggestive remarks to the wife of an LSU official at a gas station, which predictably made its way back to the top rungs of the university. Almost as soon as the word got out on Sunday that he was bowing out, these are the sorts of anecdotes that started bubbling to the surface.
Still, for all of that on Sunday night Woodward insisted the decision was strictly about "wins and losses on the field" and the lack thereof over the past 2 seasons. Apparently an exemplary record in the community couldn't absolve a 7-8 record in the past 15 games vs. Power 5 opponents. The terms of the separation specify that Orgeron will be fired without cause and owed his full buyout of nearly $17 million (!) over the next 18 months. Barring a hasty reversal, he'll finish the season with an extremely young but still talented team that, based on its initial response in the win over Florida, has not entirely given up the ghost in pursuit of, in the absolute best-case scenario, a bid to the Music City Bowl. He'll retire rich with the 4th-best winning percentage at LSU (currently .742) since World War II.
The Tigers' record between now and then will be an afterthought compared to the speculation over what comes next, which of course is already in full swing. Regardless of the record down the stretch, Orgeron's successor will inherit a program in essentially the same shape as the one he took over 5 years ago: Stocked with talent, flush with more cash than they can spend, never more than a year or two away from winning big. For the right hire, LSU still checks every box for building a year-in, year-out contender. And frankly, if the Orgeron experience has proved anything, it's that even the wrong one has a fighting chance.
Notebook
Around the conference.
LSU 49 • Florida 42. With Orgeron's fate already sealed before kickoff, it was possible to feel the angst surrounding his status transfer over the course of this game to the opposing sideline, where Dan Mullen was abruptly thrust onto the hottest seat in the conference. With the loss in Baton Rouge, Florida has lost 6 of its past 8 games vs. Power 5 opponents dating to the end of last season, 2 of them coming as a heavy favorite against a reeling, injury-ravaged LSU outfit in disarray. Saturday's loss as an 11.5-point favorite was only marginally less shocking than last year's loss to the Tigers as a 23-point favorite in Gainesville, which midway through Year 4 in Mullen's tenure is not the direction the Gators hoped to be trending.
With each passing week, Mullen's decision to stick with multimillion-dollar defensive coordinator Todd Grantham last winter looks a little worse, and it looked bad enough in the first place. Last year, Grantham's unit was repeatedly set aflame in a season when a merely average defense might have been good enough to run the table opposite one of the most prolific offenses in SEC history. Instead, the Gators limped in at 8-4 after giving up 50+ points and 600+ yards in each of their last 2 games, losses to Alabama in the SEC Championship Game and Oklahoma in the Sugar Bowl. Saturday was the first time the Gators have looked that bad this season, but taking into account how mediocre LSU's offense has been this season — and how futile the Tigers' running game has been, specifically — it had the feeling of a dam giving way.
Tyrion Davis-Price vs Florida Highlights pic.twitter.com/LJqeD66JT1

— bigWRguy (@bigWRguy) October 17, 2021
It's hard to overstate how poorly LSU had fared on the ground prior to Saturday. In their first 5 game vs. FBS opponents, the running backs as a group averaged just 83.4 yards per game rushing, one of the worst numbers in the country, on a meh 4.4 per carry, with the biggest chunk of that total coming in garbage time of their lopsided loss at Kentucky. Against Florida, junior Tyrion Davis-Price suddenly looked like Leonard Fournette in his prime. Davis-Price carried 36 times for an LSU-record 287 yards and 3 touchdowns — all of them from at least 18 yards out — with the vast majority of that output coming on an ancient counter play the Gators seemed powerless to stop or even recognize.
By the fourth quarter, the Tigers had effectively abandoned the pass altogether: On their last 3 possessions, they kept the ball on the ground on 21 of their final 23 snaps, accounting for 183 yards (8.7 per carry), 2 go-ahead touchdowns, and a pair of icing first downs in the final 2 minutes to close out the win. Even when Florida knew what was coming, or should have known, it was gashed at will by a group that had given little indication over the first half of the season that it was capable of so much as a functional ground game, much less a dominant one.
Assuming this shorthanded, lame-duck version of LSU is not about to emerge as the second coming of the 1995 Nebraska Cornhuskers over the next 6 weeks, that's about as bad an outing as the Gators' D could have managed, especially with Georgia and its colossal o-line on deck on the other side of an open date. As of a few weeks ago, the Cocktail Party still loomed as the decisive date in the East and the defining game of Florida's season. Now, with 3 SEC losses already on the books, it looks more like a bid for surviving to see 2022. For Grantham, it may already be too late.
Ole Miss 31 • Tennessee 26. Tennessee fans aren't in the mood for another lecture over the literal mob scene that broke out in the waning seconds, and I'm not in the mood to give one. It was dumb, it was dangerous, it was lucky that (apparently) nobody got hurt. There should be and almost certainly will be some kind of consequences, whatever that might entail. At the end of a long, exhausting night in Knoxville, it wasn't entirely clear that the subset of Vols fans moved to heave an eclectic assortment of garbage, condiments and foreign objects on their own home turf were even lucid enough to grasp exactly what it was they were supposed to be so enraged about, aside from their team's dwindling chances of a comeback.
Only seconds before the barrage began, most of the crowd seemed to be engaged in a mass singalong to Livin' On a Prayer while officials reviewed and ultimately (correctly) upheld the spot on a last-gasp fourth-and-long completion by Tennessee, a close but straightforward verdict that gave Ole Miss the ball back with 54 seconds to play. That's when things got abruptly ugly/weird.
Lane Kiffin got a golf ball thrown at him. Madness. pic.twitter.com/5FlIxzkv33

— Connor O'Gara (@cjogara) October 17, 2021
— Follow @TPortalCFB (@LorneMalvoSzn) October 17, 2021
Kid you not @Lane_Kiffin Odell'd a water bottle exiting Neyland pic.twitter.com/jDPq6JEiz2

— Josh Pate (@LateKickJosh) October 17, 2021
It's worth emphasizing again that this was a long night: From kickoff to triple zeroes, the game spanned just over 4-and-a-half hours, an epic length for a regulation game — that's easily the longest regulation game involving an SEC team since at least 2009, excluding weather delays — finally ending at 12:13 a.m. local time. Pac-12 games that kicked off a full hour later finished earlier. The lengthy delay to get the crowd under control contributed to that, but it was already well over the 4-hour mark by the time the game was stopped. The fourth quarter alone dragged on at a brutal pace for more than an hour as players from both teams hit the turf at an alarming rate, some of them hurt, some of them cramped, and some of them just gassed. It was only 56 degrees, officially, but came across on screen as sweltering.
Possible ramifications for Tennessee are pending, but I'm not sure there's a big-picture takeaway from the scene other than the fact that 1) Long beer lines at a football stadium may not be such a bad idea, and 2) Something about Lane Kiffin continues to drive people a little crazy. In the past, I would have said it was the air of unearned entitlement he brought to big-time jobs in his 30s in lieu of a qualified résumé. At 46, though, he's outgrown that phase of his career — granted, not by so much that he won't still call 3 timeouts in a row to ice the opposing kicker at the end of the first half, just because he can. But at least by enough that the old impish Kiffin shouldn't be seen as the default setting. Given the kinds of reactions he still tends to evoke, it seems the insouciant reputation is going to die hard.
Texas A&M 35 • Missouri 14. Texas A&M RBs Isaiah Spiller and Devon Achane ran wild against Mizzou's defense, combining for 292 yards and 3 TDs on 8.1 per carry. But then, everybody runs wild on Mizzou's defense: The Tigers continue to rank dead last nationally in rushing defense, allowing an average of 287.6 yards per game on the ground on a ghastly 6.2 per carry for the season.
In fact, Missouri's not only the worst team against the run this year. Through 7 games, it's on pace to edge out 2017 UCLA as the worst Power 5 rushing defense of the past decade: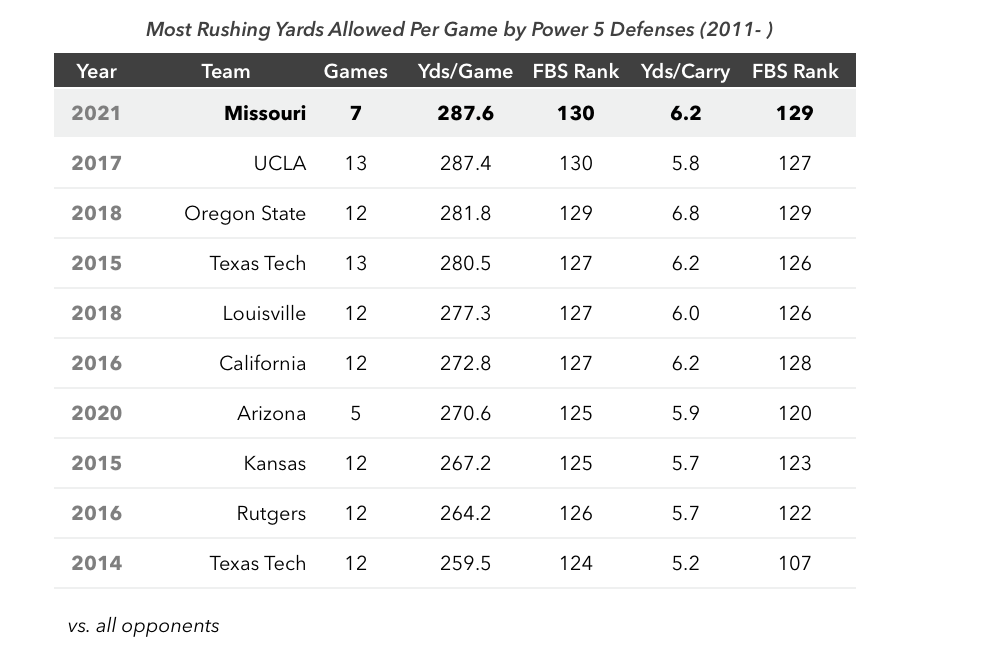 Hypothetically, this is a "nowhere to go but up" situation, especially with a much welcome date against Vanderbilt and its 15-game conference losing streak on deck following an open date. But that's been the scenario for most of the season, which has already resulted in one assistant, d-line coach Jethro Franklin, getting shown the door earlier this month to no discernible effect. And after the Commodores, 3 of the last 4 games in November are against Georgia, Florida and Arkansas — 3 of the SEC's top rushing offenses. Barring a dramatic, unforeseen turnaround, first-year coordinator Steve Wilks could be the next to go.
Obscure stat of the week
I remain fascinated not just with the ongoing dominance of Georgia's defense but also with the egalitarian spirit of the project. As a whole, it's the supreme unit in college football. Yet on an individual basis, it's almost impossible to distinguish an individual headliner from the pack: Halfway through the regular season, no single UGA defender ranks among the top 10 in the SEC in any major statistical category, including sacks, tackles for loss, interceptions, and passes defended, or in the top 50 in total tackles.
Superlatives
The week's best performances.
1. LSU RB Tyrion Davis-Price. Break a school rushing record held by Leonard freakin' Fournette, the top spot is yours, no questions asked. Combined with his 147-yard outing at Kentucky in Week 6, Davis-Price is on his way to establishing himself as a reliable threat and a potential early entry for the NFL Draft.
It might go without saying that the offensive line as a whole shares the credit for that kind of performance, but I want to single out left guard Ed Ingram for the honor of Fat Guy of the Week. I'm going to post the Davis-Price highlight clip here a second time, this time so you can focus on big No. 70 paving the way on nearly every play, frequently with devastating results:
Tyrion Davis-Price vs Florida Highlights pic.twitter.com/LJqeD66JT1

— bigWRguy (@bigWRguy) October 17, 2021
Ingram earned the team's top run-blocking grade of the week from Pro Football Focus, which, yeah. No kidding.
2. Alabama DB Jordan Battle and OLB Will Anderson Jr. I couldn't settle on Bama's best defender on the back end or its most productive pass rusher up front, so Battle and Anderson will both get the nod after turning in career nights in the Tide's 49-9 win at Mississippi State. Anderson was credited with a career-high 4 sacks against the Bulldogs (2 which came via intentional grounding penalties) and 8 QB pressures altogether, per PFF, giving him an SEC-best 35 pressures on the season; for his part, Battle finished with 7 tackles and 2 interceptions, highlighted by his second career pick-6:
https://twitter.com/PFF_College/status/1449524262323302402?s=20
Battle was also stellar in coverage, allowing just one reception for four yards on his watch.
3. Georgia DT Jalen Carter. Again, Georgia's success on defense is the definition of a team effort, and again, Carter is the designated rep for the unit as a whole after another marauding effort in the Bulldogs' 30-13 romp over Kentucky.
Jalen Carter is a freakshow… True sophomore pic.twitter.com/CVdeWw0ZiG

— Ben Fennell (@BenFennell_NFL) October 16, 2021
Carter finished with 6 tackles, 3 tackles for loss, 3 QB pressures, a swatted pass, and a blocked PAT on the last play of the game, for good measure — all despite playing just 39 of UGA's 69 defensive snaps, which is actually well above his season average.
4. Auburn QB Bo Nix. Nix turned in arguably the best outing of his career at Arkansas, finishing 21/26 for 292 yards with 3 total touchdowns (2 passing, 1 rushing) in an impressive, 38-23 win in Fayetteville. Just as importantly: He did it on the road against a real opponent, where he's notoriously struggled in his career — taken with Auburn's Week 5 win at LSU, Nix has back-to-back road wins to his credit for the first time. His overall passer rating (192.8) and QBR score (97.3) against the Razorbacks both set career highs away from Jordan-Hare Stadium.
5. Ole Miss QB Matt Corral and Tennessee QB Hendon Hooker. The ending nearly derailed a compelling and extremely evenly matched game in Knoxville, one in which both quarterbacks lived up to the dual-threat hype, eclipsing 200+ passing yards and 100+ rushing apiece while accounting for multiple touchdowns. While less effective than usual downfield (21/28 for 231 yards, 2 TDs/1 INT), Corral was a bona fide workhorse as a runner, racking up 195 yards rushing on 30 carries (including sacks) while generally refusing to slide in favor of lowering his shoulder in the open field. His counterpart, Hooker, accounted for 341 total yards, and his absence was sorely felt after he was knocked out of the game on the final series. That left the last-ditch comeback effort in the hands of backup Joe Milton, who made some … let's say, questionable choices with the game on the line.
Honorable Mention: Ole Miss LBs Sam Williams and Mark Robinson, who had a wildly productive night in their own right with a combined 21 tackles, 10 QB pressures, 8 TFLs and 4 of the Rebels' 5 sacks against Tennessee. … LSU DE BJ Ojulari, who singlehandedly propped up the Tigers' short-handed pass rush with 9 QB pressures (including a sack) in the win over Florida. … Alabama QB Bryce Young, who was his usual, hyper-efficient self at Mississippi State, finishing 20/28 for 348 yards, 4 TDs, and no turnovers. … His top receivers, John Metchie III and Jameson Williams, who combined to haul in 12 catches for 194 yards and a couple of long touchdowns. … Georgia TE Brock Bowers, who continued his rapid emergence with 5 receptions for 101 yards and 2 TDs in the win over Kentucky. … Florida WR Justin Shorter, who hauled in 6 receptions for 113 yards and 2 TDs, including the Hail Mary at the end of the first half. … Arkansas WR Treylon Burks, who advanced his case as the league''s best wideout with 9 catches for 109 yards and 2 TDs on 10 targets in the Razorback's loss to Auburn. … Auburn LB Zakoby McClain, who racked up 15 tackles with a TFL and a pair of passes broken up against the Razorbacks. … Auburn DB Roger McCreary, who broke up 3 passes while allowing just 2 receptions (for 20 yards) on 8 targets. … And Texas A&M RBs Isaiah Spiller and Devon Achane, who can rest easy knowing they did their part in the historic collapse of Missouri's run defense.
– – –
The scoring system for players honored in Superlatives awards 8 points for the week's top player, 6 for second, 5 for third, 4 for fourth, 3 for fifth, and 1 for honorable mention, because how honorable is it really if it doesn't come with any points? The standings are updated weekly with the top 10 players for the season to date.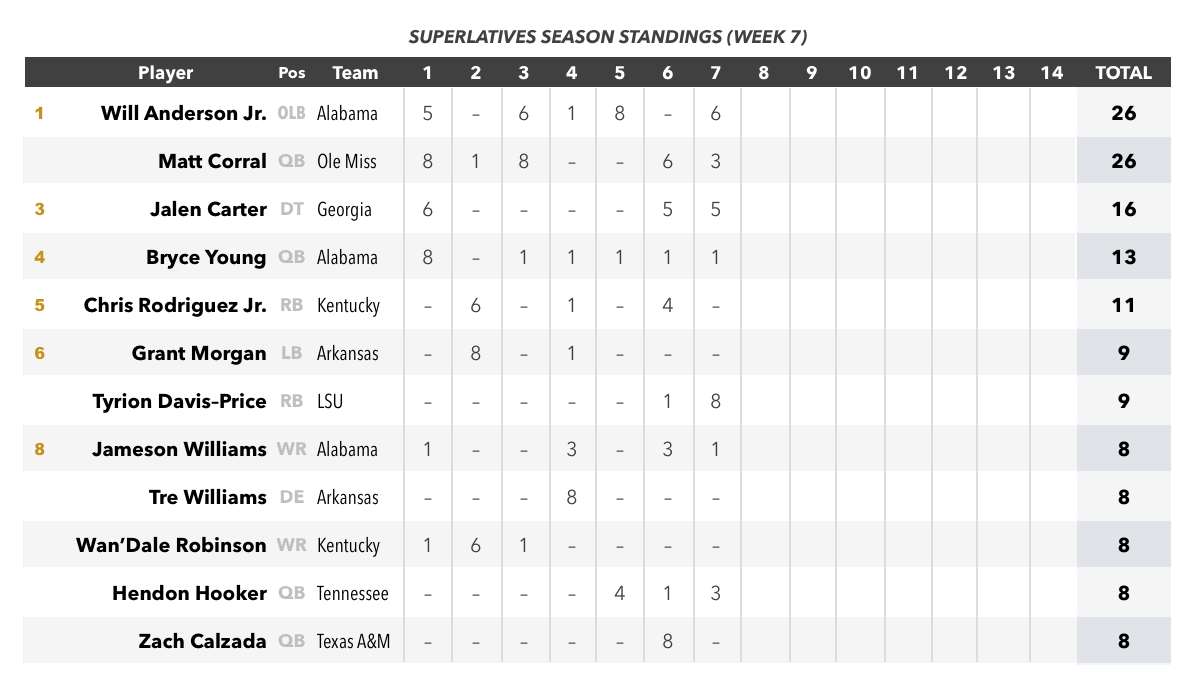 SEC Power Rankings
Updating the food chain.
1. Georgia (7-0). Bulldogs still have Florida and Tennessee over the next few weeks, but the gap in the East is as wide as it's ever been. (Last week: 1 ⬌)
2. Alabama (6-1). In 2 games against Mike Leach's version of Mississippi State, Bama's defense has scored more touchdowns (2) than it's allowed (0). (LW: 2 ⬌)
3. Ole Miss (5-1). Rebels played possibly the craziest game of the season to date in their Week 6 shootout win over Arkansas, then followed it up by playing a game even crazier. The people can only withstand so much. (LW: 4 ⬆)
4. Kentucky (6-1). I guarantee Mark Stoops does not care one iota about the point spread, but to everyone who had Kentucky -21.5 at Georgia, he's a legend: With the Wildcats trailing 30-7 late, his insistence on using his last timeout with seconds to play to punch in an otherwise meaningless touchdown from the UGA 1-yard line cut the final margin from 23 points to 17 and was felt in bank accounts across America.(LW: 3 ⬇)
5. Texas A&M (5-2). The prospect of LSU managing to lure Jimbo Fisher from College Station seems remote, but maybe A&M to add another zero or two to whatever his salary is at this point, just to be safe. (LW: 6 ⬆)
6. Auburn (5-2). Bo Nix looked as comfortable as he's been in the starting job in the Tigers' win over Arkansas; with an open date up next, he should spend the next week soaking up all the good vibes he can before it's back onto the roller coaster. (LW: 9 ⬆)
7. Arkansas (4-3). Hogs have run out of gas since their 4-0 start but still have a realistic chance to take 4 of their last 5, give or take dates against Mississippi State and LSU.
(LW: 5 ⬇)
8. LSU (4-3). LSU's administration has signaled it's ready to turn the page on 2021; based on their response against Florida, the remaining players might not be so inclined.(LW: 11 ⬆)
9. Florida (4-3). Quarterback competition between Emory Jones and Anthony Richardson is compelling again with Georgia up next, but if the defense plays the way it did in Baton Rouge, that offense will quickly find itself under water either way. (LW: 7 ⬇)
10. Tennessee (4-3). Vols will remember Saturday night for all the wrong reasons, a shame given how hard fought the football game was on either side of the revolt from the stands. (LW: 8 ⬇)
11. Mississippi State (3-3). Bulldogs' margin of defeat vs. Bama (40 points) was wider than the total margin in their first 5 games combined (24 points), with plenty of room to spare. (LW: 10 ⬇)
12. South Carolina (4-3). Gamecocks aren't in any position to take a conference W for granted, but a 1-point win over Vanderbilt decided in the final minute doesn't exactly bode well for picking up a second one down the stretch. (LW: 12 ⬌)
13. Missouri (3-4). Bowl eligibility isn't out of the realm of possibility, but the only goal for the rest of the Tigers' season should be salvaging some semblance of respect on defense. (LW: 13 ⬌)
14. Vanderbilt (2-5). Dores came within 1 point of snapping their 15-game SEC losing streak vs. Mizzou, which is likely as close as they're going to come this season. (LW: 14 ⬌)
Moment of Zen of the week
— Follow @TPortalCFB (@LorneMalvoSzn) October 17, 2021
That man was all of us by the end of the night.