SEC
Monday Down South: Georgia's offense has been good enough to get the Bulldogs to Atlanta. Can it be more?
How can you tell when an up-and-coming program has truly arrived? Listen to the gripes: When the conversation around a team in the midst of a potential championship run in late November is less about the games it's winning than about how it's winning them — against who? by how much? meaning what for The Big One looming at the end of the schedule? — well, these are the good times.
So it is for Georgia, a 10-1 outfit riding into its 3rd consecutive SEC Championship Game on what feels like a season-long wave of angst. Saturday's 19-13 win over Texas A&M was the last real obstacle between the Bulldogs and Atlanta (UGA is a 28-point favorite for the regular-season finale at 3-8 Georgia Tech), all but guaranteeing that the Dec. 7 clash with LSU will function as a de facto Playoff game. It was also the last chance before banner-hanging season to ease doubts about the offense in general, and the downfield passing game in particular, which have been increasingly baked in to any discussion of Georgia's chances as the year has worn on. Eleven games in, the cake is done. The doubts remain.
Including Saturday's win, the Bulldogs have played 4 games against ranked opponents — Notre Dame, Florida, Auburn and A&M — all of which have been more or less the same game: A slow-burning, defensively-driven slog in which UGA … 1) Pulls out to a comfortable, double-digit lead in the second half; 2) Stalls out offensively with a chance to put the game away; 3) Allows a late touchdown (or two) that puts the game back within reach; and 4) Sweats out a 1-score victory decided in the final minutes by either one last defensive stand or the offense managing to snuff out the clock.
In all 4, Georgia has scored somewhere between 19 and 24 points while giving up somewhere between 13 and 17; in the past 2, it's come in well below 300 total yards on just 4.2 per play.
So far, so good, at least as long as the offense isn't turning the ball over opposite one of the stingiest defenses in the country. (Since giving it away 4 times in the midseason loss to South Carolina, Georgia has gone 5 consecutive games without a turnover, including the wins over Florida, Auburn and A&M.) It's an identity. In a season that's seen all of the other leading Playoff contenders consistently light up the scoreboard, though — in which even LSU, of all teams, has fully embraced the spread revolution, with borderline miraculous results — the Bulldogs' determination to slug it out on a weekly basis is at odds with almost every trend in the sport.
At the top, it's almost singularly at odds. Of the 11 teams still plausibly alive for a Power 5 conference title and/or Playoff slot, Georgia's offense comes out at or near the bottom in conventional stats (scoring offense, total offense) and the advanced variety (Offensive FPI, Offensive SP+); compared to the other front-runners, it lags behind by a wide margin: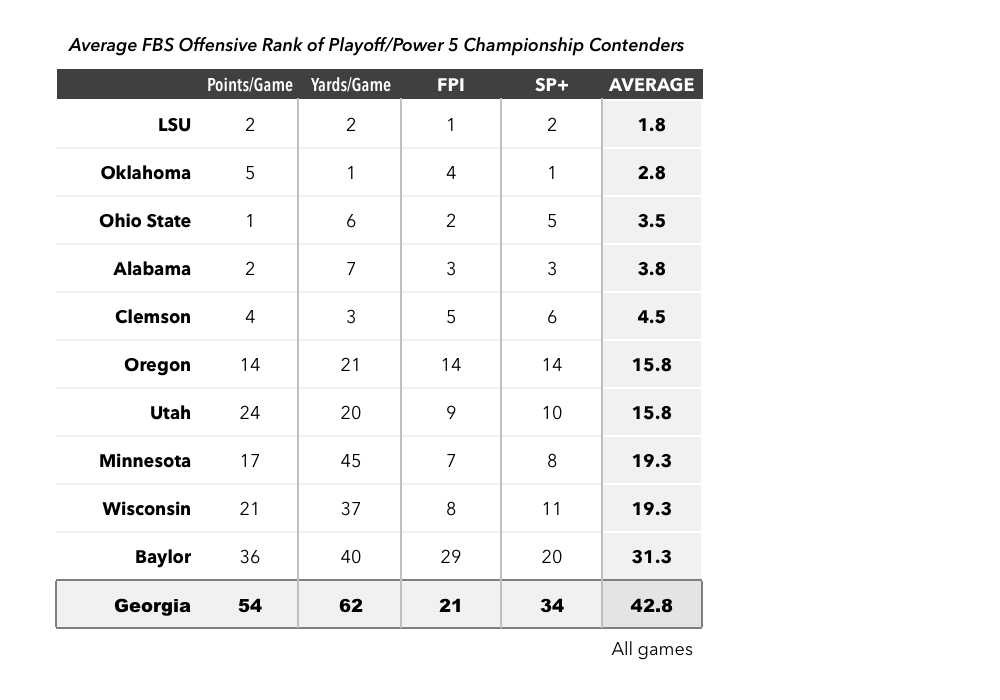 For Georgia to win against any of the teams on the top half of that list, one of two things has to happen: Either the Bulldogs are going to have to level up offensively to keep pace with the kind of elite attack they've yet to face to date, or (more likely) they're going to have to wrestle that attack into a wormhole to 2009.
Neither is out of the question. Last year's SEC Championship Game against Alabama also pitted Georgia against a white-hot offense led by a prolific, Heisman-bound quarterback with a certain Playoff ticket on the line, and for the better part of 3 quarters it was all Dawgs on their terms: The defense hounded Tua Tagovailoa into the worst afternoon of his career to that point, while Jake Fromm turned in one of his best en route to a 28-14 lead that reflected both sides of the ball in top form. Fromm is a year older now, the current D is better than last year's, and the initial point spread (LSU -3.5) doesn't see UGA as nearly as big an underdog this time around as it was against Bama.
Of course, the fact that the offense was shut out in the 4th quarter while watching the defense blow that lead in historic fashion — yes, again — plays right into the concerns about the Bulldogs' retro, ball-control mindset with the lead and inability to pull away against good teams.
In every big win this season they've allowed the other side to make what looked like a perfectly routine, boring win far more interesting down the stretch than it had any right to be. None of those offenses have anywhere near the firepower of the ones Georgia will have to tame to put its national title drought to bed. Several of those teams (Ohio State, Clemson, Alabama, Utah) also boast top 10 defenses. And the more we've seen of the offense under first-year coordinator James Coley, the less likely outscoring any of them appears to be an option.
In the grand scheme of things, those are the best kind of problems to have. Approaching the climax of a championship-or-bust campaign, they still just look like problems.
Notebook
Around the conference.
Georgia 19, Texas A&M 13
A lot of the frustration of watching the Bulldogs struggle to generate big plays through the air is the obvious talent on hand when things are clicking, which has tended to happen just once or twice per game over the back half of the season. The glimpses of potential make the mediocrity that prevails the rest of the time that much more maddening.
On Saturday, the flash came in the 2nd quarter, with Georgia leading 6-3 and facing 3rd-and-9 on its own 36 after back-to-back runs were stuffed on first and second down. Up to that point Jake Fromm had been ice-cold, hitting just 1-of-7 attempts and missing on a couple of golden opportunities downfield in the early going. But he briefly ignited, converting the 3rd-and-long via a 27-yard strike to Tyler Simmons, following it up with a 22-yard gain to Kearis Jackson on the next play, and ending the drive 2 plays later on a 16-yard, 3rd-and-11 touchdown pass to freshman George Pickens to extend the lead to 10 points:
TOUCHDOWN!!!!!

QB Jake Fromm (@FrommJake) to WR George Pickens (@geo_Thagoat)!!!!! pic.twitter.com/ZSMJ6Yo0GX

— Hiro Katsuki (@KatsukiFB) November 23, 2019
And that was pretty much that. The Bulldogs didn't reach the end zone again. Neither Simmons nor Jackson caught another pass; Pickens hauled in one more long sideline shot, a 41-yard gain in the 3rd quarter that set up a field goal for Georgia's final points, which was Fromm's only other completion that traveled more than 10 yards beyond the line of scrimmage. That connection along with the 2nd quarter series accounted for 106 of Fromm's 163 passing yards and 4 of his 6 completions for first downs. With the exception of his heroics in the Florida game, that's consistent with his volatility since midseason — Fromm completed fewer than half of his attempts Saturday for the 3rd consecutive game, matching the number of sub-50-percent games in his entire UGA career prior to this month.
There's an inkling in NFL Draft circles that Fromm is leaning toward returning for his senior year in 2020, a sign that his stock might be falling despite the consensus that his regression this season owes much to play-calling and an inexperienced group of wideouts. (The weather has been a factor in a couple of his more underwhelming outings, too, as it arguably was against A&M.) Long-term, that sounds like good news, especially considering there's no obvious heir apparent on campus or in the 2020 recruiting class. Right now, the best thing that could happen for the Bulldogs' championship ambitions would be for Fromm to play his way back into the conversation with the 1st-round locks.
On the other sideline, Jimbo Fisher emphasized "no moral victories" after another competitive-but-never-really-in-doubt loss to a top opponent, which one would think goes without saying for a coach who's getting paid a million dollars per win on the year despite all 7 of those wins coming vs. teams with losing records. Barring a huge, unexpected leap forward by the offense in Week 14, that's not going to change this weekend at LSU, when the Aggies will become the first team ever to play the No. 1 team in the AP poll 3 times in the same season.
Playoff Realpolitik
Oregon's loss at Arizona State was the first of several dominoes Alabama likely needs to fall its way to make the playoff field, but even with the Ducks out of the picture, the Tide almost certainly still need some help.
Oregon notwithstanding, the weekend's most clarifying result was Ohio State's predictable thunking of Penn State, which clinched the Big Ten East for the Buckeyes, eliminated the Nittany Lions, and left us with just 10 teams remaining on the board: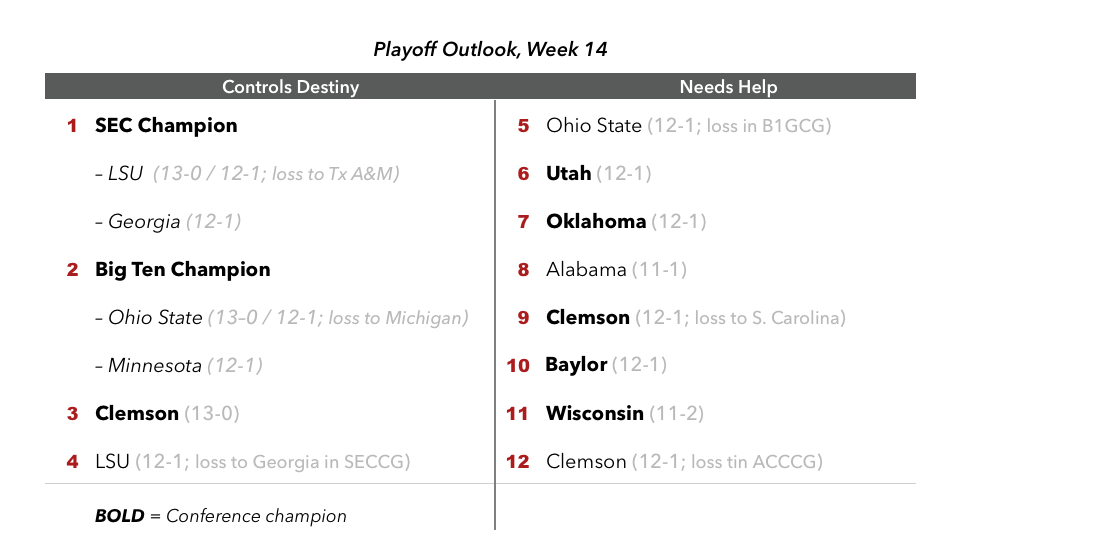 As far as Bama is concerned, if the chalk holds over the next 2 weeks, I'd still bet on a 12-1 Utah (the presumptive Pac-12 champion) or 12-1 Oklahoma (Big 12 champ) leaping the Crimson Tide into the No. 4 slot on the strength of winning their respective conferences while the Tide sit at home. As always, there's a gut-level case to be made for Alabama as the "best team," however loosely that distinction is defined, especially if the Tide manage to run up the score against Auburn with QB Mac Jones making his first big-game start; in the end, the case for the Utes and/or Sooners as conference champs will likely be more compelling. This was the wrong year to build the nonconference schedule around Duke.
The worst result for all 3 1-loss teams: A Georgia upset over LSU in the SEC Championship Game, in which case both the Bulldogs and Tigers would almost certainly make the cut at the Utes/Sooners/Tide's expense. (Ditto Ohio State in case of a major upset at the hands of Minnesota or Wisconsin in the Big Ten title game, but the way the Buckeyes are playing that possibility hardly seems worth mentioning.)
Assuming a win in the Iron Bowl — hardly a foregone conclusion; Auburn's just a 3.5-point underdog at home — Alabama's rooting interest is for OSU to finish the job, LSU to eliminate Georgia, and both Utah and Oklahoma to take a second L over the next two weeks. If it comes down to the committee choosing among multiple 1-loss teams for the final slot brace yourself for the Tide to be left in the cold.
Tennessee 24, Missouri 20
September seems like a long time ago, doesn't it? Two months ago, it seemed as likely as not on the heels of a 1-3 start that included the worst loss in school history and a depressing, 34-3 debacle at Florida that Jeremy Pruitt would find himself on the chopping block by the end of the season. Instead, the Vols are bowl-eligible after winning 5 of their past 6 and well on their way to clinching a winning record this weekend against a lame-duck version of Vanderbilt.
No one has embodied the turnaround more thoroughly than Jarrett Guarantano, scapegoat of both the nightmare start in September and the botched comeback at Alabama. He was benched in the loss at Florida, ushering true freshman Brian Maurer into the starting lineup; he was berated on national TV after his infamous goal line fumble in Tuscaloosa, leading to some very reasonable speculation over whether he'd see the field in a UT uniform again.
Instead, Guarantano has thrived, coming off the bench to lead come-from-behind wins over South Carolina and Kentucky and returning to the starting lineup Saturday for what was unquestionably his best performance as a Vol: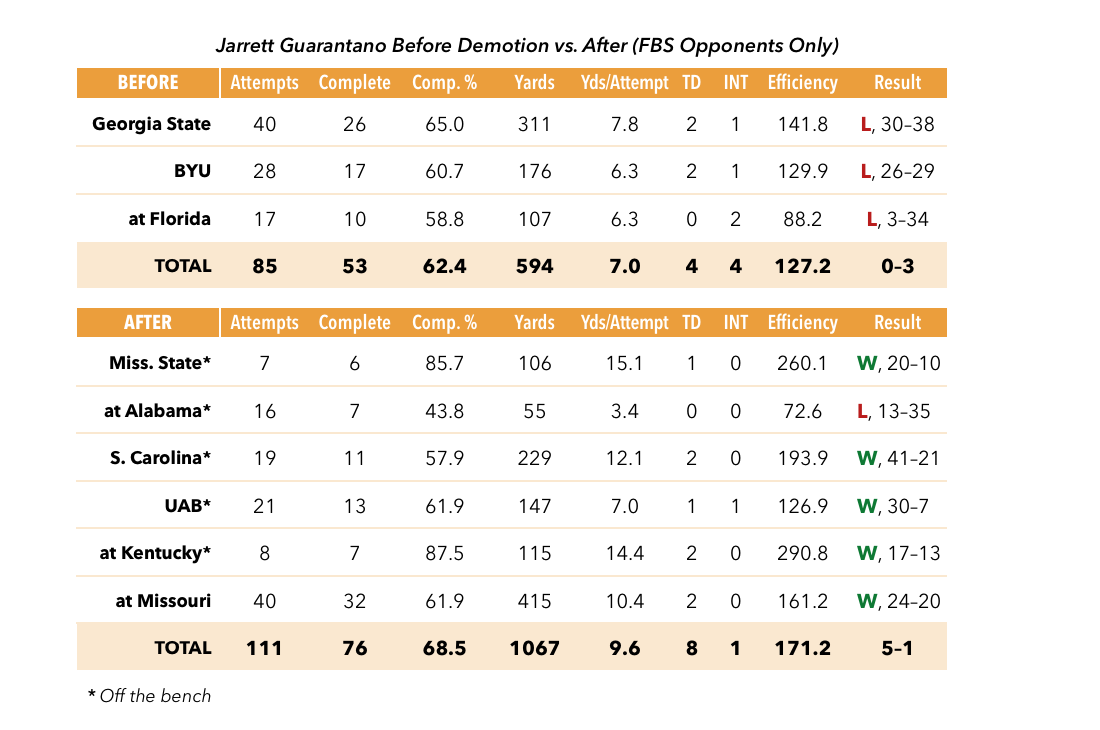 That's as dramatic a journey as you're ever likely to see over the course of just a few weeks, especially for a 4th-year junior whose grip on the job has always been tenuous and who a lot of people (myself included) had mentally consigned to the transfer portal. With 1 game to go in the regular season, Guarantano's passer rating on the year ranks 4th among SEC starters, just ahead of Fromm, Kellen Mond and Kelly Bryant, whose grad-transfer season at Mizzou has gone in the opposite direction. He's not a lock to hold down the job next year as a 5th-year senior, but the fact that Guaranatano has to be considered the odds-on favorite — or frankly that he's even in the conversation — is one of the comeback stories of the year.
Superlatives
The best of the week…
1. Jarrett Guarantano, QB, Tennessee
Guarantano shares top honors this week with his top 3 targets, Josh Palmer, Jauan Jennings and Marquez Callaway, who collectively accounted for 349 of Guarantano's 415 passing yards at Missouri on 20.5 yards per catch. That marked the first time in program history 3 receivers each topped 100 yards in the same game.
2. D'Andre Swift, RB, Georgia
Swift's stat line against Texas A&M was fine — 103 yards on 5.4 per carry, plus 29 yards receiving out of the backfield — but the numbers don't quite do the league's most electric back justice.
D'Andre Swift broke both of this guy's ankles with one move #TAMUvsUGA pic.twitter.com/FgSdZELVH2

— Kevin Boilard (@247KevinBoilard) November 23, 2019
Swift was also clutch on Georgia's final, clock-killing possession to close the game, moving the chains twice and singlehandedly turning a would-be TFL into a highlight-reel dagger as the clock ticked down:
MY GOOODNESSS!!!!

RB D'Andre Swift (@DAndreSwift)⚡️⚡️⚡️⚡️⚡️⚡️⚡️⚡️⚡️⚡️ pic.twitter.com/sSdpF7zrt8

— Hiro Katsuki (@KatsukiFB) November 23, 2019
That run clinched Swift's 2nd consecutive 100-yard rushing game and his 9th game over 100 yards from scrimmage this season, most in the conference.
3. Clyde Edwards-Helaire, RB, LSU
Edwards-Helaire had the exact opposite kind of night against Arkansas, racking up a career-high 188 yards rushing and 3 touchdowns on just 6 carries in a 56-20 romp. Read that again: 6 carries! Including gains of 9 yards and 2 yards in the first quarter! From that point on, his next 4 carries went for 27 yards (TD), 35 yards, 26 yards (TD) and 89 yards (TD) before he mercifully called it a night.
With 65 yards receiving, Edwards-Helaire also moved into the SEC lead for scrimmage yards on the season (1,435) and joined the list of only 4 players nationally with at least 1,100 rushing and 250 receiving on the year — in his case, the majority of that output coming in the past 4 games.
4. Jacoby Stevens, LB, LSU
Stevens led the Tigers' defensive charge against the Hogs with 9 total tackles and 3 sacks, easily a career high. Although Arkansas managed 20 points, it didn't reach the end zone until well into garbage time.
5. Rodrigo Blankenship, K, Georgia
Where would the Bulldogs be without Rodrigo? America's favorite kicker closed out his Sanford Stadium career on Senior Day by connecting on 4-of-4 field goal attempts — from 41, 49, 37 and 31 yards, respectively — becoming UGA's all-time leading scorer in the process. As usual, he also drove 4 of his 5 kickoffs into the end zone for touchbacks, the exception being an absolutely perfect surprise onside attempt in the 3rd quarter that his teammates somehow failed to recover. All-America honors await.
Honorable Mention: Kentucky QB Lynn Bowden Jr., who ripped off 129 yards and 2 TDs rushing on just 11 carries in a 50-7 win over UT-Martin, leading the way to a school-record 462 rushing yards for the Wildcats as a team. … Georgia DB Richard LeCounte, who led the defense against Texas A&M with 7 tackles and a forced fumble. … Texas A&M LB Anthony Hines II, who finished with 7 tackles and a pair of TFLs against the Bulldogs. … Tennessee LB Daniel Bituli, who racked up 12 tackles with a sack in the Vols' win over Missouri. … Alabama DB Xavier McKinney, who had a forced fumble and 2 interceptions in the Tide's 66-3 win over Western Carolina, including his 2nd career pick-6. … Alabama WRs DeVonta Smith and Jaylen Waddle, who hauled in 7 receptions for 195 yards and 3 TDs against the Catamounts — 2 of them coming on long runs after the catch on screen passes — as well as 87 yards for Waddle on kickoff/punt returns. … Vanderbilt DL Dayo Odeyingbo, whose 7 tackles against East Tennessee State included 4 TFLs and 2 sacks. … Mississippi State RB Kylin Hill, who added an 88-yard receiving TD to his 153 yards rushing in a blowout win over Abilene Christian. … And, as always, LSU QB Joe Burrow, who added to his record pace with a 28-of-38, 327-yard, 3-TD outing against Arkansas, and LSU WR Ja'Marr Chase, who accounted for 144 yards and 2 of those scores on 6 receptions.