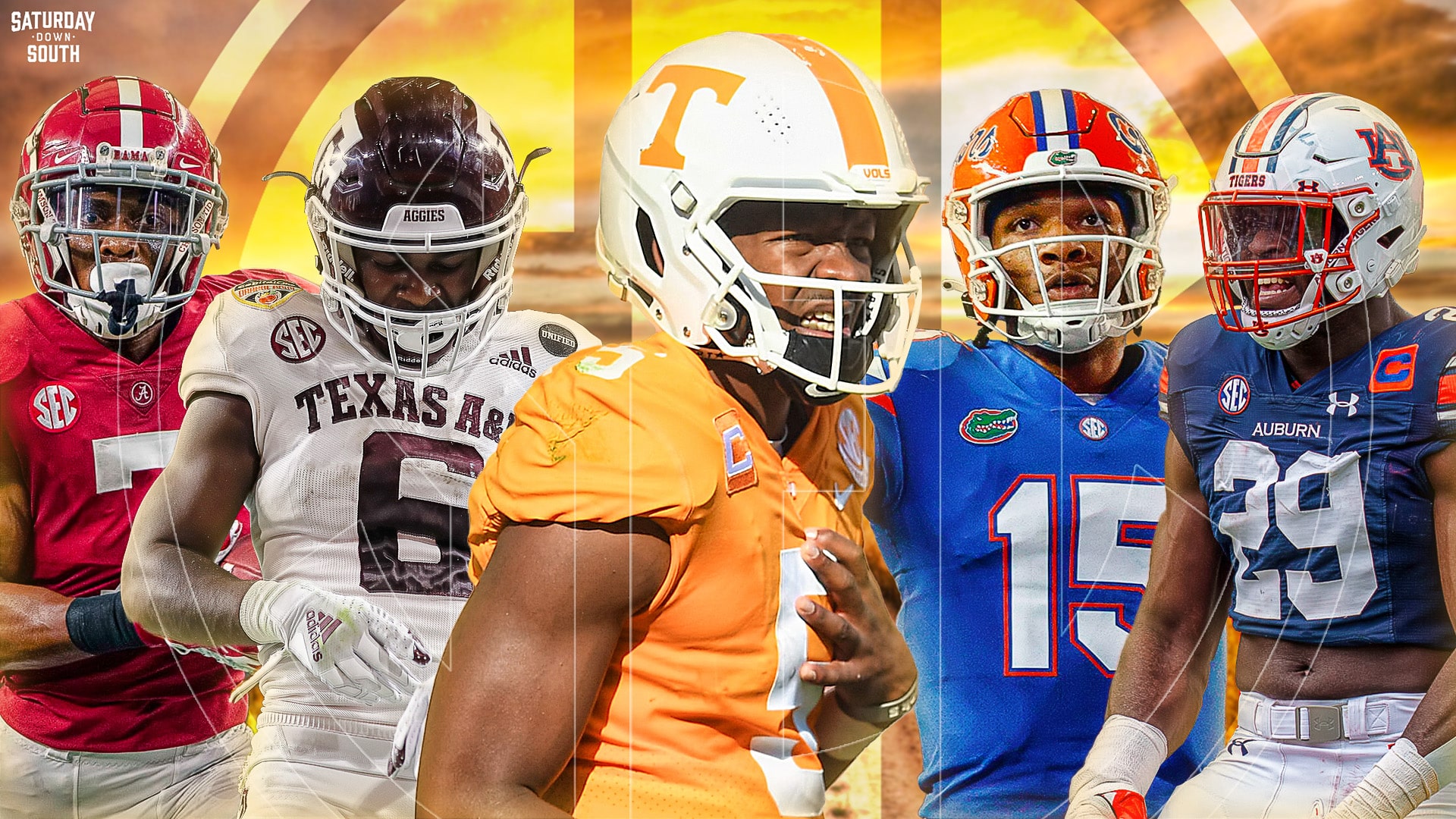 SEC
Monday Down South: Hendon Hooker headlines the year of the late bloomer
Weekly takeaways, trends, and technicalities from the weekend's SEC action.
The vets are alright
In terms of roster management, the NCAA's decision to waive the eligibility clock for the 2020 season was immediately recognized at the time as a dramatic development that will likely reverberate for years. In terms of player development … not so much. After all, the postgraduate years have always been reserved for players who have generally maxed out, plateaued or possibly regressed due to injuries – not late bloomers whose potential has somehow remained untapped. If a player whose career has already spanned the traditional window is still on campus in Year 5 or 6, as opposed to the next level, how much difference is a little extra seasoning really going to make?
But where veteran quarterbacks are concerned, the answer is turning out to be quite a bit, actually. A month into the season, the COVID QB class is thriving.
At the top of the list is the inspiration for this angle, Tennessee's Hendon Hooker, who just turned in arguably the best game of his (very long) career on the biggest stage in the Vols' raucous, 38-33 win over Florida.
The win itself was a milestone, snapping a 5-year UT losing streak in the rivalry and elevating Tennessee to No. 8 in the updated AP poll, its highest position there at any point since 2006. For a national audience getting its first glimpse of the former Virginia Tech transfer in a big-game environment, though, Hooker was a revelation in his own right: 349 yards passing on 12.5 per attempt; 112 yards rushing; 3 total touchdowns; all at a breakneck pace that he orchestrated like, well, a 24-year-old in his 33rd college start. Like a guy who maybe should be in the pros right now. The Vols ran 70 plays in just 25 minutes of possession, scored on 6 of their 9 chances, and didn't punt.
Hendon Hooker delivers a bit of magic. pic.twitter.com/B0LrBIvVSc

— CBS Sports College Football ? (@CBSSportsCFB) September 24, 2022
For his efforts, Hooker went to bed on Saturday night as a bona fide Heisman candidate, a remarkable turn after he was effectively shown the door after 4 years and 15 starts at Virginia Tech, and began his tenure in Knoxville last year as a backup. Through 4 games this year, he's looked like the ideal QB to bring Josh Heupel's up-tempo, vertically-oriented vision to fruition, ranking in the top 5 nationally in total offense and Total QBR, and posting the top overall Pro Football Focus grade among FBS quarterbacks. He's accurate, mobile, consistent, and hasn't thrown a pick in 211 consecutive attempts dating to last year.
He's also just one example of a relatively grizzled QB taking full advantage of his bonus season. At Georgia, Stetson Bennett IV (age 24) has shed the last remaining vestiges of his underdog persona to throw his hat into the Heisman ring. Minnesota's Tanner Morgan (23), coming off disappointing seasons in 2020 and '21, just had his best month as a starter for the 4-0 Gophers after reuniting with his old coordinator, Kirk Ciarrocca, who oversaw Morgan's original breakout campaign in 2019.
Nebraska refugee Adrian Martinez (22) delivered a triumphant performance on Saturday for his new school, Kansas State, accounting for all 5 of the Wildcats' touchdowns in an upset win at Oklahoma. Purdue's Aidan O'Connell (24), another former walk-on, ranks 15th nationally in QBR. Penn State's Sean Clifford (24) and UCLA's Dorian Thompson-Robinson (22), both long-running targets for their respective fan bases, are off to a combined 8-0 start; further down the food chain, Illinois' Tommy DeVito (24) and Rutgers' Noah Vedral (23) are a combined 6-2 at a couple of perennial Big Ten doormats.
Maybe their collective success owes itself to some degree of early-season distortion before the realities of the conference slate hits. Or maybe a surplus of experience actually still counts for something. The icon of the free COVID year in 2021 was Kenny Pickett, who, based on his first 4 years at Pitt, likely would have spent the season holding down a practice-squad role at the next level, at best. Instead, he used the waiver to come back to school and looked like an entirely different player in Year 5, playing his way into a 3rd-place finish in the Heisman vote and the first round of the NFL Draft. Of this year's bonus class, Hooker (who ironically took over the job last September against Pitt) is clearly emerging as the quarterback in the best position as midseason approaches to follow Pickett's path from the margins to the spotlight.
Just as clearly, it's too soon to start mapping out the awards circuit and draft stock when 4 of Tennessee's next 5 games on the other side of an open date are against LSU, Alabama, Kentucky and Georgia. That gauntlet is the kind of challenge that can relegate Hooker to "September Heisman" obscurity, and the kind of opportunity that can make him an enduring star – not to mention a lot of money. So it took him a little longer to arrive. He's here now, and it's all right there in front of him.
Devon Intervention
Outside of a handful of quarterbacks, is there a more valuable player in America than Devon Achane? For the third week in a row, the junior speedster was the spark for an otherwise listless Texas A&M offense in the Aggies' 23-21 win over Arkansas, accounting for 172 scrimmage yards on 22 touches — exactly 50% of the team's total output for the game.
⚡️6️⃣⚡️

? ESPN | #GigEm pic.twitter.com/W0wtWUQnQ6

— Texas A&M Football (@AggieFootball) September 25, 2022
In Week 2, Achane accounted for 191 of the team's 307 all-purpose yards (62.2%) and both A&M touchdowns — 1 rushing, 1 via kickoff return — in a 17-14 loss to Appalachian State. In Week 3, he accounted for 184 of the team's 325 yards (56.6%) in a 17-9 win over Miami, scoring once as a receiver and setting up the only other TD on a run to the 1-yard line. On Saturday, he accounted for 79 of 93 yards on the Aggies' first touchdown drive (see above) and finished the second with a 9-yard, go-ahead TD run that put them up for good. Altogether, Achane was responsible for a higher share of A&M's total scrimmage/return production in September than almost any other FBS player:
The common thread on that list is that it features mostly bad offenses with very little else going for them. Only one other player on it (Abanikanda) plays for a team in the remote vicinity of the Top 25. Texas A&M, which currently ranks dead last in the SEC in both total and scoring offense, is right at home. A&M benched its starting QB and average fewer passing yards per game vs. FBS opponents than any other Power 5 team. Yet it's managed to do juuuust enough to survive against ranked opponents in consecutive weeks, getting out of the month at 3-1 with all of their big-picture goals theoretically intact.
The defense deserves its share of the credit, of course. But the edge in the other phases can be chalked up pretty much singlehandedly to Achane, without whom the Aggies would be dead in the water and Jimbo Fisher's contract would be the subject of heated floor debates in the state capitol. Right now, they need every bit of juice he can give them just to keep the lights on.
Tide taking flight?
Alabama's most pressing concern coming out of the nonconference run was the downfield passing game, or lack thereof: Per PFF, Bryce Young was just 1/7 in the first 3 games on attempts of 20+ yards, a red flag for an offense that was at its best last year when Young was connecting deep to Jameson Williams. (The one successful strike was a 38-yarder to his tight end, Cameron Latu, in last week's blowout win over UL-Monroe.) The WR room this offseason may was well have hung out a sign that said DEEP THREAT WANTED, and prior to Saturday's SEC opener vs. Vanderbilt none of the rising crop of wideouts had done anything yet to fill the vacancy.
Cue Ja'Corey Brooks. A projected starter before the season, the 5-star sophomore had been one of the notable disappointments in the early going, coming in with just 4 catches for 62 yards as a reserve. Against Vandy, he finally looked the part, coming off the bench to haul in 6 catches for 116 yards and 2 TDs — all in the first half — with both scores coming on vertical strikes covering 21 yards and 34 yards, respectively.
What a DIME!!! ?? @_bryce_young @c7_brooks

?@SECNetwork
?https://t.co/8imIOjWHV1 pic.twitter.com/wzYp41t0lP

— Alabama Football (@AlabamaFTBL) September 25, 2022
Forget who's playing defense: That's what Alabama has been waiting to see from somebody on the depth chart, under any circumstances. On paper, Young turned in his best stat line of the season (25/36, 385 yards, 4 TDs, 0 INTs) and his most aggressive, going 4/8 on 20+ yard attempts and 8/8 from 10-19 yards. Between Brooks and Jermaine Burton (4 catches for 94 yards on 4 targets), the offense looked for the first time this year like the big-play-oriented attacks the Tide have cranked out since they fully embraced the spread-passing lifestyle in 2018. Yes, Vandy caveats apply. But you know, this is what an ambitious offense is supposed to look like against Vandy. If you struggle to open things up against the Dores then it's time to really to start worrying. If this group still qualifies as a long-term concern, Saturday was a reminder it still has the potential to emerge as a strength, too. They're just getting started.
Turning point of the week
Arkansas' goal-line gaffe. What else? The Razorbacks led Texas A&M 14-7 late in the second quarter, with a fresh set of downs inside the Aggies' 5-yard line and a golden opportunity to expand the margin to double digits before halftime. Instead, catastrophe. Rather than lower his enormous shoulders as he plunged into the goal-line scrum, quarterback KJ Jefferson went airborne, gacked up the ball in the process, and watched as A&'s Tyreek Chappell and Demani Richardson combined for a 97-yard, game-changing fumble return.
When @therealdemani says he wants the ball, you give him the ball.#GigEm pic.twitter.com/AhmzGIlCB5

— Texas A&M Football (@AggieFootball) September 25, 2022
A 2-touchdown swing is always dramatic, and in a white-knuckler that came down to a missed field goal in the end, even more so than usual. According to ESPN's in-game win probability metric, Arkansas' chances plunged from 82.1% when the ball was snapped to slightly below 50% when the whistle blew. Although Jefferson's gaffe was only 1 of 8 fumbles on the night, it was the only one recovered by the defense, and it was enough to overcome the Razorbacks' advantages in total yards (415 to 343), first downs (24 to 16), and penalties (3 on Arkansas vs. 9 on A&M).
In fact, to the extent it swung the outcome on Saturday night that single play could wind up being one of the most consequential turning points of the entire season. With a win, Arkansas would have moved to 4-0 and remained solidly in the top 10 of both major polls with Alabama on deck, setting up what would have been without a doubt the biggest game in Fayetteville in ages. (Arkansas hasn't hosted a game with both teams ranked in the top 10 at kickoff since its 2006 meeting with LSU, in Little Rock.)
On the same note, with its second September loss, A&M might as well have kissed whatever hope was left of salvaging a special season goodbye. Instead, the Aggies' biggest goals are still on the table heading into the meat of the conference slate, while the Razorbacks are left to regroup after falling to 20th in the updated AP poll — one spot below where they opened the season.
Superlatives
The week's best individual performances.
1. Tennessee QB Hendon Hooker. Hooker's 461 total yards against Florida marked a career-high, as well as the first time he's eclipsed 300+ passing and 100+ rushing in the same game. The stats will matter less over the next 6 weeks than the scoreboard.
2. Texas A&M RB/KR Devon Achane. As long as the defense is holding up its end of the deal, it seems Achane is going to make 2 or 3 plays every week that give the Aggies a fighting chance.
3. Georgia ATH Brock Bowers. Last week I wrote about the problem with categorizing Bowers as a "tight end," for two reasons: One, he lines up wide or in the slot on a significant majority of his snaps, and two, his elite skill set in space makes him more of an all-purpose weapon than a conventional tight end. His touches Saturday in Georgia's 39-22 win over Kent State only made it more obvious that the standard label isn't going to cut it.
Second play of the game. Brock Bowers is insane

— PFF College (@PFF_College) September 24, 2022
For the afternoon, Bowers torched the Golden Flashes for 137 scrimmage yards (77 rushing, 60 receiving) on 7 touches, adding a short rushing touchdown in the second quarter to go with his 75-yarder in the first. For the season, he's averaging 19.9 yards per touch with a team-high 5 TDs in 4 games. In this space, he's just going to be an "athlete" until further notice.
4. Alabama Edge Will Anderson Jr. Last year's runaway Superlatives champion makes his first appearance of 2022, sacking Vanderbilt's true freshman QB AJ Swann 3 times in a 55-3 romp that might as well have been over before it started. (Welcome to the SEC, kid.) On top of the pass rush, Anderson also stopped Swann short on a 4th-and-1 plunge early in the second quarter, setting up a Young-to-Brooks touchdown on the next play that made the blowout official. Just like that, he's back atop the SEC leaderboard in TFLs, with 7.5 on the year.
5. Auburn Edge Derick Hall II and DL Colby Wooden. Auburn's 17-14 win over Missouri was a strange, ugly game that Auburn fans hope to burn from their memories as quickly as possible despite the result. But the front seven on defense did its part, harassing Mizzou QB Brady Cook throughout the afternoon and generally reasserting itself as the team's strength. (Possibly its only one.) The senior leaders up front, Hall and Wooden, combined for 10 QB pressures and 5 tackles for loss, including 3 sacks.
SAY HELLO TO COLBY WOODEN ?@CJW_21 sacks the Mizzou QB for a 12 yard loss!#WarEagle? | ? https://t.co/pQk5h4rqz3 pic.twitter.com/NFIWoox1gE

— Auburn Football (@AuburnFootball) September 24, 2022
Honorable Mention: Missouri LB Ty'Ron Hopper, who had 10 tackles, 5 QB pressures and 3 TFLs in the Tigers' overtime loss at Auburn. … South Carolina RB MarShawn Lloyd, who hit the century mark for the first time with 169 yards and 3 TDs rushing in a 56-20 win over Charlotte. … South Carolina CB Cam Smith, who intercepted 1 pass, broke up another, and allowed just 1 reception (for 4 yards) on 3 targets. … Alabama CB Kool-Aid McKinstry, who was credited with 3 PBUs and tacked on 91 yards in punt returns in Bama's blowout win over Vandy. … Florida QB Anthony Richardson, who accounted for 505 total yards and 4 touchdowns (as well as 2 turnovers) in a losing effort. … Florida LB Amari Burney, who was extremely active on a rough day for the Gators' D, with 8 tackles, 3 TFLs and a forced fumble. … Tennessee Edge Byron Young, who was a regular presence in Richardson's life with 7 QB pressures despite failing to record a sack. … Kentucky WRs Tayvion Robinson and Barion Brown, who together accounted for 249 of QB Will Levis' 303 passing yards and all 4 UK touchdowns in a 31-23 win over Northern Illinois. … Arkansas QB KJ Jefferson, who accounted for 276 yards (171 passing, 105 rushing) and 3 touchdowns in a losing effort in Arlington. … And Texas A&M LB Chris Russell Jr., who had a career-high 10 tackles against the Razorbacks, including a sack and the forced fumble that turned the game.
– – –
The scoring system for players honored in Superlatives awards 8 points for the week's top player, 6 for second, 5 for third, 4 for fourth, 3 for fifth, and 1 for honorable mention, because how honorable is it really if it doesn't come with any points? The standings are updated weekly with the top 10 players for the season to date.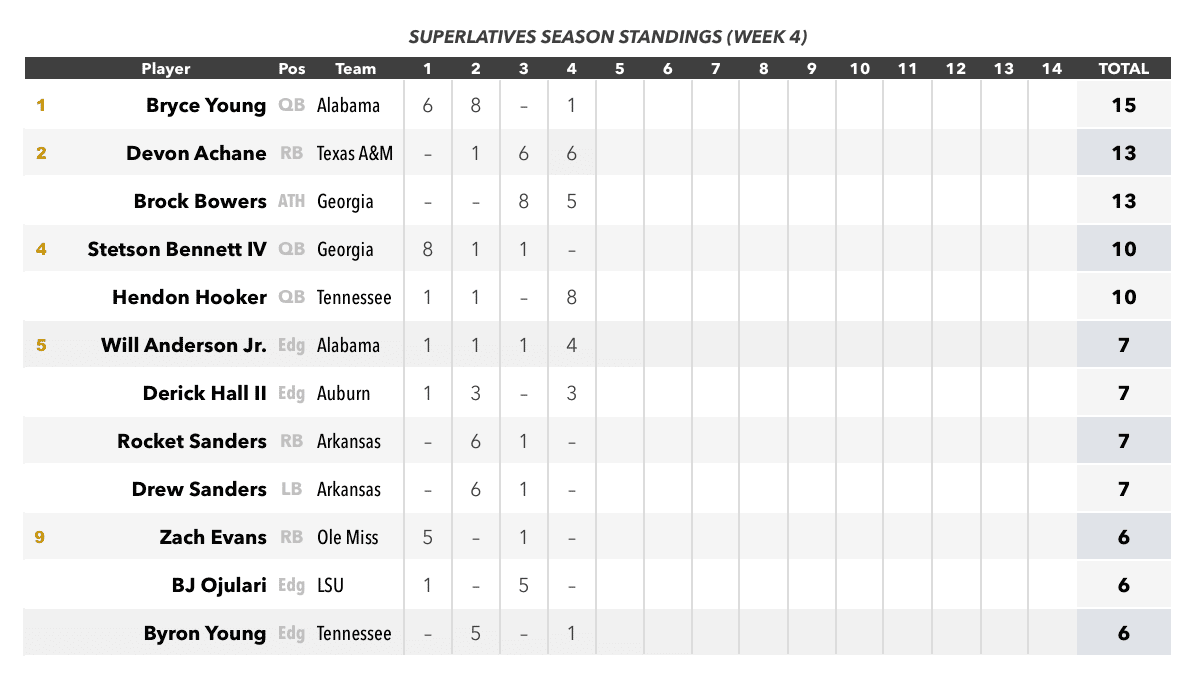 Catch of the year of the week
Tennessee's Ramel Keyton. The Vols were without their go-to receiver, Cedric Tillman, due to a sore ankle. But the combination of Bru McCoy (5 catches for 102 yards), Jalin Hyatt (5 for 58), and Keyton (3 for 69) more than made up for his absence, occasionally in spectacular fashion:
OH, THE FULL EXTENSION CATCH! pic.twitter.com/84txB59fFD

— CBS Sports (@CBSSports) September 24, 2022
That's how you make a good quarterback look great.
Obscure stat of the week
LSU outgained New Mexico, 633 to 88, marking just the 4th time since the turn of the century and the first time since 2017 an SEC team has gained 600 yards while allowing fewer than 100. The Lobos managed a grand total of 2 first downs, but a glacial pace by LSU's offense limited the final margin to a relatively merciful 38-0.
SEC Power Rankings
Updating the food chain.
1. Georgia (4-0). The outcome was never remotely in doubt against Kent State, but the first-string defense giving up 22 points to a MAC squad was still shocking. Last year Georgia gave up 23 points in the entire month of September. (Last week: 1⬌)
2. Alabama (4-0). Texas' overtime loss at Texas Tech was a strike against the notion that Bama's Week 2 scare in Austin said more about the Longhorns' progress than it did about the Tide's vulnerability. The question marks that loomed after that game aren't getting any easier to dismiss. (LW: 2⬌)
3. Tennessee (4-0). As many false starts and disappointments as they've been through over the past two decades, the looming TENNESSEE IS BACK discourse might make Vols fans break out in hives. Hooker is legit, the energy in Neyland on Saturday was real, and the end of the losing streak vs. Florida confirmed the Heupel project is on schedule. But one look at the schedule should be enough to keep the temptation for runaway optimism well in check. (LW: 4⬆)
4. Kentucky (4-0). The Wildcats rank 123rd in rushing offense and 125th in yards per carry. Sacks play a role in that — Will Levis has taken an SEC-worst 15 sacks, including 5 in Saturday's win over Northern Illinois — but All-SEC workhorse Chris Rodriguez Jr. can't get back soon enough. (LW: 5⬆)
5. Ole Miss (1-0). The Rebels have settled on a starting quarterback. Everything else remains up for grabs heading into their first real test this weekend against Kentucky. (LW: 6⬆)
6. Texas A&M (3-1). Nothing about Max Johnson's game is pretty, least of all the stats, but in the context of the Aggies' low-octane wins over Miami and Arkansas the past 2 weeks, the only numbers that really matter are zero turnovers … and 2 wins. (LW: 7⬆)
7. Arkansas (3-1). As productive a runner as KJ Jefferson is, ball security has been a recurring issue: His goal-line fumble vs. A&M was his 5th of the year and 15th of his career. (LW: 3⬇)
8. LSU (3-1). It's difficult to get a read on the Tigers, who still seem capable of going in any direction on any given Saturday. This weekend's trip to Auburn will be another piece of the puzzle. (LW: 8⬌)
9. Mississippi State (3-1). A brutal October is on deck: Texas A&M, Arkansas, at Kentucky, at Alabama. And November ain't a cakewalk, either. (LW: 10⬆)
10. Florida (2-2). The Gators made the second half at Tennessee more interesting than it had any right to be by going 3/3 on 4th-down conversions and recovering an onside kick. But the Vols moved the ball at will, and the general sloppiness — blown coverages on defense, red-zone failures on offense — spoke much louder than the eventual 5-point margin. (LW: 9⬇)
11. Auburn (3-1). Saturday's overtime win over Missouri was the kind of game that by all rights deserved to end in a tie, and not in the sense that "neither team deserved to lose." Both teams in fact seemed very content to lose until Mizzou finally succeeded in giving the game away in ham-fisted fashion, literally just dropping the ball in the end zone a yard shy of the would-be game-winning touchdown.
Auburn wins on a Missouri fumble into the end zone in OT… Only Auburn can achieve this type of chaos week in & week out pic.twitter.com/SypkNTDISq

— Zach McKinnell (@zachmckinnell) September 24, 2022
I have to believe that by that point a certain segment of the Auburn base was quietly (or maybe not so quietly) rooting for the other Tigers in the vain hope that a loss would have been the final straw that put the Bryan Harsin era out of its misery. It didn't happen this time, but they may not have to wait long. (LW: 11⬌)
12. South Carolina (2-2). Pretty much everybody who touches the ball these days seems to have a hurdle in the toolbox, up to and including big, lumbering tight ends who have learned to skip over smaller guys whose best hope of making an open-field tackle is lunging at their ankles. But it's still fun to be reminded sometimes how cool it can be when it's executed at full tilt by an athlete like MarShawn Lloyd:
We've said it before, and we'll say it again… @m_lloyd_2 is a BADDDDDD man ?

? ESPN U

South Carolina 10 | Charlotte 7 pic.twitter.com/TRPlpqZnYh

— Gamecock Football (@GamecockFB) September 25, 2022
I mean …
Now that is the kind of rare air that would make Knowshown Moreno proud. (LW: 12⬌)
13. Missouri (2-2). Before the epic OT gaffe, Mizzou went 3-and-out on 5 of its first 6 possessions of the second half and watched its All-American kicker miss the easiest field goal he will ever have in his life as time expired in regulation. There's a kind of solace in facing Georgia after that, in that any shred of suspense will end with the coin toss. (LW: 13⬌)
14. Vanderbilt (3-2). Alabama granted the Commodores a field goal on their second offensive possession, Vandy's first points against the Crimson Tide since 2007 in Nick Saban's first conference game as Alabama's head coach. From that point on, they failed to string together 2 consecutive first downs and only crossed midfield once, stalling out at the Bama 44 in the third quarter. (LW: 14⬌)
Moment of Zen of the week
— Timothy Burke (@bubbaprog) September 25, 2022
• • •