SEC
Monday Down South: Tennessee is all the way back ... and it's beautiful
Weekly takeaways, trends and technicalities from the weekend's SEC action.
Tennessee: Filled with the spirit
Tennessee 52, Alabama 49. An instant classic. Whew! College football does not get any better than it did Saturday afternoon in Knoxville, Tennessee.
Honestly, how could it? The hype, the scene, the sustained excellence and urgency of the game itself: For 4 hours  – and let's be clear, for all of those 4 hours, from a 28-point first quarter all the way through the emotional inferno of an ending – the Vols and Tide left no bullets in the chamber and no box unchecked. The last remaining hardcore defensive purist in your life was riveted. The stage was set for the kind of generational myth-making the sport holds near and dear, and their performance filled every inch of it until the line between the stage and the audience literally ceased to exist.
A sea of orange ?#GBO ? pic.twitter.com/ML9paLXqf9

— Tennessee Football (@Vol_Football) October 16, 2022
Dramatic? Yes. Entertaining? Wildly. Stressful, exhausting, uplifting? All of the above. (Come on, even Bama fans had to be a little bit moved. Y'all have won enough to be able to afford some perspective.) Most of all, though, the moment was extremely specific to its setting. It was meaningful not only to the fan bases directly invested in the outcome, but to millions of people who love college football, and quite possibly a few who don't, or didn't before Saturday, in a way that only college football at its best can be.
Scenes like the one in Neyland Stadium can't be replicated anywhere else. What other sport on earth is capable of delivering its most electric, most enduring and most defining moments in the dead center of the regular season? Of inspiring this kind of collective outpouring of emotion at the point in its campaign when other sports are slogging through the doldrums, in a game with no immediate, tangible championship stakes? Yes, Tennessee naturally rose in the polls; Alabama naturally fell. In mid-October, though, that amounts to a snapshot. There's a long way to go: 6 more weekends in the regular season alone, any one of which could upend the prevailing assumptions in the conference standings and the Playoff pecking order overnight. (Vegas, never moved by emotion or fleeting disturbances in the force, still gives Alabama significantly better odds of winning the national championship than Tennessee.) It certainly matters that the hardware is still out there, in the distance, for the hypothetical taking. But what was really at stake in Neyland was not tangible at all.
Let's face it, the cliché is cliché for a reason: Sometimes, it really does just mean more. Tennessee beating Alabama in show-stopping fashion to preserve an undefeated record, in 2022, is one of those times. As you may have heard in the lead-up to the game, the Vols were 0-15 in the series vs. Nick Saban, a constantly updating number they've been constantly reminded of for the past decade. They'd lost those games by an average margin of 25.6 points, the previous 6 by at least 3 touchdowns apiece. At no point in that span did they make it as far as the Third Saturday in October undefeated, or with even a glimmer of real ambition intact. (Prior to this year's meeting, they'd only been ranked at kickoff once, in 2016.) Bama was less the Vols' great white whale than an annual reminder of their irrelevance.
But that didn't mean anyone invested in Tennessee football got any less invested – more jaded, maybe, or more depressed on weekends; never less invested — and after that many years in the wilderness the moment that everything in the preceding paragraph finally ceased to be true was always going to feel like a borderline religious experience for the faithful. (Specifically an exorcism.)
But then, when the time did come the circumstances escalated so quickly that there was barely any time to react or revise expectations. In a way, it might have been more satisfying that the catharsis arrived as abruptly as it did, with just a few weeks' notice from a team that began the season unranked and unlikely to achieve any major milestones. Without the weight of an entire offseason's worth of expectations, or several years' worth of "close but no cigar," the mood in victory wasn't just relief; it was joy.
Christ Carrying the Cross, by Hieronymus Bosch, 1490-1500 pic.twitter.com/G3wqbfsyrc

— ArtButMakeItSports (@ArtButSports) October 15, 2022
Strip this sprawling, unwieldy, ungovernable sport down to its beating heart, and that's what you'll find: Communities longing for an excuse to come together and throw the goal posts in the river. The last time Tennessee was filled with that kind of spirit the vast majority of the current roster hadn't even been born. The next time, who knows? The, uh, goal posts have moved, so to speak, both for the rest of this season (a Nov. 5 trip to Georgia carries enormous implications in the SEC East and nationally) and going forward under the suddenly revered Josh Heupel. The Vols matter again. They've marked the occasion, emphatically. Now, it's time to get on with the business of making it count beyond one epic Saturday night.
Hyatt alert
Heupel was greeted as a lukewarm choice to replace Jeremy Pruitt in January 2021, as the "Old Takes Exposed" brand of journalistic score-keeping was happy to point out on Saturday night. At that point, he had just 3 years as a head coach under his belt at Central Florida, which had trended slightly down in each of his 3 seasons after inheriting an undefeated team from the Nebraska-bound Scott Frost. But the Knights were always a nightmare to defend in those years, and halfway through Year 2 at Tennessee, it's safe to say Heupel's up-tempo, vertically-oriented vision has translated to the SEC more successfully than anyone imagined.
The Vols woke up on Saturday ranked No. 1 nationally in total offense and No. 2 in scoring, and went to bed occupying the same positions after doing to Alabama more or less exactly what Heupel's old UCF offenses used to do to, say, South Florida. Bama isn't the week-in, week-out defensive juggernaut it used to be, but it certainly doesn't make a habit of getting reduced to ashes in wall-to-wall shootouts, either. Tennessee averaged more yards per play against the Tide (8.1) than any opposing offense since a Johnny Manziel-led Texas A&M attack in 2013, and scored more points than any opposing offense in more than 100 years.
That begins and ends with QB Hendon Hooker, who cemented his status as Tennessee's answer to Joe Burrow by shredding the Tide for 385 yards and 5 touchdowns on an eye-opening 12.8 yards per attempt. (I'll elaborate on the Hooker/Burrow comparison in this week's edition of the SEC QB Power Rankings.) But his receivers as a group continue to make their case as the SEC's best, even in the absence of the ostensible headliner, Cedric Tillman. Tillman sat out his 4th consecutive game due to an ankle injury, and for the 4th consecutive game, he was not missed. In the Vols' wins over Florida and LSU, much of his production on the outside was replaced by USC transfer Bru McCoy, who went over 100 yards receiving in both games. Against Bama, however, a star was born in junior slot receiver Jalin Hyatt.
The Hendon Hooker ➡️ Jalin Hyatt connection was simply unstoppable for @Vol_Football against Alabama. pic.twitter.com/ySuNIZARHs

— CBS Sports (@CBSSports) October 16, 2022
Hyatt was no secret to Tennessee fans; he opened the day as the team's leader (narrowly) in receptions, yards and touchdowns. But his 207-yard, 5-TD turn against the Crimson Tide was a career-making performance that will resonate throughout the rest of the season. Locally, 5 touchdowns in a landmark win over Alabama is the kind of stuff that gets expensive sandwiches named after you, at a minimum, if not entire streets. It gets NFL scouts' attention, too. Only one other player has accounted for more receiving yards against a Saban-era Alabama defense: Texas A&M's Mike Evans, who had 279 yards in 2013 but scored just once. A relative obscurity a month ago, Hyatt currently leads the SEC in receiving yards and leads the nation in receiving TDs, with 10 — 7 of them covering 30+ yards.
The really frightening part for the rest of the conference is that, as productive as they've been, we've still yet to all of the Vols' wideouts in sync at the same time. Assuming Tillman is on track to return for the second half of the season, the combination of Tillman and McCoy on the outside, Hyatt in the slot, and vertical threat Ramel Keyton off the bench is up there with any rotation in America this side of Ohio State's. And with Hooker pulling the trigger, even that caveat may not last for much longer.
Florida: 3rd-and-wrong
LSU 45, Florida 35. If it hadn't already, Florida's 3rd-down defense crossed the line on Saturday from "nagging issue" to "full-blown debacle." The Gators rank dead last nationally in getting opposing offenses off the field this season — 131st out of 131 teams — after allowing LSU's struggling offense to convert 8-of-12 3rd-down attempts on a high-scoring and highly frustrating night in The Swamp. That's the 5th time in 6 games vs. FBS opponents they've come in below 50% on 3rd-down stops.
Worse: All 8 conversions ultimately led to LSU points, and most of them came on 3rd-and-long situations that typically favor the defense. (Well, a typical defense, anyway.)
The Tigers scored on 7 of their 8 offensive possessions, including touchdowns on each of the first 6; all but one of those drives involved at least one conversion on 3rd-and-6 or longer. In fact, even on the rare occasions when the Tigers didn't gain enough to move the chains on 3rd down, they still put themselves in good position to convert on 4th-and-short: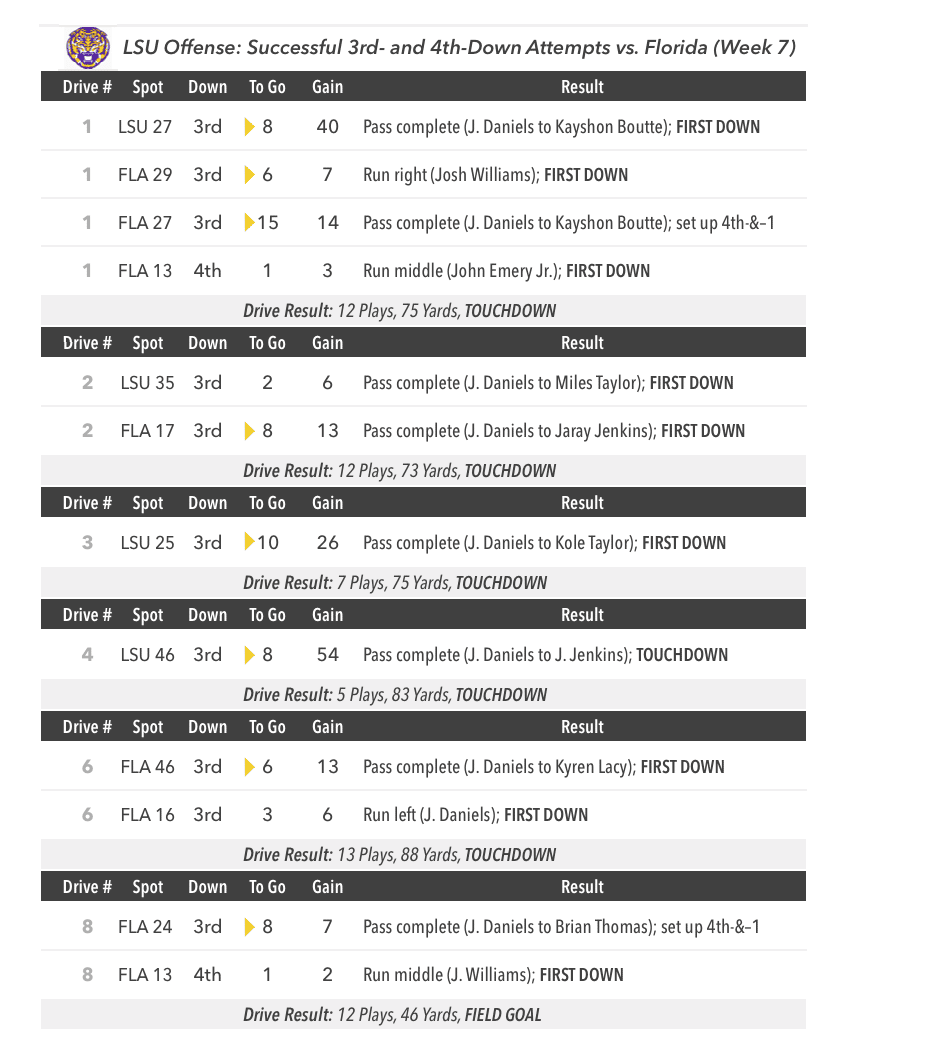 Altogether, Jayden Daniels was 8-of-9 passing on 3rd down for 173 yards — only part of his sensational overall output (349 yards passing, 44 yards rushing, 6 total TDs), but a crucial one, given that the rest of that stat line would not have been possible if the offense couldn't stay on the field.
The offenses were locked in a tit-for-tat shootout for most of the first half, until LSU's defense managed a series of stops in the second and third quarters; with Daniels' success on high-leverage downs, that was all the space he needed to turn a 21-21 deadlock into a 42-21 Tiger lead by the start of the fourth.
As for Florida, after 4 years under the specter of "Third-and-Grantham" the Gators are getting a lesson in what chronic 3rd-down issues actually look like. Grantham's units, mediocre as they often were, never finished worse than 8th in the SEC in 3rd-down defense; the 2021 edition generated stops about 65% of the time despite struggling in most other respects. Under his successor, Patrick Toney, the D is just struggling. Florida ranks 106th in total defense and 105th in yards per play allowed, on track for one of the worst seasons in school history on both counts.
There might be a silver lining in the fact that, at his last stop, Toney's units at UL-Lafayette significantly improved in both total and scoring D in both of his seasons as coordinator in 2020-21. (He was on staff prior to that as a safeties coach, so he wasn't installing a new scheme from scratch.) That mirrored the Cajuns' overall trajectory under Billy Napier, and justified Napier's decision to keep Toney in the DC role in the transition to Gainesville despite his relative youth (32) and inexperience as a play-caller. But at this rate, justifying keeping long enough to see the fruits of any potential turnaround is a tough sell, and getting tougher by the week.
Turning point of the week
"Pass interference, defense." By ESPN's calculations, Alabama's win probability in Knoxville peaked at 89.4%, with Tennessee trailing 49-42 and facing 4th-and-5 from the Bama 28-yard line with just under 5 minutes to play. (It was 4th-and-inches, but the Vols blew their shot at an easy conversion by false starting on the previous snap.)
Hooker, clearly in trouble on 4th down before he could even set his feet, was flushed to his left by Alabama's Byron Young, forcing an awkward, across-the-body prayer toward the front corner of the end zone that had no business hitting its mark. It didn't: Instead, it was tipped by Bama's Malachi Moore into the waiting hands of teammate Kool-Aid McKinstry, who, for approximately 15 seconds in real time, looked for all the world to have a game-icing, season-saving interception in his grasp and the opposite end zone in his sights … right up until moment the little yellow flag icon popped onto the screen and altered the course of the season.
It's not long, but the gap between Brad Nessler roaring "HE MIGHT TAKE THIS THING ALL THE WAY!!" and Gary Danielson offering "I think they might call pass interference on this play" felt like it was unfolding in slow motion live, and in retrospect, it's a glimpse into an alternate timeline: One where Alabama survives, the losing streak endures, and Tennessee's ecstasy is replaced by yet another, even crueler-than-usual round of agony.
Hardware could have changed hands, history been rewritten, and legacies made and unmade in that gap.
McKinstry's return covered 82 heart-stopping yards; instead of a first down inside the UT 20-yard line with a lead already in their pocket, the Tide were forced to send their defense back onto the field to give up what by that point everyone and their mother knew was an inevitable touchdown to tie the game. It took one play to erase the idea it might have gone the other way.
For the record, Alabama had no real case on the flag against Moore, for two reasons. One, it was a defensible call on the merits; and two, Bama had already benefited itself from a dubious pass interference penalty that extended an eventual touchdown drive in the third quarter. It could have come out a little sooner, but if it hadn't come out at all Tennessee fans would have much more valid complaints.
Superlatives
The week's best individual performances.
1. Tennessee QB Hendon Hooker and WR Jalin Hyatt. They're not going to start hooking up for 200 yards and 5 TDs in every game, but the fact they're capable of doing it in any given game is enough to make opposing DCs break out in a cold sweat.
2. Alabama QB Bryce Young. The final score didn't go his way, but Young was as good as ever in Knoxville, almost singlehandedly keeping Bama in a full-blown shootout in his first game back from a shoulder sprain. On paper, he finished 33-for-52 for 455 yards and 2 TDs; in the process, he was also hit early and often, absorbing the worst beating of his young career. Still, he kept getting up and kept answering the call,
3. LSU QB Jayden Daniels and Arkansas QB KJ Jefferson. Daniels and Jefferson have both struggled lately with injuries and inconsistency, but both looked like the best versions of themselves in solid road wins over Florida and BYU, respectively. Daniels turned in easily his best game to date in an LSU uniform, finishing 23-for-32 for 349 yards and 6 total touchdowns (3 passing, 3 rushing) in a hyper-efficient turn against the Gators, one LSU fans hope is a sign of better things to come. Meanwhile, a couple of time zones away, Jefferson returned from a concussion that sidelined him in Week 6 to throw for 367 yards and a career-high 5 touchdowns in a 52-35 win at BYU, while continuing to be much too large for any solo tackler to handle.
Built different. pic.twitter.com/YGRZT0Fflc

— Arkansas Razorback Football (@RazorbackFB) October 15, 2022
4. The running backs. Too many backs went off this weekend to single out just one or two, so we're taking the unusual step (unprecedented, as far as I can recall) of splitting the No. 4 slot 6 ways:
• Alabama RB Jahmyr Gibbs accounted for 203 all-purpose yards (103 rushing, 48 receiving, 52 on returns) and 3 rushing touchdowns against Tennessee, frequently making Vol defenders look foolish in the process. He forced "only" 6 missed tackles, per Pro Football Focus, presumably because on the rest the would-be tackler never actually laid a hand on him.
• Kentucky RB Chris Rodriguez Jr. delivered a vintage Chris Rodriguez performance against Mississippi State, his first of the season, carrying 30 times for 196 yards and 2 touchdowns in a much-needed, 27-17 win in Lexington. PFF credited him with an SEC-best 11 missed tackles forced.
• Ole Mss RBs Quinshon Judkins and Zach Evans combined for 275 rushing yards and 3 TDs against Auburn, leading the way on an incredible 448-yard rushing day for the Rebels as a team. (QB Jaxson Dart added another 118 on the ground to go with 3 touchdown passes.) That number represented Ole Miss' best rushing output against any opponent since 1962.
• Auburn RB Tank Bigsby ripped off 179 yards on 9.0 per carry against Ole Miss in a losing effort, scoring twice on his best afternoon of the season, by far. The vast majority of that output (142 yards) came after contact, which has been the mostly depressing story of his season.
TANK BIGSBY 50 YARD RUSHING TD??

— PFF College (@PFF_College) October 15, 2022
• Arkansas RB Rocket Sanders ran for 175 yards and 2 touchdowns on just 15 carries at BYU, averaging 11.7 yards a pop. With that, he's the first SEC back this season and 1 of only 3 players nationally to go over 1,000 yards from scrimmage, joining Illinois' Chase Brown and Texas' Bijan Robinson.
5. Kentucky LB DeAndre Square. Appropriately, our only defender this week comes from the only game where the defenses actually showed up. Square intercepted a pass and was credited with 11 tackles in the Wildcats' win over Mississippi State, earning PFF's top overall grade among SEC defenders for the weekend in the process. Not quite as high an honor this week as most, but still.
Honorable Mention: Arkansas WR Matt Landers, who had 8 catches for 99 yards and 3 of KJ Jefferson's 5 TDs in the Razobacks' win at BYU. … LSU WR Kayshon Boutte, who broke out of his early-season slump against Florida with 6 catches for 115 yards. … LSU Edge BJ Ojulari, who had a typical night at the office with 7 QB pressures against the Gators. … Florida Edge Brenton Cox Jr., who had 6 QB pressures and a sack in a losing effort against LSU. … Georgia QB Stetson Bennett IV, who finished 24-for-30 for 289 yards and 2 TDs in a routine, 55-0 romp over Vanderbilt. … Tennessee LB Jeremy Banks, who had 6 tackles, 5 QB hurries, and more hits on Bryce Young than any other Vols defender. … And Tennessee kicker Chase McGrath, whose wobbly, ugly duckling of a game-winner belongs on a mural in the state capitol.
– – –
The scoring system for players honored in Superlatives awards 8 points for the week's top player, 6 for 2nd, 5 for 3rd, 4 for 4th, 3 for 5th, and 1 for honorable mention, because how honorable is it really if it doesn't come with any points? Standings are updated weekly with the top 10 players for the season to date.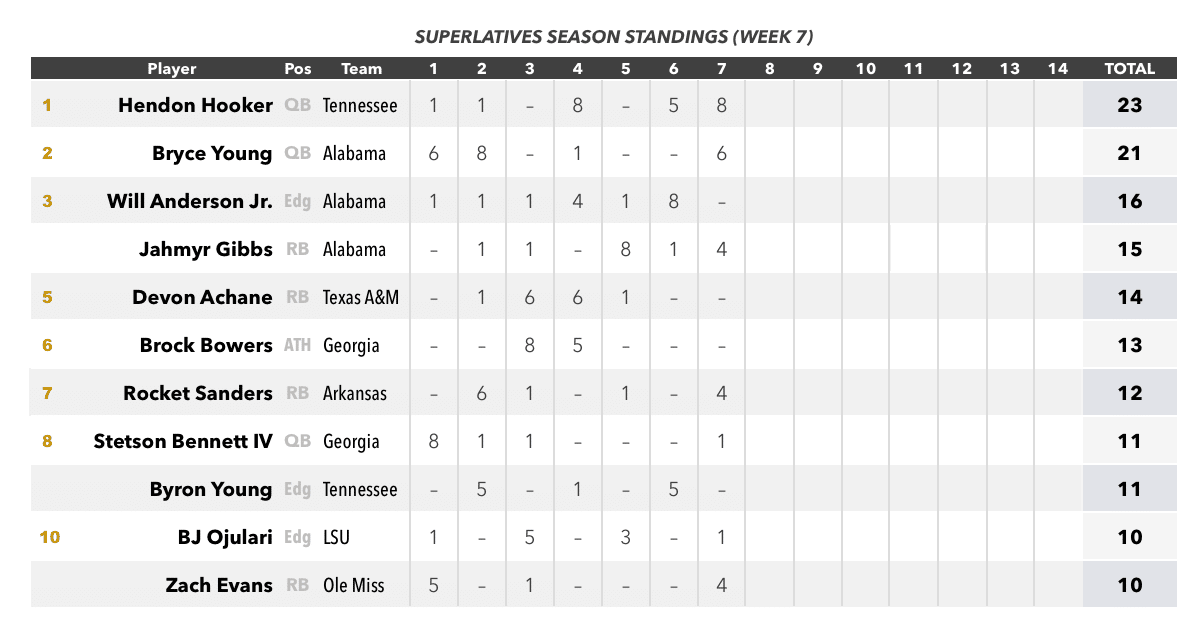 Moment of Zen of the week
Tashawn Manning ??pic.twitter.com/zSpPoieAUd

— Cats Coverage (@Cats_Coverage) October 16, 2022