SEC
SEC QB Power Rankings, Week 7: Will Rogers is the ultimate Mike Leach quarterback
Quarterbacks: There are a lot of them! Each week throughout the season, we'll help you keep the game's most important position in perspective by ranking the SEC starters 1-14 according to highly scientific processes and/or pure gut-level instinct. Previously: Week 1 … Week 2. … Week 3. … Week 4. … Week 5. … Week 6.
1. Bryce Young, Alabama
– – –
Jalen Milroe "played with a lot of anxiety" in the Tide's dramatic, 24-20 win over Texas A&M — Nick Saban's words, not mine — which also works as a description of Bama fans' experience watching him. Milroe did make enough plays to win in his first career start, throwing 3 touchdown passes and adding another 83 yards as a runner. At the same time, he was also responsible for 3 turnovers, 2 of which (a pair of fumbles as a result of strip sacks in the first half) led directly to A&M's only touchdowns. Looking ahead to this weekend's blockbuster trip to Tennessee, the prevailing feeling is anxiety for the reigning Heisman winner's return.
On that front, TBD. Saban was noncommittal about Young's status on Monday, describing the situation as unpredictable and telling reporters "we'll see as the week progresses." The vibes on the ground are trending optimistic, but if there's any question about the potential for re-injury to Young's throwing shoulder the stakes are too high to rush him back — both for Young, whose long-term priority is maximizing his position in next year's draft, and for the team, which needs its star QB healthy for the stretch run more than it needs him for a mid-October date against a non-division rival.
If necessary, Alabama can afford to bet that it's good enough to win with Milroe, or to salvage a Playoff run despite a loss in difficult circumstances. Of course, we'd much rather watch Young play. Tennessee fans should, too, if only so they don't have to endure "yeah, but …" excuses the rest of the year if they pull it off. But as big as the game feels in the moment, it's not the end of the world if he doesn't.
(Last week: 1⬌)
2. Hendon Hooker, Tennessee
For Hooker, on the other hand, everything is riding on his performance against Bama: The end of Tennessee's ritual humiliation in the series, a real shot at the Heisman, a sustained Playoff run, possibly even a serious reassessment of his stock at the next level. Most important of all: The opportunity to seize the top spot in the weekly power rankings for the first time. It's obvious by now he's in the midst of a special season. The first step onto the bridge between special and historic is beating the Tide.
– – –
(Last week: 2⬌)
3. Stetson Bennett IV, Georgia
There was a point about halfway through Bennett's improbable, 64-yard touchdown run against Auburn when you could see him start looking around and thinking "wow, I can't believe this is happening, either."
STETSON BENNETT 64 YARD RUSHING TOUCHDOWN!!

— PFF College (@PFF_College) October 8, 2022
Bennett has always had "buy time in the pocket" mobility, with "sprint out of bounds a yard past the first down" capacity as a scrambler. Earlier this year he juked a South Carolina defender out of his cleats en route to the end zone on a zone-read keeper. But open-field, "part the Red Sea from the opposite side of the 50" speed was not on the list. I guess it is now?
– – –
(Last week: 3⬌)
4. Will Rogers, Mississippi State
Rogers was in firm command in the Bulldogs' 40-17 win over Arkansas, finishing 31/48 for 395 yards and 3 TDs without a sack or interception. He also passed the first of what are sure to be many career milestones: 946 completions, a new SEC record that he's only going to continue to feed over the remainder of this season and — barring an early exit for the draft — at least one more in 2023. (He'll be eligible for a 5th year in 2024, as well, via the free COVID year.) Rogers needed just 28 games to break the old mark, set by Georgia's Aaron Murray over 52 games from 2010-13. At that rate, he's on pace to break the FBS record of 1,546 completions, currently held by Houston's Case Keenum, sometime around the end of next season. Oh, and he's also on track to set the record for career completion percentage, where he currently sits at an outrageous 72.2 percent.
But then, hey: He plays for Mike Leach, whose quarterbacks have been filling the record books for 20 years while rarely moving the needle in most other respects. Three of the top 6 QBs in career completions (Luke Falk, Graham Harrell and Kliff Kingsbury) were Leach products, too, as were 12 of the top 16 on the single-season list. In that vein, it's tempting to dismiss Rogers' success as standard-issue Air Raid filler.
More than a third of his completions have come behind the line of scrimmage, per PFF, reflecting a system that reads as high-flying on paper but in reality blurs the line between run and pass with its endless repetition of short, safe throws that effectively function as handoffs. Like pretty much every Leach QB ever, he's relatively limited athletically, no threat whatsoever as a runner, and a marginal pro prospect.
Still, as "system" quarterbacks go, Rogers is arguably as comfortable in his third year in Leach's system as any quarterback in America. And as Leach quarterbacks go, he belongs in the discussion with the best of the bunch.
Collectively, Leach's starting QBs over the years have been a remarkably consistent group across the board, physically and statistically, to the extent that if you took the names off the back of the jerseys and shaved Gardner Minshew's mustache you could easily mistake them all for the same guy. (In fact, Minshew and Rogers both came out of the same high school.) Within that narrow range, though, Rogers easily falls on the more efficient end of the spectrum…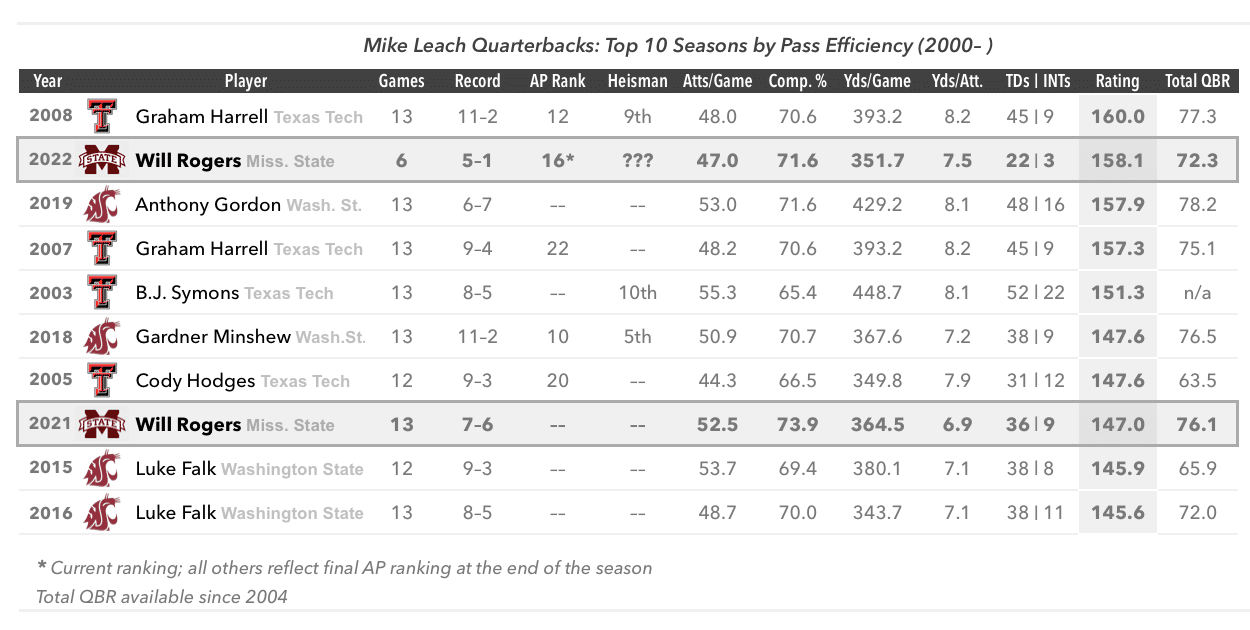 … and at 21 he's only going to keep getting better. It's probably wise to hold off the Heisman buzz for a couple more weeks, at least, until Rogers gets his chance to sink or swim in the Bulldogs' Oct. 22 trip to Alabama, which held him to a miserable performance — 3 interceptions, zero touchdowns — last year in Starkville. Georgia looms a few weeks later, on Nov. 12, followed by the Egg Bowl on Thanksgiving.
Odds are good that the next week or two (depending on how it goes this weekend at Kentucky) will turn out to be the high-water mark for Rogers' stock this season. But when Mississippi State hired Leach, what Rogers is doing right now is exactly what they had in mind. This is the vision. When it's all said and done, his name is going to be on the shortlist of the best quarterbacks in school history for a long time.
– – –
(Last week: 5⬆)
5. KJ Jefferson, Arkansas
Jefferson sat out the Razorbacks' loss at Mississippi State after suffering an apparent concussion in Week 5, leaving backups Cade Fortin and Malik Hornsby to turn in a wildly uneven performance in his absence. On the plus side, Hornsby accounted for 345 total yards (234 passing, 114 rushing), generating multiple explosive plays by ground and air after replacing a struggling Fortin in the first quarter. The routine plays, on the other hand, eluded him: Hornsby was just 8/17 passing with 2 INTs. Arkansas came up empty on 4 of its 5 trips inside the MSU 40-yard line, 2 of which ended inside the 10.
Jefferson is back in the fold this week for a very strange midseason trip to BYU, an urgent one for the Hogs on the heels of a three-game losing streak. As long as he's himself, a 9- or 10-win season is still possible against a manageable second-half schedule. But that top-10 ranking in September is receding into the distance in a hurry.
– – –
(Last week: 4⬇)
6. Will Levis, Kentucky
Levis' stock arguably rose more in his absence against South Carolina than in any game he's actually played over the past 2 years. With Levis ruled out due to a foot injury, the offense largely ground to a halt behind redshirt freshman backup Kaiya Sheron, managing just 2 touchdowns and 299 total yards against a Carolina defense that gave up 40+ points in each of its first 2 SEC games. Considering a significant chunk of that output came on a 16-play, 75-yard TD slog in garbage time, it was worse than the numbers implied.
Sheron, who'd never taken a college snap before Saturday night, was sacked 6 times, picked once (albeit on his final attempt with the game already out of reach), and turned in the weekend's worst QBR score among SEC starters.
This week, Levis is still in the day-to-day zone, per Mark Stoops, leaving his availability against Mississippi State in some doubt. Based on the point spread, which currently lists the Wildcats as 7-point home underdogs vs. an annual rival that hasn't won in Lexington since 2014, Vegas is not optimistic. If he can't go against the Bulldogs, with an Oct. 29 trip to Tennessee on deck, Kentucky could be staring down the prospect of an 0-4 October and a once-promising season going down the tubes.
– – –
(Last week: 6⬌)
7. Jaxson Dart, Ole Miss
Ole Miss' 52-28 win over Vanderbilt was Dart's most prolific outing of the season, by far: 25/32 for 448 yards and 3 TDs, all covering 60+ yards. After falling behind 13-3 in the first half — partly as a result of a Dart INT that set up a Vandy field goal — the offense ignited, scoring touchdowns on 7 of its last 8 possessions.
Wow, that escalated quickly.@JaxsonDart ➡️ @ogmingo1k
? https://t.co/Rym42sXetF pic.twitter.com/qNdODWLIez

— Ole Miss Football (@OleMissFB) October 8, 2022
In vintage Lane Kiffin fashion, the Rebels kept their foot firmly on the pedal to the end: They converted a 4th down to extend a late, meaningless drive, and capped the same drive by punching in a gratuitous touchdown with 18 seconds to play … thereby pushing the final margin to 24 points, and covering the 17-point spread in the process. Kiffin reportedly apologized to Vandy coach Clark Lea, explaining he wanted freshman walk-on Matt Jones to score as a reward for his work ethic and effort on special teams. Great. Many degenerate gamblers reaped much more tangible rewards.
– – –
(Last week: 8⬆)
8. Jayden Daniels, LSU
Daniels falls squarely in the middle of the pack among SEC starters in most respects, but he does lead the conference in 2 revealing categories: Sacks and scrambles. One way or another, the ball has failed to leave his hands on nearly 25% of his 234 dropbacks, easily the highest percentage in the league.
– – –
(Last week: 7⬇)
9. Anthony Richardson, Florida
No active college quarterback benefits more from play-action than Richardson, who is averaging an astounding 8.1 yards more per attempt on play-action passes (13.4 ypa) than on straight dropbacks (5.3), per PFF — the widest gap among FBS starters. Four of Richardson's 5 touchdowns have come on play-action passes, despite the fact that they make up just 37% of his overall attempts.
– – –
(Last week: 9⬌)
10. Spencer Rattler, South Carolina
Rattler earned his first SEC win as a Gamecock at Kentucky despite a fairly pedestrian stat line (14/19, 177 yards, 1 TD/1 INT), and that's without accounting for the fact that the lone touchdown pass came on a 42-yard screen pass to Antwane Wells Jr. consisting entirely of YAC. Carolina is off this week, which on a Saturday where several of the QBs ranked just above him are going head-to-head is actually a great opportunity for him to climb back into the single digits in the rankings for the first time since Week 3.
– – –
(Last week: 10⬌)
11. Haynes King, Texas A&M
King spent most of his night at Alabama treading water, averaging just 5.5 yards per attempt for the game while the A&M defense did the dirty work to keep the score within reach. He was constantly harassed, facing pressure on 25 of his 51 dropbacks, per PFF, and limped through much of the fourth quarter on a visibly gimpy ankle. His lone interception was costly, setting up what proved to be a crucial Bama field goal just before halftime. Situationally, though, King did make plays, completing 4 passes of 20+ yards, as well as a key 3rd-and-10 conversion on the closing drive that set up the excruciating red-zone sequence in the final seconds. He gave the Aggies a chance.
WATCH: An emotional Haynes King leaving the field after the Aggies narrow loss to #1 Alabama 24-20. He'll want the INT right before half back, but man the QB hung tough all night. Sacked three times, King battled and threw for over 250 yards and 2 TDs. #GigEm pic.twitter.com/zS9PbvoqmQ

— Justin Woodard (@KAGS_Justin) October 9, 2022
With Max Johnson on the shelf indefinitely, it's King's offense again until further notice. If he settles into the job and turns a corner in the next few weeks, that could mean through the end of the season, and potentially beyond. If not, it could mean a quick hook once it's safe to promote 5-star freshman Conner Weigman without burning his redshirt. The rankings like King more after his effort in Tuscaloosa than we did before, but we're still betting on the latter.
– – –
(Last week: 13⬆)
12. Brady Cook, Missouri
Cook has been broadly competent in the starting role, but when it has gone wrong it has gone very wrong. In 5 games against FBS opponents he's thrown just 2 touchdowns vs. 6 interceptions, including a couple of costly picks in Saturday's 24-17 loss at Florida: The first, a pick-6, put the Tigers in an early 10-0 hole; the second, coming at the end of a 12-play, 59-yard drive in the third quarter, cost them a scoring opportunity in the red zone. Both INTs were key swing plays in the eventual defeat, Missouri's third in as many weeks by single digits despite another solid effort by the defense.
Mizzou has an open date this week, which for any struggling QB is an invitation for speculation about his status going forward. Under the circumstances, Cook is an unlikely candidate for the bench: The top backup, 7th-year transfer Jack Abraham, was a disaster in his only meaningful appearance this season, serving up 2 interceptions in 3 attempts against Kansas State, and neither of the scholarship freshmen behind him has seen the field.
But circumstances change. Eli Drinkwitz made no secret about his offseason efforts to upgrade the position via the portal, and while Cook may be safe for now he hasn't given Drinkwitz any reason to put off resuming the search for a veteran replacement this winter. Such is the state of the position in 2022: Even when you're QB1, you never really stop auditioning.
– – –
(Last week: 11⬇)
13. Robby Ashford, Auburn
The bar for a young QB making his first career road start at Georgia is not high, and Ashford did not clear it, averaging just 4.3 yards per attempt on 13/38 passing in a 42-10 blowout. Take away the one big play, a routine, garbage-time checkdown to RB Jarquez Hunter that Hunter managed to break for a  62-yard touchdown against UGA's backup defense, and the picture gets even grimmer. Ashford has some dual-threat potential, but unless he fulfills it all at once over the next month or so it's not going to happen under the current coaching staff.
– – –
(Last week: 12⬇)
14. AJ Swann, Vanderbilt
So far, Swann is still the only true freshman QB nationally holding down a starting role for a Power 5 team, good enough to get his name on what may be the first midseason true freshman All-America team via on3.com. Given the, uh, unpredictable shelf life of Vandy quarterbacks, it might be the only distinction he ever earns. But let the record show he did earn it.
– – –
(Last week: 14⬌)