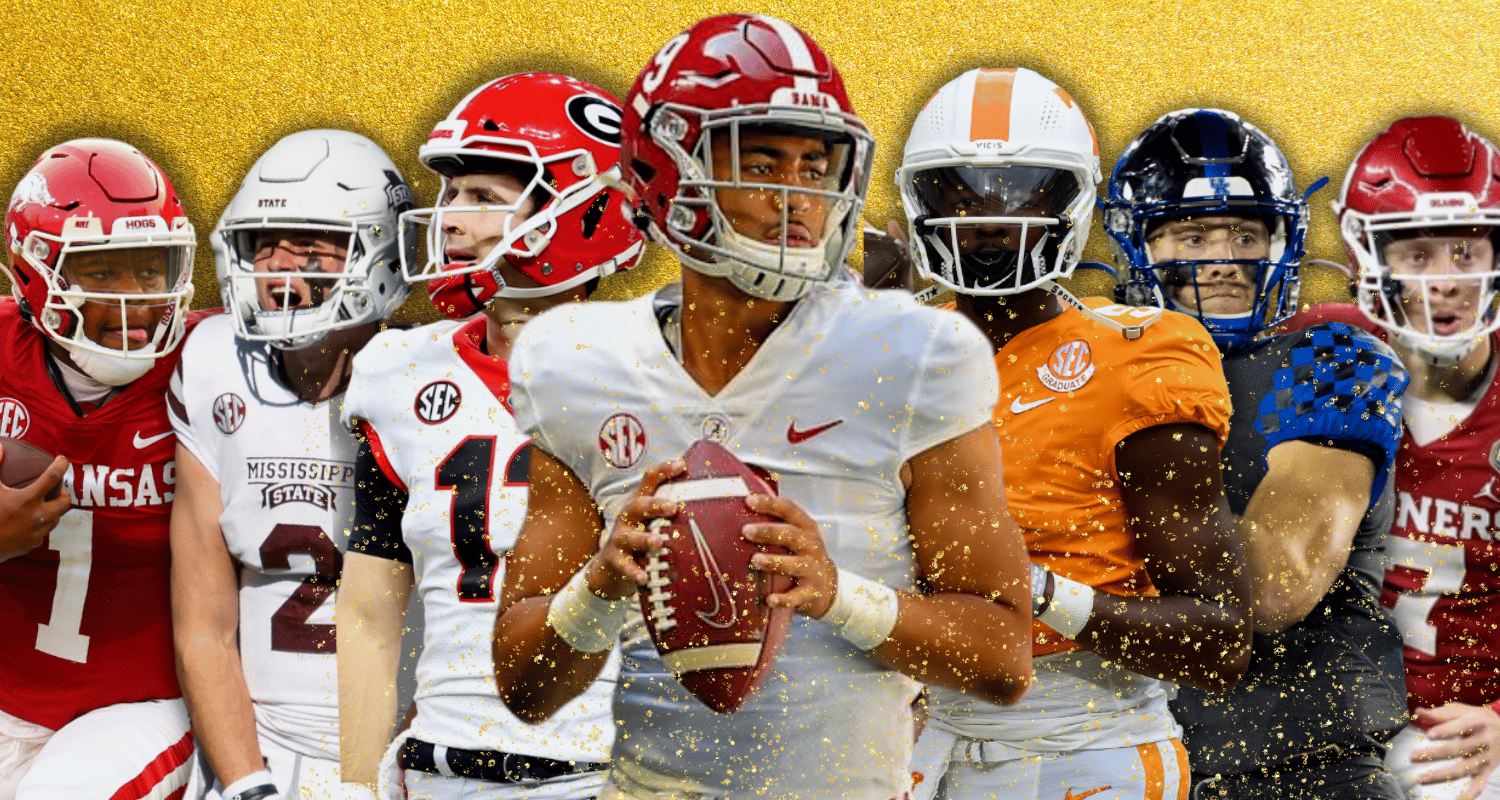 SEC
SEC QB Rankings, Week 1: Will Levis won the offseason hype. Can he deliver?
Quarterbacks: There are a lot of them! Each week throughout the season, we'll help you keep the game's most important position in perspective by ranking the SEC starters 1-14 according to highly scientific processes and/or pure gut-level instinct.
– – –
1. Bryce Young, Alabama
Obviously. Young was as advertised in his 1st year as a starter, which when you consider he was advertised as the most gifted Bama quarterback of the Nick Saban era pretty much says it all. What's left for him to show that we haven't seen already?
He set school records for yards and touchdowns. He accounted for a higher share of Alabama's total offense (66.5 percent) than Mac Jones, Tua Tagovailoa or Jalen Hurts in any of the previous 6 seasons. He tied for the top grade among all FBS quarterbacks per Pro Football Focus. He laid waste to arguably the most talented and respected college defense of the past 25 years. He won the dang Heisman. He was dynamic, efficient, consistent, all the adjectives. He was smooth — so smooth he sometimes made it all look a lot more routine than it was. If he'd been eligible, he almost certainly would have been the 1st QB drafted in spite of his size.
BRYCE YOUNG WITH A ROCKET ?#CFB

— PFF College (@PFF_College) November 20, 2021
Stature aside, the question marks in 2022 have less to do with Young than with his surrounding cast. The offense really achieved orbit last year with the midseason emergence of WR Jameson Williams as the nation's premiere deep threat, and it hardly seemed like a coincidence that it stalled out in Williams' absence against Auburn (due to an ejection for targeting) and Georgia in the CFP Championship Game (due to a torn ACL in the 1st half). The backup receivers took a lot of the blame for failing to step up in the title game with Williams and John Metchie III both on ice, including from Saban himself, who not-so-subtly added a couple of plug-and-play transfers over the offseason in Georgia's Jermaine Burton and Louisville's Tyler Harrell. Burton and 5-star sophomore Ja'Corey Brooks were both touted recruits who have flashed in limited roles; Harrell has the kind of home-run speed that readily (maybe a little too readily) invites comparisons to Williams. None of them are proven, high-volume targets.
Of course, as preseason concerns go, that one definitely falls into the category of #BamaProblems — an issue that's only an issue with the postseason specifically in mind. Check back in December. As long as Young is upright, the Tide are contenders, and his bid for Rushmore status in Tuscaloosa is alive and well.
– – –
(Last week: n/a)
2. Spencer Rattler, South Carolina
Going out on a limb here and assuming the preseason Heisman favorite in 2021 has not forgotten how to play the position. You never know. Egos are fragile. For someone as clearly marked for success as Rattler was at Oklahoma, getting benched is a dramatic experience that can linger for years.
But as badly as it ended there — low points included the OU student section mocking Rattler by chanting his understudy's name on national TV — the reality was never really as grim as the vibes. In 2020, his 1st year as a starter, Rattler led the Big 12 in every major passing category and posted an identical PFF grade (92.5) to Young and C.J. Stroud's marks in 2021. He left Norman with 40 career touchdowns to just 12 INTs and a 15-2 record as a starter, including a 5-0 mark last year before getting sent to the bench against Texas. From there, his demotion was more about Caleb Williams' electric talent than Rattler's deficiencies.
At any rate, there's no 5-star phenom waiting in the wings in Carolina, where Rattler is locked in as the most decorated QB in the garnet and black since … well, maybe we should just go ahead and say ever. Certainly in a very long time. With all due respect to local legends Connor Shaw, Stephen Garcia and Steve Taneyhill, the Gamecocks have never had an All-SEC quarterback (1st or 2nd team) and haven't had a QB drafted in any round since 1990. Rattler is a serious candidate to break the 1st drought, and if he reverts to anywhere near his redshirt-freshman form in 2020, he's a virtual lock to snap the 2nd.
– – –
(Last week: n/a)
3. KJ Jefferson, Arkansas
Jefferson was often described as "raw" in 2021, for good reason: He was raw. Small-town product, 1st-year starter, more comfortable as a runner than thrower — a recipe for raw. At 6-3 and 242, he was more Mack truck than Mac Jones. Jefferson led Arkansas in rushing even after subtracting negative yardage on sacks, and he led the nation in average yards per carry after contact, per PFF. Meanwhile, the Razorbacks put the ball in the air fewer times per game than any other SEC offense, and a significant percentage when they did amounted to "throw it in the general vicinity of Treylon Burks."
TWO PLAYS

TWO INSANE TREYLON BURKS CATCHES

— PFF College (@PFF_College) October 9, 2021
In other ways, though, Jefferson's rep as a work in progress underestimated how far along the curve he was already. His 164.7 passer rating ranked 2nd in Arkansas history and 10th nationally. He was picked just 4 times, and only once in SEC play. His adjusted completion percentage (77.5 percent, factoring in drops and throwaways) ranked 3rd in the conference. His completion rate on throws of 20+ yards (57.5 percent) ranked 1st. (Although, again, thanks Treylon.) In his best games, shootout losses at Ole Miss and Alabama, he went blow-for-blow with Matt Corral and Young, throwing for a combined 652 yards and 6 touchdowns in 2 of the season's most memorable thrillers.
All of which is to say that if last year was just the beta test, the finished product is going to be special. Scheme-wise, Kendal Briles' vertically-oriented, RPO-heavy system is never going to ask its quarterback to execute the full range of reads and "NFL throws" scouts ideally like to see from a potential 1st-round pick, even a relatively experienced one. But when the quarterback in question has a ceiling as high as Jefferson's, exceptions can be made. Just how close he comes to hitting it is one of the season's biggest variables.
– – –
(Last week: n/a)
4. Will Levis, Kentucky
Is Levis a future 1st-rounder? The "Way Too Early" mock draft cycle certainly thinks so, widely projecting him as a top-10 pick in 2023, and in at least 1 case as a leading candidate to go No. 1 overall. I'm skeptical! But even keeping in mind the buzz this time of year tends to be driven by and for the Internet — as opposed to people with influence and insight on how NFL teams think — the more I read it, the less completely arbitrary their enthusiasm seems. Levis is big, he's mobile, he's "toolsy," in the parlance. He absorbed some NFL stuff under offensive coordinator Liam Coen, who came to UK from the L.A. Rams and went back to take over as the Rams' new OC. He presided over a 10-win season, at Kentucky, that included wins over Florida, LSU and Iowa. If you squint, there's even an echo of Joe Burrow's unlikely trajectory from Ohio State to LSU in Levis' transfer from Penn State. He looks the part. He's a plausible dude.
It blows my mind that Will Levis was wasting away in the Penn State QB room until he transferred to Kentucky & now he could be a first round pick in 2023 pic.twitter.com/ixu6MVBgKn

— Mark Stoops Burner Parody (@BBN_Commenter) June 12, 2022
Still, as a plausible franchise QB he has a ways to go. Levis came from Penn State with a reputation as more of an athlete than a polished pocket type, which broadly held up on both counts. He served up 13 interceptions, including a back-breaking pick-6 against Tennessee, and half of his 24 touchdown passes came at the expense of UL-Monroe, Chattanooga, Vanderbilt and New Mexico State. In fact, the less often Levis put the ball in the air in the Wildcats' run-first attack, the better — in 6 regular-season wins vs. Power 5 opponents, he maxed out at just 22 attempts. (RB Chris Rodriguez Jr. alone had more carries in those games than Levis had attempts.) He finished in the middle of the pack among SEC starters in pass efficiency and QBR, and in addition to losing his offensive coordinator he lost a pair of wideouts (Wan'dale Robinson and Josh Ali) who accounted for two-thirds of the team's receiving yards.
Frankly, the hype does him no favors. In most ways, Levis has already exceeded the modest expectations that met him in Lexington just by emerging as a productive, entrenched starter. If he does go on to level up into a top prospect, it won't be due to anything anybody said or wrote about him in the preseason. And if he doesn't, suddenly he becomes a disappointment and a cautionary tale — an underachiever — based mostly on wind. (Not that the next cycle will proceed with caution, regardless.) It's a tough business and hype comes with the territory. But sometimes, good enough is just good enough.
– – –
(Last week: n/a)
5. Hendon Hooker, Tennessee
The most reassuring part of Hooker's 2021 resume is what isn't there: Picks. Three interceptions on 402 dropbacks represented the best rate of any Power 5 quarterback. Factor in multiple touchdown passes in 10 of 12 games, and you have a stat line the NCAA's pass efficiency formula was specifically designed to love. Hooker's efficiency rating led the SEC and ranked 3rd nationally, coming in nearly 14 points ahead of Young's (albeit on significantly fewer attempts).
Elsewhere, the verdict was slightly less enthusiastic. Hooker landed squarely into the "good not great" range according to both PFF, where his overall grade (84.4) ranked 33rd nationally among QBs with at least 100 dropbacks, and ESPN's Total QBR, where he ranked 16th. And although he was very good at not putting the ball at risk, part of the reason for that was the ball was often never leaving his hands. Hooker was sacked 41 times, the most of any SEC quarterback; he also had the most scrambles on designed passes, with 56. Put those numbers together, and nearly 25 percent of his total dropbacks did not result in a pass attempt — far and away the highest percentage in the conference.
– – –
(Last week: n/a)
6. Stetson Bennett IV, Georgia
When it comes to the guy who finally reset the "Years Since Georgia Won a National Championship" clock to zero, I think we can dispense with the throat-clearing: Bennett is officially a good college quarterback. Arguably a very good one.
I plead guilty to being a Stetson skeptic. Although I always respected his efficiency, I doubted a former walk-on could generate enough downfield juice to win big against elite competition. I spent most of last season writing him off as a placeholder until JT Daniels was fully recovered from a minor abdominal injury, and I explicitly called for Kirby Smart to make the switch after Bennett threw 2 INTs (including a pick-6) in Georgia's loss to Alabama in the SEC title game. In hindsight, that all sounds faintly ridiculous. "Game manager" rep notwithstanding, he was everything the Dawgs needed him to be, finishing among the national leaders for the season in yards per attempt, overall passer rating and Total QBR and delivering on some legitimately big-time throws in the playoff wins over Bama and Michigan. His go-ahead 40-yard touchdown strike to Adonai Mitchell in the 4th quarter of the CFP Championship Game was exactly the kind of throw he wasn't supposed to be able to make on that stage, and it instantly rivaled Buck Belue to Lindsay Scott as the biggest pass in school history.
WHAT A CATCH ?

ADONAI MITCHELL DELIVERED FOR A 40-YARD TD! pic.twitter.com/S86FwsqP1L

— ESPN (@espn) January 11, 2022
So with that, the walk-on stigma is officially retired. In Year 6, he has earned a victory lap as the full-time starter, no looking over his shoulder, no questions asked. As far as this space is concerned, it's probably not going to get any easier balancing Bennett's success on paper with his pedestrian skill set or his enviable perch in Georgia's offense, where he's surrounded by elite talent and almost never faces a situation where he's forced to press because the defense isn't holding up its end of the bargain. But this isn't a ranking of pro potential. As long as he's holding up his end, I pledge respect.
– – –
(Last week: n/a)
7. Will Rogers, Mississippi State
Athletically, Rogers fits the overachieving template of every Mike Leach quarterback going back more than 20 years. Right on schedule, he turned in a very Leach-ian sophomore campaign — occasionally brilliant, occasionally dreadful, ultimately leveling out at just a tick or 2 above the Mendoza line. The good: A 408-yard, 3-TD outing in an upset win at Texas A&M; a near-perfect game against Kentucky; and historic comebacks against Louisiana Tech and Auburn. The not-so-good: A 3-INT flop against Alabama; a Thanksgiving no-show against Ole Miss; and a lame-duck, blowout loss vs. Texas Tech in the Independence Bowl. The average: Rogers finished 7th among SEC starters in both pass efficiency and Total QBR; Mississippi State as a team finished 7th in total offense; and the Bulldogs finished 7-6.
Like all Leach quarterbacks, Rogers doesn't project as a high-upside pro prospect, so the guy MSU fans saw last year was probably close to the guy they're going to get for the next 2. (Or conceivably 3, which could give the record books a workout.) As a junior, he's already the SEC's most seasoned returning passer, with 20 career starts and 1,029 attempts under his belt in the same high-volume system. As long as he's upright, you can go ahead and mark him down for another 4,500 yards and 35 touchdowns just by virtue of playing in an offense that puts the ball in the air 50 times per game. The key to taking another step forward is week-in, week-out consistency.
– – –
(Last week: n/a)
8. Anthony Richardson, Florida
Based strictly on his athletic traits, Richardson might be the most intriguing name on this list. He made a big splash last September in a couple of early nonconference cameos, and he looked like a star in a midseason shootout at LSU. But fleeting glimpses of his potential over the 1st half of the season were offset by injuries and inconsistency over the 2nd, and his second-banana status behind the equally mercurial Emory Jones was an ongoing source of frustration as the Gators unraveled. Richardson's only start, a blowout loss against Georgia, went badly, and he barely saw the field again over the last 5 games.
He's inexperienced, unpredictable, turnover-prone, and … and …
This throw by Anthony Richardson is just stupid good pic.twitter.com/H50FKm7Mit

— Cam Mellor (@CamMellor) September 11, 2021
… and well, yeah, he can do that. When he was on, Richardson was a big-play machine with his arm and his legs, accounting for 15 plays of 20+ yards (9 passing, 6 rushing) on 192 snaps and generally inspiring visions of a young Cam Newton. He has outlasted Jones, who moved on to Arizona State, and Dan Mullen, who recently resurfaced at ESPN. His boom-or-bust rating in a brand-new system is off the charts. At this point, all we can say for sure is that we've seen enough to know if he comes anywhere near his ceiling full-time, the hesitancy to go all-in here will wind up looking foolish.
– – –
(Last week: n/a)
9. Jayden Daniels or Garrett Nussmeier, LSU
The old man in the Tigers' QB competition, Myles Brennan, bowed out, and the rookie, Walker Howard, is bound for a redshirt. That leaves Daniels, the Arizona State transfer, and Nussmeier, the touted redshirt freshman, with Brian Kelly apparently in no hurry to clarify the situation any further ahead of Sunday's opener against Florida State.
Daniels, who was pretty highly touted himself coming out of high school, has the obvious edge in experience with 29 starts under his belt in 3 seasons at ASU. He was also actively pursued by the new coaching staff. But he never quite graduated from the "potential" phase in Tempe — what was supposed to be a breakout year in 2020 was effectively wiped out by the pandemic, and 2021 turned out to be a regression, with Daniels throwing as many interceptions (10) as touchdowns. When he announced his departure in February (reversing an earlier announcement in December that he wasn't going anywhere), his former teammates didn't exactly wish him bon voyage.
It doesn't look like Jayden Daniels ASU teammates are real pleased with his decision to enter the transfer portal. pic.twitter.com/eElvZSErkv

— George Wrighster III (@georgewrighster) February 17, 2022
(The player who posted that video? Travez Moore, a former transfer from … LSU.)
Nussmeier's resume consists of 1 eye-opening touchdown pass last November against Arkansas and not much else. He went the distance against the Razorbacks (a 16-13 loss in overtime), but he shut it down for the last 2 games to preserve his redshirt. If he wins the job, he'll be the most TBD starter in the league.
– – –
(Last week: n/a)
10. Haynes King, Texas A&M
Winning an open quarterback derby at a place like A&M is hard enough. Winning it 2 years in a row, against significantly stiffer competition the 2nd time around, is a real feather in King's cap. Last year's decision between King and the since-departed Zach Calzada wasn't much of one, with King emerging as heir apparent more or less by default. This time, Jimbo Fisher made a concerted effort to upgrade the depth chart with a veteran transfer (Max Johnson) and a 5-star freshman (Conner Weigman), and in the end he still came away feeling like the guy he settled on in 2021 is the right guy.
For now, that's still just a feeling. King clocked 1 full start last year against Kent State before his season was cut short by an ankle injury just a few plays into the Aggies' Week 2 trip to Colorado. He was not quite a blue-chip coming out of high school, and athletically he profiles as a Bo Nix type: Adequate size, plus mobility, well-rounded but not really special in any single area. (King's initial 247 scouting report offered a loftier comp: Ryan Tannehill.) Otherwise, blank slate.
So although he's starting out here behind a bunch of guys who have, you know, played, King has a good opportunity to rise quickly. Actually, maybe it's less of an opportunity than a mandate. If A&M has any chance of being as good as it wants to be, he'll have to.
– – –
(Last week: n/a)
11. Jaxson Dart, Ole Miss
Lane Kiffin isn't announcing a starter ahead of the Rebels' opener against Troy, leaving the door open for sophomore holdover Luke Altmyer. I'm sticking with Dart as the projection here for 2 reasons. One, Altmyer was underwhelming in his audition in last year's Sugar Bowl loss to Baylor, finishing with 7 sacks and 2 interceptions (one of them a pick-6). And 2, Dart, a former top-100 recruit who was one of the most sought-after QBs on the transfer market, obviously didn't relocate from USC to Mississippi to be a backup. He's a ringer.
That's not to suggest the competition isn't real, or that Altmyer doesn't have a fair shot. All reports out of Oxford indicate the 2 are really running neck-and-neck, which can be interpreted however you like. (Altmyer leveling up? Dart failing to seize the reins? Somewhere in between?) As a rule, though, when it comes to the undersized local kid vs. the aspiring pro prospect, the safe bet is generally on the talent — especially when the decision falls to a head coach known for a mercenary streak of his own. We'll see how it goes Saturday against what should be a very game Troy defense.
– – –
(Last week: n/a)
12. TJ Finley, Auburn
Finley, a former LSU transfer, endeared himself to Auburn fans last year on a couple occasions: First in September, when he prevented a riot in Jordan-Hare Stadium by coming off the bench to lead a game-winning touchdown drive against Georgia State; and again in November, when he gutted it out on a visibly bad ankle for 4 overtimes against Alabama. Otherwise, his late-season audition in place of an injured Bo Nix was a bust. The Tigers were 0-3 with Finley in the starting role, managing just 34 points in regulation against Bama, South Carolina and Houston.
Understandably, much of the fan base was banking on Texas A&M transfer Zach Calzada to seize the job instead — Calzada at least having engineered a highly improbable victory over Alabama as an Aggie, not to mention a gutsy win over Auburn a few weeks later. Instead, Bryan Harsin anointed Finley, whose 6-7, 250-pound frame can still inspire visions of big things to come. Either way, with Harsin facing zero margin for error in Year 2, expect the distinction to be strictly provisional. If Finley wobbles ahead of the October gauntlet vs. LSU, Georgia, Ole Miss and Arkansas, his time as QB1 could be short-lived.
– – –
(Last week: n/a)
13. Brady Cook, Missouri
The Brady Cook file: St. Louis native, lifelong Mizzou fan, no other FBS offers outside of Mizzou. In his lone start, a 24-22 loss to Army in last year's Armed Forces Bowl, he accounted for 293 yards, 2 TDs (1 passing, 1 rushing) and no turnovers in place of the portal-bound Connor Bazelak. He beat out 3 other candidates in preseason camp, including touted redshirt freshman Tyler Macon and journeyman transfer Jack Abraham.
On paper, all of that adds up to roughly a lateral move. Bazelak, whose game can best be described as "lukewarm," ultimately wore out his welcome over the course of 20 career starts, but he never lost his grip on the job and was never benched except due to injury. (He's currently the projected starter at Indiana.) Coach Eli Drinkwitz made no secret about his efforts to add a veteran transfer, pursuing JT Daniels in the spring and settling for Abraham over the summer. Whether Drink is really invested in Cook long-term or just defaulted to the guy who'd paid his dues, with the temperature rising in Year 3 and a front-loaded schedule it might not take very long to find out.
– – –
(Last week: n/a)
14. Mike Wright, Vanderbilt
Wright got the start in Vandy's Week 0 trip to Hawai'i and took full advantage, accounting for 309 total yards and 4 touchdowns in a 63-10 romp. If you're thinking that score says more about a depleted Hawai'i outfit still reeling from a turbulent offseason than it does about the Commodores' progress on offense, well, yeah. On the other hand, it also represented the most points Vanderbilt has hung on any opponent, in any context, since 1969. (A couple of defensive TDs contributed to the distinction, but still.) This is the same team that failed to score a touchdown in last year's opener against East Tennessee State. So however it has to be qualified, a big, fat late-night blowout in a game they were favored to win by only 9 points is a statement that the Dores have a pulse.
Mike Wright's 87 yard touchdown run against Hawaii is the second longest touchdown in Vanderbilt history!pic.twitter.com/U1YBgUg033

— that SEC podcast (@thatSECpodcast) August 28, 2022
With that, Wright has presumably secured the full-time role for the foreseeable future, i.e. through the SEC opener at Alabama on Sept. 24, at least. Between his performance and the decision to promote true freshman AJ Swann to QB2 — Swann handled all of the garbage-time work vs. Hawai'i — that leaves former starter Ken Seals looking like the odd man out.
– – –
(Last week: n/a)