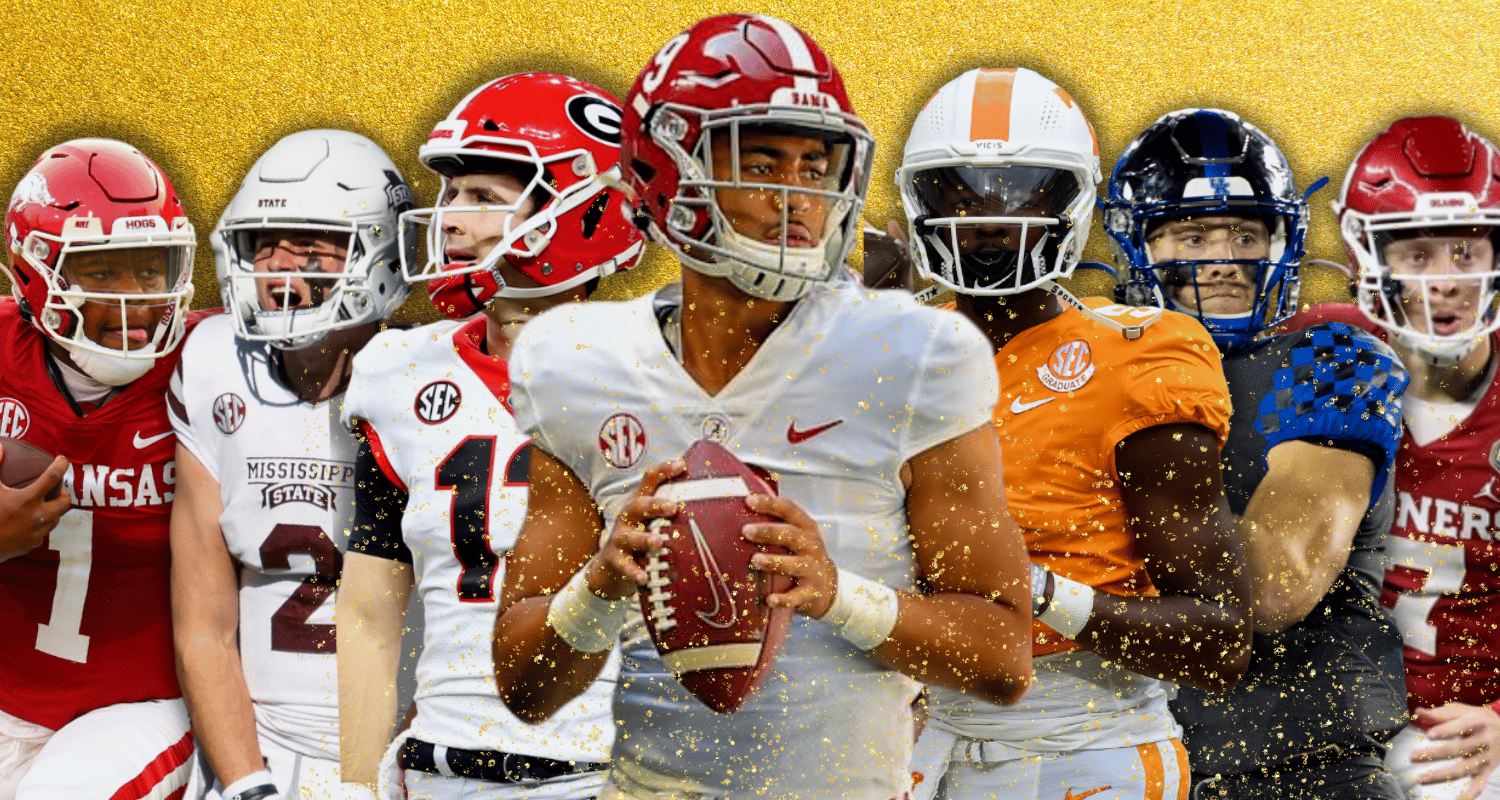 SEC
SEC QB Power Rankings, Week 2: Stetson Bennett IV is not an underdog anymore
Quarterbacks: There are a lot of them! Each week throughout the season, we'll help you keep the game's most important position in perspective by ranking the SEC starters 1-14 according to highly scientific processes and/or pure gut-level instinct. Previously: Week 1.
1. Bryce Young, Alabama
Young ran for exactly 100 yards in Bama's blowout win over Utah State, which, including negative yardage on sacks, is exactly 100 yards more than he gained across the entire 2021 season. Most of that number on Saturday came on one play, a 63-yard scramble on which he spotted a seam to his left, outran the designated QB spy to the sideline, and instead of cruising out of bounds turned the corner to find no other defenders within 40 yards — his first foray into the open field in a Bama uniform. But he also had two other scrambles, covering 18 and 22 yards, respectively, that exceeded his longest gain on the ground last year (16 yards), as well as a 4-yard touchdown run.
Not that it's news to anyone that a guy anointed as the next Russell Wilson has wheels. With his breakaway potential confirmed, though, the question going forward is whether Young's production in the opener was an outlier or a sign that he is embracing the full scope of his dual-threat skill set. Obviously, he doesn't have to run to operate the offense at maximum efficiency, and the fact that he remains a nonentity in the designed run game is a sign that his coaches would probably prefer it if he didn't. At (officially) 194 pounds, every time he exposes himself to an unnecessary hit, he's putting his and his team's entire season at risk. On the other hand, reinforcing to opposing defenses that they have to account for the QB's mobility on every play is just one more edge for the Tide to exploit. Defending Young was already every DC's worst nightmare; giving him a green light to run just makes it that much worse.
– – –
(Last week: 1⬌)
2. Stetson Bennett IV, Georgia
When the NCAA waived the eligibility clock for the 2020 season, most of the intrigue focused on how the backlog of veterans opting to hang around for a 5th or 6th year would affect roster management. There was less thought to what the extra year would mean for player development. After all, the vast majority of players who move the needle never make it to the post-graduate phase of their careers before they go pro anyway, and the vast majority of players who do are probably not about to tap into some renewable well of talent in Year 5 or 6. Real life is not like Dynasty mode in a video game where the ratings are always going up.
Except in Bennett's case … I dunno, maybe it is? The guy just keeps getting better. Against Oregon, he was in full command, leading 6 touchdown drives on 6 possessions while attempting nearly twice as many passes (31) as team runs (16). His 25 completions were spread among 8 receivers. He was 4/4 on 3rd-down conversions, 6/8 on attempts of 10+ yards downfield, and set career highs for passing yards (368), Total QBR (97.3), and overall PFF grade (90.3) vs. a Power 5 opponent. And not one from the Vanderbilt tier, either: The Ducks opened the season ranked 11th in the AP poll and 7th in 247Sport'' Team Talent Composite, better than any other team on Georgia's regular-season schedule on both counts.
Stetson Bennett wasn't going down without a touchdown ? pic.twitter.com/xfo5TJVC11

— ESPN (@espn) September 3, 2022
So, sure, let's go ahead and acknowledge there's more talent there than most of us have been willing to give Bennett credit for. But maybe being a 24-year-old "super senior" in your 6th year on campus is a bigger advantage than most of us anticipated, too. (Even if one of those years was spent in junior college.) The biggest beneficiary of the free COVID year last season was Pitt's Kenny Pickett, who under normal circumstances would have left school after the 2020 season to become a late-round draft pick destined to languish in obscurity on an NFL practice squad, at best. Instead, he got to come back and go out as a Heisman finalist with a long, lucrative career ahead of him.
Bennett's not going to follow Pickett as a first-round pick, but he does have a shot at making a similar leap in his final season. On the normal timeline, he'd be practice-squad fodder right now, or in law school. Instead, with Saturday's performance extending the momentum of last year's Playoff triumphs over Michigan and Alabama, he's a burgeoning Heisman candidate. I'm imagining a bunch of ex-ballers out there who felt like they were only just reaching their potential as regular old seniors watching him and thinking, "if only I'd had one more year…" But Bennett actually got it, and by all appearances, he's going to take full advantage.
– – –
(Last week: 6⬆)
3. KJ Jefferson, Arkansas
The rankings were on the KJ bandwagon before the Razorbacks' 31-24 win over Cincinnati and nothing has changed. Jefferson threw for 223 yards, added another 62 rushing (including negative yardage on sacks), and had a hand in all 4 Arkansas touchdowns. Just as importantly, he also turned in his 10th interception-free outing in his past 12 starts.
Fumbles, however, are another story: With three against the Bearcats, including one lost, Jefferson has coughed it up 10 times the past two years.
– – –
(Last week: 3⬌)
4. Anthony Richardson, Florida
The sheer visceral spectacle of watching a 6-4, 232-pound specimen coming into his own doesn't necessarily translate to the box score, and on paper, predictably, Richardson's performance in Florida's 29-26 win over Utah doesn't quite measure up to the live experience. His passing line (17/24, 168 yards, 0 TDs, 0 INTs) was downright pedestrian, and his output as a runner (11 carries for 106 yards, 3 TDs) is only one of several impressive rushing lines on this list. No, the real appeal of Richardson's game, and the real reason he's this week's biggest riser, is not in the numbers. It's in the sound the fever-pitch crowd in The Swamp made on his jumping, spinning, jaw-dropping 2-point conversion immediately after Florida regained the lead early in the fourth quarter:
What a fake by #Gators QB Anthony Richardson on this two-point play. @GVOaant pic.twitter.com/Ceiz2lXPpE

— Zach Abolverdi (@ZachAbolverdi) September 4, 2022
Besides being an absurd athletic feat, his escape on that play was also crucial to the eventual win: The 2-pointer pushed Florida's lead to 3, 22-19, which ultimately led to Utah's offense playing for a game-winning touchdown in the closing seconds — and throwing the game-clinching interception in the end zone instead — rather than lining up for an easy, walk-off field goal to win if the deficit had been just 1 or 2. But who was doing the math in that split-second he was hanging in the air, inventing a completely new way to make something out of nothing on pure instinct alone? With the special ones, you know it when you see it. And as far as Richardson still has to go as a pocket passer and every-down decision-maker, the more we see the more obvious it is that he's got it in abundance.
– – –
(Last week: 8⬆)
5. Hendon Hooker, Tennessee
The jury's out on whether Hooker, the league's only other "super senior" starter other than Stetson Bennett, is due for a 6th-year surge himself. Hooker has played about 500 more career snaps than Bennett, which would seem to limit how much room he has left to grow; on the other hand, most of those snaps were at Virginia Tech, leaving open the possibility of a big move in his second year in Josh Heupel's system. So far, so good: He accounted for 4 touchdowns in Tennessee's 59-10 romp over Ball State (2 passing, 2 rushing), all in the first half. This weekend's trip to Pittsburgh will be a better gauge.
– – –
(Last week: 5⬌)
6. Will Rogers, Mississippi State
Rogers looked like the entrenched vet he is against Memphis, throwing 5 touchdowns on Mississippi State's first 6 offensive possessions in a 49-23 blowout. More impressively, he let it rip: 3 of those scores came on passes that traveled 20+ yards, a notable development for a guy with just 10 TDs on 20-yard attempts over the previous 2 seasons. Altogether, only 7.8% of Rogers' attempts in 2021 fell into the deep column, per PFF, easily the lowest rate of any full-time FBS quarterback. (The closest comparison nationally was Maryland's Taulia Tagovailoa at 12.6%.) Maybe that tells us more about Memphis' defense than it does about Rogers' willingness to take more shots in Year 3. But a version of the Air Raid that does a better job threatening secondaries vertically is a scenario to keep an eye on.
– – –
(Last week: 7⬆)
7. Will Levis, Kentucky
Levis was forced to carry more of the offense than usual against Miami (Ohio) in the absence of All-SEC workhorse Chris Rodriguez Jr., who was out serving the first of what's expected to be a multi-game suspension following a DUI arrest earlier this year. Sans Rodriguez, the remaining RB rotation managed just 68 rushing yards with a long gain of 9, leaving Levis to drop back 38 times in the face of considerably more pressure than he typically faced last year. Kept clean, he was 17/24 for 224 yards and 3 touchdowns, per PFF, as well as his lone interception. Under duress, he had as many sacks (4) as completions. If the ground game is nonexistent again in this weekend's trip at Florida, he could be in for a long night.
– – –
(Last week: 4⬇)
8. Spencer Rattler, South Carolina
Rattler's plunge from No. 2 in the initial rankings reflects the SEC's depth at the position more than it does his outlook for the rest of the season. But for a guy who arrived in Carolina with some well-established baggage from his last stop, an erratic night against Georgia State wasn't the most encouraging debut in his new colors. Rattler averaged just 6.1 yards per attempt vs. GSU while getting picked twice and sacked 3 times, landing him in the conference basement in both passer efficiency and Total QBR. A couple of special teams touchdowns via blocked punts made the 35-14 final score look more comfortable than it really was.
All that said, as long as he can still do this …
Spencer Rattler ?? @GamecockFB pic.twitter.com/6TXMZzMnuP

— SEC Network (@SECNetwork) September 4, 2022
… his stock will always be eligible for a revival. A solid Week 2 showing against Arkansas will get the arrow pointed back in the right direction.
– – –
(Last week: 2⬇)
9. Jayden Daniels, LSU
Daniels' roller-coaster outing against Florida State begs to be broken into two parts: One for the first two-and-a-half quarters, when LSU managed 3 points on its first 5 possessions; and one for the last 20 minutes, when the Tigers ripped off 3 consecutive, sustained touchdown drives to end the game. Despite being on the run and out of sync with his receivers for much of the night, with the game on the line, Daniels was a beacon in the midst of chaos. On LSU's improbable, 99-yard march in the final 2 minutes, he was 7/7 passing (excluding a spike to stop the clock) for 66 yards and ran for the rest en route to the would-be game-tying touchdown as time expired.
The operative term there, of course, being would-be – the blocked PAT that sealed the Tigers' fate instantly relegated the rally that preceded it to a footnote. Daniels, the best player on the field down the stretch, was left looking like a guy suddenly wondering what he'd gotten himself into.
At any rate, he appears to be firmly entrenched as QB1 until further notice, which is more than we could say about LSU's QB situation at this time last week. If the second half against FSU was any indication, it's going to stay that way.
– – –
(Last week: 9⬌)
10. Jaxson Dart, Ole Miss
Dart turned in a mediocre line in his Ole Miss debut, going 18/27 for 154 yards, 1 TD, and 1 INT in a 28-10 win over Troy. He also flashed a couple of glimpses of his enormous upside. There was one of the more impressive throws of the week, a 21-yard strike to fellow USC transfer Michael Trigg while getting blasted in the pocket …
Ole Miss QB Jaxson Dart had an inconsistent start to his 2022 campaign. This was his best pass of the day. Play action, pump fake to the back, steps into it and fires a shot under pressure to Michael Trigg.

For full game film ?https://t.co/0L58VvNtbb pic.twitter.com/spaiHusm1q

— Brandon Lejeune (@DevyDeepDive) September 6, 2022
… as well as a feisty 36-yard gain on a zone-read keeper:
Look at Jaxson Dart go? pic.twitter.com/K03OfAg73L

— Christian Williams (@CWilliamsNFL) September 4, 2022
Once the consistency catches up to the talent, it's easy (maybe a little too easy) to imagine Dart rounding into a slightly bigger version of Matt Corral. The timeline remains TBD.
– – –
(Last week: 11⬆)
11. Haynes King, Texas A&M
King's return to the starting lineup against Sam Houston was a mixed bag. The good: He averaged a robust 11.7 yards per attempt, throwing 3 touchdowns and 6 completions of 20+ yards.
WHAT A THROW, HAYNES KING ? pic.twitter.com/wYQ6iaxHNl

— PFF College (@PFF_College) September 3, 2022
The not-so-good: He was also picked twice, bringing his total as a starter to an alarming 5 INTs on just 66 attempts.
Haynes King, in five quarters for #TAMU, has thrown four picks ? pic.twitter.com/LeSphMvXKx

— uSTADIUM uNIVERSITY (@uSTADIUMCollege) September 3, 2022
Next up: A visibly charred Appalachian State defense that gave up 63 points in a
mind-bending loss to North Carolina.
– – –
(Last week: 10⬇)
12. TJ Finley and Robby Ashford, Auburn
The outcome in Auburn's 42-16 win over Mercer was never in doubt, but Finley's status as QB1 might be after a performance that inspired adjectives like "uneven." Although he started and took the majority of snaps, Finley accounted for just 113 of the Tigers' 497 yards of total offense, was a nonfactor as a runner, and was picked twice. Meanwhile, Ashford mixed in early and often and largely closed whatever gap separated them. He made plays with his arm and legs off the bench, and even made the highlight reel as a blocker.
lmao watch Ashford during Tank's long touchdown run pic.twitter.com/2kqkTwMlSJ

— Nathan King (@NathanKing247) September 4, 2022
But then, there's only so much you can take from the routine sacrifice of an FCS school. Bryan Harsin was noncommittal about the pecking order going forward, promising only that both guys will play again this weekend vs. San Jose State. After that, the gauntlet begins in earnest with a Week 3 visit from Penn State.
– – –
(Last week: 12⬌ • n/a)
13. Brady Cook, Missouri
Cook mostly hit his marks in a run-oriented, 52-24 win over Louisiana Tech, accounting for 262 total yards, 2 TDs and 1 INT. The optimistic take: His mobility adds a dimension to the offense that the last guy, the departed Connor Bazelak, never did the past 2 years. Otherwise, judgment is on hold until we see him against some defenses with a pulse, beginning this weekend against Kansas State.
– – –
(Last week: 13 ⬌)
14. Mike Wright, Vanderbilt
Wright has distanced himself from a crowded depth chart in the early going with reassuring turns against Hawai'i and Elon, and Vanderbilt as a team has topped 100 points in its first 2 games for the first time since World War I. It will likely be a different story this weekend against Wake Forest, which comes to Nashville as an 8.5-point favorite. Still, considering that spread is less than half what it would have been 2 weeks ago, the trajectory is obvious enough.
– – –
(Last week: 14 ⬌)