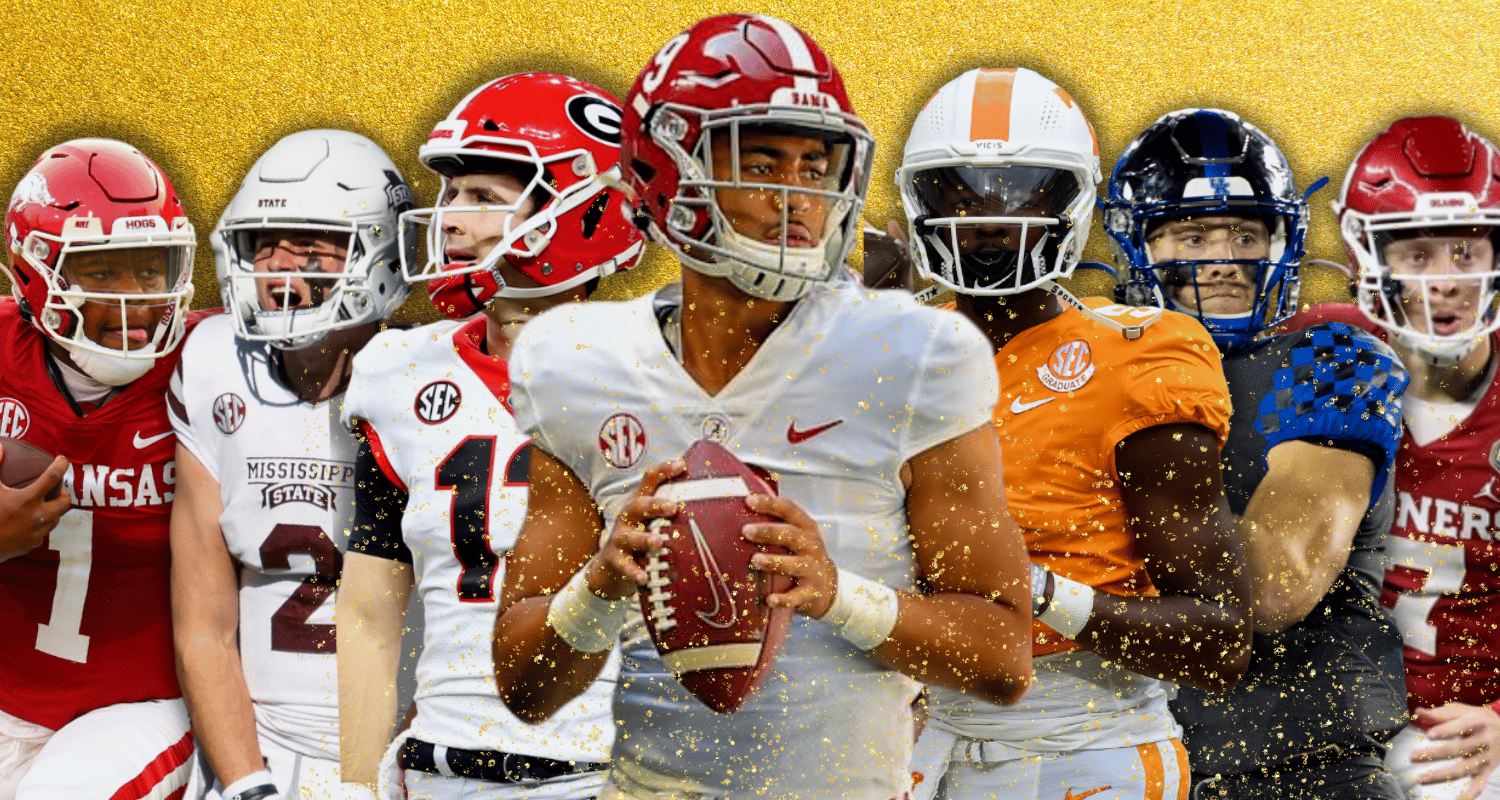 SEC
SEC QB Power Rankings, Week 3: All aboard the Anthony Richardson roller coaster
Quarterbacks: There are a lot of them! Each week throughout the season, we'll help you keep the game's most important position in perspective by ranking the SEC starters 1-14 according to highly scientific processes and/or pure gut-level instinct. Previously: Week 1 … Week 2.
1. Bryce Young, Alabama
Young's moxie at the end of a tense, 20-19 win at Texas was iconic stuff, but Bama's wideout angst is real. Where are the playmakers on this offense? Who's the downfield threat? The four wide receivers who saw the field in Austin (Traeshon Holden, Jermaine Burton, Ja'Corey Brooks, and Kobe Prentice) were virtually non-existent through the first three quarters, and for the game they averaged just 7.0 yards per catch with a long gain of 21. Their average depth of target, per Pro Football Focus: 7.2 yards.
The Crimson Tide have cranked out first-round wideouts with such consistency in the Playoff era — 7 in as many years since 2014 — that it's easy to assume they're just going to keep doing it. Nine WRs on the current roster were top-100 overall recruits in their respective classes. The position has been a high priority in the portal: Jameson Williams last year, Jermaine Burton and Tyler Harrell this year. But Harrell, a pure speedster from Louisville, has yet to play due to a sprained foot, and Burton, who transferred from Georgia in search of more targets, has rarely ventured beyond the sticks in the first 2 games.
The underclassmen, who were singled out by Nick Saban himself for failing to rise to the occasion after Williams and John Metchie III were injured in last year's Playoff run, are still TBD. The easy separation, deep speed and abundant YAC that have defined the offense suddenly look like question marks. There's a long way to go, but even a QB as special as Young can't continue to be the only answer.
– – –
(Last week: 1⬌)
2. Stetson Bennett IV, Georgia
Bennett cruised in a blowout win over Samford, going 24/34 for 300 yards with two touchdowns (one passing, one rushing) in a little less than three quarters' worth of work. The more urgent question against an FCS tomato can: Who's first off the bench? In each of the first two games it's been redshirt sophomore Carson Beck, who appears to have seized the backup role over former 5-star Brock Vandagriff and with it, presumably, the inside track on succeeding Bennett in 2023.
– – –
(Last week: 2⬌)
3. KJ Jefferson, Arkansas
Few players are built to absorb more punishment in the course of a typical game than the 6-3, 242-pound Jefferson, who in addition to the usual hazards that come with being the focal point of opposing pass rushes …
You just cannot bring down KJ Jefferson ?? pic.twitter.com/iY2EzYYfpl

— 247Sports (@247Sports) September 10, 2022
… effectively doubles as a workhorse running back in Arkansas' offense, as well, a role he embraces with all the subtlety of a refrigerator rolling down a hill.
Saying KJ Jefferson is tough to bring down is the understatement of the year. pic.twitter.com/eMZo011yig

— Steve Samra (@SamraSource) September 10, 2022
"My mentality is when I'm running the ball, one man can't tackle me," Jefferson said after Saturday's 44-30 win over South Carolina, stating the obvious. "I try to carry that throughout when I'm in the pocket or anything."
If anything, his workload in the ground game as an upperclassman is increasing. Last year, Jefferson averaged 11.2 carries per game (including sacks), which led the team but wasn't out of the ordinary — 2 other SEC quarterbacks, Hendon Hooker and Matt Corral, averaged slightly more, and Emory Jones also cracked double digits at Florida. In the early going this year, that number is up to 18.5 carries per game, 2nd in the SEC so far behind only his own teammate, Raheim "Rocket" Sanders.
Looking ahead, the pending return of 247-pound thumper Dominique Johnson from a knee injury figures to eat into Jefferson's role, and this weekend's visit from Missouri State should be a welcome opportunity to give the QB a day off from the grind before the SEC gauntlet. But if the Razorbacks are as committed as they appear to be to keeping him involved on the ground — which has significant implications for the play-action passing game, too — it may also be his last.
– – –
(Last week: 3⬌)
4. Hendon Hooker, Tennessee
Tennessee's offense was an outlier in 2021 on two fronts, both of which reflected the aggressive mindset Josh Heupel brought from UCF: Tempo and vertical shots. By the looks of it in Saturday's 34-27 overtime win at Pitt, 2022 will be more of the same. The Vols ran 75 plays in regulation in just 25 minutes of possession time, roughly on pace with last year's fast-and-furious clip, and 10 were pass attempts of 20+ yards downfield.
HENDON HOOKER TO CEDRIC TILLMAN ??

The 61-yard connection sets up the go-ahead @Vol_Football TD ?

— 247Sports (@247Sports) September 10, 2022
Hooker only connected on 3 of those 10 shots, but 2 of them went for touchdowns — a 32-yard strike in the first half and the eventual game-winner in overtime from 28 yards out — while the third (see above) set the offense up at the 1-yard line for an easy score on the next play. When you're swinging for the fences that often, a .300 average can go a long way.
– – –
(Last week: 5⬆)
5. Will Rogers, Mississippi State
Last week the rankings noted Rogers was 4/5 passing with 3 touchdowns on 20+ yard attempts in the Bulldogs' opening-day win over Memphis, a notable departure for a guy who's been unusually reluctant to let it rip the past 2 years. (In 2021 only 7.8% of his 740 attempts traveled 20+ yards, per PFF, which tied for 138th out of 140 qualifying quarterbacks.)
Against Arizona, he was back to taking smaller bites, missing on his only downfield shot while going 38/46 with 4 TDs on everything else. For a QB who's as comfortable in his system as Rogers is in the Air Raid, sometimes the every-down execution is enough to stand on its own.
– – –
(Last week: 6⬆)
6. Will Levis, Kentucky
If the quarterbacks were the only aspect of Kentucky's 26-16 win at Florida you were interested in, then yes, Levis technically "outdueled" his hyped counterpart, Anthony Richardson, with a small platoon of pro scouts in attendance. In context, that said a lot more about Richardson's dreadful night (see below) than it did about Levis, who prevailed largely by not committing multiple killer turnovers in the course of a full-on meltdown. Otherwise, the highlights amounted to one big play, a 55-yard touchdown heave to true freshman Dane Key, and … that's about it.
Levis' other score was a 1-yard TD run after a takeaway set up Kentucky's offense at the 6-yard line. Meanwhile, on the not-so-positive side of the ledger: 3 sacks, an interception that set up a short field for a Florida touchdown, and 2 completions for positive yardage after halftime. It was that kind of night.
– – –
(Last week: 7⬆)
7. Jayden Daniels, LSU
Daniels made his Tiger Stadium debut a brisk one, going 10/11 with 4 touchdowns (3 passing, 1 rushing) in a blowout win over Southern U. Just as compelling for his job security: Top backup Garrett Nussmeier struggled off the bench, finishing 13/23 with 2 picks.
– – –
(Last week: 9⬆)
8. Anthony Richardson, Florida
The bandwagon sobered up in a hurry on Saturday night, courtesy of a Kentucky defense that made Richardson look less like a rising star than a sitting duck. Neutralized as a runner (4 yards on 6 carries, including sacks), he was a wreck from the pocket, finishing 14/35 passing for 143 yards and not just one but 2 back-breaking INTs that led directly to Kentucky touchdowns on a night Kentucky's offense was gasping for air.
Anthony Richardson OH NO ?

Keidron Smith pick-six gives Kentucky the lead ?pic.twitter.com/1cEyrrRzJN

— 247Sports (@247Sports) September 11, 2022
Hey, we've been saying all along the kid's going to be good for a couple of five-exclamation-point plays every time he steps on the field. We never said they're all going to go in the right direction.
In fact, as bad as it felt in real time, on paper Richardson's collapse against the Wildcats was arguably worse. His overall PFF grade (40.6) ranked 136th out of 138 qualifying FBS quarterbacks in Week 2, and his Total QBR score was an abysmal 3.8. (Out of 100, remember.) That number ranks among the worst regular-season QBR performances by an SEC quarterback in the past 10 years — although, incredibly, not the worst of this particular weekend: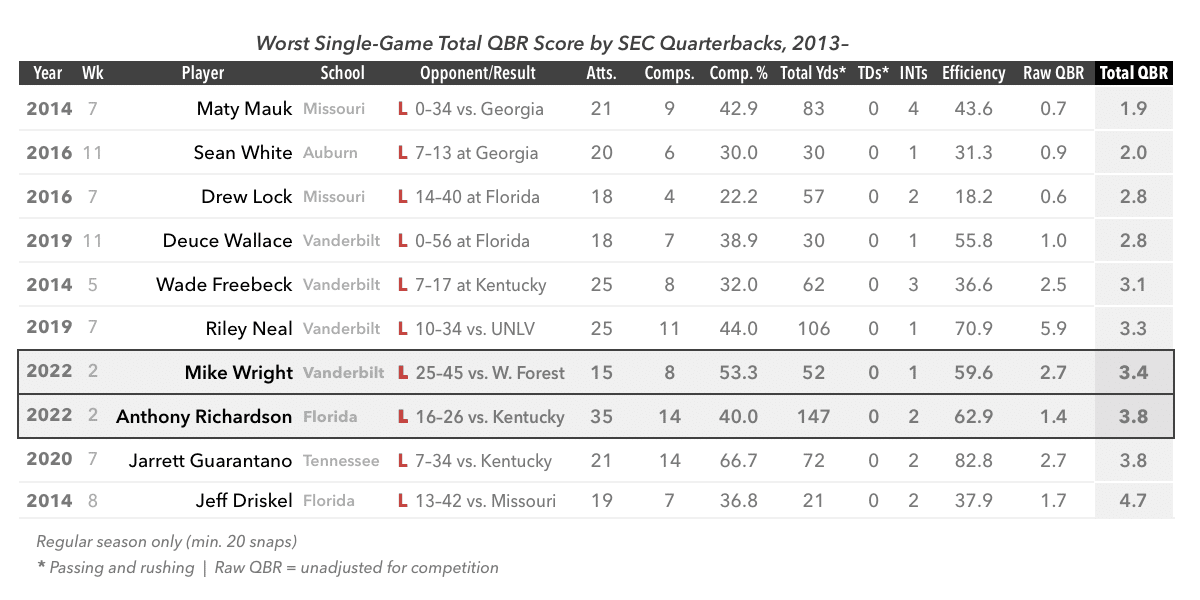 As a rule, any time your quarterback's name lands between Jarrett Guarantano and [obscure Vandy rando], it's not good. The vibe on Saturday was eerily reminiscent of Richardson's disastrous outing against Georgia last year in his first career start, and it's not getting any easier now that he's Florida's undisputed QB1 to reconcile the glimpses of his potential with the depths of his volatility.
When it goes bad, it goes very bad. His talent is always going to inspire lofty visions of what he might become in the future. But for the rest of this season, at least, the Gators might as well reconcile themselves to the reality that they're on the roller coaster with an enormously gifted basketcase.
– – –
(Last week: 4⬇)
9. Spencer Rattler, South Carolina
Rattler's slide continues after another middle-of-the-road effort in the Gamecocks' loss at Arkansas. In his defense, he was under constant duress from the Razorbacks, facing pressure on 18 of his 51 dropbacks with 5 sacks and 3 fumbles, per PFF, a week after he was sacked three times by Georgia State. But pressure isn't the whole story: Through 2 games, Rattler has just as many plays flagged by PFF as "turnover-worthy plays" when kept clean (4) as he does under pressure, including 2 of his 3 interceptions.
– – –
(Last week: 8⬇)
10. Jaxson Dart or Luke Altmyer, Ole Miss
Rather than anoint a starter, Lane Kiffin has turned a cushy September slate into the backdrop for both of his quarterbacks to audition: Dart, the USC transfer, played the relevant portion of the opener against Troy, then ceded to Altmyer last week vs. Central Arkansas. Altmyer left that one early with an upper-body injury, but is expected to be available this weekend at Georgia Tech; Kiffin hasn't specified a starter.
After that, there's just one more nonconference date left against Tulsa before the SEC schedule ramps up vs. Kentucky and the distinction is no longer academic.
– – –
(Last week: 10⬇)
11. TJ Finley, Auburn
This situation remains fluid. On one hand, Auburn dropped the 'OR' from the official depth chart, leaving Finley with the top line to himself ahead of the Tigers' first significant test against Penn State. But that doesn't mean we've seen the last of Robby Ashford, who brings too much value as a runner to remain nailed to the bench for long. He'll likely continue to rotate in against the Nittany Lions in a quasi-Wildcat role, and with Finley's erratic track record as QB1 there's still space for the more dynamic athlete to make a move.
– – –
(Last week: 12⬆)
12. Haynes King, Texas A&M
King was the goat of the A&M's deflating, 17-14 loss to Appalachian State, and not the good kind. His stat line (13/20, 97 yards, 0 TDs, 0 INTs, 2 sacks) pretty well sums it up: The Aggies barely got their hands on the ball thanks to an App. State offense that ran up a 23-minute advantage in time of possession, and didn't do much to keep it when they did. King's best play, a 31-yard scramble in the second quarter that moved the sticks on 3rd-and-14, was a spark that set up A&M's only offensive touchdown. (The other came via a kickoff return.) But as a passer, he managed just 1 3rd-down conversion and a long gain of 19 yards.
Jimbo Fisher hinted earlier in the week that he's hypothetically open to a change at some point in the future, although there's no indication that that point has arrived or will anytime soon. He's heavily invested in King's success. After missing essentially all of 2021 to a foot injury, King could have easily bailed out after the arrival of a veteran transfer (Max Johnson) and a 5-star freshman (Conner Weigman) with plug-and-play potential. Instead, he hung around, beat them both out, and reclaimed the job he lost last year through no fault of his own.
It's not hard to grasp why Fisher would emphasize patience over a knee-jerk reaction to 1 game. But if it was a sign of things to come, patience in the midst of unforgiving expectations is the luxury he can least afford.
– – –
(Last week: 11⬇)
13. Brady Cook, Missouri
Eli Drinkwitz reiterated after Saturday's 40-12 debacle at Kansas State that "Brady is our quarterback." He declined to add, "because did you see the other guy?," which took some discipline.
Although Cook was picked twice on consecutive possessions in the second half, the top backup, journeyman transfer Jack Abraham, was also picked twice on consecutive possessions in the second half, ceding the ball back to Cook after just three plays. Neither of the freshmen, redshirt Tyler Macon or fledgling Sam Horn, saw the field or apparently project to anytime soon.
It's no secret Drinkwitz spent the offseason trying and failing to upgrade the position via the portal. When the transfer market dried up, he settled on Cook, who at least has a non-catastrophic start under his belt in last year's Armed Forces Bowl loss to Army. The alternative is either Abraham (no) or throwing one of the freshmen into the fire. So, Cook it is. All of a sudden Connor Bazelak has never looked better.
– – –
(Last week: 13⬌)
14. Mike Wright or AJ Swann, Vanderbilt
Wright took full advantage of a couple of stat-padding outings against Hawai'i and Elon to open the season, but against Wake Forest, he turned decisively into a pumpkin.
Wake Forest DB Coby Davis with a PICK SIX ??? pic.twitter.com/wDruvGAYQu

— NCAAF Nation (@NCAAFNation247) September 10, 2022
On top of the pick-6, he lost a fumble (also leading to a Wake touchdown) and oversaw 5 3-and-outs, eventually getting the hook with Vandy trailing 35-10 in the third quarter. Enter Swann, a true freshman, who promptly led 2 touchdown drives in garbage time. By law, the sentiments of the beleaguered fan base, such as it exists, must now transfer to the freshman until he too is allowed to play his way out of the full-time job. [Bangs gavel] The official pecking order for this weekend's trip to Northern Illinois is TBD.
– – –
(Last week: 14⬌)