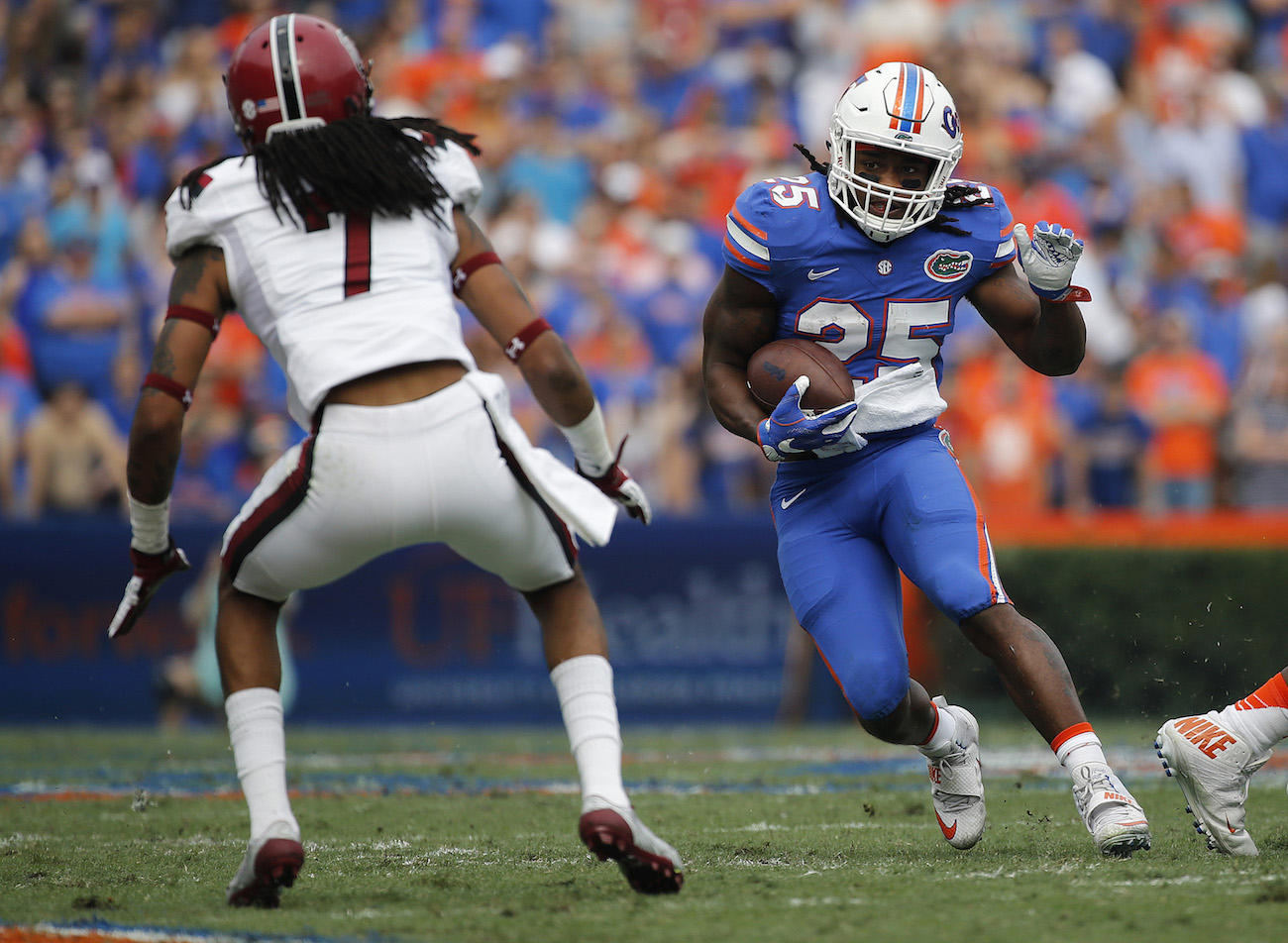 SEC
Give them the ball: 1 player on every SEC team who needs more touches in 2017
Due to the ever-changing nature of college football, no team returns exactly the same group on offense from year to year.
Fortunately for the 14 SEC teams, there are guys on each roster who are poised to have bigger roles in 2017, whether by moving into the starting lineup or simply getting more touches.
Here is one player each SEC team should get the ball to more often:
Alabama: Calvin Ridley, WR
Yes, Ridley led the Crimson Tide with 72 catches in 2016, but that was 17 fewer than his freshman season and only netted 769 yards.
With the skills Ridley has, his 10.7 yards-per-catch average ranked No. 38 in the league. The struggles can be partially attributed to having a true freshman quarterback in Jalen Hurts, who took some time getting up to speed in the passing game.
However, with WR ArDarius Stewart and TE O.J. Howard both off to the NFL, Hurts should look Ridley's way more often this fall. If Hurts really has improved as much as a passer as everyone in Tuscaloosa seems to be saying, Ridley's yards-per-catch average should skyrocket in 2017.
Arkansas: Devwah Whaley, RB
Injuries have ravaged the Razorbacks' offense this offseason. Star RB Rawleigh Williams III had to retire after suffering a neck injury this spring and already this summer, WR Jared Cornelius and WR/RB T.J. Hammonds have been sidelined with various ailments.
The Hogs' offense regressed a bit in 2016, slipping to 30.5 points per game after averaging 36 in 2015. To avoid another drop, Whaley must carry even more of the load as one of the few returning contributors who has been able to stay healthy through fall camp.
Simply by default, Whaley will get more work in Williams' absence, but he needs to have a huge year to keep the Hogs competitive. Williams carried the ball 245 times last year for an impressive 1,360 yards and 12 touchdowns. Those are the kinds of numbers Whaley needs to put up this fall for an offense that doesn't have much returning experience outside of QB Austin Allen.
Auburn: Kyle Davis, WR
With 248 receiving yards last year, Davis is actually the Tigers' leading returning receiver in terms of yardage (Ryan Davis had 25 catches, but only 194 yards).
Those 248 yards came on only 12 catches, though, which means each of Davis' receptions went for an average of 20.7 yards.
With Baylor-transfer QB Jarrett Stidham leading the offense, the Tigers need a true No. 1 receiver, and Davis has all the necessary athleticism and size to make a big jump in 2017.
Florida: Jordan Scarlett, RB
Scarlett said recently that he doesn't think the Gators should split carries in the backfield this fall and believes he should be the feature running back.
When you look at the stats, he's right. Scarlett carried the ball 179 times for 889 yards and six touchdowns — an average of 5.0 yards per carry.
Considering Vanderbilt's Ralph Webb led the SEC with 250 carries in 2016, it would be interesting to see what Scarlett could do with 200+ touches this year.
Georgia: Isaac Nauta, TE
Nauta was one of the SEC's breakout freshmen in 2016, catching 29 passes for 361 yards and three touchdowns while becoming one of QB Jacob Eason's favorite targets.
That chemistry developed last year should result in a bigger role for the 6-4, 250-pound tight end, who looked just as comfortable blocking for star RBs Nick Chubb and Sony Michel as he did running routes.
With Alabama's O.J. Howard and Ole Miss' Evan Engram entering their rookie seasons in the NFL, it wouldn't be a surprise to see Nauta challenge South Carolina's Hayden Hurst for the title of best tight end in the SEC this fall.
Kentucky: C.J. Conrad, TE
The Wildcats lost leading receiver Jeff Badet this offseason when he went to Oklahoma as a graduate transfer.
As they try to replace his production, they should look no further than junior TE C.J. Conrad, who made the most of his limited receptions in 2016.
Though he only caught 19 passes for 262 yards, four went for touchdowns, so he's proven himself to be a threat in the red zone.
At 6-5, he can be a valuable asset for QB Stephen Johnson, who should look his way more often during the 2017 campaign.
LSU: D.J. Chark, WR
The Tigers had Malachi Dupre and Travin Dural ahead of Chark on their 2016 depth chart, but they weren't able to effectively get the ball to either of them. Dupre's 41 catches for 593 yards and three touchdowns all were team-highs, which says all you need to know about the LSU passing game last year.
Chark caught only 26 passes, but turned those receptions into an impressive 466 yards and tied for the team lead with three scores. He averaged 17.9 yards per catch, fourth-best in the SEC.
Few doubt Matt Canada will find a way to get him the ball.
Mississippi State: Aeris Williams, RB
The obvious answer here would have been junior WR Malik Dear, but he tore his ACL this spring and it's uncertain whether he'll be able to play at all in 2017.
Therefore, more pressure falls to Williams, who ran 137 times for 720 yards and four touchdowns in 2016. QB Nick Fitzgerald will likely lead the Bulldogs in carries and yards (and scores) again this fall, but coach Dan Mullen's offense should find ways to get Williams the ball more often.
Whether it's out of the backfield on short passes or perhaps even some more read-option action with Fitzgerald, Williams has the talent to put up 1,000 yards or more. All he needs is the ball.
Missouri: Johnathon Johnson, WR/KR/PR
As a redshirt freshman last year, Johnson caught 24 passes for 435 yards and two touchdowns. He also occasionally returned kickoffs and punts, bringing one punt all the way back for a score. His 18.1 yards-per-catch ranked third in the SEC.
He'll likely be featured in the return game this fall, but the Tigers would be wise to find more ways to showcase him on offense, too.
He's one of the fastest players on the team and could be a factor in the running game as well as on the outside as a receiver. Second-year offensive coordinator Josh Heupel should have a lot of fun drawing up plays for Johnson this season.
Ole Miss: Van Jefferson, WR
As a redshirt freshman in 2016, Jefferson burst onto the scene in a big way, catching 49 passes for 543 yards and three touchdowns.
But the Rebels need him to do even more. The Ole Miss receiving corps was hit hard in the offseason, with TE Evan Engram and WRs Quincy Adeboyejo and Damore'ea Stringfellow all heading off to the NFL.
As DaMarkus Lodge and Markell Pack try to replace some of that production lost, more pressure will be on Jefferson to have a huge season. Catching passes from star sophomore QB Shea Patterson certainly won't hurt.
South Carolina: Hayden Hurst, TE
Hurst finished second on the team with 48 catches for 616 yards last season, but the Gamecocks didn't use him to his full potential.
Surprisingly, the 6-5 tight end only had one touchdown reception in 13 games.
To be fair, the Gamecocks only threw for 12 touchdowns in 2016 (one of which was tossed by WR Deebo Samuel), but that number needs to increase drastically in sophomore QB Jake Bentley's first full season as the starter.
Tennessee: Jauan Jennings, WR
As good as Jennings was in 2016 (we all remember the Hail Mary catch against Georgia), he was second to Josh Malone in all receiving stats for the Vols.
Now that Malone is a member of the Cincinnati Bengals, though, Jennings will be the focus of the Tennessee offense. He'll be a safety valve/playmaker for an inexperienced quarterback in either Quinten Dormady or Jarrett Guarantano.
The Vols haven't had a 1,000-yard receiver under Butch Jones. Malone came close last season (972). Jennings has the potential to become the first.
Texas A&M: Trayveon Williams, RB
Last year, QB Trevor Knight finished third on the team with 102 carries, behind Williams (156) and Keith Ford (126).
Knight is gone, so there will be more carries to go around, and Williams has proven he deserves them.
Whoever wins the Aggies' starting quarterback job likely won't be the same caliber of runner Knight was, and Williams ran for 1,057 yards on his 156 touches in 2016 (a 6.8 yards-per-carry average). Look for those carries to approach if not top 200 this season.
Vanderbilt: Trent Sherfield, WR
Vanderbilt's passing offense struggled in 2016. Though the Commodores have one of the best running backs in the SEC in Ralph Webb, they can't seem to support him through the air.
As QB Kyle Shurmur prepares for his second full season as the full-time starter, he'll need to improve to take advantage of Webb's senior year.
Another senior, WR Trent Sherfield, could be the answer. Sherfield had a breakout sophomore year in 2015, leading the 'Dores with 51 catches for 659 yards. He couldn't repeat that last year, slipping to 34 catches for 472 yards and one touchdown.
He dominated Tennessee, however: 9 catches for 184 yards. Nobody can maintain that pace, but that game showed the potential Vandy needs to take advantage of in 2017.