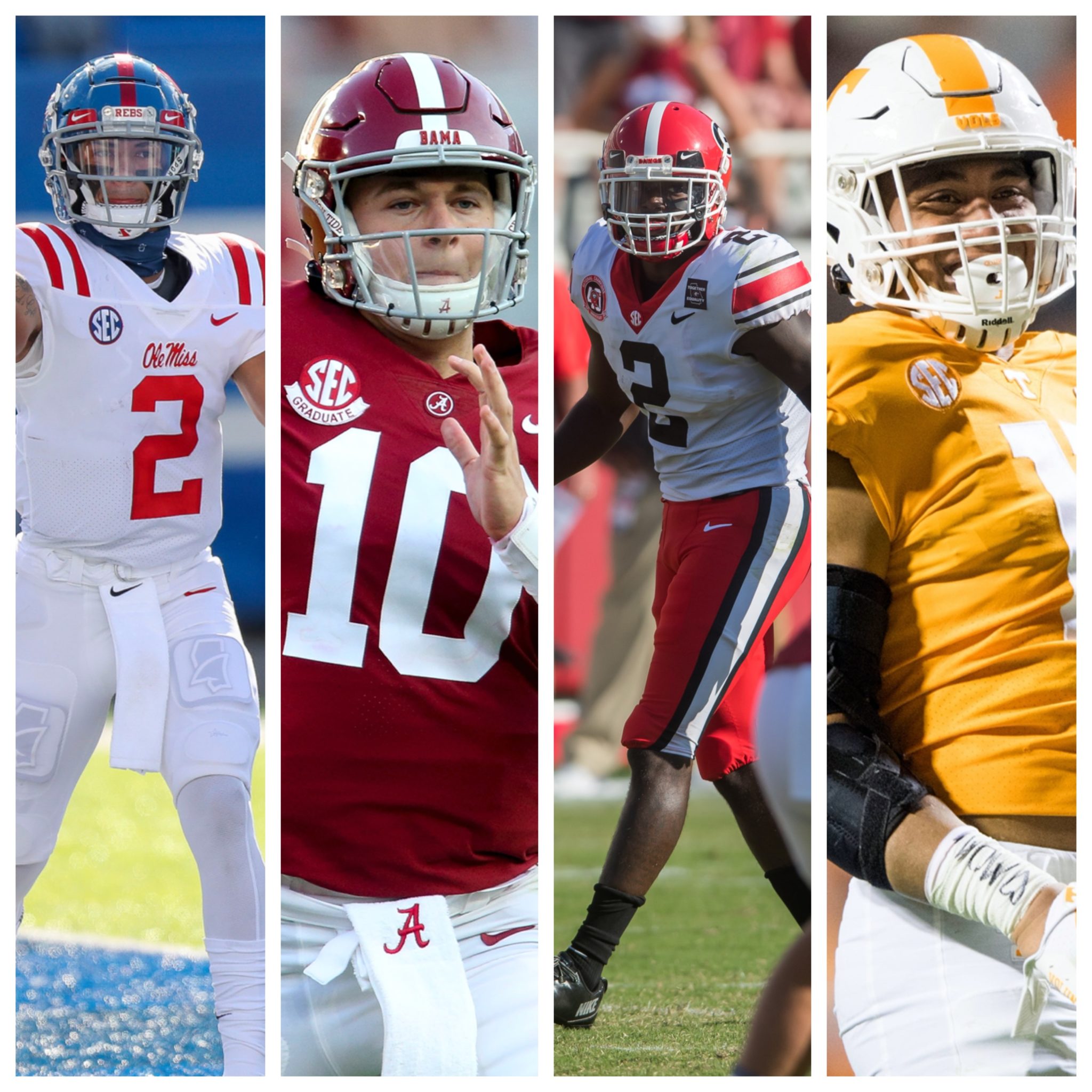 SEC
Power ranking the top 10 players in the SEC after 2020 Week 3
I turned on the television to spend my entire birthday Saturday watching SEC football — just a man, a Big Green Egg, a brisket and two big televisions — and Big XII football broke out instead.
Let's review, shall we? Eight teams scored 38 points or more on what would be the highest-scoring day in SEC history. Six offenses — Alabama, LSU, Mizzou, Ole Miss, South Carolina and Texas A&M — gained 450 yards or more. Five teams — Alabama, Florida, Mizzou, Ole Miss and Texas A&M — scored on 66% or more of their possessions. A football team coached by Nick Saban gave up 48 points … and won. And a Florida team that averaged 7.6 yards per play and had a 56% success rate offensively (LSU's 2019 success rate on the season was 57%) lost.
Down is up and up is down in the SEC and it's all very 2020.
After last week's power rankings, which you can read here, a commenter (UGA Fan Class of 98) said this column might as well be called "Top 10 Offensive Players in the SEC," which was tongue in cheek since the list wasn't exclusively offensive players but also entirely understandable.
As such, I had hoped to balance things out more this week and pick a few more defensive players. After all, the idea of this list is that is somewhat fluid, a combination of season-long accomplishments and recency bias. Essentially, we want an old-fashioned conversation starter. The problem this week is it would be malpractice to include too many defensive players, since it appears that almost no one outside of Athens, Georgia, whoever is playing Vanderbilt and this week, Lexington, Kentucky, is interested in playing much defense.
We included 2, but once again, the list is heavily tilted to offense. Maybe the old SEC will show up at some point this season and that will change. Time will tell.
Here's the Power Ranking of the top 10 players in the SEC after Week 3, honorable mentions first. Remember, if you just want an NFL scouts' big board version of the top 10 players in the SEC, you can access that list with a simple search on google dot com. This list rewards accomplishment.
Honorable Mentions: Jalen Catalon, DB (Arkansas); Feleipe Franks, QB (Arkansas); Tank Bigsby, RB (Auburn); Zakoby McClain, LB (Auburn); DeVonta Smith, WR (Alabama); Dylan Moses, LB (Alabama); Kadarius Toney, WR (Florida); Stetson Bennett IV, QB (Georgia); Kearis Jackson, WR (Georgia); Azeez Ojulari, LB (Georgia); Monty Rice, LB (Georgia); Eric Stokes, DB (Georgia); Georgia OL; Terry Wilson, QB (Kentucky); Jordan Wright, LB (Kentucky); DeAndre Square, LB (Kentucky); Myles Brennan, QB (LSU); Marquiss Spencer, DE (Mississippi State); Larry Rountree III, RB (Missouri); Nick Bolton, LB (Missouri); Kenny Yeboah, TE (Ole Miss); Jerrion Ealy, RB (Ole Miss); Ole Miss OL; Shi Smith, WR (South Carolina); Kevin Harris, RB (South Carolina); Ernest Jones, LB (South Carolina); Josh Palmer, WR (Tennessee); Isaiah Spiller, RB (Texas A&M); Kellen Mond, QB (Texas A&M); Dayo Odeyingbo, DE (Vanderbilt).
10. Richard LeCounte III, S, Georgia
The numbers aren't gaudy, but LeCounte is the single-high safety on the best defense in college football. Georgia is weathering the SEC's offensive explosion well and enters the Alabama game ranked 2nd nationally (and 1st in the Power 5) in opponent yards per play (3.5), 3rd and 1st in the Power 5 in success rate allowed, 2nd in total defense and 1st nationally in rushing defense.
The biggest tests are ahead, starting Saturday night in Tuscaloosa. But LeCounte has been through the battles and plays downhill and fast, the key communication piece and key secondary piece for the only SEC defense that looks elite. He belongs here.
9. Henry To'o To'o, LB, Tennessee
To'o To'o came to play in Athens in Week 3, collecting a season-high 11 tackles and adding a quarterback pressure. The sophomore is building on a freshman All-American campaign by marshaling the Tennessee defense in 2020, a unit that has been stout, especially against the run. Put in bad field position by the Georgia defense all day, the Vols battled but fell short due to fatigue and a lack of depth late. To'o To'o, who has a team-high 23 tackles on the season and a big pick-6 in the Vols season-opening win at South Carolina, has been the best player on one of the few SEC units showing life.
8. Jaylen Waddle, WR, Alabama
Picking which Alabama receiver to include in this list every week is probably the toughest part of making this list, to be honest. We're sticking with Waddle this week, who had 131 total yards on just 7 touches. Waddle also made this spectacular catch late, which helped Alabama finally put away Ole Miss.
Jaylen Waddle is special. Not only does he possess elite speed but he sells his route incredibly well.

Sells the out perfectly, explodes past defender, attacks the ball at highest point. You can't ask for more!! pic.twitter.com/gEUciP7E62

— Full-Time Dame ? (@DP_NFL) October 11, 2020
For the season, the diminutive junior is averaging 20.8 yards per reception and has 19 catches in only 3 games with 3 touchdowns. His acceleration and burst are the best at the position in the country, and on a different team, he'd probably share the wealth less.
7. Matt Corral, QB, Ole Miss
To think Ole Miss used an injury as a reason to turn the offense over to John Rhys Plumlee in 2019. Plumlee played well, by the way, but what Matt Corral is doing in Oxford this season in his first year in Lane Kiffin's offense is insane.
Corral has the Rebels ranked 2nd in the country in total offense after 3 games, 11th in scoring offense, 6th in yards per play and 26th and rising in S&P+ offensive efficiency.
Corral has thrown for 1,080 yards, has an astounding 76.1% completion rate and has tossed 9 touchdowns against just 1 interception. He has done that while playing games against 2 of the league's best teams — Florida and Alabama — and strafing both.
The Rebels get Arkansas next, which could present even more high school like numbers for the former 4-star quarterback.
6. Kyle Pitts, TE, Florida
Is this an unfair drop for Pitts, ranked in the top 3 in the first 2 editions of these rankings? Probably. After all, Pitts has 7 touchdowns in 3 games in 2020, which is tied for the SEC lead and ahead of Ja'Marr Chase's ridiculous 2019 record-setting receiving pace.
All Kyle Pitts does is score touchdowns.
He now has SEVEN in a little over eight quarters this season. pic.twitter.com/wa1awrgZ2G

— CBS Sports (@CBSSports) October 10, 2020
Pitts was effective in the first half Saturday, but quieter in the second half, as he appeared to either injure his left foot or twist his left ankle in the opening 30 minutes and grind out the remainder of the game hurt. (Dan Mullen doesn't address injuries, other than to say Pitts would play against LSU).
The Gators didn't lose the game because of their offense, but given some of the other performances in the league, 5 receptions for 47 yards and a touchdown is a quiet one f0r Florida's All-American tight end.
5. Terrace Marshall Jr., WR, LSU
In the second half of LSU's 45-41 loss to Missouri, this tweet caught my eye:
Terrace Marshall's last 8 catches

TD
TD
TD
TD
TD
32-yard catch
TD
15-yard catch pic.twitter.com/sW9b0CnVxB

— PFF College (@PFF_College) October 10, 2020
Marshall graded out as the best player in the country on offense in Week 3 according to PFF after torching Missouri for 11 receptions, 235 yards and 3 touchdowns. Marshall Jr. is tied with Pitts with 7 receiving touchdowns on the 2020 campaign, and he's doing all he can to keep the Tigers, who have a nightmarishly bad defense, in football games.
Terrace Marshall has 20 touchdowns in last 15 games…. TWENTY… You better stop ? on 6️⃣. #31Great

— Jacob Hester (@JacobHester18) October 10, 2020
Marshall has 20 touchdown catches in his past 15 games, and it appears his rapport with Myles Brennan grows stronger with each passing week. A date with a scuffling Gators secondary awaits, which may spell another rise in these rankings for the LSU junior.
4. Mac Jones, QB, Alabama
SDS podcast host and Verne Lundquist aficianado Chris Marler told me that I was "dead to him" after omitting the Alabama quarterback from my top 10 over the first 2 weeks of the season. I blamed the omission on the insane talent around Jones, as well as all the Alabama fans who told me Bryce Young would start for the Tide by midseason. A cop-out, to be sure, but it's my column and I'll do what I want.
Jones has been magnificent in 3 games, replacing RPO Alabama God Tua Tagovailoa with pinpoint accuracy (79.5% completion rate!) and over 1,000 yards passing before Week 4. The Tide enter the Georgia game ranked 1st in the country in yards per play (8.5) — a full .9 yards ahead of BYU and SEC brethren Florida, which are tied for 2nd at 7.6. The Tide also average 12.7 yards per pass attempt, which leads the country, and rank 1st nationally in S&P+ offense and 2nd nationally in success rate (Florida).
Talk weapons all you want, but anyone who has watched Jones play since taking over for Tua late last autumn knows that the Tide have a game-changer at quarterback.
3. Elijah Moore, WR, Ole Miss
This has to be one of the nicer redemption stories in all of college football.
Contribute directly to an Egg Bowl loss with a silly, irresponsible play that ultimately is the final blow to a coaching staff on the ropes. Take your medicine — and plenty of vitriol — and come back to be a leader off the field for a new coaching staff and a superstar on it.
Elijah Moore has been simply uncoverable as a junior, and he leads the SEC in receptions (31) and yards (462) through 3 games. Against the Crimson Tide's loaded secondary, Moore was marvelous, collecting a team-high 11 catches for 143 yards. It was his 3rd consecutive game with 10 receptions or more, and with Arkansas looming, the numbers may be sustainable.
2. Kyle Trask, QB, Florida
I'd say it's been a while since a Florida quarterback went on the road against a ranked opponent, threw for over 300 yards and a bunch of touchdowns and lost, but Kyle Trask did that last year at LSU, too.
The senior was tremendous again at Texas A&M, leading Florida to scores on 6 of its 9 possessions and completing 23-of-32 passes for 312 yards and 4 touchdowns. On the season, Trask has thrown for 996 yards at a 10-yard per attempt clip while tossing a league-high 14 touchdown passes. He's 2nd nationally.
Kyle Trask this year's Joe Burrow?

Completely different player than last year and dominated again today despite the loss

23/32 – 312 Yards – 4 TDs pic.twitter.com/lrG6RnLkwU

— Joel Smyth (@fantasysmyth) October 10, 2020
He's also answered all questions about his arm strength, consistently delivering downfield rockets and pinpoint back-shoulder throws, like the above dime to Kadarius Toney for six Saturday.
I don't think Trask is "this year's Joe Burrow." We'll never see anything like Burrow's leap again, in my opinion. But Trask is making the typical "2nd-year starter under Mullen" leap — and that will keep Florida in every game it plays this season in spite of its abysmal defense.
1. Najee Harris, RB, Alabama
A few people e-mailed last week to tell me to stop ranking Harris No. 1. One Alabama fan — "Paul in Montgomery" — went all Finebaum caller.
Neilllll:
I appreciate that you like Najee Harris and his game but he's not even the fourth-best player on the best offense in America, man. Stop ranking him so high!!
Well, Paul, how do you like me now?
All Harris did Saturday night was rush for 206 yards and 5 touchdowns. He added 3 receptions for 42 yards. Yes, he lost a fumble, but the bottom line is that in the first close football game Alabama's had, Harris was the guy Saban and Sarkisian leaned on.
On the season, Harris leads the SEC in touchdowns, with an astounding 10 through 3 games. Harris has 59 touches this season for a total of 423 yards, an average of 7.2 yards per touch (really good!) and 1 touchdown every 5.9 touches (somewhere just due south of Kyle Pitts and Terrace Marshall Jr. good).
This is the best player in the best conference in America and he'll have another chance to prove it Saturday against college football's best defense.