SEC
Remember when Jim Harbaugh was preparing to run through the SEC? A look back at that 6 years later
Six years ago, you could ask the question "who's the SEC's biggest threat" and get a variety of responses.
Ohio State was the most logical answer, seeing as how the Buckeyes were a few months removed from lighting up Nick Saban's defense with a third-string quarterback in a Playoff semifinal matchup before eventually beating Oregon in the first College Football Playoff National Championship. Urban Meyer's Buckeyes were set to become the first unanimous preseason No. 1 in the history of the Associated Press Poll and perhaps on the brink of an Alabama-like dynasty.
Florida State was an appropriate answer, too. Jimbo Fisher had things rolling in Tallahassee, and even though Jameis Winston was off to the NFL after a disappointing end to 2014, FSU was starting to consistently sign top-4 classes. Like Meyer, Fisher had SEC roots and was part of the conference the previous decade when it began its ascension into college football's most dominant league.
And then there was Jim Harbaugh, AKA the message board fantasy turned into maize and blue reality.
Harbaugh surprisingly went back to his alma mater not just to revive the fading Michigan program, but to take aim at the biggest thing standing in his way — the SEC. Harbaugh had never faced a single SEC program as a player or as a coach (he didn't play in the Wolverines' 1983 game vs. Auburn). Yet from the moment Harbaugh took over in Ann Arbor, it was clear that he wanted to break up the party south of the Mason-Dixon Line.
There were the satellite camps in the South, he called out several key figures in the SEC and he ultimately tried to become the fly in the SEC ointment. The khakis, the NFL attitude, the social media habits … it was all part of the plan. Whether he admitted it or not, Harbaugh wanted to be the SEC's biggest threat. He needed to be the SEC's biggest threat in order for Michigan to become the national power it once was.
Six years later, Harbaugh is no more a threat to the SEC than the next guy. Sure, he's been at Michigan longer than all but 2 SEC head coaches (Nick Saban and Mark Stoops) have been at their respective jobs, but unless you consider a couple of wins against Jim McElwain-coached Florida teams as "threatening," Harbaugh whiffed at that opportunity.
To be fair, none of those 3 top answers from 6 years ago proved to threaten the SEC. Clemson did what each of those 3 coaches set out to do.
But let's instead go back to a simpler time; a time when answering that question with "Jim Harbaugh" didn't get you laughed out of the room.
The satellite camps
Perhaps no image was more synonymous with the college football offseason prior to 2015 than Harbaugh running around Alabama with his shirt off in nothing but khakis, cleats and his signature Michigan hat.
Jim Harbaugh plays shirtless during Prattville Camp GALLERY: http://t.co/0Br6iQ34pB pic.twitter.com/jqnWZis6pB

— Albert Cesare (@AlbertCesare) June 5, 2015
More important than whether Harbaugh's dad bod was seen by the masses was why he was there in the first place. In the summer of 2015 prior to the start of his first season, Harbaugh hosted satellite camps in Alabama, Florida, Texas, Pennsylvania, California and Michigan.
Harbaugh capitalized on a loophole in Big Ten rules, which differed from the SEC and ACC, where a coach was not allowed to host a camp more than 50 miles away from his respective campus. The Big Ten had no such rule, which prompted other Big Ten schools like Ohio State to follow suit (Penn State was doing them well before Michigan but didn't get the same national attention). Needless to say, that ruffled SEC feathers.
Saban wasn't a fan.
"If we're all going to travel all over the country to have satellite camps, you know, how ridiculous is that?" Saban said back in 2015. "I mean we're not allowed to go to all-star games, but now we're going to have satellite camps all over the country. So it doesn't really make sense."
SEC commissioner Greg Sankey shared that sentiment and added that the camps were nothing more than recruiting tours. Sankey and Saban urged the NCAA to take action so that satellite camps didn't fall to the individual conferences. That ultimately happened … sort of.
Remember when Harbaugh had that wild "Signing of the Stars" event on 2016 National Signing Day and he announced the Wolverines were going to host spring practices at powerhouse IMG Academy in Bradenton, Fla.? Well, it essentially turned Harbaugh into a 1-man firing squad. NCAA president Mark Emmert admitted that Michigan wasn't breaking the rules because it was hosting practice and doing so during the school's spring break, but that he opposed it.
Who else opposed Michigan's spring break at IMG? New Georgia coach Kirby Smart, who called for the NCAA to step in. That gave us this shot from Harbaugh:
If the Georgia coach is implying any intent on our part to break rules, he is barking up the wrong tree.

— Coach Harbaugh (@CoachJim4UM) February 24, 2016
When Tennessee's Butch Jones joked that he was going to attend IMG Academy to visit Michigan's practice alongside Bret Bielema and Mark Dantonio after both had some fun on Twitter, Harbaugh came over the top by tweeting "suggestion to my Rocky Top colleague, rather than lunch in Florida you might spend your time and focus attending to your present team."
And Harbaugh even opened things up to Saban, who repeatedly opposed the loophole in the rule more than Harbaugh himself. Still, another Twitter jab:
"Amazing" to me- Alabama broke NCAA rules & now their HC is lecturing us on the possibility of rules being broken at camps. Truly "amazing."

— Coach Harbaugh (@CoachJim4UM) June 1, 2016
For a bit, it appeared that Harbaugh was going to call out every single SEC program.
So what happened with satellite camps?
After the SEC and ACC led the charge to get a ban on satellite camps shortly after Michigan's trip to IMG, the NCAA rescinded its ban less than a month later. A year later in April 2017, the NCAA adopted new satellite camp rules that stated that satellite camps would be allowed, but only in a 10-day period in June and July, and they "must take place on a school's campus or in facilities regularly used by the school for practice or competition."
For all the negatives about Harbaugh's time at Michigan, pushing the envelope in the satellite camp issue certainly wasn't one of them. He took advantage of the system and got his program all sorts of attention as a result. And for a brief time, he made the SEC look like it was on its heels.
The Colin Cowherd quote about Harbaugh vs. Saban
A lot of wild things were said about Harbaugh's potential early on at Michigan. FOX Sports' Joel Klatt said prior to Harbaugh's debut that he was the "best coach in America."
Who could forget Dan Wolken's called shot after Harbaugh's first regular season?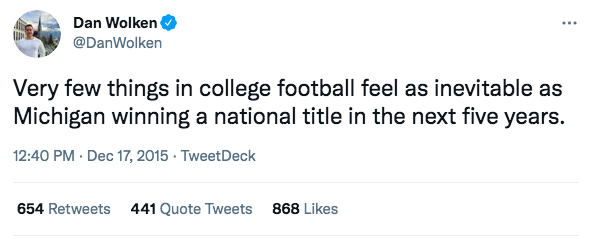 That take is officially cold. Ice cold.
But none, and I mean none, of the Harbaugh hype sounded quite as ludicrous as what Colin Cowherd said about Harbaugh.
I dare you to watch this with a straight face.
Jim Harbaugh is a more impressive coach than Nick Saban pic.twitter.com/W0cKzUFasP

— Herd w/Colin Cowherd (@TheHerd) November 2, 2018
Keep in mind, that was said in November 2018. At the time, Alabama was the unbeaten No. 1 team in the country having won 2 of the last 3 national titles (it also had 3 consecutive title game berths) with a legitimate chance to claim its 3rd ring in 4 years. Saban was chasing ring No. 7. Meanwhile, Michigan was just trying for its first division title and second top-10 finish in Year 4 of the Harbaugh era (blowout losses to Ohio State and Florida to close the year prevented that from happening).
Since Cowherd's infamous comment, Harbaugh went 14-10 while Saban went 30-3 with a national title. Shoot, Cowherd even reversed course.
Also roughly 14 months later, Saban's worst team in 9 years beat Harbaugh's Michigan squad by 19 points in the Citrus Bowl.
Speaking of that …
The struggles vs. the SEC
It's easy to forget that Harbaugh actually started out 2-0 vs. the SEC. And you could argue it was 3-0 for the way the satellite camp battle shook out. The problem was that those 2 wins were against McElwain's Florida squad, and the second matchup came against a dysfunctional Gator team who unraveled in a 4-win season.
In the 3 matchups vs. SEC competition since then? It hasn't gone well for Harbaugh. In fact, each of Michigan's last 3 bowl trips were collapses to SEC teams:
2017 Outback Bowl: L 26-19 vs. South Carolina (in Tampa)
2018 Peach Bowl: L 41-15 vs. Florida (in Atlanta)
2019 Citrus Bowl: L 35-16 vs. Alabama (in Orlando)
A 2-3 record vs. the SEC isn't Harbaugh's biggest blemish. That would be an 0-5 mark vs. Ohio State. More glaring was what happened in the second halves of those SEC losses — Michigan was outscored by a combined total of 72-15. It wasn't just Saban who held Harbaugh's team under 20 points. Will Muschamp and Dan Mullen did it, too. Harbaugh was out-coached in all 3 of those games.
It had to rub salt in the wound when Najee Harris, who was rumored to have significant Michigan interest as a 5-star running back recruit before quietly signing with Alabama back in 2017, delivered the exclamation point late in the Citrus Bowl blowout.
Meanwhile, Shea Patterson, who was considered a massive recruiting win for Harbaugh after he transferred from Ole Miss, was held to 46% passing and a pair of interceptions in his last college game. Even the 5-star, can't-miss prospect who began in the SEC didn't develop into an NFL Draft pick under Harbaugh's watch. Michigan hasn't had a quarterback drafted since grad transfer Jake Rudock was selected by the local Detroit Lions in the 6th round of the 2016 NFL Draft. He was the first and only Michigan quarterback drafted in the Harbaugh era.
Yikes.
The talent disparity and "the cheaters"
Between the satellite camps, the sleepovers, the fully-clothed pool jumps and everything in between, Harbaugh's recruiting tactics were, at one point, extremely successful. He had a 4-year stretch from 2016-19 in which he signed 3 top-8 classes. During that stretch, he signed 15 top-100 players from 9 different states (New Jersey, Wisconsin, Michigan, California, Florida, Indiana, Georgia, Virginia and Oklahoma).
So why didn't that translate into anything substantial? There are a few answers to that.
One was Harbaugh's unwillingness to develop his offense until hiring Josh Gattis from Alabama (or Maryland) in 2019. Another was Harbaugh's loyalty to defensive coordinator Don Brown, who got off to a great start in 2016 but ultimately watched his defense allow an average of 41.3 points per game in 4 meetings against Ohio State (taking away special teams and defensive scores).
But even more simple than that, Harbaugh never had a team with talent on the level of Alabama or Ohio State. Since 247sports started tracking talent composite in 2015 — to measure the amount of incoming talent on the roster based strictly on recruiting rankings — Michigan has always ranked behind at least 3 SEC teams:
247sports talent composite
Michigan's FBS ranking
SEC teams ranked higher
You might ask why talent composite rankings matter. Since that's been tracked, only 1 team ranked outside of the top 10 in talent composite (2015 Clemson) has won a Playoff game. Michigan is certainly trending in the wrong direction in that department. Harbaugh's last 2 classes ranked No. 14 and No. 13.
In the 2019 book "Overtime: Jim Harbaugh and the Michigan Wolverines at the Crossroads of College Football" by John U. Bacon, Harbaugh said "(it's) hard to beat the cheaters." That was considered a jab at the SEC. It was also considered a failed attempt to gain sympathy coming from the guy who once tweeted to the SEC backlash over satellite camps "Question of the day: Does anyone find whining to be attractive? Just curious."
This still comes down to recruiting talent and developing it. Harbaugh didn't do either of those things well enough. At least not well enough to be considered a threat to the SEC.
Seven times since his first full cycle at Michigan in 2016, Harbaugh lost a verbally committed recruit to the SEC, and 4 of those instances involved recruits from states with an SEC school. Alabama, Auburn, Florida, Georgia, Tennessee and Kentucky all poached Michigan pledges.
The good news? Harbaugh's 2021 class was the first full cycle in which he didn't lose a verbal commitment to an SEC school. That included 5-star IMG quarterback J.J. McCarthy, who's the No. 5 highest-rated signee of the Harbaugh era and is making a push to start as a true freshman.
The bad news? Harbaugh still can't really hang his hat on signing blue-chip recruits from the south and turning them into legitimate NFL prospects.
From 2015-19, Harbaugh signed 40 recruits who were from states with an SEC school. Only 4 of them were selected in the first 2 days of the NFL Draft (2020 and 2021 signees aren't eligible for the NFL Draft yet):
LB Devin Bush, Flanagan (Pembroke Pines, Fla.)
C Cesar Ruiz, IMG Academy (Bradenton, Fla.)
Edge Josh Uche, Columbus (Miami, Fla.)
WR Nico Collins, Clay-Chalkville (Pinson, Ala.)
Ruiz was actually from New Jersey, but he played at IMG. In other words, Collins was the first offensive player from an SEC state that the offensive-minded Harbaugh recruited, signed and developed into a Day 1/2 pick of the NFL Draft. The Pinson, Ala. native had a productive college career (78 catches, 1,388 yards and 13 touchdowns), but he never received all-conference honors.
Harbaugh didn't make a habit of plucking southern recruits and turning them into elite NFL prospects. He certainly didn't make a dent in the talent pool for Saban or Smart. This past draft alone, Saban had 5 players selected in the first 17 picks, and all of them were from states with an SEC school. Smart had 5 players from SEC states selected in the first 2 days of the 2021 NFL Draft.
In hindsight, we can say it was foolish to think that Harbaugh was ever going to consistently beat out Saban and Smart for top southern recruits and turn them into top NFL prospects.
It just goes to show that one can come in with the baddest of intentions — NFL pedigree and all — but shaking up the SEC is an entirely different ballgame.
The future
In January, Harbaugh signed one of the more unique contracts for a college coach in recent memory. He went from earning north of $8 million annually to signing a new 5-year deal that'll pay him an average of $4.2 million annually — 9 SEC coaches earned more than that in 2020 — with significant performanced-based incentives (via MLive.com):
$50,000 for earning Big Ten Coach of the Year
$75,000 for earning national coach of the year
$150,000 for reaching undisclosed APR score
$200,000 for earning New Year's 6 Bowl berth
$500,000 for winning Big Ten East
$500,000 for reaching Playoff semifinal
$1 million for winning Big Ten Championship
$1 million for winning CFP National Championship
According to MLive, the maximum earning potential for each year of the new deal is $7.475 million in 2021, $7.576 million in 2022, $7.681 million in 2023, $7.789 million in 2024 and $7.9 million in 2025. Of course, if Harbaugh were to earn those maximum figures at any point, we're likely talking about a much different contract moving forward.
Also of note, the buyout number starts at just $4 million and it decreases by $1 million after every season. In this era, wherein South Carolina just paid more than 3 times as much to fire Will Muschamp, that buyout number to fire Harbaugh is minuscule.
There's a decent chance that Harbaugh can keep his job beyond 2021 and that he'll bounce back after a lost season in 2020. There's also a decent chance that with no SEC games on Michigan's current future schedule, Harbaugh has coached his last game vs. an SEC team at Michigan.
Much has changed in the past 6 years. To fully grasp just how different things are now compared to 2015, look no further than the perspective from Harbaugh's media enemy, Paul Finebaum.
It's no secret that Finebaum has had his fair share of shots fired at Harbaugh over the years. From blasting him for losing to Michigan State and saying "this is what Michigan deserves," to calling the hiring of Harbaugh "a colossal failure," Finebaum had no shortage of fun at the Michigan coach's expense. Finebaum even called out Harbaugh for reportedly trying to hire the father a decorated quarterback recruit, only to have that not happen. But that still gave us the classic "Pete" Finebaum back-and-forth in which Harbaugh called Finebaum an "SEC water carrier."
Ahead of Michigan's Citrus Bowl matchup against Alabama in 2019, Finebaum did an interview with The Detroit Free Press. This quote says it all:
"I thought he was the biggest hire in college football since Urban (Meyer) to Ohio State, only preceded by (Nick) Saban to Alabama … he had the breathless admiration of anyone who covered him, including my own company at ESPN. We fawned over Harbaugh like he revolutionized football. And so the standard was high. When he hasn't come close to succeeding on that level, the criticism comes. He's almost become a parody of himself."
Even the most staunch Harbaugh supporters can see the truth in that. For all the things Harbaugh did right — he led Michigan to a Top 25 finish in 4 of his first 5 years with a 32-12 conference record during that stretch — his failures were always going to be magnified.
In theory, a new contract will give Harbaugh time to turn it around. In reality, there aren't too many coaches who change the narrative about themselves in Year 7.
Once upon a time, the idea of Harbaugh threatening the SEC's balance of power caused a stir. It might not have been a unanimous thought, and it might not have been anywhere close to a consensus thought in the South. But back in 2015, a statement like that didn't get you laughed out of the room.
Six years later, you can't say those words with a straight face.