SEC
Saturday Football: Notre Dame, B1G outbreaks and schedule changes
The Saturday Football newsletter goes out to subscribers up to 3 days a week and discusses the major events going on around the nation in college football. You can subscribe by clicking here.
Good morning and happy Monday! As we continue to figure out what the 2020 college football season could look like, there has been a mix of good stories and bad stories over the past few days. For every sign that things could resemble a normal season, there's another story casting doubt on that possibility.
So, what should we make of the news of the past week? In today's newsletter, we'll look at some Big Ten COVID-19 outbreaks, Notre Dame's potential place in the college football world, an interesting scheduling decision and more. Let's get started!
NOTRE DAME
As a football independent, Notre Dame faces some serious challenges this year. What will 2020 look like for the Irish?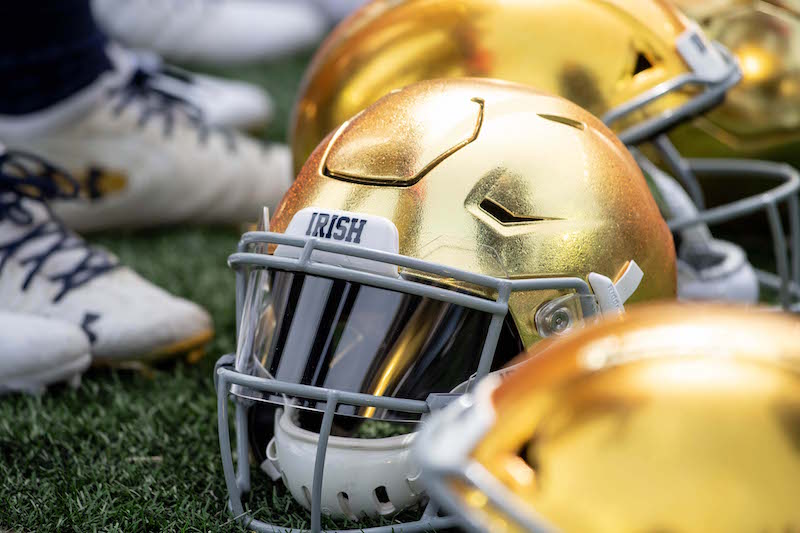 In the buildup to the 2020 season, we've already seen the Big Ten and Pac-12 announce that they were shifting to a league-only schedule for football. What that looks like remains to be seen at this point, but it seems likely the ACC and potentially other FBS conferences will attempt to do similar things. As you might imagine, that puts the seven FBS independent schools in unenviable positions.
The biggest independent football program is, of course, Notre Dame. The Fighting Irish have been the subject of some speculation in recent days. What will happen with the Irish this fall? Let's take a look at some of the chatter:
Notre Dame already plays several ACC schools each season. In 2019, the Irish played 5 ACC programs — Boston College, Virginia, Virginia Tech, Duke and Louisville. They went 5-0 in those games. If things were going to go according to plan in 2020, they would have played 6 ACC teams — Wake Forest, Pitt, Duke, Clemson, Georgia Tech and Louisville. Now, though, it appears the Irish could play a full ACC schedule. According to a report from Stadium's Brett McMurphy, the ACC's "top scheduling model" at the moment would involve a 10-game league schedule, with Notre Dame included.
There are some questions that still need to be answered with that plan. A big one is whether the Irish would be eligible to earn the ACC's spot in the Orange Bowl. That spot goes to the top-rated ACC team that doesn't make the College Football Playoff. The ACC presidents would have to approve that plan. A positive question is whether the Irish would be able to reignite their rivalry with Miami. The traditional powerhouses have only played 4 times since 1990 (2010, 2012, 2016 and 2017). The Irish and Hurricanes have a series set to begin in 2024, but Miami AD Blake James told the Miami Herald recently that "if the opportunity for a match up with ND is presented, we would be thrilled to have that game added to our 2020 schedule.''
Even with the ACC's help, the Irish might need more time. Sorting out a schedule is hard enough under normal circumstances, so trying to figure out what games will be played in 2020 and what games won't will be difficult for Notre Dame. With Week 1 rapidly approaching, it should come as no surprise that Notre Dame AD Jack Swarbrick reportedly would like the 2020 season to be delayed. It remains to be seen if he'll get his wish or not.
There are only a few Saturdays left before college football is supposed to start. However, there are still a number of very important questions to be answered, particularly with Notre Dame and the ACC. As we flip our calendars to August, decisions will need to be made quickly.
GOOD READS
SCHEDULE CHANGES
Whether canceling or shifting games, schedules are changing for the 2020 season. Here's the latest.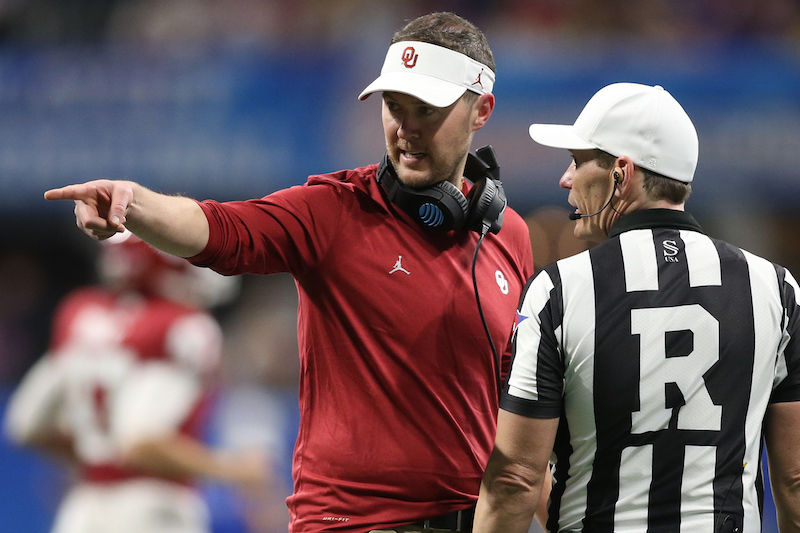 Last week, we discussed how Alabama was looking for a new Week 1 opponent after the Pac-12 announced it was moving to a conference-only schedule. That canceled the highly anticipated Alabama-USC matchup. Now, other scheduling news is making headlines across the college football world.
From some conferences delaying the season to other schools actually moving up their Week 1 matchups, there's plenty to discuss. Let's take a look at a hodgepodge of headlines from across the football landscape:
So, those are just a few of the latest scheduling headlines. This is going to be a very unusual college football season, which means the scheduling oddities will likely continue. The important thing for fans, players and schools is that we have football and we play it as safely as possible. Though that might make things stranger than usual, we're all just along for the ride at this point.
JUST FOR FUN
The past couple of weeks, we've asked you to name the top offenses and top defenses from the 2019 season. There were 8 FBS programs that averaged more than 40 points per game last year. But there were 7 FBS squads that couldn't even score 17 points per game. Can you name those 7 struggling offenses?
Scroll down to see the answers to today's quiz.
BIG TEN COVID OUTBREAKS
The Big Ten is dealing with two COVID-19 outbreaks. What does this mean for the teams involved?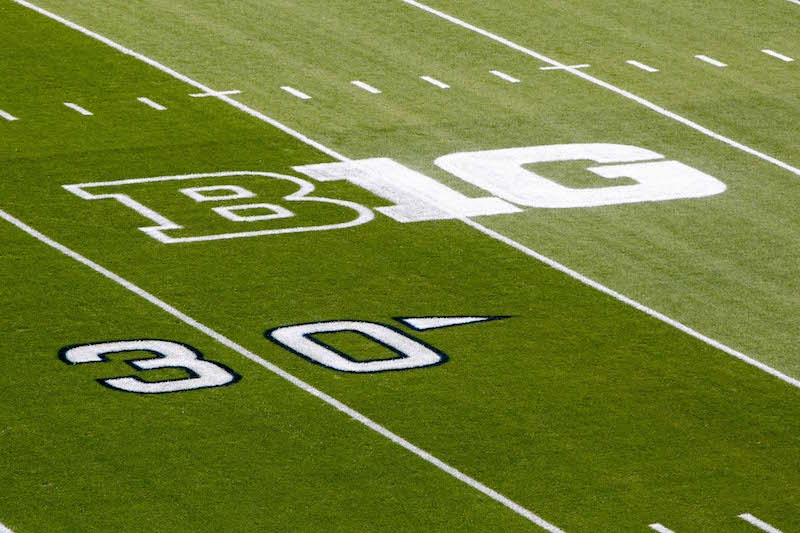 The COVID-19 pandemic is still a very real threat in the United States, even as many places see their curves start to flatten once again. It is already having a major impact on the 2020 college football season, and there were more COVID-related headlines that popped up last week.
So, let's talk about the latest stories involving COVID-related changes. In this section, we'll focus on some bad news out of the Big Ten and what it could mean moving forward:
Two Big Ten programs have quarantined their entire football teams. First, on Friday, Michigan State announced it was quarantining its program after 2 staffers and 1 player tested positive. Then, on Saturday, Rutgers followed suit, suspending its workouts and quarantining players and staffers after 6 new positive results.
Does this put these teams' (or the B1G's) seasons in jeopardy? Michigan State starting OL Jordan Reid isn't happy with the situation players are being put in during the pandemic. He took to Twitter to blame college football's chase for revenue as the main factor in the decision to continue pushing for a 2020 season. With 2 B1G programs already pressing pause, The Athletic's Stewart Mandel joked about whether or not we'd have enough programs still standing at the end of the year to play postseason football.
Michigan State and Rutgers are hardly the only teams with these struggles. Across the country, we've seen programs have to pause workouts due to COVID test results (Kansas State, Maryland, North Carolina, Ohio State and others have had to take breaks). What makes this so difficult? Sports Illustrated's Ross Dellenger wrote about the challenges posed by contact tracing when it involves football players who share practice fields, planes and dorms with one another. On the other side of the coin, it has been pointed out that NCAA testing guidelines might actually favor players who test positive for COVID-19 before the season starts.
Though you never want to see an athlete catch a virus like COVID-19, these outbreaks are happening before the season starts. Things become much more complicated if a team has to hit pause during the 2020 campaign. How will conferences and schools handle those situations moving forward? Only time will tell.
ANSWERS
Here are the seven FBS programs that averaged fewer than 17 points per game in 2019:
Akron — 10.5 points per game
Rutgers — 13.3 points per game
Bowling Green — 16.0 points per game
Old Dominion — 16.3 points per game
Northwestern — 16.3 points per game
Vanderbilt — 16.5 points per game
Georgia Tech — 16.7 points per game
QUOTE OF THE WEEK
"We'd love to play 'em, I know that. I know that at least I know within our program we would love to play Texas A&M, certainly.
"I hope someday that we can figure out a way to be like everybody else in the country, the Clemsons and South Carolinas, the Georgias and Georgia Techs and all of the examples that I gave you."
— Texas coach Tom Herman said he'd love to get the rivalry with Texas A&M going again, potentially even this year. Here's hoping it gets done!
TWEET OF THE WEEK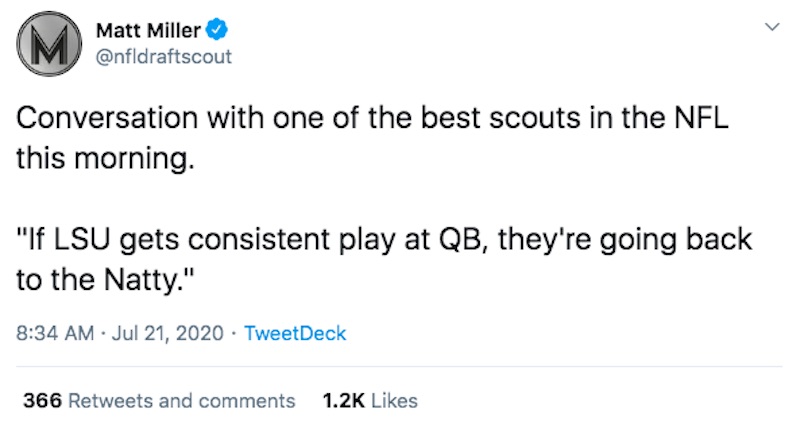 LSU had a season for the record books in 2019. How can the Tigers compete for another national championship? Per Bleacher Report's Matt Miller, one NFL scout says the key will be new QB Myles Brennan. No pressure, Myles!