SEC
Saturday Football: Tank for Trevor, Joe Burrow pro comps and USC to the Big 12?
The Saturday Football newsletter goes out to subscribers up to 3 days a week and discusses the major events going on around the nation in college football. You can subscribe by clicking here.
Good morning and happy Monday! Spring football is now officially underway for most of the FBS squads, with another slate of teams starting practices on Saturday. That means we're getting closer to spring games, which means college football on TV!
Between now and then, though, we still have some Pro Days to get through and some NFL Draft buildup stories. Let's take a look around the country at some of today's top stories.
USC TO THE BIG 12?
Could USC actually leave the Pac-12 for the Big 12? That's been a topic of debate recently.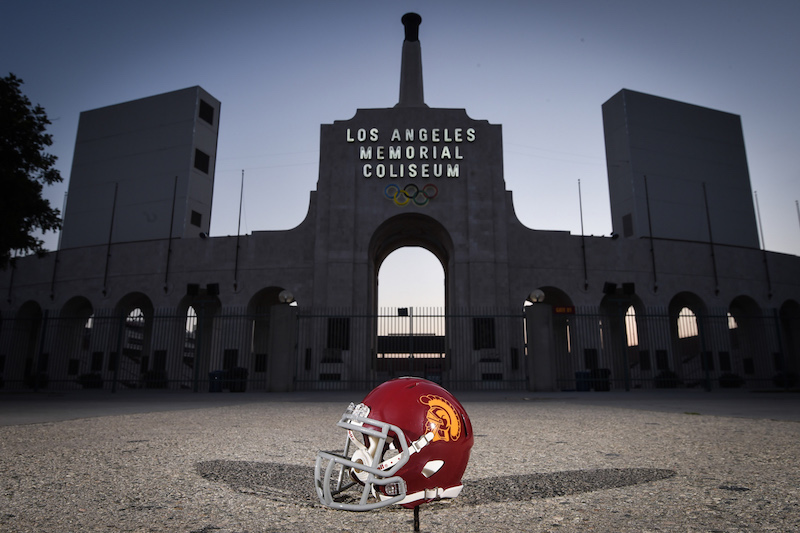 The Pac-12 has been going through a few rough years on the football field, as the past three College Football Playoffs have taken place without any Pac-12 squads participating. Add in a less-than-ideal media network situation at the moment, and it's no surprise some buzz has started about teams potentially leaving the conference.
In recent weeks, there have been some rumors circulating about USC potentially leaving the Pac-12 for the Big 12. Where did those rumors get started? Let's take a look at this interesting story:
The rumors got started after some comments from the new USC AD. Back in February, Mike Bohn cited the Pac-12 media rights deal, which only paid out $11 million to each member school in 2018 (it was projected at around $33 million per school in 2019). That's behind the other Power 5 conferences, prompting Bohn to say "everything is on the table."
Bohn eventually walked back those statements a tiny bit. While he said he didn't want to fully walk it back, he did say the intent of his original comments wasn't 'malicious.' "The context that I was talking about was whether it was league TV stuff, creative pieces with any other type of deliverable, it has to be on the table. Guess what? If that helps [the league] understand the importance of what our campuses are going through, so be it."
Still, those comments were enough to get the rumor mill going. One analyst said it would make a lot of sense for USC to join the Big 12. Jeremy Cluff of the Arizona Republic went even bigger with a column he wrote. He wondered if the Big 12 could add USC, Oregon, UCLA, Washington, Arizona and Arizona State. That would certainly be a major shakeup.
Obviously, nothing is imminent at the moment. This seems mostly about certain teams sending a message to the Pac-12. We'll see how this situation progresses as the 2020 season quickly approaches.
MARCH SPRING GAMES
The 2020 college football season is still a few months away, but spring practices are under way for a number of FBS schools. While most programs will hold their spring games in April, there are a few schools that will be hosting their annual spring scrimmages this month.
Houston held its spring game this past Friday, and Air Force went on Saturday. As the month progresses, 10 additional schools will hold their spring games. Here's a look at when those games will take place over the next couple of weeks (via FBSchedules.com):
Thursday, March 19
Saturday, March 21

Appalachian State
Charlotte

Saturday, March 28

Western Michigan
Tulane
BYU
TCU
San Jose State
Arizona State
Louisville
April is going to be jam-packed with spring games every weekend, but these 10 games will be a nice appetizer before we hit that point.
TANK FOR TREVOR
Trevor Lawrence is the likely No. 1 overall pick in 2021. Are teams already trying to tank for him?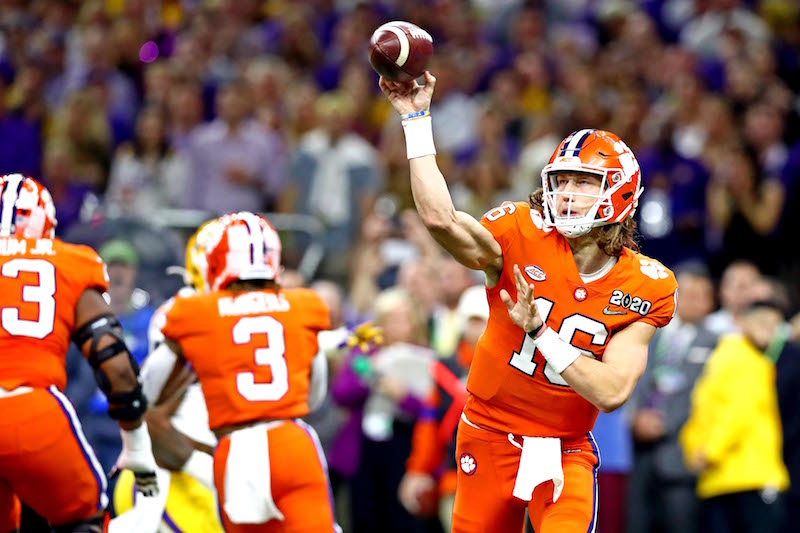 The 2020 NFL Draft is still a few weeks away, but there has already been some speculation about the potential No. 1 overall pick in 2021. Clemson QB Trevor Lawrence is expected to be the prize prospect in the next draft class, and for good reason.
So, are any NFL teams already angling to draft Lawrence next April? Let's take a look at some "Tank for Trevor" stories that are popping up:
We'll start with rumors that emerged in recent days. Although the Carolina Panthers finished 5-11 in 2019, there are rumors that they could be interested in Lawrence. Per Bleacher Report's Matt Miller, "many sources" say the Panthers are going all-in on trying to get Lawrence next year.
The Panthers won't be the only ones interested in Lawrence. Fansided's Jacob Schyvinck recently wrote a piece noting five teams that should try to tank for Lawrence. Included were the Las Vegas Raiders and the Tampa Bay Buccaneers, among other squads. However, fellow Fansided writer Shawn Spencer thinks the Buccaneers are too good to tank for Lawrence.
Lawrence could also decide to return to school in 2021. However, don't expect him to go that route. Fansided's Shawn Spencer notes that Lawrence is on track to graduate from Clemson this December. All signs point toward him going pro in 2021.
The Miami Dolphins were expected to try to "Tank for Tua" this past season, but they got hot later in the season and finished 5-11. However, they are still in the mix to land Tua Tagovailoa with the No. 5 overall pick in the 2020 NFL Draft. We'll see which teams put themselves in position to draft the Clemson star this time next year.
GOOD READS
JUST FOR FUN
Today, let's see how well you know FBS coaches. We'll give you five coaches and five schools and you have to match the coach with the school he currently works for. Ready? Here we go:
Buffalo
Stanford
Temple
Utah State
Florida International
A: Rod Carey
B: Butch Davis
C: Lance Leipold
D: David Shaw
E: Gary Andersen
Scroll down to see the answers to today's quiz.
JOE BURROW'S NFL COMPS
Joe Burrow has gotten several NFL comparisons. Which ones best fit the likely No. 1 pick?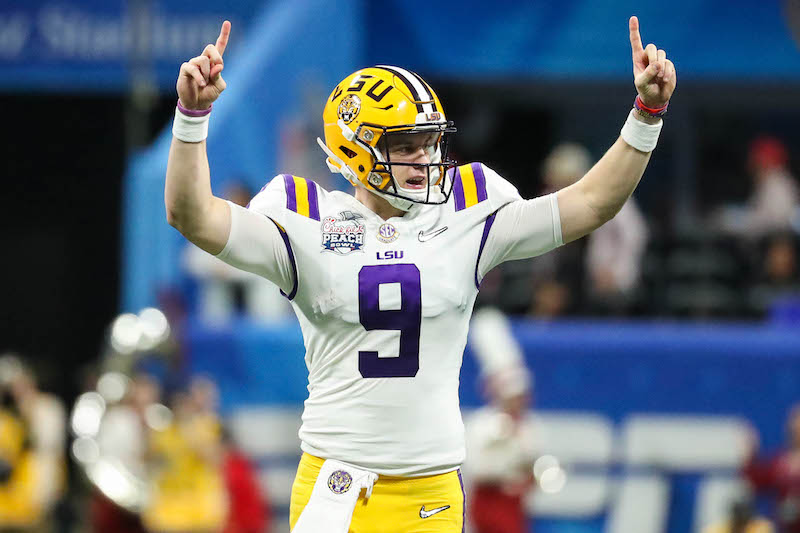 At this point, it seems like a lock that former LSU QB Joe Burrow is going to be taken by the Cincinnati Bengals with the No. 1 overall pick in the 2020 NFL Draft. What isn't as certain, though, is which NFL quarterback is the best comparison for the reigning Heisman Trophy winner.
So, who is Burrow being compared to? And, how do those pro comps hold up? Let's take a look at some of the chatter surrounding the likely No. 1 pick:
First, we'll start with Pro Football Focus's draft comp for Burrow. PFF compared Burrow to former Dallas Cowboys star (and current highly paid NFL analyst) Tony Romo. The logic? Romo and Burrow are accurate and have great pocket escapability. A few months ago, ESPN analyst Mel Kiper Jr. also compared Burrow to Romo.
Then, there's NFL.com analyst Daniel Jeremiah and his comp. Jeremiah recently compared Burrow to six-time Super Bowl champion Tom Brady of the New England Patriots. After a 15-0 season in which Burrow won the Heisman and a national title and threw a record 60 touchdown passes, it's easy to see why he would be compared to one of the greatest winners of all time.
However, Burrow isn't a big fan of that comparison to Brady. He said recently he'd like to wait a little bit before he's being compared to a six-time champion. "Please don't compare me to the best player of all time," Burrow said. "Let me do my own thing. Don't do that to me, please." He added that he knows it's a compliment to be mentioned in the same sentence as Brady, but he hasn't done anything to earn it yet.
NFL comparisons are never perfect, because every player is different. Still, if Burrow can live up to some of the comps he's been getting in the pre-draft process, he should have one heck of a pro career.
ANSWERS
Here are the answers to today's school-coach matching game:
1C — Buffalo-Lance Leipold
2D — Stanford-David Shaw
3A — Temple-Rod Carey
4E — Utah State-Gary Andersen
5B — Florida International-Butch Davis
QUOTE OF THE DAY
"It is frustrating, I am frustrated not so much for us but I am frustrated for our guests who come out to see Joe. I'm frustrated for our partners, for our host at the event and our associated partners with what we do at the Maxwell Football Club – they're excited to see Joe Burrow. And rightfully so. It's sad that it has to happen. When you have 14 award winners, a lot of moving parts at the event and you hold your breath that you don't have bad weather, you don't have travel difficulties, that you don't have something unfortunate happen in someone's life that they can't join us. Those things happen from time to time. I haven't run across this type of decision making for a winner not to come and I really don't know a viable explanation other than what we've been told."
– Maxwell Football Club executive director Mark Wolpert wasn't too pleased that Joe Burrow decided to skip the Maxwell Award ceremony over the weekend. Burrow was originally scheduled to attend and then his plans apparently changed.
TWEET OF THE DAY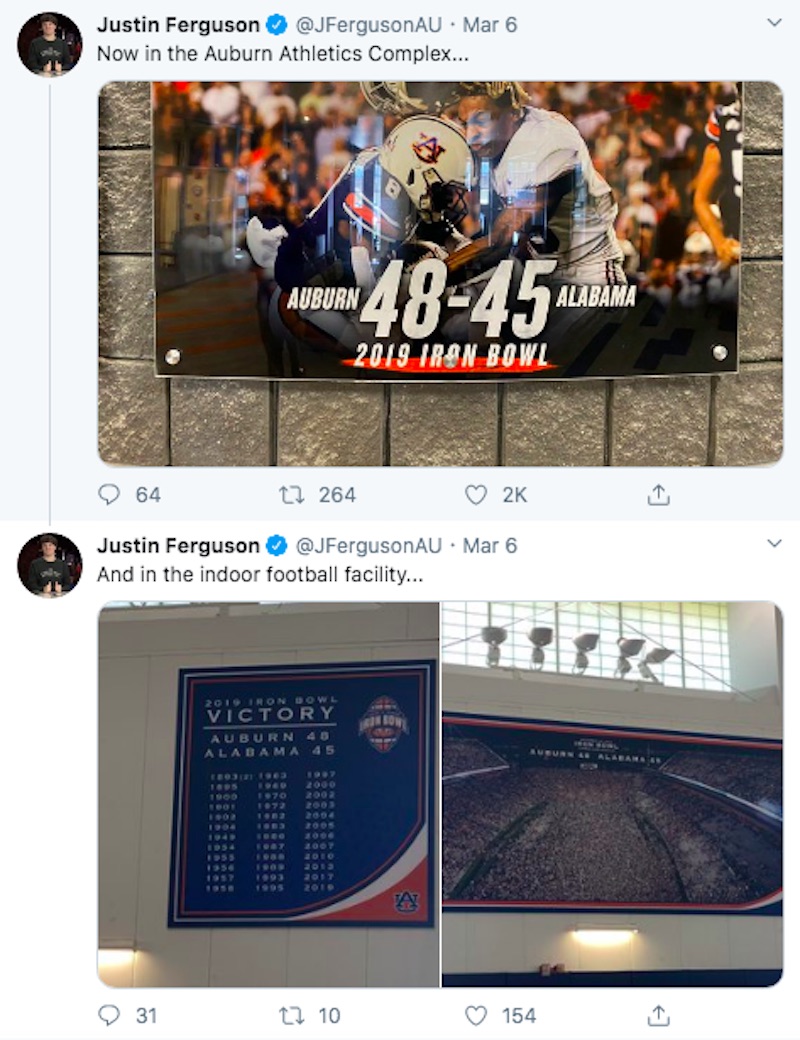 Auburn clearly wants everyone who visits its football facility to know the Tigers beat Alabama in the Iron Bowl last season.