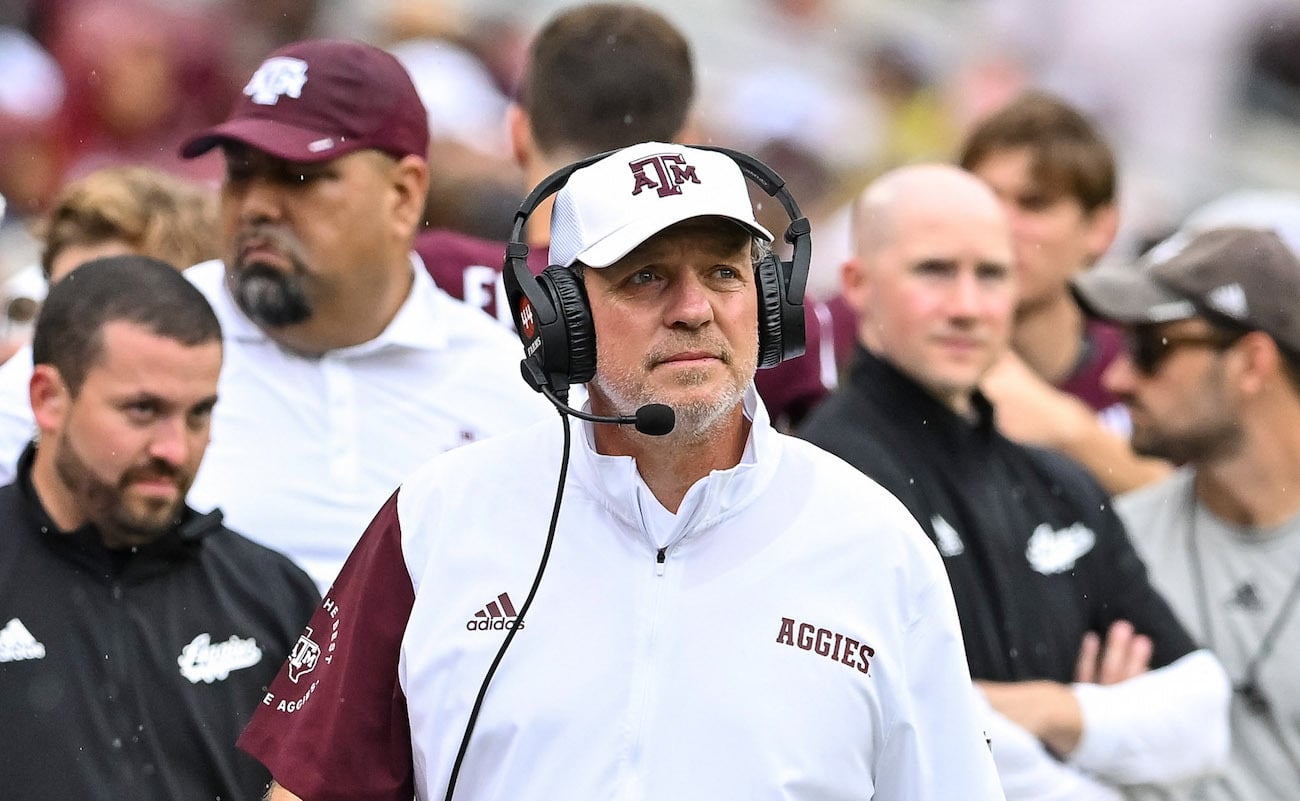 SEC
SEC Week 3 Primer: Jimbo Fisher isn't going anywhere anytime soon. If Texas A&M can't beat Miami, neither is the noise
Breaking down the weekend's SEC slate, all in one place.
The stakes: How loud is it going to get around Jimbo Fisher?
I emphasize loud, as opposed to hot, because at this stage there is considerably more noise around Fisher's job security than actual heat. On one hand, yes, the man is making a truly obscene amount of money to coach a college football team — upwards of $9 million a year through 2031 — and said team's 17-14 flop against Appalachian State in Week 2 is the kind of existential-crisis loss that makes it abundantly clear just how far the project is from delivering a return on investment in Fisher's 5th year on the job. The Aggies are paying for championships, and they ain't close. Because his contract is fully guaranteed, however — fully as in Texas A&M is on the hook for every last penny no matter how many games they win or lose — Fisher is also insulated by the prospect of a buyout so outrageous even het-up A&M boosters in an oil boom are largely powerless against it. Firing him in 2022 would cost the school the entire $85,950,000 remaining on the deal, zeroes written out for emphasis. And then they'd still have to pay the next guy.
So, barring a catastrophe so spectacular and complete the state legislature is compelled to intervene, the Aggies are stuck in this marriage for the foreseeable future. But that doesn't mean they can't still complain about it, loudly and at every opportunity. The negative vibes that descend on a program when the worm turns against a head coach can be self-fulfilling, filtering down to the locker room and especially to the recruiting trail, the crucial area where Fisher has succeeded in sustaining forward momentum even as the onfield product has yet to pay off. That wave carried A&M from unranked in the final 2021 AP poll all the way to No. 6 in the preseason. But it hit an unexpected wall against Appy State, and 2 consecutive home losses could send it reverberating back in the opposite direction before the 1st conference game. Right now, every time out is about restoring some sense of equilibrium.
By comparison, Mario Cristobal is cool as a cucumber. In Year 1 in Miami, he's in essentially the same position as Fisher in his 1st year in College Station: A splashy, expensive hire whose arrival signaled a heavy investment in winning big at a program that has underachieved for too long … but not necessarily just yet. Cristobal grew up next door to Miami's campus, won a couple of national championships there as a player in 1989 and '91, and isn't in any immediate danger of wearing out his welcome home. Then again, at 2-0 he hasn't suffered his 1st loss yet, either. With the amount of money and 24/7 scrutiny that comes with these jobs nowadays, the honeymoon period has never been shorter.
The stat: 30.6%
That's the percentage of dropbacks by Miami QB Tyler Van Dyke that resulted in pressure in the Hurricanes' 30-7 win over Southern Miss, a major factor in their sluggish start and a potential red flag opposite a blue-chip Texas A&M pass rush. Given time to set his feet, the 6-4, 224-pound Van Dyke is an aspiring 1st-rounder with confidence and arm strength to spare …
Ridiculous throw & catch from Tyler Van Dyke to Brashard Smith for 30 yards! pic.twitter.com/oZPDyjCJmV

— Sideline CFB (@SidelineCFB) September 10, 2022
… but not much in the way of escapability. Southern Miss hounded him for 11 pressures and 4 sacks, per Pro Football Focus, the responsibility for all of which PFF assigned to the offensive line.
The wild card up front is the status of senior left tackle Zion Nelson, who sat out the season opener vs. Bethune-Cookman and was limited to 20 snaps off the bench last week as he continues to rehab an offseason knee injury. When healthy, Nelson is a future pro in his own right with 32 career starts on the left side. (Regular SEC viewers might remember the very 1st — a disastrous, nationally televised outing against Florida in the 2019 opener that resulted in a flat 0.0 pass-blocking grade from PFF. He's come a very long way.) But Miami doesn't do depth charts, so exactly how much A&M can expect to see of him is TBD. His presence or absence will be a key factor in keeping Van Dyke upright, or not.
The big question: Is Haynes King ready for prime time?
Fisher has a lot invested in King. He hung around after a season-ending foot injury in 2021, beat out a veteran transfer (Max Johnson) and a 5-star freshman (Conner Weigman) for the starting job, and still has a chance at a bright future. Inevitably, though, the quarterback was the goat of the loss to Appalachian State, finishing 13-of-20 passing for 97 yards, 1 3rd-down conversion and a fumble that set up a short field for Appy State's 1st touchdown.
Jalen McLeod (@_JayRashaan) long arms his blocker to the ground, gets the strip sack, stays with the play & strips it again allowing the defense to recover.

Effort will never betray you! #passrush #appstate pic.twitter.com/uyrTM56WCT

— DLineVids (@dlinevids1) September 11, 2022
Obviously, that's not all on him. (The right tackle on that play, sophomore Reuben Fatheree II, came in for an appropriately dreadful 34.8 PFF grade.) But whatever other deficiencies A&M's offense may have, there was little evidence that King has the playmaking chops to overcome them. His best play, a 31-yard scramble on 3rd and 17 in the 2nd quarter, set up the Aggies' only offensive touchdown 2 plays later. (Their other TD came on a kickoff return by the irrepressible Devon Achane.) Beyond that, King looked limited as a passer and an athlete, going 1-for-6 on attempts 10-plus yards downfield with a long gain of 19. The absence of the deep ball has been a perennial criticism of Fisher's offense, one he specifically promised to address this season. Early returns point to more of the same.
It's important to keep mind here we're talking about a redshirt sophomore heading into his 5th career start, who is presumably still a long way from the finished product. If King is good enough to earn the starting job 2 years in a row, and against substantially better competition the 2nd time around, he deserves the opportunity to keep it. But the fact that he's already a prime candidate for the bench is just another sign of the urgency the fan base feels to see this team take the next step.
The key matchup: Miami WR Brashard Smith vs. Texas A&M DB Antonio Johnson
Miami's leading receiver, Xavier Restrepo, was a surprise scratch on Thursday due to a foot injury that will sideline him indefinitely. In his absence, the lion's share of snaps from the slot figure to go to Smith, a true sophomore with limited reps as a reserve but undeniable home-run speed:
Tyler Van Dyke to freshman Brashard Smith. Who is ready to see these 2 connect more in 2022? pic.twitter.com/KpcRKo6uaX

— Cane Clips (@cane_clips) February 6, 2022
Against Johnson, though, he'll be opposite one of the premier nickel safeties in the country. Johnson made a name for himself last year primarily as a ballhawk, finishing among A&M's leaders in tackles and TFLs. But he was arguably their steadiest player in coverage, too, limiting opposing receivers to just 5.6 yards per catch on 41 receptions, per PFF — best in the SEC among DBs with at least 100 coverage snaps. Appalachian State targeted Johnson just once, for a gain of 6 yards. If the 'Canes can't find ways to get Smith more involved than that, it might be a long night.
The verdict
The atmosphere for night games following a bad loss tends to be anxious, with an edgy, possibly not entirely clear-headed crowd bringing a week's worth of angst to the stadium. A fast start by A&M, and by King, specifically, would go a long way toward defusing that energy early on.
Unfortunately, the Aggies profile again as a defensively oriented team determined to turn every competitive game into a tense, 4-quarter slog. Miami's only clear advantage in the tale of the tape is behind center, where Van Dyke's arm could be the great equalizer against A&M's superior depth chart. Kyle Field will be the most hostile setting he has ever faced, and hitting him early on, or even just consistently forcing him to reset his feet, is the Aggies' best bet to keep the pressure off their own offense. It won't be pretty, but at the moment they'll take a W however they can get it.
– – –
Texas A&M 24 | • Miami 20
Speaking of slogs! Neither side of this one can afford to put its full trust in its quarterback — Auburn because it hasn't seen enough yet of TJ Finley in the full-time role, and Penn State because it has seen way more than enough of Sean Clifford. And as far as the viewing audience is concerned, fine. Strictly from an entertainment perspective, the more often the ball is in the hands of the running backs — Auburn's Tank Bigsby and Penn State's 5-star phenom Nick Singleton — the more likely we are to see something spectacular happen, anyway.
Get to know the name, B1G fans: Nick Singleton.

The freshman RB goes 70 yards for his first career TD. ?‍♂️?@NickSingletonn x @PennStateFball pic.twitter.com/h7rqFoTLqJ

— Big Ten Network (@BigTenNetwork) September 10, 2022
Bigsby we know. But Singleton has an opportunity to come out of this game, the mid-afternoon CBS showcase, as a full-blown star in his own right. Through 2 games, he has accounted for 314 all-purpose yards (210 rushing, 104 on returns), much of that coming on a couple of breakaway touchdown runs against Ohio. MAC caveats apply, but then so does the old cliché: When the No. 1 RB prospect in his class shows you who he is, believe him.
– – –
• Penn State 26 | Auburn 19
Mississippi State has never been a road favorite in Baton Rouge in a year that begins with a 2, so even that narrow point spread speaks volumes both to respect for the Bulldogs and skepticism toward the initial phase of the Brian Kelly experiment at LSU. The Dogs have covered easily without drama or incident in each of their first 2 games, while most of the country is still trying to absorb the psychedelic ending of LSU's opening-night loss to Florida State.
Uncertainty notwithstanding, the Tigers got good personnel news this week on both sides of the ball. On offense, they'll benefit from the long-awaited return of RB John Emery Jr., a former 5-star who missed all of last year and the first 2 games this year due to academics; he has been cleared to play Saturday for the 1st time since 2020. On defense, they've given the green light to the best player on the field against FSU, edge rusher BJ Ojulari, who sat out last week's win over Southern after terrorizing the Noles — although he didn't record a sack in the official box score, PFF credited him with 2 sacks plus 4 QB hits. Mississippi State's offense is designed specifically to get the ball out before the pass rush can get home, but at the expense of pushing the ball downfield. If the back end does its part in limiting YAC, Ojulari's presence can still be felt whether it registers on paper or not.
– – –
• LSU 34 | Mississippi State 29
If you assumed before the season that losing 6 1st-round draft picks doomed Georgia's defense to a random lapse or 2, this game was a plausible candidate — on the road, against a blue-chip quarterback, in a setting where a Kirby Smart team has been known to fall on its face for no reason in particular. Now that the time has come, it's a tougher sell. Georgia's defense has betrayed no hints of regressing to the mean, and Spencer Rattler is well below the Mendoza line in both pass efficiency and total QBR. The Gamecocks do have an intriguing weapon in WR Antwane Wells Jr., a decorated FCS transfer who had a breakout afternoon at Arkansas with 189 yards and 1 touchdown on 8 catches …
— Gamecock Football (@GamecockFB) September 10, 2022
… but assuming Carolina's defense isn't about to transform into an elite unit overnight, it's going to take a lot more than a couple of highlight-reel plays to make a dent.
– – –
• Georgia 38 | South Carolina 13
Geoff Collins has delivered exactly 3 wins in each of his first 3 seasons at Georgia Tech, and the outlook in Year 4 isn't any sunnier. The high-energy, ATL-focused recruiting juice Collins was expected to bring to the job has failed to materialize. His last 2 classes ranked in the bottom half of the ACC, his best signee by far transfered to Alabama, and most of the 17 former 4-stars on the current roster are castoffs who transferred in after washing out at their last school. The rebrand has fallen so flat most people still reflexively associate the Yellow Jackets with the triple option.
All of which is to say that Ole Miss, riddled with question marks as it may be after turning over half of last year's 2-deep, should be in cruise control for most of the afternoon. Barring a dramatic development, the ongoing QB competition between Jaxson Dart and Luke Altmyer isn't likely to resolve itself with 1 more nonconference audition still available next week against Tulsa. But of those auditions, this one on the road, against a Power 5 opponent (even a bad one), might be the most relevant.
– – –
• Ole Miss 36 | Georgia Tech 17
Last year's blowout win over USF doubled as the 1st chapter in the saga of Anthony Richardson, who introduced himself to college football by accounting for 267 yards and 3 big-play touchdowns against the Bulls in just a handful of snaps off the bench. That performance alone accounted for much of the frustration as Richardson languished in a part-time role for most of the rest of the year. It also stands as a testament to his enormous upside on the heels of an abysmal outing in last week's loss to Kentucky. Saturday would be an opportune moment for a reminder.
– – –
Florida 39 | • South Florida 16
Bama is coming off one of the sloppiest games of Nick Saban's tenure, and Saban just delivered his annual monologue about not playing down to your opponent. If the Warhawks were hoping to get in and out of Tuscaloosa without getting noticed, they picked the wrong week.
– – –
• Alabama 54 | UL–Monroe 3
Akron continues its piñata-for-hire tour fresh off a 52-0 beating at Michigan State. Respect to 1st-year head coach Joe Moorhead — who surely had more appealing options last winter than Akron — for embracing the "start a dynasty with the worst team in the game" challenge in real life.
– – –
Tennessee 52 | • Akron 7
Youngstown State at Kentucky (n/a)
Mark Stoops was famously born and raised in Youngstown, where his father, Ron, was a fixture on local high school sidelines for decades and from whence Mark and 2 of his 3 older brothers left to establish one of the sport's most successful coaching clans. (Although they all attended Iowa, not Youngstown State.) Bob Stoops will reportedly be on hand Saturday to give the SEC Network crew a hook to keep bringing it up. Expect a heavy rotation of old family photos and roughly a thousand incantations of the words "blue collar," especially after things get out of hand.
– – –
• Kentucky 41 | Youngstown State 10
Vanderbilt's last meeting with NIU, a 24-18 win in Nashville in September 2019, was arguably the last time the Commodores seemed merely mediocre rather than truly inept. At that point they were still barely removed from a bowl appearance in 2018; since, they're 4-25 vs. FBS opponents. Toppling the defending MAC champs to improve to 3-1 would be another firm step toward restoring mediocrity.
– – –
• Northern Illinois 31 | Vanderbilt 27
Scoreboard
Week 2 Record: 7–2 straight-up | 3–6 vs. spread
Season Record: 15–4 straight-up | 5–13 vs. spread
• • •