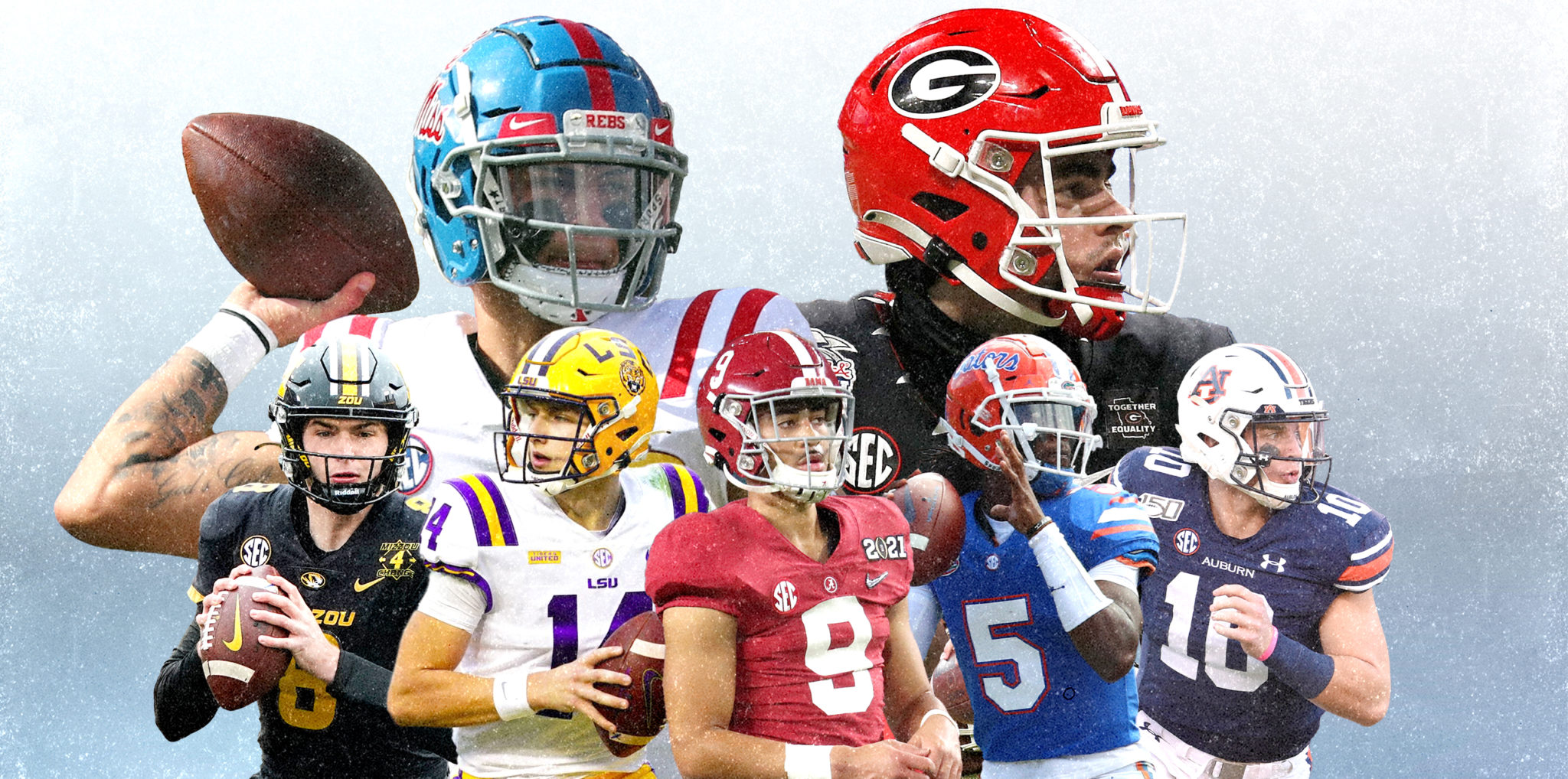 SEC
SEC QB Power Rankings after Week 1: No controversy at Florida (yet), but Anthony Richardson is making it interesting
Quarterbacks: There are a lot of them! Each week throughout the season, we'll help you keep the game's most important position in perspective by ranking the SEC starters 1-14 according to highly scientific processes and/or pure gut-level instinct. Previously: Week 1.
1. Matt Corral, Ole Miss
"If Matt limits his turnovers, and unless I'm an idiot, he's going in the first round," Lane Kiffin said ahead of Monday night's 43-24 win over Louisville, "and probably the top half of it." On this point, at least, Kiffin is definitely not an idiot: Corral was in complete command against the Cardinals, accounting for 436 total yards, 2 TDs and zero turnovers in a showcase game whose outcome was never in doubt, and which elevated his stock among draft scouts and Heisman watchers alike. Louisville probably doesn't rank in the top half of defenses Ole Miss will face this season, but if that is a sign of what's ahead, the arrow is only going to keep pointing up.
– – –
(Last week: 1 ⬌)
2. Bryce Young, Alabama
Corral's performance notwithstanding, most other quarterbacks with Heisman ambitions stumbled out of the chute. North Carolina's Sam Howell was sacked 6 times with 3 interceptions in an upset loss at Virginia Tech. Oklahoma's Spencer Rattler was picked twice in a too-close-for-comfort win over Tulane. Ohio State's CJ Stroud connected on a handful of big plays in the Buckeyes' win over Minnesota but was otherwise erratic in his first career start. Clemson's DJ Uiagalelei and Georgia's JT Daniels combined for 2 INTs and no scores in a the most high-profile defensive slog in college football in a decade. Miami's D'Eriq King was easily swallowed up by Alabama's defense. USC's Kedon Slovis and Iowa State's Brock Purdy put up meh numbers against obscure opponents well removed from the national gaze.
Then there was Young, who needed less than 5 minutes to confirm to America that he is who we thought he was.
https://twitter.com/247Sports/status/1434243038126219265?s=20
Young betrayed no hint of inexperience or growing pains against the 'Canes, finishing 27/38 for 344 yards with 4 TDs, 0 INTs, and a big lead over the rest of the field in the updated Heisman odds. Whatever nagging doubts there were before Saturday about his status as the next great 'Bama QB were effectively retired by halftime. I'm still trying to hang on to some shreds of restraint here after, you know, one game. But clearly he's not going to make it easy.
– – –
(Last week: 3 ⬆)
3. JT Daniels, Georgia
Daniels made no attempt whatsoever to show off his vaunted arm strength in the Bulldogs' 10-3 win over Clemson, averaging a meager 4.5 yards per attempt with a long gain of 21 yards. Of Daniels' 22 completions, 13 were aimed behind the line of scrimmage, per Pro Football Focus, and none traveled 20 yards downfield.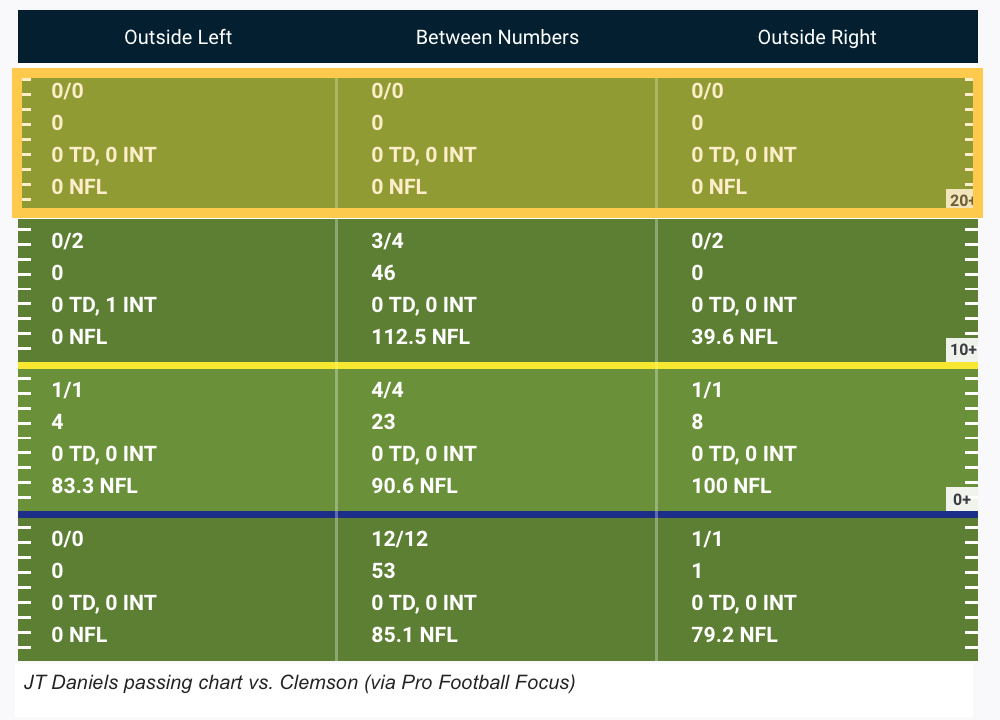 That's disappointing for UGA fans who were hoping to see the offense unleash the beast for a change, but looking ahead it comes with a few caveats. One: Clemson's defense is very, very good. Two: The flow of the game, dictated by the dominance of Georgia's defense, discouraged risk-taking and magnified the consequences of a mistake. (When the only touchdown of the night comes via pick-6, there's no reason to do anything to put yourself in jeopardy of returning the favor.) And three: The Bulldogs' blue-chip receiving corps was so decimated by injury they were forced to rely on a couple of walk-ons, Jaylen Johnson and Ladd McConkey, as part of the regular rotation. The leading receiver on Saturday, freshman TE Brock Bowers, finished with 43 yards on just 7.1 per catch.
A lineup that gets some combination of Kearis Jackson, Darnell Washington, Dominick Blaylock, Arik Gilbert, and/or (fingers crossed) George Pickens back at some point this season should have a very different calculus (re: the long ball) than the one we saw in Charlotte. Then again, as long as the defense is limiting opponents to a field goal, the offense can get by doing whatever it likes.
– – –
(Last week: 2 ⬇)
4. Bo Nix, Auburn
Nix was nearly flawless in the Tigers' blowout win over Akron, finishing 20/22 for 275 yards and 3 TDs in the weekend's most reassuringly competent performance. That line was good for both the best efficiency rating and the top QBR score of any SEC passer on the week.
Yes, it was against a hopelessly overmatched MAC defense that ranked dead last nationally in pass efficiency D in 2020. Acknowledged. But effortlessly shredding Akron is certainly better than not effortlessly shredding Akron, and given the opportunity in front of him, Nix could hardly have made a better impression as he embarks on Year 3 under a new head coach and surrounded by an entirely new set of receivers. We're still a couple weeks away from the first real litmus test of his progress at Penn State.
– – –
(Last week: 5 ⬆)
5. Emory Jones, Florida
Florida won easily in Jones' first career start, dispatching Florida Atlantic 35-14, and he was an asset in the ground game with 74 yards rushing on 10 carries. As a passer, though, woof. He averaged a paltry 4.2 yards per attempt, worst among all SEC starters on the week; on attempts that traveled 10+ yards downfield, he completed as many passes to FAU defenders (2) as he did to his teammates.
Which brings us to the Gators' QB2: Anthony Richardson.
Richardson may have taken the Gators' starting job from Emory Jones with plays like this pic.twitter.com/YO6KP5W4Sl

— Jack Brentnall (@Jack_Brentnall) September 5, 2021
Richardson has not, in fact, taken the starting job, as Dan Mullen was quick to confirm following the game. He undeniably did steal the show on Saturday night, coming off the bench in garbage time to run for 160 yards on just 7 carries and doing it in high style. At an imposing 6-4/236 pounds, Richardson not only looked the part — he was elusive (see above); he was physical; he flashed home-run instincts on a 73-yard touchdown run.
https://twitter.com/AllKindsWeather/status/1434349594113159171?s=20
Inevitably, Gators fans took one look at a jumbo-sized freshman energizing the proceedings while wearing No. 15 and summoned the specter of Tim Tebow. Mullen himself conceded the comparison on Monday, recalling the time share between then-fledgling Tebow and veteran starter Chris Leak during Florida's 2006 national championship run, when Mullen served as offensive coordinator. He also reminded reporters that, for all the hype surrounding Tebow at the time, he only took a handful of snaps per game that season in a strictly situational role while Leak, the steadier hand, handled the full-time job.
Based on the initial returns, though, Jones is a long way from becoming the next Chris Leak in the steadiness department. If it's too soon to call this a full-blown controversy, the fact that it only took a couple series of mop-up duty for Richardson to seize the momentum speaks to his potential. Presumably Mullen has no intention of shoving a redshirt freshman with 10 career passing attempts to his name directly into the line of fire against Alabama in 2 weeks. Depending on how Jones carries himself in the meantime, that may be all the time he has left before the situation resolves itself.
– – –
(Last week: 4 ⬇)
6. Max Johnson, LSU
Johnson was responsible for the weekend's most hilarious lowlight in LSU's 38-27 loss at UCLA …
https://twitter.com/theScore/status/1434357867218415618?s=20
… but otherwise was the least of the Tigers' problems. His ongoing connection with fellow sophomore Kayshon Boutte (9 catches for 148 yards, 3 TDs) was the one positive takeaway of the trip; meanwhile, the failures of the running game and the defense in general overshadowed Johnson's inconsistency when targeting anyone else. (Four drops, including two by Boutte, didn't help.) The other half of the Tigers' preseason QB competition, senior Myles Brennan, won't be available until November at the earliest as he recovers from a broken non-throwing arm. For better or worse, it's Johnson's team until then.
– – –
(Last week: 6 ⬌)
7. Connor Bazelak, Missouri
Bazelak was often the most difficult QB to gauge here in 2020 due to his lukewarm competence — rarely good, never bad — and his line in Mizzou's 34-24 win over Central Michigan suggests 2021 is going to be more of the same: 21/32, 257 yards, 2 TDs, 0 INTs, not much to write home about. His first pass of the season, a 63-yard gain to senior Di'onte "Boo" Smith, was a big one …
the first pass of the season for Connor Bazelak was a pretty damn good start. pic.twitter.com/fb5baHokKe

— Cory (@realcorykinnan) September 6, 2021
… setting up a quick touchdown on the next play. Thereafter, Bazelak averaged a perfectly mediocre 6.3 yards per attempt.
– – –
(Last week: 7 ⬌)
8. Will Levis, Kentucky
Mark Stoops invested heavily this offseason in upgrading Kentucky's dormant passing game, adding new offensive coordinator Liam Coen from the L.A. Rams and Levis, a career backup at Penn State, via the transfer portal. Early returns: Positive.
Will Levis to Josh Ali for 58-yard touchdown!

Kentucky is going to be a problem for the SEC with this QBpic.twitter.com/ViKJlMRa1A

— SEC Mike (@MichaelWBratton) September 4, 2021
In his UK debut, a 45-10 win over UL-Monroe, Levis' output ranked among the top four Stoops-era performances for passing yards (367), touchdowns (4) and overall efficiency (230.9), and goes down as the best outing in each of those categories for a Kentucky quarterback since 2016. It was also good for a 91.9 PFF grade, second-best for the weekend among all Power 5 starters. Come anywhere near those numbers this Saturday vs. Missouri, and another big leap will be in order.
– – –
(Last week: 12 ⬆)
9. Will Rogers, Mississippi State
Rogers started hot vs. Louisiana Tech, hitting 13/14 passes for 116 yards and 2 TDs in the first quarter. He finished hot, too, going 10/10 for 128 yards and 1 TD in the fourth, capped by a go-ahead TD pass on Mississippi State's final possession to complete the biggest comeback in school history.
https://twitter.com/HailStateFB/status/1434298732594434052?s=20
In between? He was 16/23, 126 yards, no scores, and the week's only pick-6 thrown by an SEC quarterback. At least it wasn't a demoralizing pick-6, which it very well could have been at that point in the game — Louisiana Tech extended its lead to 31-14 as a result with barely a quarter to play. Given Rogers' flawless response from that point on, let's call it a wash.
– – –
(Last week: 9 ⬌)
10. KJ Jefferson, Arkansas
Jefferson did more damage Saturday with his legs than his arm, offsetting a subpar passing line (12/21, 128 yards, 1 TD, 1 INT) by running for 89 yards and 2 TDs in a routine, 38-17 win over Rice. All well and good against Rice, but the Razorbacks will need more through the air to have any hope of upsetting Texas this weekend, or for that matter to have much chance of winning a conference game.
– – –
(Last week: 10 ⬌)
11. Haynes King, Texas A&M
King turned in the week's most bipolar performance against Kent State, throwing for 292 yards and 2 TDs on one hand while serving up 3 interceptions on the other. As a redshirt freshman in the first significant action of his career, fine. As the starter for a top-10 team with high expectations, less fine. Fortunately he still has a few weeks to grow into the position against the weaker half of the schedule before the Aggies' season-defining date with Alabama on Oct. 9.
– – –
(Last week: 11 ⬌)
12. Joe Milton III, Tennessee
Tennessee dispatched Bowling Green with ease, 38-6, in an even-keel debut for coach Josh Heupel. Milton's night, however, was anything but: Against one of the worst defenses in the game, he finished just 11/23 passing and just 3/10 on attempts of 10+ yards downfield. On the plus side, he did punch in a couple touchdowns as a runner. But for a guy whose primary selling point is his nuclear-grade arm strength, "underwhelming" is an understatement. If that's a sign of things to come, another year of musical chairs in Knoxville looms.
– – –
(Last week: 8 ⬇)
13. Zeb Noland or Luke Doty, South Carolina
Noland, the graduate assistant coach turned emergency starter, was limited to 21 attempts in the Gamecocks' opener against Eastern Illinois, tied for the fewest among SEC regulars. He made the most of them, though, throwing 4 touchdown passes from 4, 3, 12 and 10 yards out, respectively, in a 46-0 blowout. With Doty close to full strength following a preseason foot injury, coach Shane Beamer is declining to name a starter for this week's game at East Carolina, leaving open the possibility that Noland will continue in the job for at least one more week before the degree of difficulty ramps way up with a Sept. 18 trip to Georgia.
– – –
(Last week: 14 ⬆)
14. Ken Seals, Vanderbilt
As a true freshman in 2020, Seals' potential for growth was the only ray of hope in an otherwise bleak situation. As a sophomore, his opening-night performance in Vandy's 23-3 loss to FCS foe East Tennessee State was just bleak.
Lets check in on Vanderbilt

— PFF College (@PFF_College) September 5, 2021
Seals ranked last for the week among SEC starters in pass efficiency and QBR — the latter by a mile — and especially struggled on the plus side of the field, going 2/8 with 2 interceptions inside the ETSU 40-yard line. (Altogether, the Commodores came up empty on 6 of 7 possession that crossed into ETSU territory.) Incredibly, it could have been worse: On top of the embedded gaffe, the Buccaneers also had a 99-yard pick-6 wiped out by a taunting penalty as the defender crossed the goal line. If the one thing the Dores thought they had going for them turns out to be a liability, it's going to be an even longer year than they bargained for.
– – –
(Last week: 13 ⬇)