SEC
SEC Week 13 Primer: Breaking down Alabama's ambition, Auburn's angst, and the rest of Rivalry Week to end the regular season
Everything you need to know about this weekend's SEC slate.
The stakes
The Iron Bowl, the original, the alpha and omega of college football rivalries, the epicenter of intrastate hate, etc. When they say "it just means more," this is the one they mean.
Of course, as usual these days it means a little bit more for Alabama. Under Nick Saban, Bama's come into the Auburn game with national championship ambitions intact almost every year — they've arrived ranked No. 1 or 2 in the AP poll in 12 of the past 14 seasons — with no end to the streak in sight. The 2021 edition is par for the course. Although they dropped a spot in the latest CFP rankings, falling from No. 2 to 3 behind Ohio State, at 10-1 the Tide have already clinched a spot opposite Georgia in the SEC Championship Game with the certainty that if they win there they're a lock for the Playoff, most likely as the top seed. In that context, the big rivalry game is just one more hurdle to clear before the game that's actually going to define the season.
As for Auburn, while the Tigers are used to being relegated to the spoiler role in the series it's been a while since they've come in on quite as demoralizing a slump as they've endured over the past month. In the initial CFP rankings, released Nov. 1, they were ranked 13th with October wins over LSU, Arkansas, and Ole Miss under their belt and a path to winning the SEC West beginning to come into view. It's been straight downhill since: A 20-3 loss at Texas A&M in which the Tigers failed to score a touchdown; a stunning collapse against Mississippi State in which they blew a 28-3 lead at home and lost QB Bo Nix for the season; a 21-17 flop at South Carolina after jumping out to a 14-0 lead in the first quarter, all on consecutive Saturdays. The 3-game skid is Auburn's longest since 2012 (Gus Malzahn's teams never lost 3 in a row) and leaves coach Bryan Harsin in danger of a losing record in his first season.
Rumors connecting Harsin to the Washington job can probably be safely ignored, but between the abrupt downturn on the field and his public silence regarding compliance with a COVID-19 vaccine mandate for all university employees — the deadline to be fully vaccinated is Dec. 8 — the speculation is a reflection of the vibes around the program. They're not good, and plummeting fast. If the vaccine becomes a pressing issue, as it has elsewhere, a first-year coach with no prior connections to the state whose team just got waylaid by Bama to cap a month-long losing streak may not find many friends in his corner.
The stat: 15-to-1
That's Alabama QB Bryce Young's touchdown-to-interception ratio under pressure, per Pro Football Focus, by far the best of any FBS quarterback this season. No other QB nationally has thrown more than 9 touchdown passes under pressure, and no other SEC quarterback has more than 7.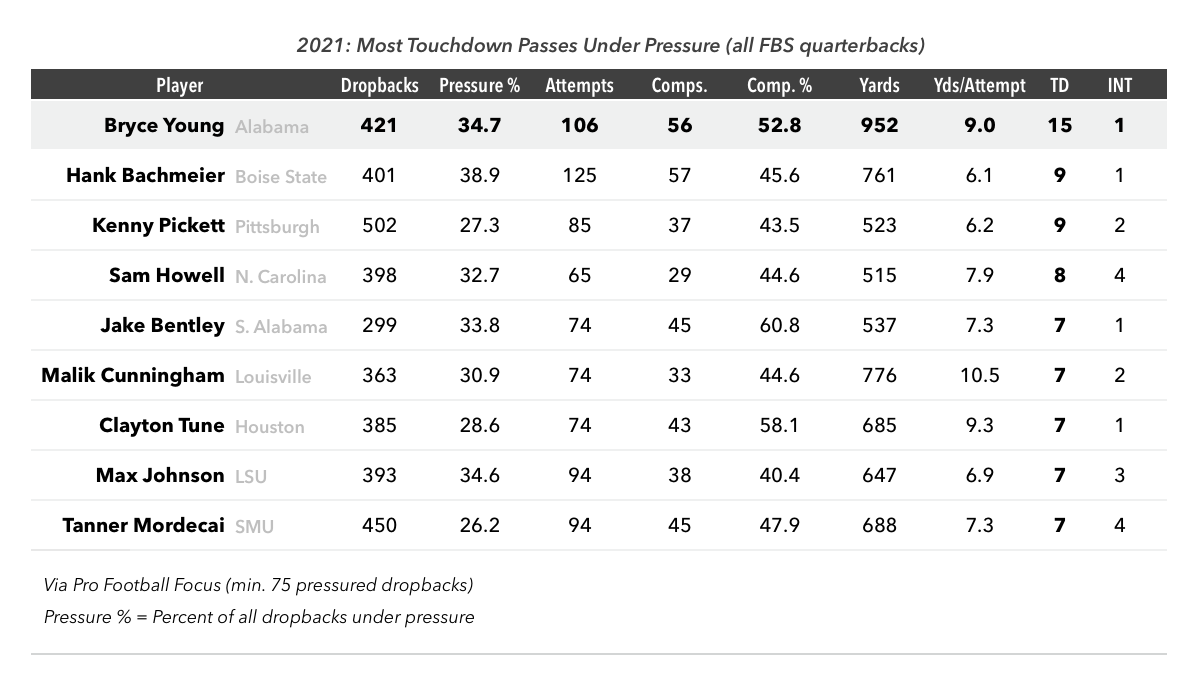 Despite Alabama's reputation up front, Young has spent a lot of time under duress — he has more pressured dropbacks on the year (146) than any other SEC starter, and a higher pressure rate on all dropbacks (34.7%) than any other SEC starter except Texas A&M's Zach Calzada (35.5%). In fact, some of that pressure is on Young himself. But few quarterbacks have been better at using their athleticism to escape trouble, and none has more consistently turned it into a positive.
For Auburn's defense, turning up the heat has been a strength. Edge rushers Derick Hall (36 QB pressures, 7 sacks) and Eku Leota (25 pressures, 7 sacks) have emerged as one of the league's most productive bookend tandems on the outside, and DT Colby Wooden (34 pressures, 6 sacks) is the rare big man with consistent, pocket-collapsing juice as a pass rusher on the interior. On the other side, even at this late date in the season Alabama's front remains a work in progress. Right tackle, in particular, has been a problem: The starter there for most of the season, 6th-year senior Chris Owens, has allowed an SEC-worst 29 pressures and 3 sacks, per PFF, and has yielded the position the past 2 weeks to sophomore Damieon George Jr. (Owens kicked down to center in a Week 11 win over New Mexico State in place of injured starter Darrian Dalcourt, but only got on the field for one snap last week with Dalcourt back in the lineup against Arkansas.) In Young's case, though, turning up the heat and actually making him feel it are two distinct questions.
The big question: Can Auburn cover Jameson Williams?
Alabama receivers have feasted on Auburn's secondary over the past few years, turning the Iron Bowl into an annual highlight reel for the All-America/Heisman campaigns — collectively, De'Vonta Smith, Jerry Jeudy, Jaylen Waddle, Henry Ruggs III and John Metchie III have combined for 14 touchdowns against the Tigers in the past 4 meetings. Williams, the Ohio State transfer, is emerging quickly over the second half of the season as the equal of most of the names on that list. In the past 6 games alone, he's averaged 142.3 yards per game with 10 touchdowns, 8 of them covering 20+ yards.
BRYCE YOUNG WITH A ROCKET ?#CFB

— PFF College (@PFF_College) November 20, 2021
On the coverage side, there may not be a cornerback in America having a better year than Auburn's Roger McCreary, whose decision to pass on the draft after last season is paying off in a big way. As a senior, McCreary is leading the SEC in passes defended, tied for the best PFF coverage grade of any SEC corner, and generating first-round buzz. He's only been on the wrong end of 1 touchdown, a goal-line route vs. Georgia that covered 3 yards.
In other words: Somebody is coming out of this game getting paid. If McCreary can hold his own in man coverage against Williams and/or Metchie, it will go a long way toward keeping things interesting past sundown.
The key matcup: Auburn RB Tank Bigsby vs. Alabama LB Henry To'o To'o
Bigsby, a Freshman All-American in 2020, hasn't had quite the monster sophomore campaign the preseason hype anticipated. Still, he has been Auburn's most productive skill player, accounting for 1,053 scrimmage yards and 10 touchdowns on 5.5 per touch, and he's done it in a fashion befitting a guy nicknamed "Tank."
By PFF's count, he's forced 42 missed tackles and generated nearly 2/3 of his rushing output after contact. He went over 100 yards on the ground earlier in the year in 2 of the Tigers' biggest games against Penn State and Ole Miss, and last week's 164-yard effort against South Carolina was his best of the season. With Bo Nix on the shelf and backup TJ Finley looking very much like a backup against the Gamecocks, Bigsby essentially was the offense.
His hard-charging style poses a challenge for To'o To'o, who despite his ball-hawking, bone-rattling rep, has occasionally struggled with missed tackles throughout his career at Alabama and Tennessee — PFF has dinged him for double-digit whiffs each of the past 3 seasons, including 16 this year, among the most in the SEC. Part of that number is a reflection of just how often To'o To'o is around the ball; after all, he's Bama's leading tackler on the season, a distinction he also earned in 2020 at Tennessee. But Auburn has little choice but to feed the Tank as often as possible in hopes of grinding out long, clock-killing drives that keep Alabama's offense on the sideline, and the more wins he manages to rack up at the pout of attack the longer that plan will remain at least theoretically viable.
The verdict
Auburn has taken the past 2 odd-year meetings in Jordan-Hare Stadium, and 3 of the past 4 going back to the Kick-6 game in 2013. The energy from the home crowd, whether it's raucous or resigned, can set a tone early on. (Not for nothing, Alabama's offense has had a few hiccups handling crowd noise in trips to Florida and Texas A&M.) Ultimately, though, the general direction of the Tigers' season is clearly pointing to an outfit running on fumes. For all his issues, Nix's chaotic, "any given Saturday" style of play will be sorely missed on this stage. In its absence, the only question is how quickly the Tide can pull away.
– – –
• Alabama 38 | Auburn 16
The Egg Bowl is notorious for off-the-field heat and on-the-field chaos in equal measure, so the notion of the unranked side arriving as a slight favorite over the one playing for a slot in a New Year's 6 bowl jibes with the often, uh, let's say the unpredictable history of the rivalry. In terms of point differential, Mississippi State (+20) has actually fared a little better in SEC play than Ole Miss (+12), and Will Rogers has quietly emerged over the past month as one of the nation's hottest passers. Mike Leach's offense is beginning to look like … well, Mike Leach's offense.
Still, the big goals on Thursday night all belong to Ole Miss. The Rebels, currently at No. 9 in the updated CFP rankings, are in the driver's seat for a trip to the Peach or Fiesta Bowl, or potentially as the SEC rep in the Sugar if Alabama makes the Playoff. Eleven wins is within reach, which would be a school record. With a strong finish on a national stage, Matt Corral can still earn himself a seat in New York as Ole Miss' first Heisman finalist since Eli Manning. And Lane Kiffin, whose name has been connected to a fresh vacancy at Florida as well as a hypothetical one at Miami, can max out his value in terms of what it will take to keep him in Oxford or lure him away.
A loss in Starkville would potentially derail all of the above; worse, the Mississippi State side of the family would make sure to bring it up at every opportunity for the next 365 days. Which may be the most urgent goal of them all: Denying the Bulldogs the satisfaction.
– – –
• Ole Miss 34 | Mississippi State 29
Ed Orgeron isn't going out as an especially beloved figure in Baton Rouge, all things considered. But the residual power of LSU's 2019 national championship run should guarantee a relatively warm send-off from the home crowd in his final game. As bad as the past 18 months have been – and as uncertain as the next 18 may be – one good thing about telegraphing Orgeron's exit well in advance is giving fans the space to get over it and remember the good times.
– – –
• Texas A&M 31 | LSU 20
Georgia Tech has been more competitive in ACC play than its 3-8 record indicates, but as Year 3 under Geoff Collins draws to a close, progress remains slow and appeals to moral victories are wearing thin. The Yellow Jackets have lost 5 straight; their last time out, they were shut out by Notre Dame in a 55-0 laugher in South Bend, their 6th loss on Collins' watch by 30+ points.
Amid the team's struggles, the one player who has been consistently worth the price of admission is wildly underrated sophomore RB Jahmyr Gibbs, a former blue-chip recruit who's accounted for an FBS-best 1,802 all-purpose yards as a rusher, receiver, and return man. On offense, Gibbs has gone over 100 scrimmage yards in eight games, making him the most productive and arguably the most dynamic player Georgia's juggernaut of a defense has faced this season. That may not count for much on the scoreboard, it for many viewers it will be their first glimpse of a guy whose name they're going to be hearing for years to come.
– – –
Georgia 41 | • Georgia Tech 9
Rumors of Clemson's demise have been slightly exaggerated. Since falling to 4-3 in mid-October, the Tigers have won 4 straight and are coming off their best performance of the season, a 48-27 win over ACC Atlantic front-runner Wake Forest. The offense has stabilized after a miserable start, the defense is a standard-issue Brent Venables unit, and the ACC title remains technically within reach. Rest assured this team is going to be back in the top 10 to open 2022.
Is DJ Uiagalelei still going to be the quarterback? That's a tougher call. In many ways, Uiagalelei has been as disappointing as any player in college football this season, coming in at or near the bottom of the ACC in every major category. (He actually ranks dead last in the conference in QBR at 41.5, one of the worst numbers of any Power 5 starter.) He hasn't demonstrated much sustained growth as the season has worn on. But then, he hasn't had much help, either – the interior o-line, in particular, has been a wreck, and the skill positions have been decimated by transfers (at running back) and injuries (at receiver). And at the end of the day, the rare size and raw talent that made Uiagalelei one of the most hyped QB prospects in any recent recruiting cycle is as undeniable as ever.
https://twitter.com/FTBVids_YT/status/1462111230135439360?s=20
At any rate, Clemson's highly unlikely to have any interest in the transfer market, because 1) Dabo Swinney remains the sport's foremost transfer skeptic, and 2) The Tigers already have a commitment from the top quarterback in the 2022 class, Texan Cade Klubnik, who's due to push Uiagalelei in the spring. In the meantime, Saturday's rivalry game is one more chance for the incumbent to solidify his position.
– – –
• Clemson 27 | South Carolina 13
This installment of Gators-Noles is brought to you by the Florida Council of How Quickly Things Change: Who would have believed 6 weeks ago that the more stable sideline in this game would be Florida State's?
Refer back to the snapshots of these teams as of Oct. 1. At that point, FSU was 0-4 with a humiliating loss against an FCS school already on the books and growing angst over the trajectory under second-year coach Mike Norvell; looking ahead, double-digit losses was not out of the question. Meanwhile, Florida was cruising at a comfortable altitude, ranked 10th in the AP poll with its only blemish coming in a competitive, 31-29 loss to Alabama. Since Oct. 1, they've essentially swapped places. The Seminoles have hit their stride, winning 5 of their past 7 to secure Norvell's future (at least for the time being); the Gators have collapsed in a heap, losing 6 straight vs. Power 5 competition and sending Dan Mullen and his .694 winning percentage packing.
It says something about something that even after all that, the ostensible "home-field advantage" in Gainesville is enough to make Florida the narrow favorite. Even without Mullen's status looming over the proceedings, though, the atmosphere in The Swamp is likely to land somewhere between indifferent and funereal. The Gators' season is a lost cause. For this version of FSU, getting bowl-eligible at 6-6 is actually something to aspire to: The Noles haven't played in a bowl game under a full-time head coach since 2016.
– – –
• Florida State 26 | Florida 23
If Louisville QB Malik Cunningham hasn't appeared on your radar this season, you're not alone: In a stacked year for prolific ACC quarterbacks, he's largely toiled in obscurity for a 6-5 team with no notable wins. But time is running out!
Every single week Malik Cunningham puts Louisville on his damn back. Incredible 72-yard TD run. pic.twitter.com/AoXaobRcxJ

— Bobby Football (@Rob__Paul) November 19, 2021
Cunningham quietly ranks among the top 10 nationally in total offense and QBR, and is just 67 rushing yards away from joining the very short list of Power 5 quarterbacks who have passed for 2,500 yards and run for 1,000 in the same season. The other members of that club since 2010: Cam Newton, Denard Robinson, Johnny Manziel, Deshaun Watson, Lamar Jackson, Lamar Jackson again, Kyler Murray and Jalen Hurts.
– – –
• Kentucky 31 | Louisville 27
Missouri's run defense has been a running joke throughout the season, most of which the Tigers have spent at or near the bottom of the national rankings. (They rank 125th.) It was so bad over the first half of the schedule that Eli Drinkwitz resorted to firing defensive line coach Jethro Franklin after giving up 458 yards on the ground in a wipeout loss against Tennessee in early October.
Lately, though, Mizzou's run D has been downright respectable, holding its last two opponents, South Carolina and Florida, to just 57 and 93 yards rushing, respectively, on a combined 2.0 yards per carry — a major reason the Tigers won both games to become bowl eligible. That has to qualify as one of the most dramatic turnarounds of the season anywhere in college football.
– – –
Arkansas 33 | • Missouri 24
One of the more alarming signs of Tennessee's decline over the past 15 years was its 5-5 record against Vandy from 2010-19, the Commodores' first .500 decade in the series since the Great Depression. The Vols are not "back," by any means, but I think it's safe to say it's going to be a good long while before that happens again.
– – –
Tennessee 44 | • Vanderbilt 17
Scoreboard
Week 12 record: 5-2 straight-up / 4-3 vs. spread
Season record: 68-24 straight-up / 38-50 vs. spread