SEC
SEC Week 12 Primer: Crimson Tide can clinch the West, but their eyes are on a much bigger prize
Everything you need to know about this weekend's SEC slate.
The stakes
It's Alabama. It's dark out by 6 p.m. It's Playoff or bust.
Bama is built to matter at this time of year. This season is the 13th out of the past 14 that the Crimson Tide, currently ranked No. 2 across the board, have occupied 1 of the top 2 slots in the AP poll in the month of November, extending one of the most remarkable runs of sustained national relevance in the sport's history. (The lone exception in that span: 2010.) All but 1 of the teams that met that benchmark was ranked 1 or 2 on or after Nov. 15. Even in the years when they don't ultimately win it all, you can bank on the Tide being very much in it.
Unlike the best of those teams, the 2021 edition has left itself with no margin for error. With a loss already on the books at Texas A&M, Alabama still needs a win on Saturday to clinch the SEC West; beyond that, everything is riding on the Iron Bowl and a season-defining date with Georgia in the SEC Championship Game, where Bama's likely to arrive as the underdog for just the second time in any game in the past 12 years.
In that context, racking up a routine W over Arkansas as a 3-touchdown favorite is just one more hurdle to clear, and not an especially high one at that – Nick Saban's teams are 14-0 against the Razorbacks with the past 4 wins coming by at least 32 points apiece. The real bar, as ever, is looking like an outfit that's on the right track to beating Georgia and making a credible championship run in the process.
The stat: 37.5%
That's Bryce Young's completion percentage on attempts of 20+ yards this season, per Pro Football Focus, which ranks 9th among SEC starters and represents a steep decline in downfield accuracy from predecessors Mac Jones and Tua Tagovailoa.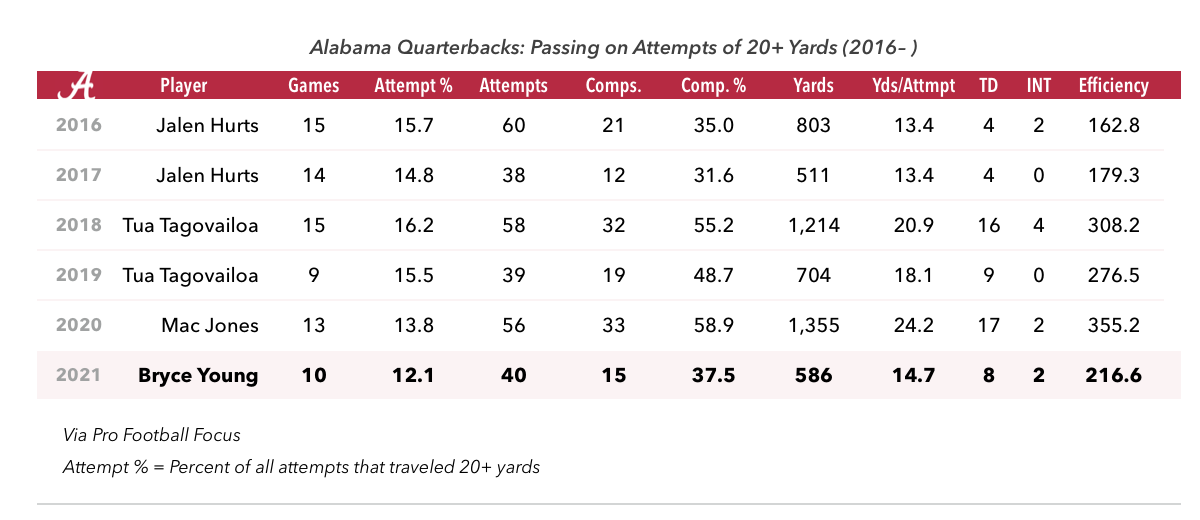 In fairness to Young: The bar set by Tagovailoa and Jones on this front may be unrealistically high for a sophomore in his first season as a starter. His surrounding cast doesn't stack up very favorably at this point against the absurd concentration of next-level talent that's departed over the past few years, either. Young has faced significantly more pressure — his pressure rate (36.4%) is nearly twice as high as Jones' last year (18.9%), per PFF — which he's generally handled well, and he doesn't have a fleet of first-round wideouts at his disposal, either. Even at Bama, Jerry Jeudys and De'Vonta Smiths don't grow on trees.
Still, if the Tide are going to get where they want to go the explosive plays have to come from somewhere, and as the season has unfolded junior WR Jameson Williams has emerged as the primary heat source. Williams, a refugee from an overloaded depth chart at Ohio State, has quickly surpassed John Metchie III as the go-to deep threat and been responsible for the vast majority of Young's downfield success, averaging 20.2 yards per catch on the year with six plays of 50+ yards; in the past 5 games alone he's averaged 132.8 yards, scored 7 touchdowns, and rocketed from relative obscurity onto the shortlist of the most coveted wideouts in the 2022 NFL Draft.
Read More
Online sports betting has come or is coming to many southern states. Residents of states where legalized sports betting exists can bet on things like the Heisman race, SEC football games each week and more... all right from their mobile device.
Jameson Williams with another long touchdown. He's one of the best receivers in the 2022 Draft class at stretching defenses vertically. He really is a game-breaker. pic.twitter.com/txnb3uc13B

— Luca Sartirana (@SartiranaLuca) November 9, 2021
The most pressing question that Alabama (and every other national contender) has to address entering the postseason is "how are we going to score on Georgia's defense?" As of six weeks ago, the Tide didn't have a convincing answer. Now, with the moment of truth looming, they may have as good an answer as anyone outside of Williams' former running mates in Columbus.
The big question: Can Arkansas run the ball?
After a couple of (relatively) down years against the run, Alabama is back in its familiar perch among the nation's best rushing defenses, yielding just 83.5 yards per game on the ground on a meager 2.7 per carry. But the Tide aren't invulnerable: Florida set the template in September, running for 245 yards in a highly competitive, 31-29 loss in Gainesville, and Arkansas' QB-oriented attack is more similar to the Gators' than any other offense Alabama has faced.
To state the obvious, KJ Jefferson is a load. While the Cam Newton comparisons earlier in the year were over the top, at 6-3/245, Jefferson does fit the mold of a premium athlete with pile-moving potential to spare. He's logged roughly a dozen carries per game vs. Power 5 opponents, with more than 80% of his 555 rushing yards (excluding sacks) coming after contact. Behind Jefferson, the running back rotation has been a roughly even split between Trelon Smith, Dominique Johnson and true freshman Raheim Sanders, aka "Rocket." Individually, their numbers don't exactly leap off the page; as a team, though, the Razorbacks have run for at least 200 yards in 8 of 10 games and went well over 300 against both Texas and Ole Miss. The only notable outlier is a 100-yard effort against Georgia (again excluding sacks), in a game they trailed 21-0 after a grand total of 6 offensive snaps, all inside their own 10-yard line.
Alabama's defense, while imposing enough in its own right, is not a week-in, week-out juggernaut like Georgia's. If Arkansas can chew up some yards and some clock early on, it will go a long way toward a) opening things up downfield for circus catch artist Treylon Burks, who's due for a highlight-reel play or two coming off a couple of his quieter outings against Mississippi State and LSU; and b) keeping Bama's offense on the sideline. The more face-time Jefferson logs on CBS relative to Bryce Young, the more respectable the final score.
The key matchup: Alabama LT Evan Neal vs. Arkansas DE Tre Williams
Neal needs no introduction: The All-American, first-round lock, and all-around freak is the latest and arguably greatest in Alabama's decade-long run of elite left tackles and hasn't allowed a sack this season. Williams' trajectory is a little harder to pin down. In September, he looked like a rising star, recording 20 QB pressures in the course of the Razorbacks' 4-0 start and turning in a high-profile, breakout performance against Texas A&M.
Tre Williams absolutely BEASTING for this @RazorbackFB defense pic.twitter.com/nCuER3ImDr

— SEConCBS (@SEConCBS) September 25, 2021
But then he largely disappeared in October, failing to register on the stat sheet or generate a single pressure in a three-game losing streak against Georgia, Ole Miss, and Auburn. An open date in Week 9 came at the right time: On the other side, Williams has looked more like his September self, recording 11 QB pressures the past two weeks in wins over Mississippi State and LSU with two sacks vs. the Bulldogs. Any success at all Saturday vs. the top tackle on the board will be worth
The verdict
Arkansas is clearly on the upswing under Sam Pittman and has a chance to give Bama a legit 4-quarter game for the first time since a 27-14 loss in 2015. (The Razorbacks actually led that one late in the 3rd quarter before the dam broke.) Their win over Texas A&M has held up – although their win over Texas, not so much – and they're essentially a failed 2-point conversion at Ole Miss away from being 8-2 with a New Year's 6 bowl in their sights. But the reality is closing the gap on the rest of the SEC West is still only about halfway to closing the gap on the Crimson Tide, who haven't lost at home to a team ranked outside the top 10 since the Johnny Manziel Game in 2012. Maybe next year.
– – –
Alabama 37 | • Arkansas 19
Dan Mullen is still the head coach at Florida and, given the surge of high-profile vacancies around the country and the lack of qualified candidates to fill them, might have a better chance of hanging on in 2022 than his cratering stock would suggest. At minimum, UF is unlikely to make a move until after the season, by which point USC, LSU and Washington will likely have already secured the best available options. (For whatever that's worth in a very thin year for options.) But the Gators have looked like a team that's checked out of the season for most of the past month, and losing to an outmanned Mizzou outfit that ranks 118th in both total and scoring defense might be the anvil that breaks the camel's back.
– – –
• Florida 41 | Missouri 29
With Bo Nix on ice following ankle surgery, it's TJ Finley's big shot against a Gamecocks defense he lit up last year as a rookie starter at LSU. The trip to Colombia is only a warm-up for the real audition in the Iron Bowl, but the door to playing his way into a legitimate competition next spring is wide open.
– – –
• Auburn 27 | South Carolina 16
Last year Matt Corral threw 6 touchdown passes against Vandy in roughly 2 1/2 quarters. Whatever remains of his long-shot Heisman campaign could certainly use that kind of energy again.
– – –
Ole Miss 45 | • Vanderbilt 17
Elsewhere …
Charleston Southern at Georgia (no line)
Prairie View A&M at Texas A&M (no line)
Tennessee State at Mississippi State (no line)
Tennessee fans looking forward to reuniting with former South Carolina QB Jake Bentley, now a 6th-year senior at South Alabama, will be disappointed: He's unlikely to play Saturday due to a knee injury. But there is at least a small chance in Baton Rouge of ULM coach Terry Bowden showing up dressed very weird.
https://twitter.com/ULM_FB/status/1451521602907250688?s=20
Tennessee 48 | South Alabama 20
LSU 39 | • UL-Monroe 13
Kentucky 44 | • New Mexico State 10
Georgia 57 | Charleston Southern 3
Texas A&M 51 | Prairie View A&M 6
Mississippi State 52 | Tennessee State 9

Scoreboard
Week 11 record: 5-3 straight-up / 2-5 vs. spread
Season record: 63-22 straight-up / 34-47 vs. spread