SEC
SEC QB Power Rankings, Week 11: Another week, another step toward Georgia going all-in with Stetson Bennett
Quarterbacks: There are a lot of them! Each week throughout the season, we'll help you keep the game's most important position in perspective by ranking the SEC starters 1-14 according to highly scientific processes and/or pure gut-level instinct. Previously: Week 1 … Week 2 … Week 3 … Week 4 …. Week 5 … Week 6. … Week 7 … Week 8 … Week 9 … Week 10.
1. Bryce Young, Alabama
It says a lot about the state of the Heisman race in the home stretch that Young, who's not an especially compelling candidate to begin with, remains the de facto front-runner following one of his less inspiring outings in Bama's 20-14 win over LSU. Pressure is becoming a persistent issue: Per Pro Football Focus, Young has faced pressure on 126 of his 350 dropbacks this season, more than any other SEC starter, resulting in 21 sacks and 19 throwaways — also a league-high across both categories. For comparison, Tua Tagovailoa in 2019 and Mac Jones last year were credited with 20 sacks and 19 throwaways combined.
Still, there is something to Young's reputation for cool under fire. Like pretty much all quarterbacks, he's far more predictable and productive when he's kept clean. Even when he's not, though, arguably no other QB in the league has been as good with anywhere near the same consistency: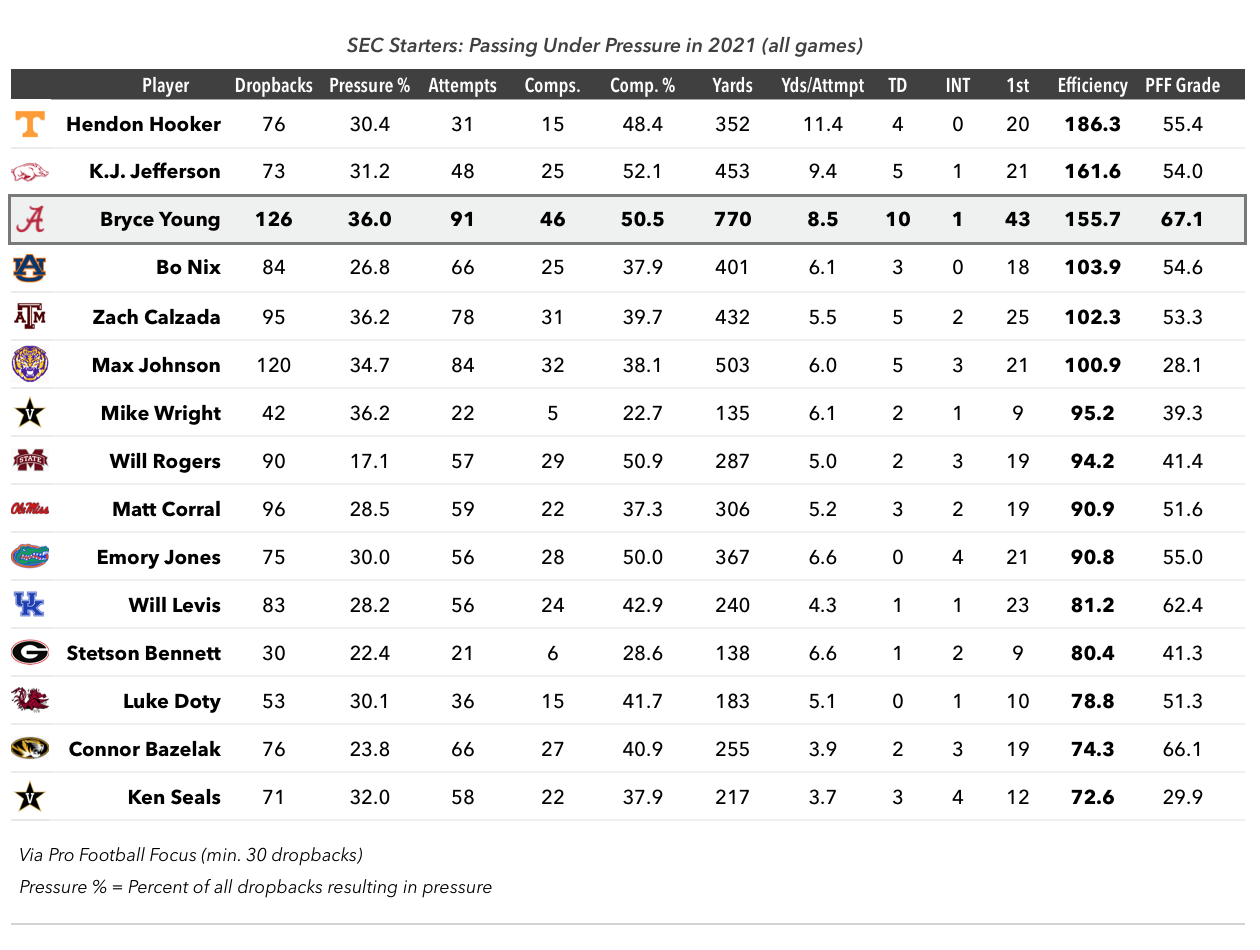 Young's athleticism has a lot do with that success, even when he's scrambling with an eye toward keeping the play alive rather than tucking and running, which he's been surprisingly reluctant to do. (He averages 6.1 seconds to throw on scrambles, again the highest number in the conference.) But as the stakes continue to rise, cutting down the number of times he has to operate around a defender in his face is a priority.
– – –
(Last week: 1 ⬌)
2. Matt Corral, Ole Miss
As a QB duel, Ole Miss' 27-14 win over Liberty was a bust: A freshly shorn Corral easily outgunned his counterpart, Malik Willis, throwing for 324 yards and a touchdown on just 27 attempts while Willis served up 3 interceptions in a game that came in 26 points below the over/under. As a showcase for pro scouts, it was a big success: Observers came away comparing Corral to the likes of Baker Mayfield and Zach Wilson, boosting his chances of becoming the first quarterback off the board next spring. A lot can change between now and then as narratives develop around his height or, I don't know, his demeanor while answering a question at the combine about what animal he would be in the rainforest or whatever, but given the trajectory of almost every other draft-eligible QB on the board right now he's in great position to make some terrible team very happy.
– – –
(Last week: 2 ⬌)
3. Stetson Bennett IV or JT Daniels, Georgia
I'm not relegating Daniels to the scrap heap just yet, especially after he just saw his first action in more than a month in the second half of Saturday's blowout win over Missouri. But for every week the question "How long is Georgia sticking with the walk-on?" lingers, the more likely it seems the answer is "for good." It might be time to make peace with the idea of the most overwhelmingly talented team in the sport riding into the postseason gauntlet with Stetson Bennett as its starting quarterback.
To his credit, Bennett has done everything in his power in Daniels' absence to earn the distinction: He leads the SEC in efficiency, yards per attempt, and Total QBR, and he hasn't done anything along the way to put the defense in a bad position. He's made plays downfield, including a couple of dead-on deep balls against Mizzou. He has some mobility, or at least more than Daniels. He's never going to look like a blue-chip prospect at (officially) 5-11, 190 pounds, but if the logic is to stick with what's working until it doesn't, well, Bennett is obviously holding up his end of the bargain.
https://twitter.com/FTBVids_YT/status/1457028917571719168?s=20
Still, it's not for nothing that the dynamic makes certain UGA fans itch. They watched Bennett struggle last year in losses to Alabama and Florida, and turn in his worst outing to date this year against the Gators in a win fueled largely by turnovers. On a deeper lever, they're haunted by the ghost of Justin Fields, who (fairly or unfairly) has come to represent the missed opportunities of the past few seasons. Georgia pursued Daniels in the transfer portal with that experience fresh in mind for a reason. It's one thing to root for the overachiever made good when the other options are freshmen who have never taken a snap and, say, D'Wan Mathis. When the national championship is on the line and the backup is a future draft pick, the calculation changes.
Of course, it's entirely possible that the status quo holds, the defense carries over its historic dominance into the new year, and the issue is rendered moot. As long as the Dawgs are winning, the results speak for themselves. The thing with sticking with what's working, though, is that nagging thought: What happens when it doesn't?
– – –
(Last week: 3 ⬌)
4. Hendon Hooker, Tennessee
I think we can safely call this one: Out of legions of wayfaring quarterbacks who entered the transfer portal over the offseason, none has been better in his new locale than Hooker, or frankly even come close. After another hyper-efficient outing Saturday at Kentucky, his overall passer rating (190.0) ranks 3rd nationally is on pace to break the single-season Tennessee record for efficiency by more than 30 points.
– – –
(Last week: 5 ⬆)
5. KJ Jefferson, Arkansas
Jefferson didn't turn in his most eye-opening stat line in the Razorbacks' down-to-the-wire, 31-28 win over Mississippi State, finishing 19/23 for 191 yards and 1 TD with minimal impact as a runner. But he was efficient enough – Arkansas only punted twice, both times in the first half, and didn't commit a turnover – and he came through in the clutch, accounting for 65 yards on the game-winning, 75-yard touchdown drive in the closing minutes. That goes down as the first come-from-behind victory of his young career, but hardly seems likely to be the last.
– – –
(Last week: 4 ⬇)
6. Will Rogers, Mississippi State
Rogers didn't deliver the W in Fayetteville, but he did execute a perfect 25-second drill to put the Bulldogs in position to force overtime before a last-second field goal attempt sailed wide. The finish obscured an otherwise encouraging afternoon: Rogers finished 36/48 for 417 yards, 4 TDs, and the second-best passer rating (171.3) of his career. He also topped 8.0 yards per attempt for the second consecutive week, a mark he'd never hit in any of his previous 14 starts.
– – –
(Last week: 6 ⬌)
7. Will Levis, Kentucky
Levis did his part on a wild, high-scoring night against Tennessee, accounting for a career-high 419 total yards and five of Kentucky's 6 touchdowns in a 45-42 loss. His most memorable contribution to the final score, however, may have been the one that went the other way:
https://twitter.com/FTBVids_YT/status/1457160065312428032?s=20
That came on the heels of a dismal effort at Mississippi State in which he was picked 3 times, which more or less sums up the Wildcats' trajectory since a 6-0 start. This weekend's trip to Vanderbilt is a welcome opportunity to get back on track, unless it goes badly, in which case the track has fully collapsed into a river.
– – –
(Last week: 9 ⬆)
8. Bo Nix, Auburn
October was the best month of Nix's career, so naturally his first outing in November was one of his worst: His passer rating in Auburn's 20-3 loss at Texas A&M marked a new career low (75.3), and that number doesn't even reflect the decisive sequence in the 4th quarter in which he flat out dropped the ball on back-to-back plays, with devastating results.
THE BALL IS OUT@AggieFootball scoops and scores! pic.twitter.com/eHXR0dz9e3

— CBS Sports (@CBSSports) November 6, 2021
Poor Bo. Thirty-three starts under his belt, and that corner's just not getting turned.
On the other hand, is anybody going to be remotely surprised at this point if Good Bo swashbuckles back onto the stage when Alabama comes to town in 2+ weeks? Given how reliably his volatility has tended to even out over time, it would almost be a bigger surprise if he didn't.
– – –
(Last week: 7 ⬇)
9. Emory Jones or Anthony Richardson, Florida
Richardson sat out Saturday's 40-17 debacle at South Carolina, ostensibly due to a concussion he suffered in a previous debacle against Georgia. In fact, as confirmed by Dan Mullen earlier this week, Richardson was actually cleared to play against the Gamecocks as of 24 hours before kickoff, and would have if not for a knee injury he suffered while (checks notes), uh, dancing in the team hotel? That can't be…
For context: this is the dance. https://t.co/Ps2yg4uhED

— Anthony Richardson † (@GVOaant) November 8, 2021
Ah, well, there you have it. I believe this is the move the kids call "The ACLOL," popularized on TikTok.
On the field, Jones further cemented his reputation as a turnover machine with his 10th interception of the year — tied for most in the conference — as well as his second fumble, a disastrous giveaway that Carolina scooped and scored to extend its lead to 30-10 with less than a minute to go in the first half. (Note that Jones was one of many Florida players who reportedly tested positive for the flu before the game, although in his case he's battling the turnover bug most of the year.) If it's possible to pinpoint the second that Mullen's status crossed the threshold from "embattled" to "clearly doomed" in real time, the moment Jones left the ball on the turf was it. If there's going to be a moment that brings it back from the brink, it better get here fast.
– – –
(Last week: 8 ⬇)
10. Zach Calzada, Texas A&M
Outside of Stetson Bennett, Calzada's had the easiest job in the conference over the past month, if not the entire country — remove his contributions as a passer, and A&M has run for more yards and touchdowns on the ground alone in its last three games than its defense has allowed in total. That could change this weekend at Ole Miss, but considering the Rebels rank next-to-last in the SEC in rushing defense, the emphasis in Oxford is still likely to fall on Isaiah Spiller and Devon Achane.
– – –
(Last week: 10 ⬌)
11. Connor Bazelak, Missouri
With Bazelak on the shelf, the Tigers rotated freshmen Tyler Macon and Brady Cook at Georgia with predictably bleak results. With or without the starter, the goal in Athens was taking the L with as much dignity and as few injuries as possible. This weekend's visit from South Carolina is another story: At 4-5, a win over the Gamecocks would keep Mizzou's fading bowl hopes alive, opening up a path to 6 wins with remaining dates against Florida and Arkansas. Getting Bazelak back would go a long way on that front, but early reports are that the situation remains in flux.
– – –
(Last week: 12 ⬆)
12. Max Johnson, LSU
Ed Orgeron was not coy this week about the possibility of benching Johnson in favor of true freshman Garrett Nussmeier, telling reporters that Nussmeier was "adamant" about getting a fair shot over the last 3 games even if it meant burning his redshirt. So far, Nussmeier has already seen the field in 3 games this season as a reserve, meaning he can play in 1 more without forfeiting freshman eligibility under the NCAA rule allowing players to preserve a redshirt while appearing in up to 4 games. That was the plan prior to Saturday's 20-13 loss at Alabama, where Johnson's erratic performance (16/32, 160 yards, 2 TDs, 1 INT, 5 sacks) was arguably the difference in pulling off the upset and limping back to Baton Rouge at 4-5. After the game, Nussmeier reportedly told Orgeron the redshirting business is for the birds, to which Coach O responded "let the best man win."
Christian Harris gets his hand on the pass and tips it to Jalyn Armour-Davis for the INT! pic.twitter.com/oZjLcsaFR5

— ✯✯✯✯✯ (@FTBVids_YT) November 7, 2021
For now, that means an open competition in practice heading into this week's visit from Arkansas. Long-term, it's the first concrete signal that Johnson's days are probably numbered. With Nussmeier on the rise, a new coaching staff on the way, and 5-star commit Walker Howard due on campus in January, the writing is on the wall.
– – –
(Last week: 11 ⬇)
13. Jason Brown, South Carolina
As if there was any doubt, Shane Beamer confirmed the Gamecocks are sticking with Brown this week after the grad transfer from FCS St. Francis (Pa.) led a previously anemic offense to a 40-17 win over Florida in his first start in garnet and black. The running game and defense had as much to do with that result as Brown, who was 14/24 for 175 yards, 2 TDs, and no turnovers, but merely by not making the position a liability that qualifies as Carolina's best QB performance of the season vs. an SEC opponent. At 5-4, the Gamecocks are 1 win from an unlikely bowl bid and have a golden opportunity to get it this weekend at Missouri.
– – –
(Last week: N/A )
14. Mike Wright or Ken Seals, Vanderbilt
Seals returned to practice this week for the first time in a month due to a finger injury, but whatever urgency exists to get him back on the field in the next three weeks has less to do with marginally increasing the distant odds of an upset than it does with shoring up his QB1 status entering the offseason. Even before the injury, Seals' production was down significantly from 2020 and his job security was hanging by a thread. Wright hasn't exactly set off fireworks in the meantime, but the longer he sticks, the more likely Seals is to consider portaling out.
– – –
(Last week: 14 ⬌, N/A )