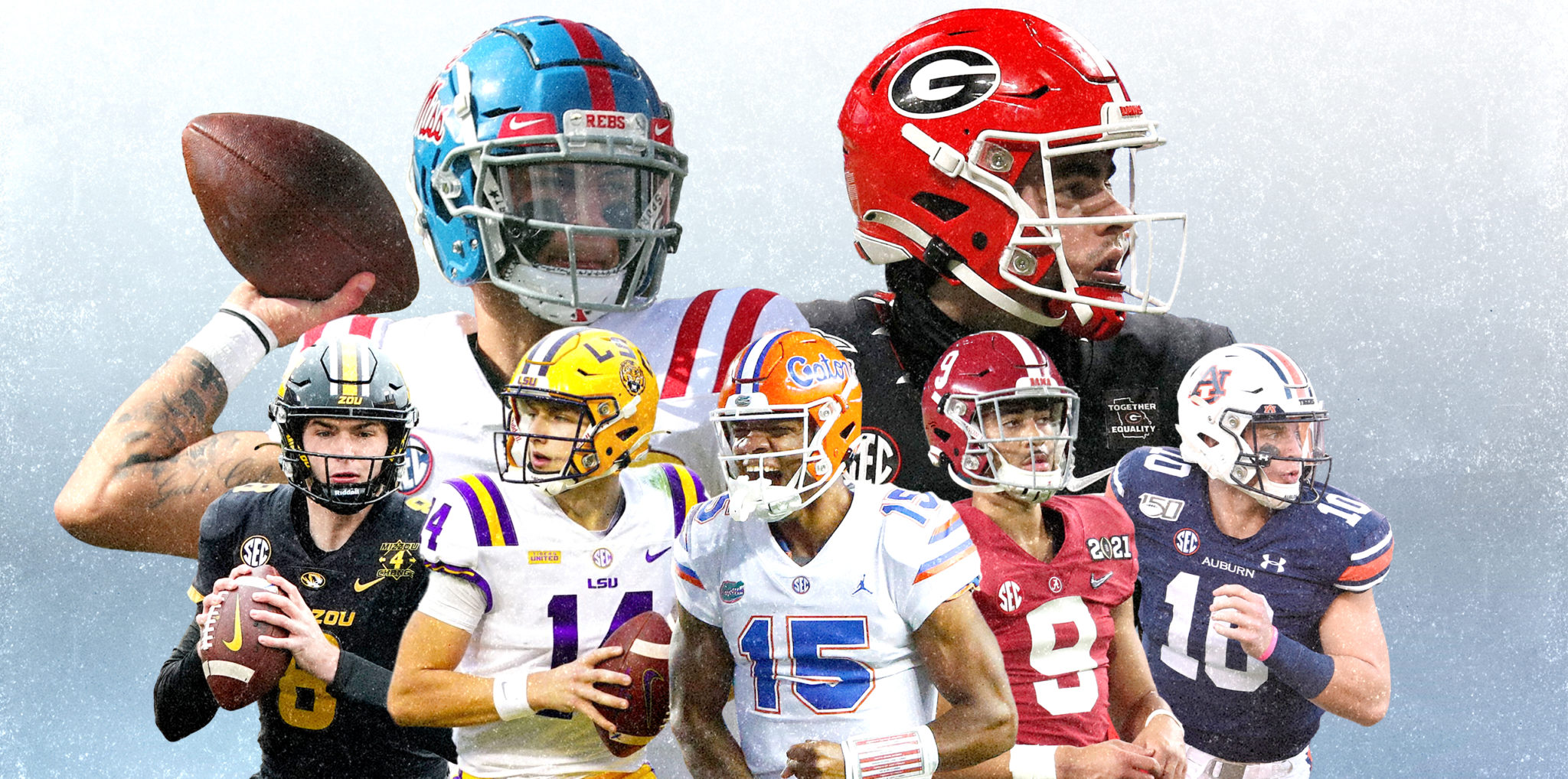 SEC
SEC QB Power Rankings, Week 8: The Anthony Richardson bandwagon is back and more irresistible than ever
Quarterbacks: There are a lot of them! Each week throughout the season, we'll help you keep the game's most important position in perspective by ranking the SEC starters 1-14 according to highly scientific processes and/or pure gut-level instinct. Previously: Week 1 … Week 2 … Week 3 … Week 4 … Week 5 … Week 6 … Week 7.
1. Matt Corral, Ole Miss
As a rule, I'm skeptical of the logic behind quarterback slides: By giving up his balance, the QB actually leaves himself more exposed to a big, brain-rattling hit (especially if his timing's off) than he would be if kept his feet and braced himself to absorb the tackle. But watching the 205-pound Corral run 30 times in Ole Miss' down-to-the-wire win at Tennessee, even I had to admit that occasionally hitting the deck might be the better part of valor. Although he ran for a career-high 195 yards, including negative yardage on sacks, by the end of the night the accumulated toll of those carries was obvious, and might not yet be paid up. "He's not in very good shape and hasn't been for the last two days," Lane Kiffin told reporters on Monday, adding that he's not optimistic Corral will be ready for this weekend's visit from LSU. If not, the job will fall to redshirt sophomore Kinkead Dent or true freshman Luke Altmyer, each of whom has 4 attempts on the year.
It's hard to gauge how much impact missing one game might or might not have on the Heisman picture, where Corral clearly remains on the shortlist of serious candidates, but it is worth noting that the last player to win the Heisman after missing a game was Florida State's Charlie Ward in 1993. (The last player to win it after missing multiple games: Notre Dame's Angelo Bertelli in 1943, when he missed the first month of the season finishing up a tour with the Marines during World War II.) In a race that's almost as wide open at midseason as it was in August, every opportunity to add to the bottom line and keep yourself on voters' minds counts.
– – –
(Last week: 1 ⬌)
2. Bryce Young, Alabama
Young's 348-yard, 4-TD performance against Mississippi State was arguably his best yet, setting season highs for yards per attempt (12.4) and overall pass efficiency (223.0) vs. a Power 5 opponent, as well as high-water marks per Pro Football Focus (90.3) and ESPN's Total QBR (96.3). He even added 18 yards rushing, his first game with a positive number on the ground. The only thing he didn't do: Connect on a deep ball. Young was 0/2 on throws of 20+ yards, per PFF, dropping his completion percentage on downfield attempts to 27.6% for the year — worst among SEC starters.
– – –
(Last week: 2 ⬌)
3. Stetson Bennett IV or JT Daniels, Georgia
Nothing new here: Daniels continues his recovery from the muscle strain that's held him out of the past 3 games and counting, while Bennett continues to hold down the job with hyper-efficient aplomb. With an open date ahead, the Florida game on Oct. 30 seems like an ideal target for Daniels' return against a defense that made Bennett look very ordinary in 2020. That timeline also gives Daniels plenty of space to settle into a rhythm before the postseason. The way Georgia's defense has played over the first half of the schedule, we're still at least 6 weeks from the point when the quarterback is actually likely to make any difference.
– – –
(Last week: 3 ⬌)
4. KJ Jefferson, Arkansas
The next 2 weeks for the Razorbacks are a functional bye (vs. Arkansas-Pine Bluff) followed by an actual bye, which comes at the right time for a team on a 3-game losing streak and a quarterback who's taken a pounding in the process. The past 2 weeks alone, Jefferson has logged 38 carries in losses to Ole Miss and Auburn, most of them designed runs. A short day vs. an FCS tomato can and a week off sound like just what the doctor ordered before hitting the November stretch.
– – –
(Last week: 4 ⬌)
5. Hendon Hooker, Tennessee
Hooker is day-to-day after leaving on the final series of the Vols' loss to Ole Miss with an apparent leg injury, putting his status for this weekend's trip to Alabama in doubt. On paper, if not necessarily by reputation, a reasonably healthy version of Hooker would be the best Tennessee QB the Crimson Tide have seen in ages: Since taking over the job in Week 2, he ranks among the top 10 nationally in yards per attempt and overall efficiency while avoiding turnovers – he hasn't thrown an interception in more than a month – and adding 65 yards per game rushing. If he can't go, Joe Milton would be a step down in every respect except his capacity to throw the ball out of the stadium, which he might literally do.
– – –
(Last week: 7 ⬆)
6. Emory Jones and Anthony Richardson, Florida
I'm sticking with both names here, mainly due to the fact the Gators are headed into an open date ahead of the Georgia game and the next week or two of practices could still affect the pecking order against UGA. But after Richardson's performance in Saturday's 49-42 loss at LSU, frankly continuing to relegate him to the change-of-pace role will be harder to justify than ever.
Yes, Richardson was inconsistent, serving up a bad interception on his first attempt of the game, a terribly misguided heave under pressure, and his last pass, which effectively sealed the loss with 2 minutes to go. On those plays, he looked like a redshirt freshman still feeling out his limitations. In between, though, he looked like the rising star he was prophesied to be at the beginning of the season. With Jones struggling and Florida trailing in the second half, Richardson took command, leading 4 straight touchdown drives that covered 65+ yards apiece while personally accounting for 198 total yards and all 4 TDs. He made plays with his arm and his legs, and plays that perfectly demonstrated how his breakaway potential as a runner creates easy opportunities downfield:
Anthony Richardson puts a ton of stress on defenses and makes you defend every inch of the field. pic.twitter.com/hjC1X2LAaf

— Felix Sharpe (@sharpereview) October 17, 2021
If the defense had upheld its end of the bargain after halftime instead of being gashed in historic fashion by LSU's previously anemic ground game, Richardson would have earned full credit for the comeback, while Jones — who was also picked twice, including a pick-6 to open the second half that got him benched at the start of the third quarter — was cast as the goat. (Not the good kind.) Despite the ending, it was clear enough that the offense has ready access to a gear with Richardson on the field that it doesn't with Jones, one that makes it possible to write off a certain level of volatility as the cost of doing business when the upside is so high.
High enough to sustain a serious upset bid against the No. 1 team in the country? Maybe not, at least not yet when the defense in question is as thoroughly dominant as Georgia's. At 4-3, though, the Gators have nothing to lose, and anyway, there's only one way to find out.
– – –
(Last week: 5 ⬇)
7. Will Rogers, Mississippi State
One of the conference's most consistent players over the first half of the season, Rogers turned in his first undeniably bad outing against Alabama, a blowout loss in which he served up 3 interceptions (including a pick-6) and was sacked 7 times. In Mike Leach's 246 games as an FBS head coach, it was only the 17th time his team failed to throw for a touchdown — the 2nd in 2 years against Alabama.
– – –
(Last week: 6 ⬇)
8. Will Levis, Kentucky
Levis completed 76.2% of his attempts in the Wildcats' loss at Georgia, which sounds like an impressive number until you consider that a) That amounted to just 192 yards, or a meager 4.5 yards per attempt, and b) A little more than a third of that output came on a futile, 22-play drive in the fourth quarter that ate up the final 11-and-a-half minutes of a game that had been long since decided. At least that march ended in a touchdown, which allowed Levis to boast that he's the first opposing QB this season to throw multiple TD passes against Georgia's defense, and only the second to cover the spread.
– – –
(Last week: 8 ⬌)
9. Bo Nix, Auburn
Contrary to his sluggish reputation in road games, Nix turned in one of the best afternoons of his career at Arkansas, finishing 21/26 for 292 yards, 2 TDs and 1 INT while adding a 3rd score as a runner, the dagger in a 38-23 win. Not coincidentally, he also enjoyed some of the cleanest pockets in his career: Per PFF, he was pressured just 3 times on 24 dropbacks, wasn't touched by Arkansas' pass rush, and only pulled the ball down to scramble once.
On the other hand, Nix was actually at his best against the Razorbacks on the few plays when he was under heat, also defying his scattershot rep under pressure to go 3/3 for 120 yards and 2 touchdowns.
Bo Nix: Highest graded QB under pressure in Week 7 (93.9) ? pic.twitter.com/WjHCZuPgjy

— PFF College (@PFF_College) October 18, 2021
Along with their come-from-behind win at LSU on Oct. 2, the win in Fayetteville marked the first time the Tigers have taken back-to-back road games with Nix as the starter. At least for the time being, I don't think he has to look over shoulder at TJ Finley.
– – –
(Last week: 12 ⬆)
10. Max Johnson, LSU
Speaking of heat: While every quarterback's production generally suffers with the pass rush bearing down, no SEC starter this season has posted a wider gap than Johnson between his PFF grade when kept clean (84.0) vs. his grade under pressure (32.6). In his case, Johnson also bears some responsibility for that pressure in the first place. Of his 69 pressured dropbacks, 17 have been Johnson's fault, per PFF, the 2nd-highest rate of "own pressures allowed" in the conference (24.6%) behind only Bo Nix (28.0%).
– – –
(Last week: 10 ⬌)
11. Zach Calzada, Texas A&M
How weird would it be if Calzada's heroic effort against Alabama was the only notable performance in an otherwise entirely pedestrian turn as the Aggies' starter? Putting that performance into context may take a while. Saturday's followup outing at Missouri (13/25, 148 yards, 2 TDs/1 INT) was hardly the work of a guy who's just seen the light come on – but then, with A&M's casual dominance in the run game, it hardly needed to be. As far as his odds of holding down the job beyond this season are concerned, the jury's still out.
– – –
(Last week: 9 ⬇)
12. Connor Bazelak, Missouri
Bazelak is nowhere near the biggest problem for a team giving up 37.1 points per game. Lately, though, he's looking less and less like the solution. A couple of early INTs in the loss to Texas A&M had parts of the fan base grumbling – SEC opponent shave outscored Mizzou 63-10 in the first quarter – and while Eli Drinkwitz quickly shot down the notion that Bazelak is anything less than firmly entrenched, it's never a good sign when the head coach is forced to answer those kinds of questions about a guy coming off his 15th consecutive start. It's feeling a little stale; considering backups Brady Powell and Tyler Macon have yet to attempt a non-garbage-time pass between them, the alternative might be worse.
– – –
(Last week: 11 ⬇)
13. Zeb Noland, South Carolina
Noland, the graduate assistant coach turned emergency quarterback, is in line for his 3rd start of the season this weekend at Texas A&M after coming off the bench to lead a late, game-winning touchdown drive against Vanderbilt — Carolina's first conference win under coach Shane Beamer. SC announced Tuesday that sophomore Luke Doty is out for the year, but given that the Gamecocks averaged just 18.4 points in Doty's 5 starts, the distinction is probably academic, anyway. At this point Noland gives them the best chance of adding another W over the last 5 games and avoiding a losing streak that carries over into 2022.
– – –
(Last week: N/A )
14. Mike Wright, Vanderbilt
Wright, a true sophomore, was a surprise starter at South Carolina in place of an injured Ken Seals and acquitted himself well, finishing 11/21 for 206 yards, 1 TD and 1 INT and putting Vandy in position to win late – a position the Commodores have very rarely found themselves in over the course of a 15-game SEC losing streak. Wright will be atop the depth chart again this weekend against Mississippi State while Seals nurses an injured finger (his availability vs. MSU is TBD, per coach Clark Lea), but this is another situation where no one is counting the days until the ostensible starter comes back. The door's open for Wright to seize the job outright.
– – –
(Last week: N/A)