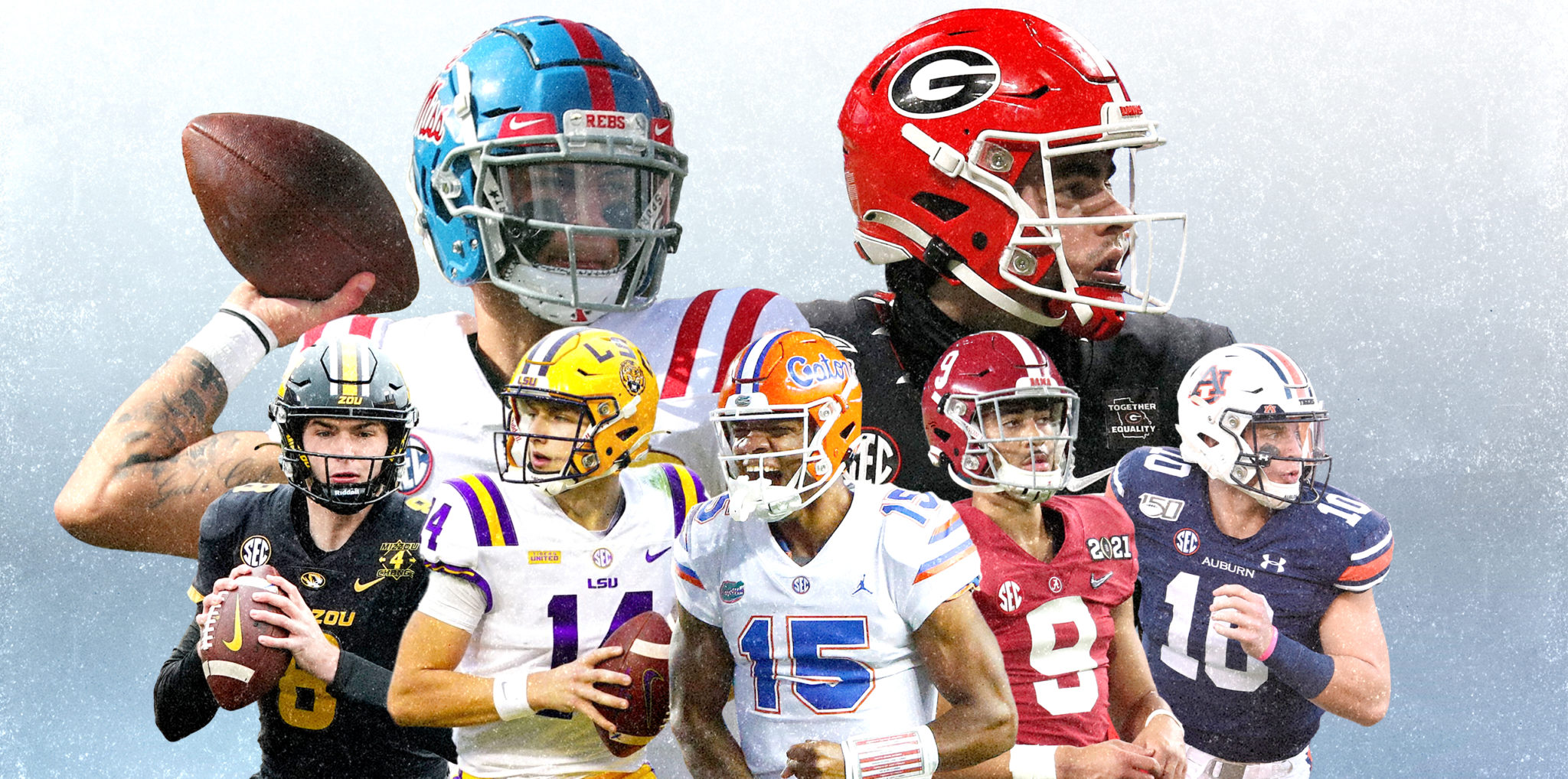 SEC
SEC QB Power Rankings, Week 6: If LSU wants more from Max Johnson, it should start by asking less
Quarterbacks: There are a lot of them! Each week throughout the season, we'll help you keep the game's most important position in perspective by ranking the SEC starters 1-14 according to highly scientific processes and/or pure gut-level instinct. Previously: Week 1 … Week 2 … Week 3 … Week 4 …. Week 5.
1. Bryce Young, Alabama
He's not redefining the way the position is played or anything, but sure enough as the season wears on Young's consistency and efficiency are beginning to separate him from the pack. This week, he's the only quarterback who ranks in the top 5 nationally in completion percentage (73.0), touchdowns (17) and overall efficiency (185.8) on the year, and he comes in at No. 3 in Total QBR. As the only notable candidate who's yet to struggle in a loss or get roasted by his own home crowd on national TV, he also has the midseason Heisman conversation almost all to himself.
– – –
(Last week: 2 ⬆)
2. Matt Corral, Ole Miss
When not being mauled by Alabama's pass rush, Corral was actually pretty efficient in Ole Miss' 42-21 loss in Tuscaloosa, finishing 21/29 for 213 yards with 1 touchdown and no picks. (Corral has yet to throw an interception this year after serving up an SEC-worst 14 INTs in 2020.) But too much of that output came in the second half, after the Rebels had already fallen into an insurmountable 35-0 hole, and it was devoid of big plays – Corral managed just 1 completion that gained 20+ yards, and it didn't come until well into the fourth quarter. That's not going to cut it in this offense, especially when the ground game is struggling, too.
If that didn't definitively end Corral's nascent Heisman campaign, it certainly suspended it pending further developments. There's still a ways to go and plenty of prolific afternoons to be had. One factor working in his favor: Aside from Young, the field remains as wide open as it was in August. (Even Young is probably best thought of as the default front-runner, rather than a phenom whose brilliance cannot be denied.) Working against him: There's no marquee opponent left on the schedule and virtually no chance of crashing the SEC title game with the Crimson Tide owning the head-to-head tiebreaker. Bama was the make-or-break game; now, as far as national relevance is concerned most of Corral's production from here on out will likely be too little, too late.
– – –
(Last week: 1 ⬇)
3. JT Daniels or Stetson Bennett IV, Georgia
No controversy here: The job is Daniels' whenever he returns from the nagging lat injury that held him out of UGA's blowout win over Arkansas, which could be as soon as this week at Auburn. Or not, you know, just like whenever is cool. Bennett is 5-2 as a starter the past 2 years – including an impressive turn against Auburn last year, in his first career start – and the way Georgia's defense is playing right now, frankly the only way he can screw up another assignment would be to commit multiple turnovers. Most likely, he won't even get the chance: Against Arkansas, Bennett only put the ball in the air 11 times for a very conservative 72 yards, and even that felt excessive.
Eventually, the Bulldogs will need Daniels and his golden arm at 100% in December and January, one of the reasons they're being extra cautious with him now. Bennett and the defense give them that luxury. The only game between now and their inevitable SEC Championship date with Alabama that so much as raises an eyebrow is the Florida game on Oct. 30, by which point Daniels is expected back. Even if he's not, the Gators would have to actually score for it to make a difference, which good luck with that.
– – –
(Last week: 3 ⬌)
4. Emory Jones, Florida
Florida moved the ball better in its 20-13 loss at Kentucky than either the scoreboard or the nuclear reactions from Gators fans indicated, finishing with 382 yards and 21 first downs; Jones himself accounted for more than two-thirds of that total with 266 yards (203 passing, 63 rushing). But much of that progress was offset by 115 yards' worth of penalties, including 8 false starts amidst a deafening scene in Commonwealth Stadium, and the rest by missed opportunities: Four of the Gators' 7 trips into Kentucky yielded zero points.
That doesn't necessarily say much about the offense forward, and even if it did the remaining schedule aside from the Cocktail Party is forgiving enough that's unlikely to make a difference.
– – –
(Last week: 4 ⬌)
5. Will Rogers, Mississippi State
Rogers' 408-yard, 3-TD performance at Texas A&M was his best of the season and the second-best of his career according to both Total QBR (87.7) and Pro Football Focus (87.2), an achievement considering how differently those metrics rate his sophomore season as a whole — he boasts the top PFF grade of any SEC quarterback on the year but comes in a distant sixth in the conference per QBR. Maybe a visit from Alabama on the other side of an open date will help narrow the gap.
– – –
(Last week: 7 ⬆)
6. KJ Jefferson, Arkansas
Last week, I was waiting in line for tickets to board the KJ Jefferson bandwagon. This week, I'm waiting tentatively to see how far the price drops following his first major setback, a 37-0 wipeout at Georgia. Jefferson had quite literally no chance in Athens: Arkansas' first 2 possessions were 3-and-outs marred by penalties that pinned the Razorbacks inside their own 10-yard line opposite the best defense in the country, and by the time they got the ball back for the third time, they trailed 21-0. At that point, it may as well have been a hundred.
How much does that first-round knockout change what we already knew about him? Short-term, the loftier comparisons inspired by Jefferson's size and mobility can sit patiently for a little while. Long-term, eh, the Bulldogs are going to do that to just about everybody they play. This weekend's trip to Ole Miss will be a better gauge of whether his ascent is still on track.
– – –
(Last week: 5 ⬇)
7. Max Johnson, LSU
Johnson is a solid, smart young quarterback with a bright future. But is he the kind of guy you want accounting for 80% of your total offense, as Johnson has over LSU's first five games? Probably not.
That's an Air Raid-type number, and given that LSU's is not an Air Raid offense it points toward some deeper issues. Specifically, the ground game is a embarrassment: Out of 130 FBS teams, the Tigers rank 128th in rushing offense (70.6 yards per game, including sacks) and 126th in yards per carry (2.6), worst in the SEC. In 4 games against FBS opponents, they've yet to top 100 yards or 4.0 per carry as a team even if you don't include sacks. The leading rusher, true freshman Corey Kiner, has earned the majority of his output in garbage time of wins over McNeese State and Central Michigan. In Saturday's 24-19 loss to Auburn, the running backs as a group combined for 46 yards with a long gain of 11.
In that context, Johnson's mediocrity starts to look like an effect of the Tigers' broader malaise as much as it is a cause. His ongoing connection with fellow sophomore Kayshon Boutte is the one aspect of the offense that consistently works; between Boutte and the emerging freshman trio of Jack Bech, Deion Smith and Brian Thomas Jr., the passing game has enormous potential for the foreseeable future. Ed Orgeron is committed to sustaining the initial momentum of the Tigers' conversion to a spread passing team.
But Johnson obviously isn't in any danger of anyone confusing him for Joe Burrow anytime soon, and even the pass-happy 2019 offense that inspired the current version benefited from Clyde Edwards-Helaire's presence in the backfield. (Burrow accounted for 70% of that team's total offense, a big number but still well short of Johnson's share this year.) Even the 2020 version, which dipped to 12th in the SEC in rushing, was nowhere near as one-dimensional as this one. As long as the other dimension continues to founder, too much of Johnson's potential is going to continue to be wasted just trying to make up the difference.
– – –
(Last week: 6 ⬇)
8. Bo Nix, Auburn
One of the many obscure metrics they track at PFF is a number called pressure-to-sack ratio: The percentage of pressures on an individual quarterback that result in a sack. In Nix's case, he's been pressured on 45 of his 161 dropbacks this season, but only been sacked twice – a pressure-to-sack ratio of just 4.4%, best in the SEC and 5th nationally among QBs with at least 50 dropbacks.
Who says some traits aren't quantifiable?
Is this the most impressive single play of Bo Nix's career? I think so pic.twitter.com/08VFnTURyI

— Nathan King (@NathanKing247) October 3, 2021
OH MY BO NIX THIS ISNT A REPLAY HELLO ???? pic.twitter.com/Cq8SSJcw6T

— The Transfer Portal CFB (@TPortalCFB) October 3, 2021
At this point in his turbulent career, it's safe to say Nix is not on the verge of becoming a steady hand in the pocket as an upperclassmen. Very rarely, though, has his instinctive play-making ability been on display more obviously than it was the viral 4th-down highlights from the win over LSU – Auburn's first win in Baton Rouge in Nix's lifetime – which may have been our best glimpse yet at his Manziel-ian upside. A week after very nearly losing his starting job, he played like a guy with nothing to lose. I've often wondered exactly what the recruiting sites saw in Nix to anoint him as a 5-star prospect when he seems to lack obvious blue-chip traits; his creativity on Saturday was a rare glimpse into that.
Now, his consistency was another story – he completed barely half of his passes (23/44) for a meh 5.8 yards per attempt. Again, though, we're well past the idea that routine efficiency is ever going to be one of his strengths. Maybe compensating with the occasional display of free-form gusto could be. Let Bo cook! It's not like it's going to drive Auburn fans any crazier than they have been already.
– – –
(Last week: 9 ⬆)
9. Hendon Hooker, Tennessee
The top performance of Week 5 belonged to Hooker, who accounted for 305 yards (225 passing, 80 rushing) and 4 touchdowns in an out-of-nowhere, 62-24 rout at Missouri – a game that actually kicked off with the Vols as slight underdogs. He was 3/4 on attempts of 20+ yards, didn't commit a turnover, and posted the best single-game passer rating vs. an SEC opponent (230.5) by any Tennessee quarterback in 20 years.
There's that beautiful Hendon Hooker touch pass to JaVonta Payton pic.twitter.com/9uVOllW0e8

— Cam Mellor (@CamMellor) October 2, 2021
The caveat: Mizzou's defense is atrocious, particularly against the run, where the Tigers rank dead last after allowing nearly 1,400 yards rushing and 16 touchdowns over the past 4 games; against Tennessee, that translated into a monster rushing day for the Vols (458 yards on 7.8 per carry), open throwing lanes downfield, and, on Sunday, a pink slip for first-year d-line coach Jethro Franklin.
For now, we'll chalk up the ambush to catching the right defense and the right time and taking advantage of the opportunity. But anything approximating a repeat performance against South Carolina could be a catalyst for a big leap forward next week.
– – –
(Last week: 11 ⬆)
10. Connor Bazelak, Missouri
The defense's collapse has repeatedly put Bazelak in untenable situations: In their loss to Tennessee, the Tigers trailed 28-3 in the first quarter and 42-9 at the half, leaving the Baz to put up 44 passes in futility. He threw for 322 yards with no touchdowns and 2 interceptions, already the 3rd time this season he's accounted for 300+ yards in a losing effort.
– – –
(Last week: 8 ⬇)
11. Will Levis, Kentucky
On the opposite end of the spectrum, we have Levis, whose production has declined weekly over the course of Kentucky's 5-0 start, but who also has the benefit of an adequate ground game and a legit defense. In the Wildcats' win over Florida, he finished 7/17 for just 87 yards, nearly half of that coming via YAC on a screen pass that went the distance from 41 yards out in the first quarter. From that point on, their next 2 touchdowns were up to the defense and special teams while Levis' longest completion gained just 13 yards.
– – –
(Last week: 10 ⬇)
12. Zach Calzada, Texas A&M
Expectations were not especially high for Calzada's stint as QB1 and he has not exceeded them, coming in at or near the bottom of the conference in every major category since taking over for injured starter Haynes King in Week 2. That's not necessarily his fault, or at least not all his fault: As always, when the pitchforks are out the quarterback tends to be the easiest target – after the gazillionaire head coach, anyway – and the o-line's failures in season-wrecking losses to Arkansas and Mississippi State ensured Calzada would be the one suffering the consequences.
SAFETY‼️ pic.twitter.com/cjBHZmCTG6

— Mississippi State Football (@HailStateFB) October 3, 2021
But there weren't any illusions that he was going to be the guy to overcome those liabilities, either. The Aggies needed to be great in every other respect to salvage their goals in King's absence, and they've been far from it. At one point this weekend's visit from Alabama might have looked like an opportunity; now it feels more like a looming bloodbath.
– – –
(Last week: 12 ⬌)
13. Luke Doty, South Carolina
Doty's numbers since reentering the starting lineup in Week 3 are nothing to write home about, but he does have that touchdown pass against Georgia to his credit, a feat which is looking more impressive by the week. Who even cares if it was in garbage time of a blowout loss? The Bulldogs have yet to allow another offensive touchdown this season at any time.
– – –
(Last week: 13 ⬌)
14. Ken Seals, Vanderbilt
Vanderbilt had 2 realistic goals for the 2021 season: 1., show some signs of life in conference play after last year's 0-9 debacle; and 2., don't lose to UConn. With Saturday's come-from-behind, 30-28 win over the Huskies, the second part of that mission is accomplished thanks to one of the better efforts of Seals' young career (27/40, 333 yards, 2 TDs/1 INT). There are still 7 more opportunities to address the first half, beginning with this weekend's trip to Florida.
– – –
(Last week: 14 ⬌)