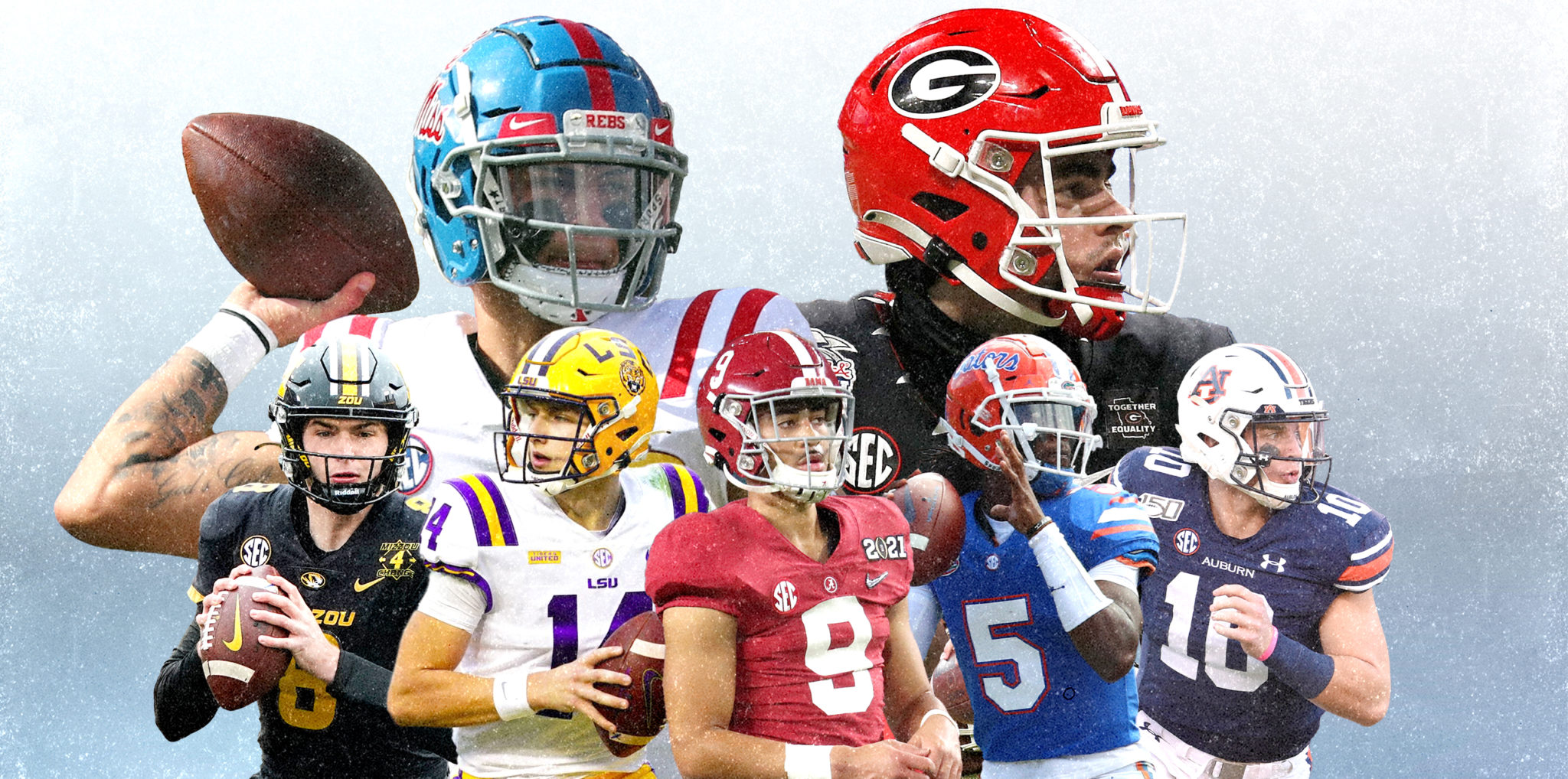 SEC
SEC QB Power Rankings, Week 4: Bryce Young, game manager?
Quarterbacks: There are a lot of them! Each week throughout the season, we'll help you keep the game's most important position in perspective by ranking the SEC starters 1-14 according to highly scientific processes and/or pure gut-level instinct. Previously: Week 1 … Week 2 … Week 3.
1. Matt Corral, Ole Miss
Corral surged to the top of the updated Heisman odds after accounting for 7 touchdowns in a dominant, 61-21 win over Tulane, which frankly may say as much about the state of elite QB play across the sport right now as it does about Corral. Through 3 weeks, he's the only preseason candidate who has consistently played up to the hype.
In fact – and in fairness to the field — maybe it says more about the hype. We all understand by now we're living in the Age of the Quarterback. For the past decade, the bar for what qualifies as elite QB play has risen accordingly, usually on an annual basis. Yards, touchdowns, efficiency: Always going up. (For just one example, consider that prior to this year the single-season record for pass efficiency had been broken in 5 consecutive seasons.) Inevitably, after a few years along these lines the inflationary trend is now baked into what our expectation of a Heisman candidate looks like. And September, especially, tends to be the most inflationary month. Typically as the schedule shifts to conference play I'm writing about guys whose early numbers are way out ahead of some record pace or another, with the expectation that they'll eventually descend from orbit as the year goes on.
But that trend has not held through the first few weeks of this season. Not even close: At the moment, not a single Power 5 quarterback — Corral included — is even within 10 points in pass efficiency of the pace set by Tua Tagovailoa, Kyler Murray, Joe Burrow, and Mac Jones over the previous 4 years. Besides Corral, none of the other plausible Heisman-caliber quarterbacks at this stage (North Carolina's Sam Howell, Oklahoma's Spencer Rattler, Alabama's Bryce Young, Ohio State's CJ Stroud) is within 20 points. JT Daniels remains on the board despite Georgia's offense failing to reach the end zone in its big, nationally validating win over Clemson; meanwhile, Clemson's DJ Uiagalelei and Miami's D'Eriq King have dropped off altogether. It's not like there are any compelling dark-horse candidates flying in from off the radar to replace them, either.
At any rate, it's way too early to make any sweeping statements about anything with just 25% of the regular season in the books. No one on that list is about to fade into obscurity. (Howell, in particular, has rebounded from a disastrous opener at Virginia Tech with a couple of monster performances the past 2 weeks.) But I dunno, maybe it was a sign when the most hyped game of the season turned out to be a 10-3 slugfest featuring zero offensive touchdowns. It's been many years since the spread revolution paused for a breath. Maybe it's time.
– – –
(Last week: 1 ⬌)
2. Bryce Young, Alabama
In keeping with the theme here: Is the most touted QB recruit of the Saban era at Alabama a … a game manager? We suspected as much ahead of Alabama's trip to Florida, and all signs in Gainesville pointed to yes.
Young was efficient enough vs. the Gators, throwing for 240 yards and 3 touchdowns with no interceptions; with that, he improved his TD:INT ratio for the season to 10:0, best in the nation. Still, the explosive downfield plays that defined Bama's offense under Jones and Tagovailoa have been few and far between. Young is just 2/13 for the year on attempts of 20+ yards, per Pro Football Focus; on Saturday he was 1/3, with a long gain of 29 yards and an average depth of target of just 6.4. Alabama averaged fewer yards per completion vs. Florida (10.4) than Jones and Tagovailoa averaged the past 3 years per attempt.
So far, the plan for Young as a passer looks more like the plan for a young Jalen Hurts in 2016-17, which also involved a lot of short, safe passes and prioritized limiting mistakes over big plays. The major difference is that, unlike the offense in those years, the Tide are still fundamentally a spread-passing outfit that assumes the quarterback is making plays with his arm. Where Hurts was the engine of a highly productive ground game, first-year coordinator Bill O'Brien has shown no interest in involving his QB on designed runs, and Young has been reluctant to take off on his own accord with just 3 scrambles on 107 dropbacks. The result, so far, feels like a step back.
Again: September, small sample size, sophomore with 3 career starts under his belt, etc. Take the early rerurns for what they're worth. Saturday was Young's first true road test, in a deafening environment, and while it was tighter than Bama fans are accustomed to, the bottom line is he passed. At some point, the Tide will need more, whether it's more big-play pop from the passing game or more consistency from the run. Saturday wasn't that point, but the next test, against a white-hot Ole Miss offense on Oct. 2, might be.
– – –
(Last week: 2 ⬌)
3. JT Daniels, Georgia
Rumors of a controversy here following Stetson Bennett IV's blockbuster performance in Week 2 were greatly exaggerated. Against South Carolina, Daniels' return to the lineup from an oblique injury was arguably his best game as a Bulldog, yielding 303 yards, 3 TDs, a 181.8 passer rating, and the highest marks of any SEC passer for the week according to both PFF (88.4) and Total QBR (96.5). As long as he's healthy, Georgia's fate is still riding on his right arm.
– – –
(Last week: 3 ⬌)
4. Emory Jones, Florida
Jones went the distance in the Gators' upset bid vs. Alabama, shaking off a rough start – he was subjected to a hearty round of boos in the first half – to win over a revved-up crowd by sunset. He finished with 271 total yards (195 passing, 76 rushing) while leading 4 touchdown drives of 75+ yards on Florida's final 5 possessions.
Emory Jones and the Gators cap off a 99-YARD DRIVE.

We've got a ballgame. pic.twitter.com/qrmYfPkdlt

— CBS Sports (@CBSSports) September 18, 2021
Although the rally from a 21-3 hole came up short, it was obvious enough by the fourth quarter that Bama's defense had run out of gas and answers. At some point in that process, it also started to become obvious why Dan Mullen trusted Jones in that situation more than redshirt-freshman phenom slash fan favorite Anthony Richardson. Officially, Richardson was relegated to emergency duty due to a sore hamstring and didn't see the field – a dubious line considering that Richardson a) practiced during the week, dressed out as usual, and was medically cleared to play; and b) was spotted before the game performing backflips during warm-ups. Jones doesn't have Richardson's tantalizing skill set, but once he found his rhythm his workmanlike mobility was a perfect fit for Mullen's sensibility as a play-caller. Another 90 seconds at the end of the game probably would have been enough to finish off the comeback.
Richardson is too big a talent to keep under wraps once he's back to full speed, but Mullen's vision of the freshman in a limited, Tebow-esque role to Jones' Chris Leak certainly looks more viable than it did a week ago. That can still change, but the second half on Saturday went a long way toward Jones taking command of the position, full stop.
– – –
(Last week: 5 ⬆)
5. Max Johnson, LSU
LSU needed a reason to feel good about itself heading into SEC play and got it Saturday in an easy, 49-21 win over Central Michigan. Johnson turned in easily his best outing of the young season, finishing 26/35 for 372 yards, 5 TDs, and 1 INT, and found an intriguing new target in the process in true freshman WR Deion Smith.
My goodness, Deion Smith. pic.twitter.com/RLXJgS60C1

— Wilson Alexander (@whalexander_) September 18, 2021
In fact, between Smith, Brian Thomas Jr. and Jack Bech, LSU's top three receivers vs. the Chippewas were all true freshmen making essentially a first impression in Tiger Stadium — the trio combined for 266 yards and 3 TDs on 22.2 per catch, a significant development for an attack still auditioning candidates for WR2 opposite Kayshon Boutte. This weekend's trip to Mississippi State is a chance to prove it wasn't just a matter of feasting on an overmatched opponent from the MAC
– – –
(Last week: 7 ⬆)
6. Bo Nix, Auburn
Good news for Auburn fans pining for the new coaching staff to open things up downfield: 10 of Nix's 37 attempts in Saturday's loss at Penn State traveled 20+ yards, contributing to his highest average depth of target (12.1 yards) in any game since midway through his freshman campaign in 2019. The bad news: He connected on just 1 of those attempts, for a gain of 23. Combined with the ending, the notion that he's finally on the verge of turning the corner as an upperclassman in terms of accuracy and/or decision-making remains … unconvincing.
– – –
(Last week: 4 ⬇)
7. KJ Jefferson, Arkansas
Jefferson's final line against Georgia Southern (13/23, 366 yards, 3 TDs, 0 INTs) was slightly misleading — statistically, the biggest play of the day came on a rinky-dink screen pass that WR Treylon Burks popped for a 91-yard touchdown in a game that was already effectively out of reach — but only slightly. Jefferson did his fair share of damage downfield, including a 60-yard beauty to Warren Thompson …
Droppin dimes droppin dimes pic.twitter.com/fluJpSvLXL

— Arkansas Razorback Football (@RazorbackFB) September 18, 2021
…and two other completions that gained 40+ yards. Accuracy remains an issue in general, but the prospect of a 6-3, 245-pound athlete who can make that throw with any kind of consistency is a nightmare for the rest of the conference.
– – –
(Last week: 8 ⬆)
8. Will Levis, Kentucky
Levis' stock is earthbound this week after he committed three turnovers (two INTs, one fumble) in a 28-23 scare vs. Chattanooga, a sobering corrective to his ascent over the first two weeks. To his credit, though, with Kentucky trailing in the fourth quarter and in desperate need of a spark, he was on point:
QB @will_levis found @IzayahCummings in the end zone for the Sophomore TE's first career TD catch.

? – SECN+/ESPN+ – https://t.co/gryyUobuGE pic.twitter.com/WJBV5oBXqi

— Kentucky Football (@UKFootball) September 18, 2021
That throw gave the Wildcats a 21-16 lead with a little over 10 minutes to play; a pick-6 on Chattanooga's ensuing possession supplied the decisive cushion. Granted, 3-0 is 3-0, but that was supposed to be one of the easy ones; from here on out, the degree of difficulty is about to get much steeper.
– – –
(Last week: 6 ⬇)
9. Connor Bazelak, Missouri
Bazelak took advantage of a prime stat-padding opportunity against Southeast Missouri State, shredding the Redhawks for 346 yards, 3 TDs, and his best passer rating (199.9) since his first career start against LSU last October. Next up: A trip to Boston College for possibly the most random intersectional matchup of the season.
– – –
(Last week: 10 ⬆)
10. Will Rogers, Mississippi State
Rogers put up a quintessential Mike Leach stat line in MSU's 31-29 loss at Memphis, throwing for 419 yards on a school-record 67 attempts — 6.3 yards per attempt, with an average depth of just 5.9 yards per target. Even for the Air Raid, that much volume with that little value in return is rarely an encouraging sign.
– – –
(Last week: 9 ⬇)
11. Joe Milton III or Hendon Hooker, Tennessee
Milton returned to the top of the official depth chart this week after sitting out most of the last 2 games with an apparent knee injury, although it's unclear whether that has any bearing on the actual pecking order going into this weekend's visit to Florida or whether it's merely a cut-and-paste job. Hooker outplayed Milton off the bench in Tennessee's Week 2 loss to Pittsburgh, and accounted for 4 touchdowns (3 passing, 1 rushing) in Saturday's blowout win over Tennessee Tech; he's more experienced, more efficient and more mobile. Meanwhile, coach Josh Heupel was noncommittal Monday about Milton's availability at Florida pending how much he's able to handle in practice. Hooker may seem like the easy choice, but as Vols fans have learned all too well over the years that's no guarantee it's the one that ultimately gets made.
– – –
(Last week: 11 ⬌)
12. Zach Calzada, Texas A&M
Calzada was up to the job in his first career start, a 34-0 win over New Mexico, following up a sketchy debut at Colorado by going 19/33 for 275 yards and 3 TDs against the hapless Lobos. "Basically competent" can go a long way here, in a situation anchored by the defense and running game. A neutral-site date with Arkansas will be a much better gauge of how much optimism Aggies fans can afford to invest in him while waiting for Haynes King to return from injury.
– – –
(Last week: 13 ⬆)
13. Luke Doty, South Carolina
Doty, the presumptive starter prior to a preseason foot injury, got his first action of the season Saturday against Georgia and expects to make his first start this weekend vs. Kentucky. If all goes according to plan, that should be the last we see of graduate assistant coach turned emergency starter Zeb Noland, who left the loss to UGA with an injured hand. But when is the last time South Carolina's quarterback situation went according to plan?
– – –
(Last week: 12 ⬇)
14. Ken Seals, Vanderbilt
Seals ranks at the bottom of the conference in almost every way that matters, including yards per attempt (4.9), pass efficiency (99.4), Total QBR (27.7), and PFF grade (47.7). Up next: Georgia, owner of arguably the nation's best defense. If the Commodores score it will be a monumental achievement.
– – –
(Last week: 14 ⬌)