SEC
Week 3 SEC Primer: New faces, same huge stakes for Alabama-Florida
Everything you need to know about this weekend's SEC slate.
The stakes
Who are these teams? As brands, Alabama and Florida speak for themselves, and as aspiring Playoff contenders, the magnitude of a win or a loss in this game does, too. It's the SEC opener for both sides; it sets the tone for the rest of the year. More than that, though, for a couple of offenses that lost an overwhelming array of star power from the attacks that combined for 1,067 yards and 98 points last December in the SEC Championship Game, it's a good old-fashioned identity check.
For Alabama, especially, the idea that replacing the core of the highest-scoring offense in SEC history is a matter of merely promoting the next wave of blue-chip talent diminishes just how special the last group was — even for Bama, a program that effectively retired the concept of "rebuilding" a long time ago. Filling the void left by 9 first-round draft picks in a 2-year span isn't something that just happens. The transition to a new offensive coordinator isn't automatic, no matter how many times the Crimson Tide have pulled it off. Expectations come with the territory, but each new group has to justify them in its own right. Blowout win over Miami notwithstanding, this one is still at the beginning of that process.
Florida is in a similar position in terms of the mass exodus of next-level talent, if not the assumption that replacing the likes of Kyle Trask and Kyle Pitts is easy as "next man up." Two games in, the Gators are already in the throes of a full-fledged quarterback controversy that has met the drama quota in routine wins over Florida Atlantic and USF. Meaningful competition tends to bring clarity to those types of questions in a hurry, and to bring other priorities into focus. And it doesn't get any more meaningful this time of year than a visit from the defending champs.
The stat: 6.5 yards per play
That's Alabama's average gain on offense over the first 2 games, more than a full yard per play below its average in any of the past 3 seasons. The last time Bama finished below 7.0 ypp over a full season: 2017, its first and only campaign under the most forgettable offensive coordinator of the Saban era, Brian Daboll.
Obviously, two games, one of them against Mercer, isn't enough to draw any firm conclusions about what the scheme's going to look like going forward. But the initial returns under first-year OC Bill O'Brien have tended more toward the pre-Tagovailoan era than the bombs-away approach that thrived under Mike Locksley (in 2018) and Steve Sarkisian (2019-20). Like Daboll, O'Brien brings an NFL background to the job, including years as an assistant to Saban's old mentor, Bill Belichick, in New England, and doubles as the quarterback coach.
Also like Daboll, who called plays primarily for Jalen Hurts in 2017, O'Brien is managing a young QB still working to find his downfield touch as a passer: Sophomore Bryce Young is just 1/10 on attempts of 20+ yards, per Pro Football Focus, despite being virtually flawless to every other area of the field: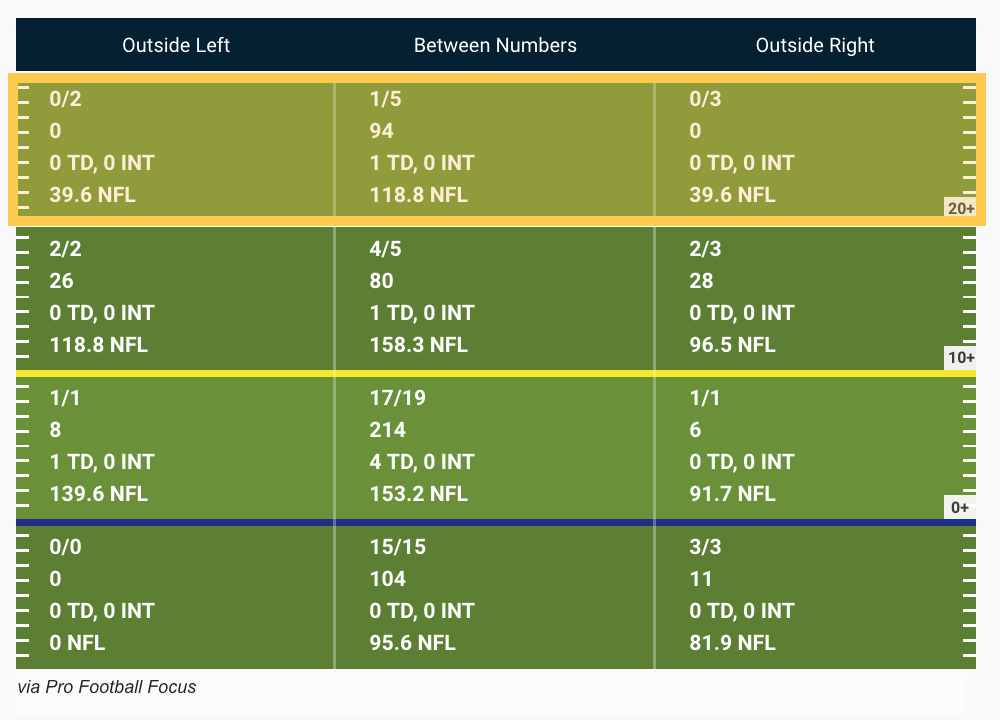 That's a notable departure from Bama's historic deep-ball success with Tua Tagovailoa (51/97 on 20+ yard attempts in 2018-19) and Mac Jones (33/56 in 2020) the past 3 years, and one of the biggest reasons the offense has yet to generate the same big-play pop.
Emphasis on yet. Unlike his predecessors, Young isn't throwing to a fleet of first-round wideouts, and at any rate, attempting to divine meaning from such a small sample size is futile. Given that his one successful long ball so far resulted in a 94-yard touchdown, betting against Bama's explosiveness is still a bad idea.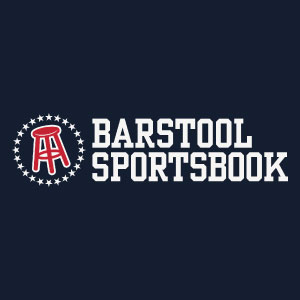 Barstool Sportsbook
STATES: MD, LA, CO, IL, IN, MI, NJ, PA, VA, TN, AZ, IA, WV
SIGNUP BONUS
$1,000
BET INSURANCE!
The big question: What's up with Florida's quarterbacks?
Emory Jones is the starter. Dan Mullen made it clear following the Gators' 42-20 win over USF and the official depth chart backs him up. Jones has taken 78% of the total snaps this season and nothing coming out of Gainesville indicates that number is due to a decrease against the toughest opponent on the schedule.
But the rapidly escalating hype over redshirt freshman backup Anthony Richardson is very real, and the kid is spectacular. On just 37 snaps this season, he's accounted for 467 total yards and 4 touchdowns (2 passing, 2 rushing), all of them covering more than 40 yards. He has the size (6-4/236) and skill set — huge arm, natural touch, home-run instincts as a runner — of a young Cam Newton, which is the kind of statement that only seems like hyperbole if you've yet to actually watch him play.
This throw by Anthony Richardson is just stupid good pic.twitter.com/H50FKm7Mit

— Cam Mellor (@CamMellor) September 11, 2021
The situational approach is wearing thin because Richardson is clearly much more than a situational talent. For his part, Jones is more experienced in the system, has a better grasp of the offense, boasts a versatile skill set in his own right, and has frankly earned a little patience after biding his time the past 3 years in a part-time/Wildcat role. He hasn't done anything to lose the job under normal circumstances. But there's nothing normal about having a difference-maker like Richardson at your disposal and relegating him to the sideline for the vast majority of the afternoon, either.
Raw as he may be, Richardson's off-the-charts talent gives Florida a legitimate big-play threat on every snap he's on the field as well as the margin for error that goes with it. His presence is the weekend's most compelling subplot. Barring a heroic turn by Jones, the home crowd will make sure everyone watching at home knows it.
The key matchup: Florida RT Jean Delance vs. Alabama OLB Drew Sanders
Few positions are a better testament to Bama's relentless depth than outside linebacker. One starter, Christopher Allen, is out for the season with a foot injury The other, All-American Will Anderson Jr., is questionable to play due to a gimpy knee. Enter Sanders, a former 5-star recruit nicknamed "Drago" who earned his first career start last week in place of Allen against Mercer. Next up behind him? Chris Braswell and Dallas Turner, also former 5-star recruits.
Delance, a 6th-year senior who began his career at Texas, is off to a solid start this season after a sobering 2020 campaign in which he allowed a whopping 40 pressures and 5 sacks, per PFF — none of them costlier than the strip-sack he gave up to Anderson in the fourth quarter of last year's SEC title game, a big swing play that set up a short-field Bama touchdown that effectively ended any hope of a Florida comeback.
What a time for the Alabama defense to com up with a turnover. pic.twitter.com/lCQzOZ0Owr

— CBS Sports (@CBSSports) December 20, 2020
Anderson is one of the nation's elite pass rushers, arguably second only to Oregon's Kayvon Thibodeaux; if he can't go, his absence will be significant. Just how significant is up largely to Sanders in his first turn in the limelight.
The verdict
These are very different teams than the ones that met last December, and there's just enough lingering uncertainty over both offenses (albeit for very different reasons) to imagine Florida making a run at an upset. Anthony Richardson is the kind of X-factor who could singlehandedly change the course of a season, or alternately could turn into a pumpkin against a vastly higher level of competition than he's faced to date. Bryce Young may not be the quarterback he's ultimately going to be yet, but the range of possibilities on his end is a much safer bet
– – –
Alabama 38 | • Florida 27
Auburn's facing a ranked opponent on the road, and we all know what that means: Cue the splits!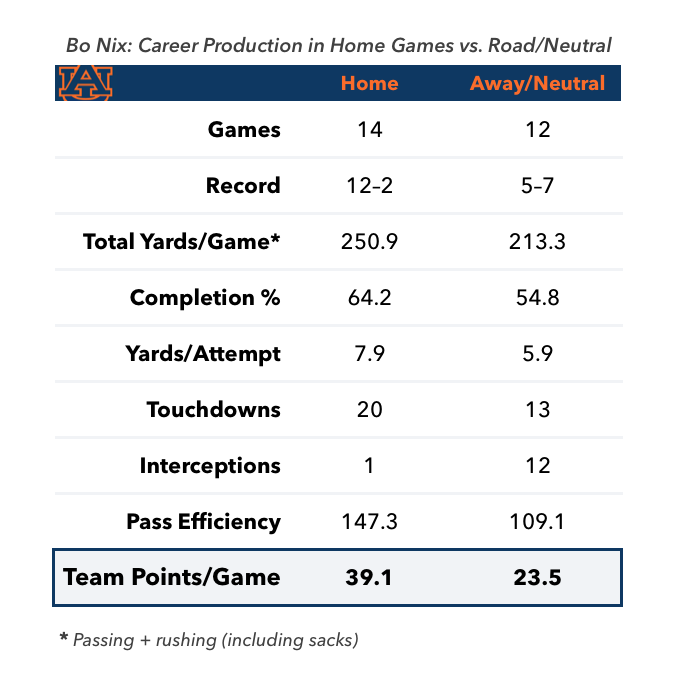 Nix's road woes have been so well-documented for so long at this point it's a cliché. But the narrative persists because it's real, and not only due to the fact that nearly all of his stat-padding efforts vs. cupcakes have come at Jordan-Hare. On paper, the gap was even wider last year vs. an all-Power 5 schedule than it was in 2019.
By now, Auburn fans have also gotten their fill of anticipation for the new and improved Bo: A year older, a year stronger, a year closer to fulfilling his 5-star potential with renewed confidence under a new coaching staff, etc. Auburn's first 2 games, casual blowouts over Akron and Alabama State by a combined score of 122-10, served to reinforce the offseason optimism without asking him to venture outside of his comfort zone at any point — out of 42 dropbacks in those games, per PFF, Nix faced pressure on just 3. The Nittany Lions and the mad-house atmosphere of the "White Out" are the first real tests of how far he has come, or hasn't, as Year 3 kicks off in earnest.
The other pressing question for Auburn's offense: Who are the receivers? The group entered the season as a blank slate and due to the competition essentially remains one. The Tigers deferred to experience in the first two games, reserving the starting nods for seniors Shedrick Jackson and Demetris Robertson, a new arrival from Georgia; they've combined for 179 yards on 13 catches. But most of the preseason buzz surrounded a contingent of second-year options (Kobe Hudson, Malcolm Johnson Jr., Ze'Vian Capers, and Elijah Canion) who played significantly in the blowouts and should have an opening to expand their role as the rotation gets winnowed down to the main cast. It would be nice if whoever emerges from that group becomes very familiar very quickly.
– – –
Penn State 27 | • Auburn 23
Neither team is certain of its starting quarterback, with both prospective QB1s (Georgia's JT Daniels and Carolina's Luke Doty) on the fence with assorted injuries. Either way, Vegas is unusually certain it's not going to be close: The massive point spread marks the first time the Gamecocks have kicked off as 30+ point underdogs in any game in more than 20 years.
– – –
Georgia 37 | • South Carolina 10
Tulane left the SEC for good in the mid-1960s. As a charter member, though, it can still muster up a little conference pride when the occasion calls for it:
https://twitter.com/GreenWaveFB/status/1437921605926092801
Of more immediate interest on Saturday: A feisty Green Wave team that took Oklahoma to the wire in its season opener behind 330 total yards and 4 touchdowns from sophomore QB Michael Pratt. Ole Miss shouldn't have any problem doing Ole Miss things offensively, but win or lose, the Willie Fritz version of Tulane exists to keep things interesting.
– – –
Ole Miss 43 | • Tulane 31
Its last time out, Memphis combined with Arkansas State for 105 points and 1,360 total yards in the most prolific FBS game of the season to date, a 55-50 win for the Tigers. Mike Leach, of course, is no stranger to an out-of-control box score. However much as he may be itching for a return to his shootout days, for the time being, Mississippi State's 2-0 start has been driven by the defense.
– – –
• Mississippi State 31 | Memphis 26rrr
Arkansas is riding high after last week's ambush of Texas, which if you've been around long enough, you know is not the ideal moment to have to turn around and defend the triple option. (Actually, no moment is an ideal moment to have to defend the triple option.) Then again, a Georgia Southern outfit coming off a deflating, 38-6 loss at Florida Atlantic isn't exactly striking fear in anyone's heart.
– – –
Arkansas 38 | • Georgia Southern 17
Use the state links below to get a $5,000 risk-free first bet and free NFL jersey with Caesars Sportsbook.
Haynes King is out with a broken ankle; Zach Calzada is in after leading the Aggies to come-from-behind win at Colorado in the first significant action of his career. Given Calzada's obvious struggles in Boulder, he can use all the reps he can get before the SEC schedule revs up next week vs. Arkansas.
– – –
• Texas A&M 44 | New Mexico 13
LSU could use some good vibes before it hits the conference slate, where ESPN's Football Power Index currently forecasts the Tigers as underdogs in every SEC game.
If you wondering just how bad it would have to get to seriously contemplate tossing Ed Orgeron overboard just 2 years removed from winning a national championship, well, the solid row of red there is your answer. Failing to dispatch a random MAC tomato can risks sending the entire season into a tailspin.
– – –
LSU 37 | • Central Michigan 20
It's a sign of how far Stanford has fallen over the past decade that its Week 2 win over USC cost USC coach Clay Helton his job just 2 games into the season. Still, the Cardinal have a loooong way left to go before they fall far enough find themselves in any real trouble against Vandy.
Scoreboard
Week 2 record 10-3 straight-up / 1-9 vs. spread (whew weeks like this are why it's for entertainment only)
Season record: 21-6 straight-up / 6-18 vs. spread