SEC
SEC QB Power Rankings, Week 5: KJ Jefferson is on the verge of a breakthrough
Quarterbacks: There are a lot of them! Each week throughout the season, we'll help you keep the game's most important position in perspective by ranking the SEC starters 1-14 according to highly scientific processes and/or pure gut-level instinct. Previously: Week 1 … Week 2 … Week 3 … Week 4.
1. Matt Corral, Ole Miss
If you had to take any current coach/quarterback combo on a road trip to Alabama, who else would you even consider right now ahead of Lane Kiffin and Matt Corral? For my money, they might be the only names on the list. Last year's game in Oxford was the highest-scoring outing ever against a Nick Saban defense and probably deserves to rank among the small handful of legendary performances by an opposing QB in the Saban era: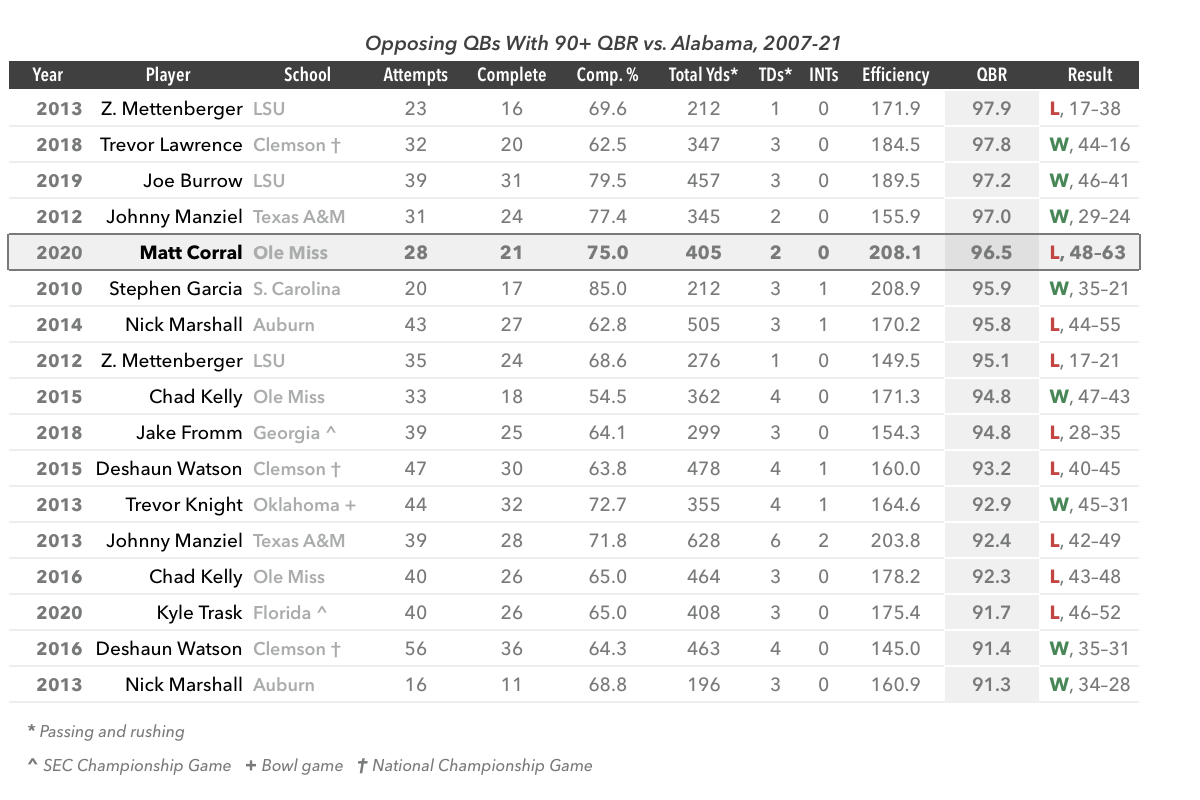 That's more or less what it takes to beat Alabama over the past decade, or even to come close. Other than Zach Mettenberger in 2013 — trust me, I quadruple-checked on that number, take it up with ESPN — every name there either came away with a W, held a lead late in the fourth quarter (Fromm in the 2018 SEC title game, Mettenberger in 2012), or broke some records in the course of a historic shootout. For now, Corral falls into the latter category only due to the gaping chasm between Alabama's offense and Ole Miss' defense, which as of last October was as wide as ever. Even if that gap has narrowed a bit in 2021, it may well take a repeat performance by Kiffin and Corral both to bridge it.
– – –
(Last week: 1 ⬌)
2. Bryce Young, Alabama
Yeah, it was against Southern Miss — a bad version of Southern Miss, at that — and yeah, he threw his first career interception. Still: Throw for throw, Young's 20/22, 313-yard, 5-TD performance vs. the Golden Eagles was his best yet, earning the top grade among all FBS quarterbacks in Week 4 according to Total QBR (98.6) and Pro Football Focus (94.8). Beyond the numbers, he also flashed the kind of downfield touch that was largely missing through the first 3 weeks. In those games, he was just 2/13 on attempts of 20+ yards; on Saturday, he was 3/5 with 2 touchdowns, 1 of them covering 81 yards.
Proof everybody digs the long ball: After watching his Heisman stock fall the previous 2 weeks, Young has effectively pulled even with Corral in the latest odds heading into this weekend's showdown.
– – –
(Last week: 2 ⬌)
3. JT Daniels, Georgia
Georgia buried Vanderbilt so deeply, so quickly, that Daniels' afternoon was over almost as soon as it began: He called it a day after just 20 offensive snaps with the Bulldogs up 35-0 in the first quarter. Between the slugfest vs. Clemson, the oblique injury that sidelined Daniels vs. UAB, and the abbreviated outing in Nashville, it still feels like the reins have yet to really come off here. Which, let's face it, suits Kirby Smart just fine.
– – –
(Last week: 3 ⬌)
4. Emory Jones, Florida
The other half of the rotation, Anthony Richardson, is back in the saddle this week after sitting out the past 2 games with a gimpy hamstring, but to the extent that he was on the verge of overtaking Jones prior to the injury, it's safe to say the heat is off. After a shaky start, Jones has looked the part in Richardson's absence, rallying the Gators from a 21-3 hole against Alabama — a game they probably win with another 45 seconds on the clock at the end — and accounting for 353 total yards in a blowout win over Tennessee. His value as a runner in a system that prioritizes the QB run game is obvious (his 375 rushing yards for the season leads all quarterbacks nationally outside of the triple-option types at Army and Air Force) and he's improved as a passer in every game. He's clearly the guy.
We'll see how long that clarity lasts before Richardson does something to remind everyone why they fell for his enormous talent in the first place. The way the schedule sets up over the next month, I'd bet on the détente holding until the Georgia game on Oct. 30, at which point we'll find out just how secure Jones' grip on the job actually is.
– – –
(Last week: 4 ⬌)
5. KJ Jefferson, Arkansas
No quarterback in America improved his stock more in September than Jefferson, whose growth from a raw, jumbo-sized athlete into a true dual-threat is more apparent by the week. If Arkansas' 20-10 win over Texas A&M in the afternoon CBS slot was his introduction to much of the country, he made the first impression count, starting 3/4 for 151 yards and 2 TDs in the game's first 20 minutes against a defense that came in allowing 3.0 yards per pass.
KJ JEFFERSON WITH THE DIME@razorbackFB is off and running ? pic.twitter.com/gUWIIcTxom

— CBS Sports (@CBSSports) September 25, 2021
Now, it's not quite Cam Newton Comparison time: Jefferson cooled off in the second quarter and spent almost the entire second half sidelined by a sore knee, in which time the Razorbacks managed just 3 points with backup Malik Hornsby in his place. (Jefferson returned to close out the win and is expected to start Saturday at Georgia.) But when a guy with his combination of size and mobility is on the winning end against Texas and Texas A&M in the first month of his first season as a starter, well, the potential is obvious enough. As it is, Jefferson ranks 2nd nationally in yards per attempt despite a mediocre 59% completion rate. When he puts it all together the sky's the limit.
I say when he puts it all together, not if, but obviously, the answer to the first part of that question is rarely "at Georgia." The trip to Athens will be Jefferson's first road game of the season (although not of his career; he started at Missouri last year in place of an injured Feleipe Franks) and a major test of both his ascent and his team's. In their upsets over Texas and A&M, the Razorbacks were single-digit underdogs; against Georgia, the early line favors the Dogs by 18.5. Knock that one down with the same kind of ease, and we might be in the midst of something special.
– – –
(Last week: 7 ⬆)
6. Max Johnson, LSU
Johnson doesn't have a "wow" skill set, but one big plus in his game going back to last season is his knack for leading receivers into open grass for significant yards after catch. Of his 15 touchdown passes on the season — only one other FBS quarterback, SMU's Tanner Mordecai, has more — many of them have involved substantial YAC, including 2 of his 4 TDs in LSU's 28-25 win at Mississippi State: A 64-yard strike to his favorite target, Kayshon Boutte …
Kayshon Boutte is a touchdown machine?#CFB

— PFF College (@PFF_College) September 25, 2021
… and a 41-yarder to TE Kole Taylor that put a pair of MSU defenders on a collision course and effectively put the game out of reach in the fourth quarter:
TOUCHDOWN TIGERS

@Max_Johnson_14 connects with @KoleTaylor3

? ESPN pic.twitter.com/mkW5gI1GdQ

— LSU Football (@LSUfootball) September 25, 2021
And, hey, the occasional massive coverage bust helps, too. With their backs against the wall in the early going the Tigers will take all the big plays they can get.
– – –
(Last week: 5 ⬇)
7. Will Rogers, Mississippi State
For its high-flying reputation, Mike Leach's offense can be as frustrating to watch sometimes as some of the old 3-yards-and-a-cloud-of-dust attacks from the last century.
In the loss to LSU, Rogers put the ball in the air 62 times for 364 yards — good for a whopping 5.9 yards per attempt, on an average depth of target of 5.3 yards. (For their part, the Tigers' strategy of dropping 8 in coverage, forcing short throws, and swarming to the tackle paid off in keeping YAC to a bare minimum.) But even those numbers are misleading because they're heavily distorted by 3 late, ultimately futile touchdown drives after Mississippi State fell behind 21-3 in the third quarter, covering 75, 75 and 66 yards, respectively, which achieved little except to make the box score look respectable. Prior to that, the Bulldogs' first 8 possessions of the day yielded 3 punts, 2 turnovers, 2 field-goal attempts (one good, one missed), a couple of half-hearted completions as the clock ran out on the first half, and a long gain of 22 yards.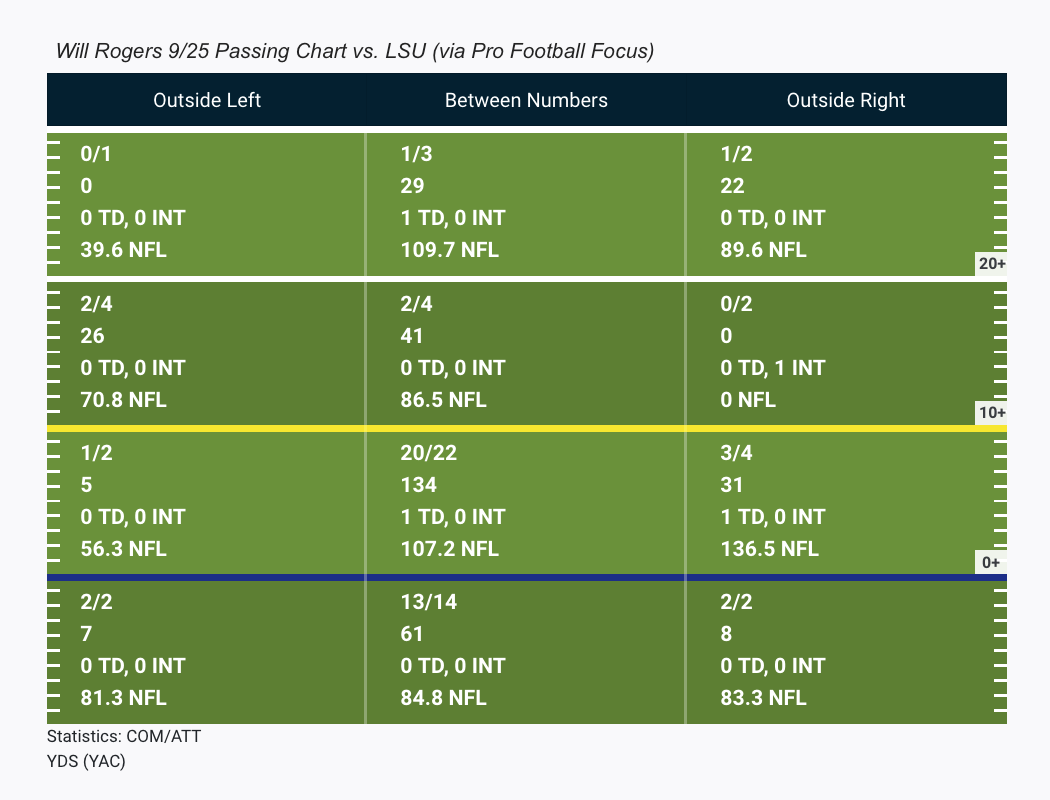 I don't know if there's anything to glean from the fact that Rogers has been at his best this season when trailing by 2 scores or more. (Recall that he also rallied the Bulldogs from 20 points down in the opener to beat Louisiana Tech, the largest comeback in school history.) But the short-and-safe approach is certainly consistent: His average depth of target for the season (5.2 yards) ranks 174th out of 175 qualified passers, per PFF. Whether that says more Rogers' limitations or the offense's as a whole, at this point it's who they are.
– – –
(Last week: 10 ⬆)
8. Connor Bazelak, Missouri
Bazelak isn't likely to earn many comparisons to Drew Lock as a pro prospect, but he might be on his way to putting up some positively Lockian stat lines over the next few years. In Saturday's overtime loss at Boston College, Bazelak finished 30/41 for 303 yards with 1 TD and 2 INTs — his first career 300-yard game in a losing effort. In Lock's career at Mizzou, he threw for 300+ in a loss 5 times.
– – –
(Last week: 9 ⬆)
9. Bo Nix or TJ Finley, Auburn
Auburn's narrow escape against Georgia State felt like a breaking point for Nix, who was benched in the second half with the Tigers trailing, 24-12, and the offense flatlining against a 26-point underdog. Enter Finley, whose effort on a go-ahead, 98-yard touchdown drive in the dying minutes staved off disaster, ignited the crowd, and produced an instant classic of a climax.
TJ Finley, this is your moment https://t.co/FhKK3su7qc

— The Transfer Portal CFB (@TPortalCFB) September 25, 2021
It's very tempting to relegate Nix to the scrap heap. Over 28 career starts he's never lived up to his 5-star recruiting hype or shown any glimpses of sustained growth. To many Auburn fans, his demotion, if that's what it's come to, is overdue. But it's not entirely clear yet whether Bryan Harsin actually intends to take that step. Although the momentum is plainly on Finley's side, Nix remains atop the official depth chart for this week's trip to LSU, and Harsin reiterated Monday (as he did immediately following the game on Saturday) that the decision can still go either way. Entrenched starters are entrenched for a reason, and moving on is rarely a clean, decisive call.
In Finley's case, there's also the irony of his first start at Auburn potentially coming against his former team — he started 5 games for LSU last year as a true freshman — especially given that his lowest moment in purple and gold came against Auburn, in a 48-11 massacre in which he committed 3 turnovers. Meanwhile, on the other sideline that game was arguably the best performance of Nix's career. It's hard to imagine anyone who watched it at the time being convinced that a little less than a year later the same Jordan-Hare crowd would be chanting Finley's name at Nix's expense. That's a lesson in how quickly and dramatically fortunes can change, which at the moment may be the only part of his situation that gives Nix some hope.
– – –
(Last week: 6 ⬇ • n/a)
10. Will Levis, Kentucky
The honeymoon phase is over for Levis, who followed up a rocky Week 3 outing against Chattanooga with another clunker at South Carolina, finishing 15/22 for 102 yards with no touchdowns and 1 interception. The defense and ground game still managed to carry the day against the Gamecocks in a 16-10 punt-fest, a formula that a) Kentucky is well accustomed to over the past few years, and b) Mike Stoops vowed to change this offseason by recruiting Levis from the transfer portal and offensive coordinator Liam Coen from the NFL to revive the passing game. So much for that. One week into the SEC schedule it looks like it's back to the grind.
– – –
(Last week: 8 ⬇)
11. Hendon Hooker or Joe Milton III, Tennessee
There's not much suspense here on the merits, where Hooker has pretty clearly outperformed Milton to date and kept Tennessee competitive for the better part of 3 quarters against Florida before he was knocked out of the game on a sack. He even connected on a deep ball, a genuine feat after both QBs combined to go 2/17 on 20+ yard attempts over the first 3 games.
#Vols LONG PASS FOR A TOUCHDOWN

Hendon Hooker hits JaVonta Payton in stride for a 75-yard TD.

Tennessee takes the lead in Gainesville. pic.twitter.com/Lj9f9Wysja

— RockyTopTalk (@RockyTopTalk) September 26, 2021
The only question for this weekend against Missouri is Hooker's health. Josh Heupel told reporters on Monday that Hooker is not in the concussion protocol, an encouraging sign — Hooker's official diagnosis is undisclosed — but also said his availability against Mizzou was still in doubt. The Vols almost certainly need to win this game to have a realistic shot at bowl eligibility, but there's no sense in rushing a possible head or neck injury for the sake of salvaging a trip to the Gasparilla Bowl.
– – –
(Last week: 11 ⬌)
12. Zach Calzada, Texas A&M
Calzada was predictably in over his head in the Aggies' 20-10 loss to Arkansas, finishing 20/36 for 151 yards, no touchdowns, 1 INT and 3 sacks. In other words, the kind of performance that openly invited A&M fans to wonder what might have been if injured starter Haynes King had never left the lineup. But King himself was a wild card in his own right before his injury, and the issues against the Razorbacks extended well beyond the QB, to an offensive line that allowed 12 pressures and created virtually no daylight in the running game to a largely nonexistent group of wide receivers. Outside of Isaiah Spiller's 68-yard TD run in the 3rd quarter, which accounted for A&M's only touchdown and fully 25% of its total offense, the Aggies were devoid of playmakers. An unproven, outmanned quarterback is a problem, but it's far from the only one.
– – –
(Last week: 12 ⬌)
13. Luke Doty, South Carolina
Doty went the distance for the second week in a row in the Gamecocks' 16-10 loss to Kentucky, but as the score attests it was very much a "true sophomore making his third career start" kinda night. Nearly 40% of his 158 passing yards came on Carolina's lone touchdown drive, a 10-play, 75-yard march to open the second half.
– – –
(Last week: 13 ⬌)
14. Ken Seals, Vanderbilt
Seals and fellow sophomore Mike Wright combined to go 5/18 for 24 yards and 2 INTs in a 62-0 shellacking vs. Georgia that was over before most of the UGA-friendly crowd in Nashville found its seats. The pendulum swings as far as it possibly can in the opposite direction this week against possibly the worst team in the FBS, UConn, which has already fired its head coach and comes in ranked in the bottom 10 nationally in total defense, scoring defense, and pass efficiency D, among others. Even for Vandy, losing to these Huskies would redefine rock bottom.
– – –
(Last week: 14 ⬌)