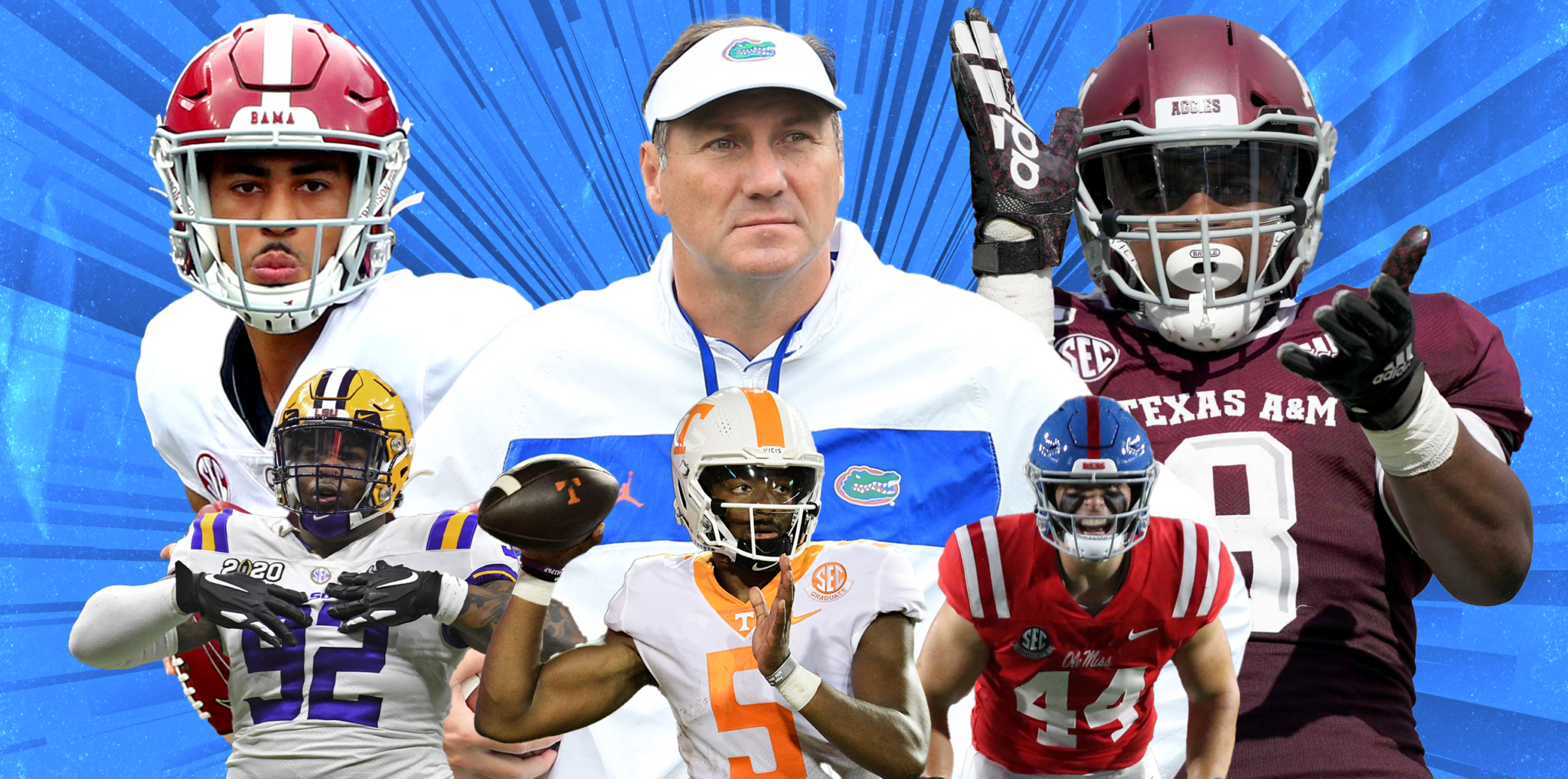 SEC
Monday Down South: Firing Todd Grantham was a start, but it still might be the end for Dan Mullen
Weekly takeaways, trends and technicalities from the weekend's action.
When people go bankrupt, in Ernest Hemingway's famous formulation, it happens in two ways: Gradually and then suddenly. When the end comes for a football coach, it usually arrives on the same terms.
Take Dan Mullen. For the most part, the unraveling of his progress at Florida over the past 11 months has been a gradual, occasionally imperceptible decline. Last December, the Gators were at high tide, owners of an 8-1 record, a lopsided win over Georgia, their first SEC East title since 2016, and legitimate Playoff ambitions. A 3-game losing streak to end the year left a bad taste heading into the offseason, but it didn't prevent Florida from opening 2021 in the same position in the AP poll where it finished in 2020 (13th), or from harboring legitimate ambitions to repeat as division champs despite an exodus of decorated talent on offense. Mullen still enjoyed a reputation as one of the game's top offensive minds at a blue-chip program on the upswing. The first loss this year, a competitive, down-to-the-wire effort against Alabama in Week 3, was reassuring enough that the Gators didn't even drop in the subsequent poll.
Lately, though, the angst had begun coming in waves, each one a little bit bigger and harder to ignore than the last. A largely self-inflicted loss at Kentucky, of all places, where Florida was flagged 15 times. A sloppy, inexplicable flop at LSU, against a short-handed outfit in the process of checking out for the year. A total wipeout against Georgia that exposed the talent gap between the two rosters in undeniable fashion.
And still, even with patience running thin, morale at low ebb, and every word out of Mullen's mouth under a microscope, it wasn't until Saturday nights 40-17 debacle at South Carolina that the full force of the situation finally hit all at once.
In any context, getting blown out by an 18-point underdog is a demoralizing turn of events. In this particular case, demoralizing doesn't quite do it justice. South Carolina had no business hanging with Florida: In their previous 3 games, the Gamecocks had been run off the field by Tennessee and Texas A&M, exhibiting zero signs of life in the latter, and escaped a humiliating upset vs. Vanderbilt by the skin of their teeth. On Saturday, they were down to their 3rd-string quarterback, an obscure transfer from an FCS school making his first career start at the FBS level … and proceeded to put up season highs for points (40), total yards (459), and yards per play (7.0).
By halftime, it was obvious enough with the Gators trailing 30-10 that this was a point-of-no-return kind of loss even as it was still unfolding. (On Twitter, the running joke in the second half was that Mullen might get left at the airport, if not at the stadium itself.)
By Sunday, the recriminations were already underway, with embattled defensive coordinator Todd Grantham and o-line coach John Hevesy, a longtime colleague of Mullen's going back to their days on Urban Meyer's staff at Bowling Green, reportedly fired as the rest of the program entered bunker mode with 3 weeks left in the regular season.
Usually, the inevitable coordinator purge when the heat is on is a play for time to buy the head coach another year. In Mullen's case, though, it's not clear that cleaning house will necessarily get him to next month. Grantham, especially, was widely regarded as a prime candidate for a pink slip last year, when his unit made life more difficult than it needed to be opposite a record-breaking offense; at this point, offering him up as a scapegoat in the midst of a season in which Mullen's offense has failed to distinguish itself might be too little, too late. The Gators are 2-8 in their past 10 games vs. Power 5 opponents, recruiting is lagging compared to the schools they expect to be recruiting against, and desperation is dictating the terms.
Although he probably doesn't appreciate it at the moment, there is some irony in Mullen's lowest point coming almost exactly one year to the day after his biggest triumph in the 2020 Cocktail Party game against Georgia. At the time, that win was a breakthrough that validated the program's steady ascent over Mullen's first 3 years. It was the moment, or so it seemed, that his Gators had finally arrived.
In hindsight, it was the peak of a tenure that has been almost straight downhill since. At various points in the meantime, it's been possible to chalk up Florida's issues to attrition, or "rebuilding," or occasionally to an elite opponent, with the implication that it's still in a cycle that involves competing for championships when the stars align. In reality, the cycle has looked increasingly like a downward spiral. Kyle Trask and Kyle Pitts are not walking through that door. USC and LSU are not waiting around for the end of the season to move on the best available candidates. The countdown to deciding Mullen's fate is ticking more loudly by the week.
Notebook
Around the conference.
Alabama 20 • LSU 14. There haven't been many moments over the past 20 years when a win over LSU could be interpreted as a red flag, but the Orgeron lame-duck period is one of those moments and this was one of those games. It took the Tide nearly the entire first half to get on the board, and they ended the night by going 3-and-out on 4 of their last 5 possessions.
In fact, taken as a whole it was Bama's most anemic offensive performance in years pretty much any way you want to count it:
Alabama Offensive Lows vs. LSU*
• Points: 20 (fewest since 11/5/16 vs. LSU – 10)
• Total yards: 308 (fewest since 9/26/16 vs. UL-Monroe – 303)
• Yards per play: 4.89 (fewest since 11/10/18 vs. Miss. State – 4.24)
• Rushing yards: 6 (fewest since 10/27/90 vs. Penn State – 6)
• First downs: 16 (fewest since 10/4/17 vs. LSU – 14)
• 3rd-down conversions: 30.8% (lowest since 11/25/17 vs. Auburn – 27.3%)
• Punts: 6 (most since 9/22/18 vs. Texas A&M – 6)
– – –
*Regular-season games only
Six rushing yards is alarming for a team whose season is going to come down to figuring out a way to move the ball against Georgia's unyielding defense in the SEC Championship Game, especially if the injury that sidelined starting center Darrian Dalcourt for the final 3 quarters turns out to be an extended absence. (As of Sunday night there was no update on Dalcourt's status.) His backup, veteran Chris Owens, had the roughest go of it up front, earning a miserable 36.6 grade from Pro Football Focus after sliding down from usual spot at right tackle. The rash of injuries in the backfield behind Brian Robinson Jr. isn't encouraging, either. For the season the Tide are averaging the fewest rushing yards per game (152.7) and per carry (4.1) of the Saban era.
To his credit, Bryce Young made just enough plays with his arm, throwing for 302 yards and 2 TDs on 37 attempts against the remnants of LSU's injury-ravaged secondary. Even in his case, though, the majority of his output came on 3 scoring drives in the late second and early third quarters (one of which began in LSU territory following a turnover) before the offense went into an extended funk for the remainder of the second half. Young's rapport with wideouts Jameson Williams and John Metchie III is an emerging strength, but they can't do it all themselves. Reestablishing some semblance of balance on the ground ought to be a priority over the next 3 weeks.
Texas A&M 20 • Auburn 3. A rousing and compelling bout, if you were born before World War I. If you came in expecting to see some newfangled fad like "offenses scoring touchdowns," not so much. Between them, the Aggies and Tigers launched 11 punts, went 3-and-out 7 times, committed 4 turnovers, and failed to reach the end zone on 5 trips in the red zone. The longest play of the game, fittingly, was a 68-yard run by A&M's Devon Achane that ended with Achane losing a fumble.
Even if you're not particularly into defense, though, it was impossible not to come away impressed by Texas A&M's defense, which effectively stuffed Auburn's offense in a burlap sack in the second quarter and spent the rest of the afternoon beating it with a stick. The Tigers finished with season lows for total yards (226) and yards per play (3.2) with a long gain of just 15, and crossed midfield just once in the final 3 quarters. The front seven hounded Bo Nix into his worst outing since he was briefly benched earlier this season, consistently generating heat and limiting Nix to just 4/12 passing for 27 yards on 17 pressured dropbacks, per PFF.
Tyree Johnson with the sack!@AggieFootball gets to the QB with a 3-man rush. pic.twitter.com/JuH9YkpERb

— CBS Sports College Football ? (@CBSSportsCFB) November 6, 2021
Georgia's defense kind of wrecks the curve for the rest of the conference, statistically, but by any normal, non-UGA standard A&M's D is right up there: The Aggies rank No. 2 nationally in scoring defense and among the top 10 in yards per play allowed, pass efficiency D and plays of 20+ yards allowed. With any offense to speak of in their midseason losses against Arkansas and Mississippi State, they'd be on track to win the West and make a credible run at the Playoff. As it stands, they're left banking on an Alabama loss over the next few weeks against Arkansas or Auburn to give them the opportunity.
Tennessee 45 • Kentucky 42. Finally, some offense. The Vols and Wildcats took it on themselves to make up for the lack of fireworks across the rest of the conference, combining for 1,073 yards, 52 first downs, and a single punt in one of the wildest games of the season. Kentucky's offense ran twice as many plays as Tennessee's (99 to 47) and racked up an astounding 32-minute advantage in time of possession (46:08 to 13:52); Tennessee, playing a different game, rendered the time gap irrelevant by averaging 9.8 yards per play, scoring 3 touchdowns of 35+ yards, and adding another crucial TD via pick-6.
Hendon Hooker 72 yard TD strike to Velus Jones! #Vols pic.twitter.com/bQYUAPRo0t

— ✯✯✯✯✯ (@FTBVids_YT) November 6, 2021
At 5-4, the Vols haven't exactly transcended the mediocrity that's defined their existence the past, oh, 15 years. But Josh Heupel has delivered on his promise to liven things up a bit. After years of dwindling in the bottom half of the conference, Heupel's aggressive mentality as a play-caller along with Hendon Hooker's promotion to QB1 has elevated UT into statistical territory it hasn't occupied in a while:
Tennessee Offensive Ranks in SEC Play
• 1st in total offense (475.6 ypg)
• 1st in yards per play (7.2)
• 3rd in scoring offense (36.0 ppg)
• 2nd in rushing offense (214.2 ypg)
• 1st in pass efficiency (187.7)
• 2nd in plays of 20+ yards (38)
• 1st in plays of 30+ yards (20)
• 1st (tied) in giveaways (3)
With each passing week the decision to start the erratic Joe Milton over Hooker to open the season makes a little less sense. With his cannon arm, Milton had the artillery but not the coordinates; Hooker, meanwhile, is quietly proving to be one of the most valuable transfer portal additions in the country.
Kicker angst of the week
Mississippi State kickers Brandon Ruiz and Nolan McCord combined to go 0-for-3 on field goals in a back-and-forth, 31-28 loss at Arkansas, including a 40-yard miss by McCord as time expired that would have sent the game to overtime. In the loneliest moment in the life of a kicker, McCord's Razorback counterpart was there for him …
Moments after Nolan McCord missed the game-tying FG, Cam Little came over to lift him up.

Pure class ?? pic.twitter.com/hnxxmifQ3u

— SEC Network (@SECNetwork) November 6, 2021
… while his head coach decidedly was not:
Miss State kickers missed three field goals against Arkansas, so Mike Leach announces open tryouts to be the Bulldogs' new kicker. pic.twitter.com/wHfNt7hWfs

— Mason Choate (@ChoateMason) November 7, 2021
Thanks for your support, coach.
Bizarre as it sounds — well, we're talking about Mike Leach here, so maybe not so bizarre — Leach actually has a track record with kickers literally emerging from the stands: At Texas Tech, he once recruited a random student who hit a 30-yard field goal for a month's free rent during a timeout to try out to be the Red Raiders' full-time kicker. That kid, Matt Williams, made the cut and went on to score 215 points on PATs and field goals over the next 3 years. When your current options are a combined 9-for-17 on the season, I guess it's time to seek help wherever you can get it.
Superlatives
The week's best performances.
1. Alabama OLB Will Anderson Jr. Heisman politics all but disqualifies defensive players from actually winning the award, but there's nothing that says they can't make some noise about it. If there's any justice at all Anderson's campaign is about to start getting some serious traction. He was as dominant and prominent as ever in the win over LSU, finishing with a team-high 12 tackles, 4 tackles for loss and 4 QB pressures, as well as a swatted pass on the Tigers' last full possession. They had no answer for dealing with him off the edge except more bodies.
Anderson's 21 TFLs for the season not only lead the nation, it's nearly double the number for any other SEC player (Kentucky's Josh Paschal ranks 2nd with 11), and puts him easily on pace to break the single-season SEC record. He's averaging more TFLs per game (2.33) than any FBS player over a full season since 2007, a span that also includes Ndamukong Suh, JJ Watt, Von Miller, Jadeveon Clowney, Aaron Donald and Chase Young, among many others. And at a position — the only position, other than kicker — where Alabama has yet to produce a consensus All-American or first-round draft pick on Saban's watch, Anderson is almost assured of both distinctions before the end of his second year on campus. If that's not enough to get him to New York, it's not possible.
2. LSU DT Neil Farrell Jr. Farrell, a 5th-year senior from Mobile, anchored LSU's inspired front seven in Tuscaloosa, finishing with 7 tackles, 3 TFLs and 5 QB pressures, as well as the best individual grade via Pro Football Focus (90.4) of any SEC defender in Week 10. With that, he also moved to the top of his position with an 89.9 PFF grade for the season, the best number for any interior d-lineman in a Power 5 conference.
3. Ole Miss' linebackers. The Rebels' starting trio of Chance Campbell, Sam Williams and Cedric Johnson was omnipresent against Liberty, accounting for a combined 22 tackles, 17 QBPs and 6 sacks in a surprisingly low-scoring, 27-14 win. Liberty QB Malik Willis, an aspiring first-rounder, fell well short of the hype, serving up 3 interceptions in the face of a steady diet of pressure from the Ole Miss defense. Ole Miss defense! What a concept.
4. Tennessee QB Hendon Hooker. Hooker was his usual, efficient self in the Vols' shootout win at Kentucky, finishing 15-for-20 for 316 yards and 4 TDs while adding another 41 yards rushing. With 21 touchdowns to just 2 INTs for the season, he's the proud owner of the nation's best touchdown-to-interception ratio.
5. Texas A&M RBs Isaiah Spiller and Devon Achane. A&M's offense was content to settle for field goals against Auburn, but Spiller and Achane held up their end of the game plan, combining for 210 yards on 7.0 per carry. That's the 6th time in 9 games they've accounted for more than 200 yards from scrimmage.
Honorable mention: South Carolina RBs Kevin Harris and ZaQuandre White, who racked up 239 yards on 8.2 per carry in the Gamecocks' season-defining win over Florida. … Texas A&M DE Tyree Johnson, who recorded 5 QB pressures, 2 sacks, and the game-clinching forced fumble against Auburn on just 19 snaps. … Auburn DB Ladarius Tennison, who had 6 tackles against A&M and limited opposing receivers to 11 yards on 4 targets. … LSU LB Damone Clark, who added to the Tigers' defensive effort against Alabama with 8 tackles, 4 QB pressures and 2 TFLs. … Alabama DL Phidarian Mathis, who wreaked havoc from the interior line with 9 tackles, 2 TFLs, and a forced fumble. … Alabama WR Jameson Williams, who continued his emergence as the Tide's best offensive weapon with 10 catches for 160 yards and a touchdown. … Kentucky QB Will Levis, who accounted for 419 total yards and 5 touchdowns in the Wildcats' shootout loss to Tennessee. … His leading receiver, Wan'Dale Robinson, who turned in career highs for receptions (13) and yards (166) against the Vols. … Ole Miss DB AJ Finley, who racked up a team-high 12 tackles and came down with 2 of the Rebels' 3 interceptions off Malik Willis. … Ole Miss QB Matt Corral, who went 20-for-27 passing for 324 yards and a touchdown in a ruthlessly efficient outing against the Flames. … Mississippi State QB Will Rogers, who finished 36-for-48 for 417 yards with 4 TDs and an interception in a losing effort at Arkansas. … And Georgia QB Stetson Bennett IV, who took another step toward locking down the starting job for good by throwing for 255 yards and 2 TDs on just 19 attempts in the Bulldogs' blowout win over Missouri.
– – –
The scoring system for players honored in Superlatives awards 8 points for the week's top player, 6 for second, 5 for third, 4 for fourth, 3 for fifth, and 1 for honorable mention, because how honorable is it really if it doesn't come with any points? The standings are updated weekly with the top 10 players for the season to date.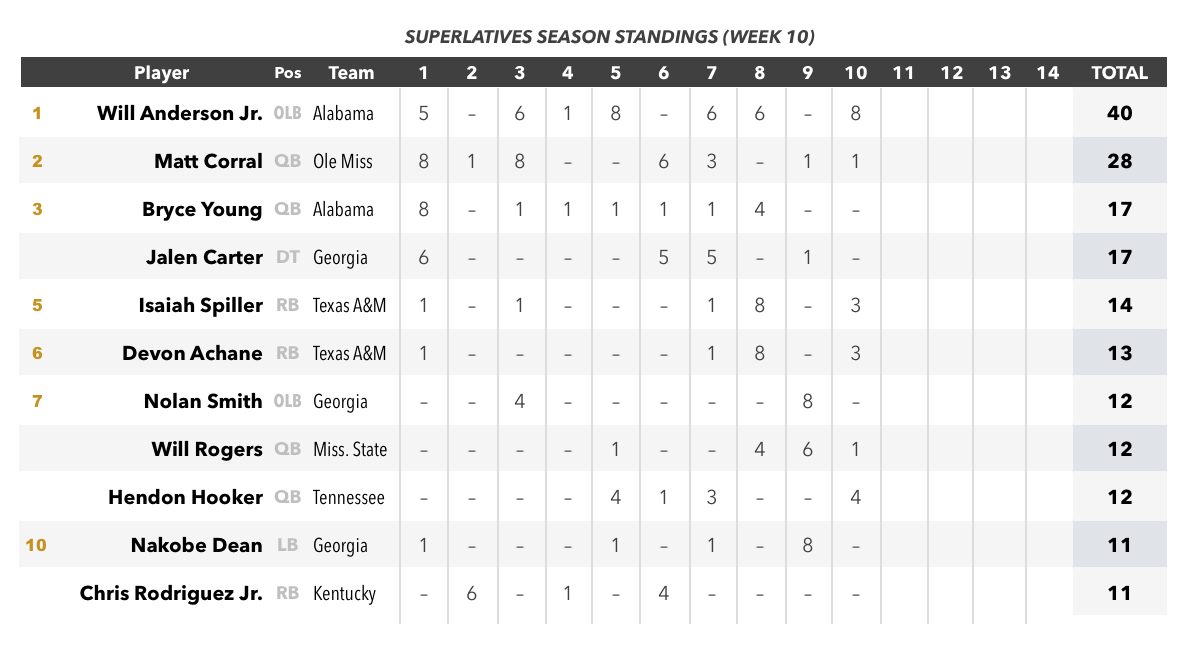 SEC Power Rankings
Updating the food chain.
1. Georgia (9-0). JT Daniels got his first reps in a month in garbage time of the Bulldogs' 43-6 win over Missouri, officially ending any lingering doubts about his health. The lingering doubts about whether he'll reclaim the position from Stetson Bennett in time for the postseason continue apace. (Last week: 1 ⬌)
2. Alabama (8-1). Never count Bama out, but take anything you read that inspires confidence in the Tide's Playoff chances right now with a huge grain of salt. (LW: 2 ⬌)
3. Texas A&M (7-2). On top of beating Auburn, the Aggies picked up a major recruiting win over the weekend with a commitment from one of the most coveted players in the country, Tennessee DL Walter Nolen. According to 247Sports' composite ratings, Nolen is the 7th top-100 prospect to commit to A&M in the 2022 class, including 5-star QB Conner Weigman – more proof that the vibes in College Station are as strong as they've been in a long time. (LW: 3 ⬌)
4. Ole Miss (7-2). People complain that bowl games don't matter anymore. But after watching the entirety of Wake Forest's wild, 58-55 loss at North Carolina, I am deeply invested in the prospect of a Wake-Ole Miss shootout. Forget whatever image pops into your brain when you think "Wake Forest football," I promise you, in 2021 Deacs-Rebels is the Peach Bowl matchup America wants and needs. (LW: 5 ⬆)
5. Auburn (6-3). October was arguably the best month of Bo Nix's career, so naturally his first outing in November was one of his worst. Classic Bo! Never a dull moment. On some level I really believe Auburn fans are going to miss him when he's gone. (LW: 4 ⬇)
6. Arkansas (6-3). Razorbacks are bowl-eligible for the first time since 2016, with winnable games on deck against LSU and Missouri. (I'll refrain from putting Alabama in that category just yet.) Anybody who tells you that when Arkansas hired Sam Pittman 2 years ago they expected him to outlast Ed Orgeron and Dan Mullen on the job is either a diehard Hogs optimist or has a very short memory. (LW: 6 ⬌)
7. Mississippi State (5-4). Typically a defense clinging to a 5-point lead at the end of the game would be pulling out all the stops to prevent a touchdown, but as little resistance as the Bulldogs offered on Arkansas' go-ahead TD with the clock ticking under 25 seconds I'm fairly certain they were intentionally allowing the Razorbacks to score to ensure enough time for the offense to respond.
The go-ahead touchdown.
The 2-point conversion.

ARKANSAS COMPLETES THE COMEBACK OVER No. 17 MISSISSIPPI STATE❗️ @RazorbackFB pic.twitter.com/Nl7lDhuumo

— SEC Network (@SECNetwork) November 6, 2021
Whatever the analytics say about that strategy, in this case it almost worked! MSU's offense proceeded to drive 53 yards on three plays to set up a tying field goal attempt as time expired. If only they had a kicker … (LW: 7 ⬌)
8. Tennessee (5-4). Vols claim the title of 2nd-best team in the East for at least 1 week before they run into the Georgia juggernaut. Enjoy it while it lasts. (LW: 11 ⬆)
9. Kentucky (6-3). Wildcats still have a good chance to finish 9-3 with a path to a Jan. 1 bowl, but after a 6-0 start that feels less like a breakthrough than the bare minimum to salvage what was shaping up as a special year in a down division. (LW: 8 ⬇)
10. LSU (4–5). Photo of the Year candidate, via the University of of Alabama: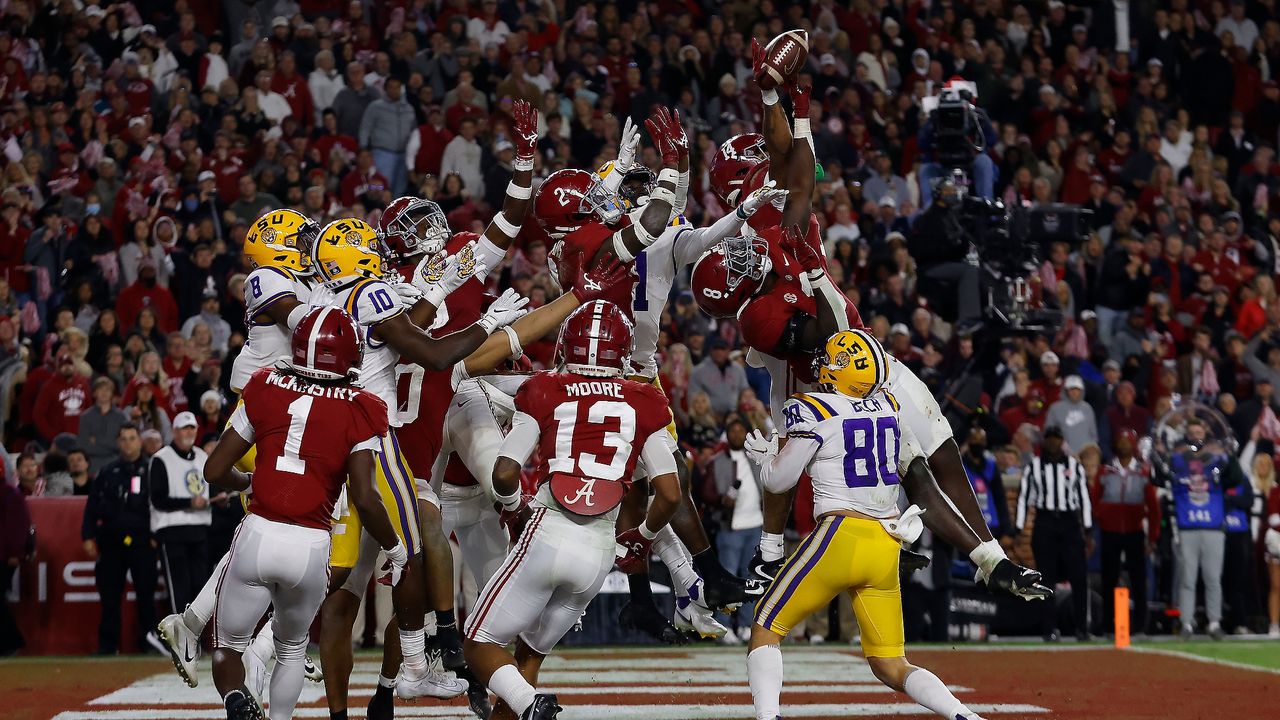 No fewer than a dozen bodies were waiting on the business end of the Tigers' last-ditch Hail Mary attempt, more than enough in that split-second of uncertainty to facilitate the kind of random, one-in-a-thousand quirk of physics that can alter the course of the season and live in infamy for decades. (It didn't.) Hang it in the Louvre, as they say, or at the very least in the Daniel Moore gallery.
(LW: 9 ⬇)
11. South Carolina (5-4). Cheers to the Beamer family for the season's most wholesome postgame interview.
.@CoachSBeamer was fired up after a 40-17 win over the Gators❗️ pic.twitter.com/Bw3LLaxCAk

— SEC Network (@SECNetwork) November 7, 2021
Incredibly, for a team that prior to Saturday had been outscored by 87 points in its first 5 conference games, the Gamecocks are just a win from bowl eligibility in Beamer's first season, with the best chance coming this weekend at Missouri. Off back-to-back losing records in 2019-20, that's all you can ask for. (LW: 13 ⬆)
12. Florida (4-5). In the annals of rock-bottom Florida defeats, biting the dust at South Carolina isn't as bad as the Georgia Southern loss back in 2013. But with this Gamecocks team, it's pretty dang close. (LW: 10 ⬇)
13. Missouri (4-5). Mizzou managed to hold a 3-0 lead on Georgia for 5 minutes and 8 seconds, nearly doubling the amount of time the Bulldogs have spent trailing this season. (They trailed 3-0 at Auburn for 5 minutes and 19 seconds.) Might as well declare job well done and turn the film off there. (LW: 12 ⬇)
14. Vanderbilt (2-7). Commodore turned in one of their better Saturdays of the season from the couch. They'll be back this weekend to put their 17-game conference losing streak on the line against Kentucky. (LW: 14 ⬌)
Moment of Zen of the week
Coach O reached new levels of Coach O Saturday evening in Tuscaloosa. Credit @lefteyedaquano. #LSU pic.twitter.com/xWtzESBG2j

— Jacques Doucet (@JacquesDoucet) November 7, 2021