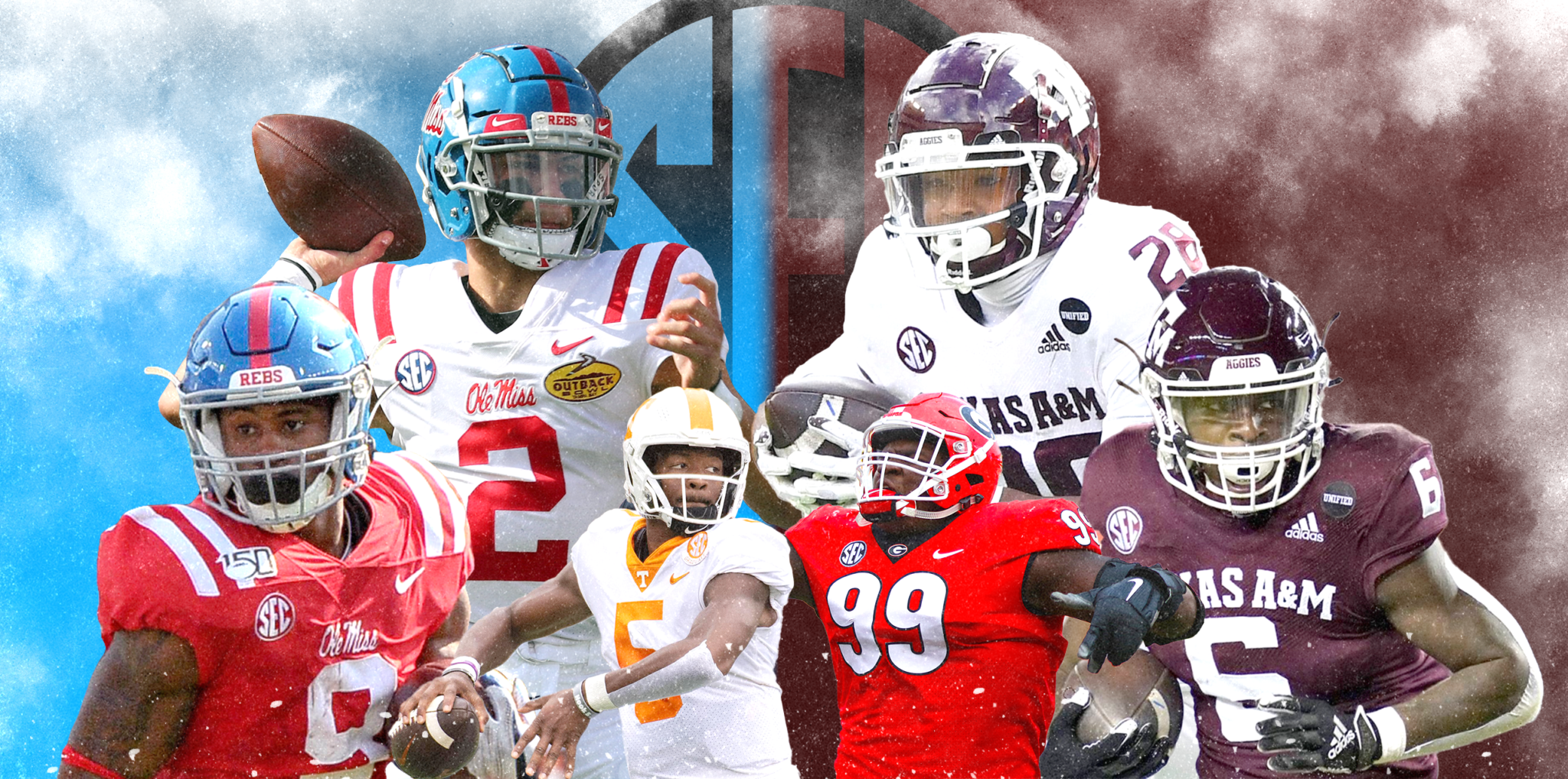 SEC
SEC Week 11 Primer: Ole Miss and Texas A&M have the GameDay stage and the New Year's 6 in their sights
Everything you need to know about this weekend's SEC slate.
The stakes
This one is slightly outside the orbit of the College Football Playoff, source of all light and heat in the sport these days. But there's still plenty to care about – sole possession of second place in the nation's toughest division, the inside track on a New Year's 6 bowl bid, and a path to a top-10 finish, just for starters. GameDay will be in Oxford, ensuring a big-game atmosphere from the jump; the Grove can take it from there.
In fact, Texas A&M fans may object to the assumption there are no Playoff Implications here. The Aggies are long shots, but at 4-2 in SEC play with head-to-head wins over Alabama and Auburn already on the books, they can theoretically win the West with a Bama loss in 1 of its last 2 conference games. By extension, they could also go on to theoretically upset Georgia in the SEC Championship Game, thereby riding into closing arguments as a conference champ on an 8-game winning streak against a brutal schedule. It's possible, on paper.
More likely, Saturday's winner is bound for the Sugar Bowl (if the Crimson Tide make the Playoff) or the Peach (if they don't). Either destination would represent one of the high-water marks for both programs since the turn of the century, while the loser settles for a pretty good season that could have been better. This weekend is the biggest remaining variable in determining which way that distinction will break.
The stat: 68.1%
That's the percentage of Matt Corral's passing output this season that has come via play-action, easily the highest share nationally among Power 5 quarterbacks. Corral has deployed play-action on 61.1% of his total attempts, per Pro Football Focus, second only to Utah State's Logan Bonner, and averaged 2.6 yards per attempt more on play-action downs (10.1) than on straight dropbacks (7.5).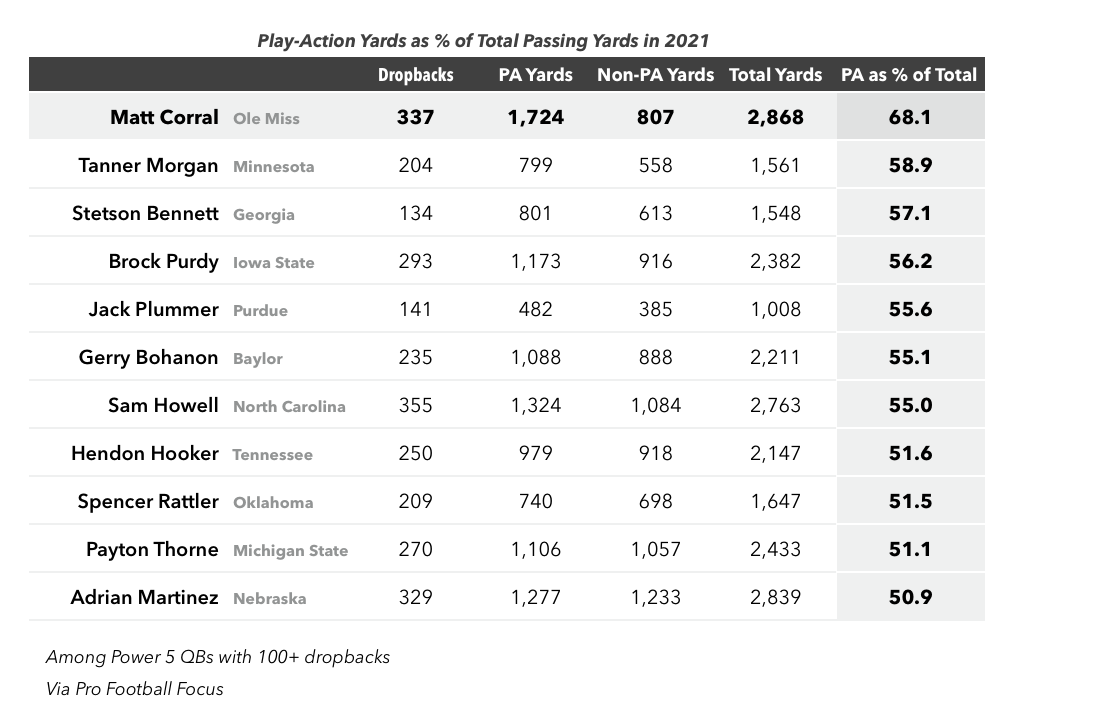 That lopsided ratio is a reflection of two things: 1) Ole Miss' heavy reliance on run-pass options as a core tenet of the offense, and 2) The respect defenses are forced to pay the Rebels' perennially overlooked ground game. Contrary to popular perception, the Lane Kiffin/Jeff Lebby offense is one of the most run-oriented attacks in the SEC — Ole Miss has kept it on the ground about 60% of the time in conference play, splitting carries roughly evenly between Corral (the team's leading rusher even after accounting for negative yardage on sacks) and RBs Henry Parrish Jr., Snoop Conner and Jerrion Ealy. It's no coincidence that the Rebels' 2 losses, at Alabama and Auburn, were also their least productive outings on the ground. In their 7 wins, they've run for 272.3 yards per game on 5.7 a pop.
The bigger issue lately has been the status of the starting wideouts — Jonathan Mingo remains on the shelf with a lingering foot injury, Dontario Drummond's status remains uncertain after missing the last two games, and Braylon Sanders remains "nowhere near 100%," per Kiffin, despite returning to the lineup with a gimpy hamstring in last week's win over Liberty. In their absence, Ole Miss has gotten 100-yard games the past 2 weeks from reserves Jahcour Pearson (7 catches for 135 yards vs. Auburn), Dannis Jackson (6 for 126 vs. Liberty) and John Rhys Plumlee (7 for 110 vs. Liberty). But yeah, Texas A&M ain't Liberty: 4 of the Aggies' 5 starters in the secondary were top-100 overall recruits in their respective classes. Taking on one of the nation's stingiest and most talented defenses with a transfer from Western Kentucky and a converted quarterback as 2 of your primary targets is obviously not ideal. Even if Sanders is closer to full speed, establishing some early traction on the ground is a top priority to have any chance of opening things up downfield.
The big question: How much does A&M need from Zach Calzada?
Calzada turned in one of the most unlikely and indelible performances in school history in the season-defining win over Alabama. In the meantime, though, he's been perfectly content to settle into "game manager" mode while the defense and running game do most of the heavy lifting. Against Missouri, the Aggies racked up 283 yards rushing while holding Mizzou's offense to then-season lows for points, total yards and yards per play. Against South Carolina, they ran for 290 yards while holding the Gamecocks to a grand total of 11 yards over the first 3 quarters. In last week's win over Auburn, they ran for 217 yards on 6.2 per carry while the defense accounted for the game's only touchdown by either side.
THE BALL IS OUT@AggieFootball scoops and scores! pic.twitter.com/eHXR0dz9e3

— CBS Sports (@CBSSports) November 6, 2021
Calzada was present while all of this was going on, completing 40-of-79 attempts for 527 yards, 4 TDs, and 2 INTs over the course of those 3 wins; he memorably battled through a shoulder injury to finish the game against Auburn. But at no specific point did he necessarily need to be.
If Jimbo Fisher has his way on Saturday, that template will suit him just fine, give or take his quarterback suffering through a sore shoulder. Ole Miss ranks next-to-last in the SEC and 107th nationally in rushing defense, having been shoved around and/or gashed by Alabama (210 rushing yards on 4.2 per carry), Arkansas (350 yards on 6.0), Tennessee (222 on 4.4), Auburn (207 on 4.5), and even Liberty (284 on 5.2); A&M would love nothing more than to leave it to the nation's most productive backfield combo, Isaiah Spiller and Devon Achane, to put up their usual numbers, limit Calzada's exposure, and keep Corral on the sideline for as long as possible.
If Calzada is forced to make plays outside of that structure, there's the one data point that says he's up to it and not much else. Where the Rebels are determined to run to set up the pass, the Aggies might prefer to just keep on running.
The key matchup: Ole Miss LT Nick Broeker vs. Texas A&M DL DeMarvin Leal
Broeker is considered a future pro and has largely lived up to the billing, allowing just 9 QB pressures and one sack on 370 pass-blocking snaps, per PFF. (He also held up better against Alabama than the rest of the Ole Miss front, getting dinged for just 1 of Bama's 20 pressures in that game.) In Leal, though, he'll be lining up across from a guy who's considered a future star. At 6-4/290, Leal is the rare specimen with the explosiveness, athleticism and power to be a force at any position along the front, one of the big reasons he's projected in the top half of the first round next spring.
While his versatile presence has allowed more conventional edge types Micheal Clemons and Tyree Johnson to reap the benefits of working on an island while Leal eats a steady diet of double teams, he's been plenty productive in his own right, recording 24 pressures and 9 tackles for loss. If Broeker does have a long-term future in the league — and if he's going to continue to preserve his quarterback's — this is the kind of test he needs to pass.
The verdict
Ole Miss gets the checkmark in the quarterback column, which counts for a lot, and a healthy-ish Braylon Sanders might tip the dial slightly in the Rebels' favor at wide receiver, as well. Everywhere else, though, the arrow points to the Aggies — especially in the trenches, where A&M has a decisive advantage along both lines of scrimmage. Corral may be the best QB in the college game at the moment and has a chance to be the first off the board in next year's draft, but if his line can't contain Leal and Co. and his defense can't stop Spiller and Achane, there's only so much he can do.
– – –
• Texas A&M 30 | Ole Miss 24
Eventually, somebody has to score on Georgia's defense, right? I don't mean score big, I just mean score, period: The Bulldogs are giving up an absurd 6.6 points per game and haven't allowed a single touchdown with the margin within 14 points. Kentucky scoring to (briefly) close the gap to 14-7 just before halftime is as close as anyone has come since Clemson in the season opener to remaining "competitive" into the second half, and the Wildcats didn't threaten again until the tail end of garbage time.
For what it's worth, Tennessee is the best offense Georgia has faced by a wide margin, putting up 35.7 points and 461 yards per game vs. Power 5 opponents, and the first that can stake a claim to a legitimate vertical passing game: Josh Heupel arrived with a reputation for embracing the long ball, and he's wasted no time molding Hendon Hooker into one of the most efficient downfield passers in the country. The top three receivers, Velus Jones Jr., Cedric Tillman, and big-play specialist JaVonta Payton, have combined for 19 receptions of 25+ yards with 16 touchdowns between them. And the Vols are balanced, too, joining Ole Miss and Arkansas as the only teams averaging 200+ yards rushing and passing in SEC play. If any offense UGA has seen to date can expose any as-yet unidentified cracks that might be more fully exploited in the postseason, this is the one. But that's a pretty big if.
– – –
Georgia 34 | • Tennessee 16
Auburn's defense has been quietly stellar over the past month, limited Arkansas, Ole Miss and Texas A&M to a combined 56 points (minus the defensive touchdown by A&M) and holding the Rebels and Aggies out of the end zone entirely over the last 6 quarters. That streak is unlikely to continue against MSU, whose quarterback, Will Rogers, is on the hottest streak of his young career since a disastrous, 3-INT performance against Alabama on Oct. 16. But even at their best, the Bulldogs haven't exactly lit up the scoreboard the way Mike Leach's best teams have in the past, and unless they get some help from Bo Nix — always a possibility — there's no reason to expect them to start here.
– – –
• Auburn 28 | Mississippi State 20
LSU's depleted roster has been one of the defining storylines of the season, and in that vein, there may be no bigger "what could have been" on the entire schedule than the prospect of elite-but-absent corners Derek Stingley Jr. and Eli Ricks matching up against the freakishly gifted Treylon Burks. In 5 conference games, Burks is averaging 97.0 yards on 16.2 per catch, both of which would be significantly higher if not for a muted outing at Georgia that was over almost as soon as it began. UGA trip notwithstanding, he's caught a touchdown pass in 6 of the past 7 games and generally added to his highlight reel on a weekly basis.
Treylon Burks with back to back yoinks. So good in tight coverage and just out muscles the DB. Has WR1 for an NFL franchise all over him. Elite talent pic.twitter.com/Zzn20vgndg

— Alex at Undrafted ? (@AlexUndrafted) October 9, 2021
Big, fast, elite ball skills: Only one other player in the SEC qualifies as Burks' equal on all counts, and he hasn't played since September. Ideally, the showdown with Stingley would have been as entertaining and informative from a draft perspective as any one-on-one matchup of the entire season. Instead, the assignment will fall to Dwight McGlothern and Cordale Flott – not exactly must-see TV, but then, welcome to LSU football in 2021. Burks is due for a big one.
– – –
• Arkansas 31 | LSU 27
This one may not mean much outside of the respective Columbias, but for these teams, it might mean the difference between salvaging a respectable season and ending with a bad taste that lingers for the next 6 months.
The Gamecocks, fresh off a 40-17 upset over Florida, can secure bowl eligibility with their 6th win, an unlikely milestone in the first year of a full-on rebuild under Shane Beamer; with Auburn and Clemson looming to close the regular season, realistically this may be their last chance to get there. Meanwhile, at 4-5, Mizzou is just looking to keep its fading bowl hopes alive long enough for a potential upset over Florida or Arkansas to matter.
Getting starting QB Connor Bazelak back from the "soft tissue" injury that sidelined him last week at Georgia would go a long way, but his status remains in doubt and the defense remains among the worst in the nation.
– – –
• South Carolina 33 | Missouri 29
Kentucky has lost 3 straight following a 6-0 start, falling out of the polls entirely in a campaign that, as of just a few weeks ago, was shaping up as one of the best in recent memory. But where better to get a rapidly deflating outfit back on track than at Vandy? The Commodores have lost 18 straight in SEC play dating to 2019 — 14 by double digits. Woe unto the team that eventually falls on the wrong side of that.
– – –
Kentucky 36 | • Vanderbilt 17
New Mexico State is a newly minted member of whatever remains of the decaying husk of Conference-USA beginning in 2023, along with Liberty and class-hopping FCS powers Jacksonville State and Sam Houston. How much longer the Alabamas of the world will continue to exist even nominally in the same realm as that group is anybody's guess.
– – –
Alabama 57 | • New Mexico State 9
Samford at Florida (no line)
The vibes are bad enough at Florida, but they're not "plausibly competitive game against Samford" bad. I mean, let's hope.
– – –
Florida 48 | Samford 13
Scoreboard
Week 10 record: 6-1 straight-up / 6-1 vs. spread
Season record: 58-19 straight-up / 32-42 vs. spread