SEC
SEC Week 6 Primer: Is this Auburn team actually capable of putting a dent in Georgia's defense?
Everything you need to know about this weekend's SEC slate.
The stakes
Certain rivalries transcend the records in any given season, and with 120 years of hate behind it, the Deep South's Oldest Rivalry is certainly one of them. The campuses are 3 hours apart and routinely battle over recruits, family loyalties and just about everything else in a 150-mile radius. But the records lately have guaranteed significant national interest, too: 9 of the past 10 meetings have arrived with one or both teams ranked in the AP top 10, including each of the past 6. As usual, this year's edition carries straightforward Playoff Implications.
Of course, as the point spread implies, that doesn't mean it promises much in the way of suspense. Through 5 games, Georgia has asserted itself as arguably the nation's most dominant team, to the extent that their ticket to the SEC Championship Game may as well have already been punched – less than halfway through the conference slate, ESPN's Football Power Index sets the Bulldogs' odds of repping the East in Atlanta at an incredible 93.7%, the only real variables after last week's 37-0 romp over Arkansas being whether they'll be 12-0 when they get there and by how comfortable a margin. They've yet to trail this season; only Clemson has kept the score within 20 points at halftime. In fact, with opening-possession touchdowns in 4 straight games, UGA has barely logged any time with the score tied.
Meanwhile, Auburn's season has been a series of cardiac events. The Tigers' past 3 games have all come down to the final 2 minutes, including come-from-behind wins over Georgia State and LSU the past 2 weeks that were decided by late, go-ahead touchdown drives covering 98 and 92 yards, respectively. Flip the outcome of a couple of 4th-down conversions, and they could be 5-0 right now, or just as easily 2-3.
A visit from this version of Georgia hardly projects as a "flip a play or two" kind of game. The 17.5-point spread tracks almost exactly with UGA's average margin of victory in the series' past 4 meetings (16.5 ppg), and there's no reason to believe that gap has closed. But Auburn still has plenty to play for beyond Saturday, including the SEC West, which will remain technically in play win or lose. A four-quarter game would go a long way toward reinforcing that those goals are still within reach.
The stat: 16.2%
That's the percentage of total yards available to opposing offenses that Georgia's defense has allowed on non-garbage-time possessions this season, easily the best rate in the nation and on pace to surpass 2011 Alabama (18.5%) as the best rate of the past decade.
Available Yards is a simple statistic tracked by efficiency guru Brian Fremeau that compares yards gained/allowed on a given possession (including penalties) against the total number of yards available on that possession. For example, if an offense takes over at its own 20-yard line and drives 80 yards for a touchdown, it's accounted for 100% of the available yards; if it gains 40 yards it's accounted for 50%, etc. (The average for the current season is just below 50%.) Added up over the course of a game or a season, it can another layer of context to the conventional box-score stats, which in Georgia's case means one more layer of consistent domination: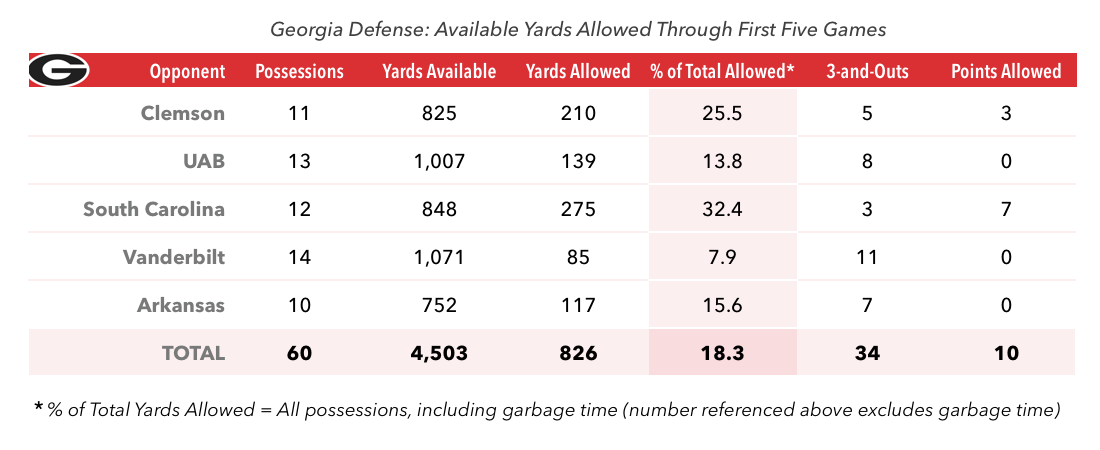 You get the idea: This defense is special, and not just adjusting for inflation in an era when offensive production is on the rise. Just straight-up special in any era. We should probably wait until at least midseason to start talking about the Bulldogs alongside the best units of the past couple of decades, but at this rate, that conversation is coming sooner rather than later.
The big question: Can Auburn make Georgia's offense one-dimensional?
With respect to Tank Bigsby and the Bo Nix Redemption Tour, it's safe to assume that Auburn's upset bid rests with the defense turning the game into the type of low-scoring slugfest that can turn on one or two big plays. On that note, the Tigers' strength on defense is right up the gut: Nose Marquis Burks and middle linebacker Zakoby McClain are the only pair of teammates nationally with individual run defense grades of 90.0 or better per Pro Football Focus, and DT Colby Wooden is one of the most productive interior pass rushers in the country with 20 QB pressures and 3 sacks. As a team, that's translated into a couple of outstanding efforts against the run vs. Penn State (90 yards on 2.7 per carry) and LSU (33 yards on 1.3 ypc) on either side of an embarrassing outing vs. Georgia State (267 yards on 5.7 ypc).
For Georgia's part, the Bulldogs' willingness to slug it out between the tackles may come down to who's playing quarterback, a decision that likely won't be made until game time. If it's JT Daniels, who sat out the Arkansas game with a lingering muscle strain, the prospect of balance via the downfield passing game becomes a more viable option. If it's Stetson Bennett IV, they may be more inclined to play it closer to the vest.
Bennett had a memorable night in last year's win over Auburn, finishing 17/28 passing for 240 yards and a touchdown in his first career start, but that was arguably the high point of his career against SEC competition. Last week, with a comfortable lead throughout and steady success on the ground, offensive coordinator Todd Monken was content to limit Bennett to just 11 attempts against the Razorbacks, none of which traveled 20 yards downfield; he finished with 72 yards on 6.5 per attempt on a day when he frankly had no reason to put the ball in the air at all. Auburn's goal will be to give him some reasons. Last year notwithstanding, the Tigers would love nothing more than to bottle up the run and put the onus on the former walk-on to make plays with his arm.
The key matchup: Auburn's offensive line vs. Georgia DTs Jalen Carter, Devonte Wyatt and Jordan Davis
I generally prefer to single out individuals here, not entire position groups, but the hallmark of Georgia's defense is its abundant depth along the front seven, and nowhere has that been more obvious this year than in the rotation between Carter, Wyatt and Davis on the interior d-line. Although none of them have been on the field for a majority of UGA's defensive snaps (Carter comes in at roughly 42%, Wyatt and Davis around 34% apiece), together their presence has been reliably overwhelming, as evidenced by the numbers against the run, lofty PFF grades across the board, and a handful of terrifying moments on tape. This man is 340 pounds on a light day:
Jordan Davis continues to ascend draft boards. pic.twitter.com/IpToRNQi1n

— Tyler Browning (@DiabeticTyler) October 3, 2021
In general, Auburn's o-line is a respectable, veteran unit with a combined 95 career starts between them; relative to Georgia's front, specifically, it's a nondescript group without a clear-cut pro prospect or anyone who projects as a plus matchup in a 1-on-1 situation. Establishing Tank Bigsby and emerging freshman Jarquez Hunter on the ground is a priority, if only to keep Nix out of the line of fire on obvious passing downs. But that's easier said than done, and in this case it's not even all that easily said. The next offense that opens up running lanes against this front will be the first.
The verdict
As far as the point spread is concerned, it would be nice to have more clarity about JT Daniels' availability. His presence alone raises Georgia's ceiling on offense, even as the Bulldogs remain alarmingly thin at wide receiver due to injury. Bennett is more than capable of getting the job done in relief, but he's much less likely to hang an extra touchdown or two on the board if UGA is playing for an old-school choke-out.
As far a the bottom line is concerned, speculating over Georgia's offense in any regular-season game is likely academic. Eventually, the Dogs will need Daniels and a full complement of weapons to make good on their potential in December and January. Until then, the defense has the situation under control.
– – –
Georgia 27 | • Auburn 13
It's a little early to be gaming out postseason scenarios, especially for a couple of upstarts whose seasons could still break in any direction. The response to a reality-check loss like the ones the Razorbacks and Rebels endured last week at Georgia and Alabama can set the tone, for better or worse, for the rest of the year. In this particular case, though, it could also put the winner on the inside track to the Sugar Bowl.
Both quarterbacks, KJ Jefferson and Matt Corral, are due for a rebound after getting put through the UGA/Bama grinder. For Corral, especially, this will be a rematch of last year's 6-INT debacle in Fayetteville, easily the worst game of his career and the main entry in his reputation for volatility. He's yet to throw an interception this year, which could mean either he's matured into a more consistent decision-maker or he's overdue.
– – –
Ole Miss 34 | • Arkansas 29
This was supposed to be the defining game of Texas A&M's season, the measuring stick for its ascent as a marquee program under Jimbo Fisher, etc. and so forth. Now that the moment of truth has arrived, not so much: Coming off back-to-back losses to Arkansas and Mississippi State, the Aggies are on the brink of an 0-3 start in SEC play and sole possession of last place in the West at midseason. The pitchforks are out this week for the first time in Fisher's tenure as it is, due in no small part to the ludicrous investment the program has made in Fisher personally; now imagine if the skin-of-the-teeth win at Colorado in Week 2 had gone the other way.
If there's a silver lining in College Station, it's the combination of the defense and a feral home crowd in a big night game. As bad as the offense has been in the absence of starting QB Haynes King – and it has been very bad, averaging a meager 19 points in four games since King went on the shelf with an ankle injury – the defense has been as advertised, keeping A&M in every game, and as deflating as the past few weeks have been, the 12th Man can always be counted on to bring the noise for the Crimson Tide.
But Bryce Young isn't new to hostile environments, having already survived his SEC road baptism in Bama's Week 3 win at Florida. And, as ever, the Tide tend not to leave any loose strands of hope lying around, outscoring their first 5 opponents 73-3 in the first quarter. Without a spark from the offense, the Aggies are doomed to run out of gas.
– – –
• Alabama 37 | Texas A&M 16
Speaking of hostile environments: Commonwealth Stadium was lit all the way up in last week's upset win over Florida, contributing to eight false start penalties against the Gators' offense – a tangible factor in offsetting Kentucky's 158-yard deficit in total yardage. That was against a relatively well-coached outfit. For an LSU offense that cannot run the ball and has struggled with communication issues even at home, this is a spot where things could get ugly on multiple levels.
The Wildcats, who have largely abandoned the pretense of a downfield passing game the past two weeks, are just fine with ugly – their only gain of 20+ yards vs. Florida came on a screen pass that Wan'Dale Robinson took to the house from 41 yards out in the first quarter, after which Will Levis' arm largely took the rest of the night off. LSU's only reliable strength to date is the connection between QB Max Johnson and Kayshon Boutte, the headliner of an emerging group of young wideouts. With no ground game to speak of and a brutal month ahead, now is the time for that potential to start paying off.
– – –
• LSU 26 | Kentucky 24
How for real is Tennessee's offense? Last week the Volunteers exploded for 683 yards and 62 points at Missouri, which could be interpreted as evidence of Josh Heupel's offense achieving liftoff, or equally of Mizzou's defense crashing and burning — the Tigers have struggled against the run all season and promptly fired their defensive line coach in response to the UT debacle. South Carolina has its issues offensively, but the defense has been solid enough and ought to be a good litmus test for whether the Vols are actually on to something.
– – –
• Tennessee 31 | South Carolina 19
Vandy week arrives at just the right time for Dan Mullen, who found himself in the crosshairs after last week's offensive flop at Kentucky. The Commodores present a golden opportunity to get right heading into a 2-game stretch against LSU and Georgia that will go a long way toward defining the Gators' season.
– – –
Florida 44 | • Vanderbilt 10
Missouri's defense hit rock bottom in last week's 62-24 loss to Tennessee, and North Texas' offense is a good place to begin the road back to respectability: In 3 games vs. FBS opponents (all losses), UNT has managed a grand total of 35 points. If the Mean Green go off, the d-line coach may have just been the first to go.
– – –
• Missouri 41 | North Texas 20
Scoreboard
Week 5 record: 5-3 straight-up / 4-4 vs. spread
Season record: 40-12 straight-up / 18–31 vs. spread